The education industry was devastated by the COVID-19 pandemic.
Technological innovation helped education continue from home despite global shutdowns. 
With how the world has changed, education technology is becoming more popular, especially with the shift to online learning.
There are many education stocks on the market that are benefiting from this new adoption of digital technology. 
The education sector is incredibly broad, and there are stock picks for every investment strategy.
We've rounded up eight of the best education stocks on the market right now.
These companies have managed to survive the challenges of the pandemic. 
Wondering where to buy the education stocks we have listed in this article? Check out Webull! Webull is a top-rated trading app for both new and experienced investors. There are no commission fees, and they will even give you a free stock just for signing up! 
Why Should I Buy Education Stocks?
Education is the driving force behind successful societies. Without it, there would be no source of innovation or growth.
The coronavirus pandemic has reshaped how students attend school and interact with their teachers.
They have had to adjust to an entirely new learning environment, which has paved the way for new teaching styles.
While education is not necessarily "recession-proof," it is an essential industry.
Higher education and virtual learning companies have been able to capitalize on these tough times by focusing on digital product offerings.
Many successful education companies go beyond focusing on grades K-12 and also provide training courses and other educational resources for adults. 
Best Education Stocks To Buy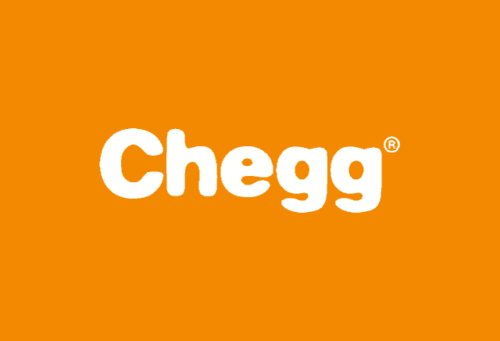 Chegg Inc. (NYSE: CHGG)
Chegg's target audience is high school and college students.
They are one of the top direct-to-student learning platforms, with various digital learning tools available.
Students can rent both physical textbooks and ebooks through Chegg for their courses.
Chegg is not just a textbook rental company, as they provide various other digital resources.
These include Chegg Writing and Chegg Math, which provide unique tools to help you write papers, create citations, and solve complex problems.
They also have Chegg Study, which provides online homework help and expert Q&A, and Chegg Tutors, which offers online tutoring services for those who need a bit more guidance. 
The 2020 investor reports for Chegg have revealed that the company had a net income of over $605 million.
Experts predict that Chegg will surpass $650 million in revenue and could even become profitable in 2021. 
This stock has seen steady growth over the last year, albeit with a slight dip in late April as the company missed analysts' estimates on their Q1 earnings reports.
However, with students starting to go back to school later this fall, we wouldn't be surprised to see Chegg stock keep pushing upwards. 
Grand Canyon Education (NASDAQ: LOPE)
Grand Canyon Education is the company that owns Grand Canyon University.
Their core principle is to create "globally minded citizens" who are also responsible leaders.
GCU is one of the largest non-profit Christian universities in the country.
They have been incredibly successful, although the religious aspect of this school can be a touchy subject for some Americans.
Grand Canyon is a great stock for those looking to invest in a niche higher education company.
While Grand Canyon Education may not be for everyone, they do provide niche services to a specific and loyal audience. 
This stock has performed very well so far in 2021.
They hit $100 per share in February and have been able to stay above that point since then.
However, their current price-to-earnings ratio is still relatively low, indicating that they are fairly valued or could even be undervalued.
The company is set to announce their next earnings report soon.
If earnings grow from last year, it could push their stock price up further. 
Pearson (NYSE: PSO)
Pearson Lc is the world's largest education company.
Pearson is based in London, England, and has four operating sectors: courseware services and materials, assessments and test development, processing, and scoring services.
These segments are broken down into revenue streams: Global Online Learning, Global Assessment, International, and North American Courseware.
The services revenue is spread evenly across these four sectors.
Pearson stock crashed during the early days of the pandemic but has since come back stronger.
In the first quarter of 2021, Pearson reported a 5% revenue growth, primarily driven by the need for online education services.
They currently have a 2.36 percent dividend yield, so they're a good option for income investors. 
Online Education Stocks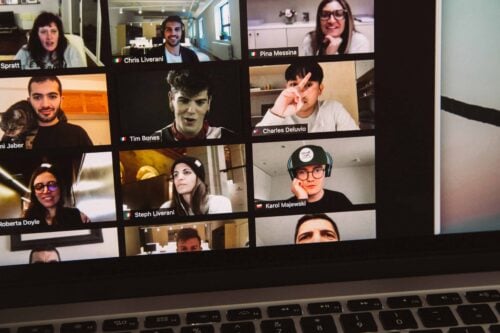 Zoom Video Communications Inc. (NASDAQ: ZM)
Zoom Video Communications is an American communications company that gained notoriety during the COVID-19 pandemic.
As schools closed and shifted to online learning, many teachers used Zoom's video chat platform to conduct their online classes.
People around the world were also using Zoom to work and to communicate with friends and family. 
Zoom's revenue nearly doubled from 2019 to 2020 as a result.
While the company serves a variety of different business types, the company has proved to be an incredibly valuable tool for students all across the United States. Their stock price spiked as well. 
Even as some schools and offices begin to reopen, others have shifted to be permanently remote or a hybrid model of in-person and online interaction.
This is a good sign that Zoom stock is here to stay, and experts at Bank of America even predict the stock could soar throughout the 2021 fiscal year.
While Zoom stock cooled off after the initial hype, this innovative company still has plenty of potential to grow.
Investors may want to buy now, while the stock is down from its peak price. 
GSX Techedu (NYSE: GSX)
GSX Techedu is an online learning platform based in China.
The company provides online tutoring services for grades K-12, as well as training courses for adults.
They have developed a live online format to deliver their courses.
GSX has said this is the most effective model to deliver high-quality education resources all across China.
GSX is heavily reliant on the latest information technology.
They used data analytics to consistently improve their services and meet their customers' changing needs. 
The company's fourth-quarter earnings report revealed a 236.9% increase in year-over-year net revenue for the fiscal year.
In 2019, they grossed $2,114,855 million. In 2020, that number was $7,124,744 million.
This large increase in revenue can be attributed to the coronavirus pandemic.
While schools were closed, students turned to online learning. In particular, revenue from GSX's online K-12 sector was very high this year. 
Chinese Education Stocks
New Oriental Education Technology (NYSE: EDU)
China has the largest education system in the world, and New Oriental Education Technology is the country's largest provider of private learning services.
New Oriental provided reliable online learning for students while schools were closed this past year. 
Even with the pandemic, New Oriental Education Technology still pulled in $3.6 billion in revenue for the 2020 fiscal year.
To date, New Oriental has had over 58.4 million students enroll, with 10.6 million of those enrollments in 2020 alone.
As of late 2020, the company's assets include over 1,400 learning centers and over 40,000 qualified teachers employed across 98 different cities.
Their stock price has been up and down for the past few months.
However, it could be a good option for investors who want more exposure to the Chinese market.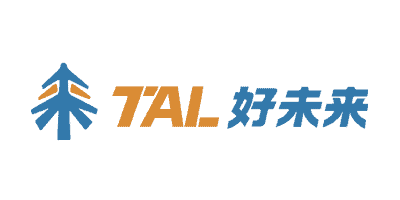 TAL Education Group (NYSE: TAL)
TAL Education Group provides after-school tutoring services for grades K-12 across China.
They offer three different formats to provide students with options that work for them – small in-person classes, online courses, and personalized education services. 
TAL Education has support services for a large variety of topics including math, chemistry, history, biology, English, Chinese, and more.
The company also has partnerships with brands like Mobby and Firstleap.
TAL stock could continue to grow in 2021 if the company remains committed to their expansion efforts.
The company aims to maintain their premium pricing while also growing their online and mobile services.
This company's earnings reports from the past few quarters have been very solid, although their stock price has fluctuated quite a bit in 2021.
This fluctuation is likely due to changing sentiments about Chinese stocks as a whole.
However, this company still has huge potential to keep growing, especially if they continue to focus on digital offerings. 
Education Penny Stocks
Boxlight Corporation (NASDAQ: BOXL)
Boxlight Corporation is an education technology company that works with both schools and businesses.
The company offers physical products including interactive displays, collaboration software, and other supporting accessories.
These products even include award-winning brand names like Clevertouch.
Boxlight has been focused on increasing their brand recognition.
The company has made great strides on this goal lately, as they have partnered with several education centers.
 Brussels School Group in Belgium recently announced they would be upgrading all of their classrooms with the Clevertouch IMPACT touchscreen displays.
Most recently, Hull College in the United Kingdom announced their 5-year plan to completely renovate their education services and infrastructure.
They selected Boxlight to provide all the education technology for this project. 
Boxlight Corporation is a penny stock, so there is some risk of increased volatility.
However, this company has also shown that they have the potential to keep growing as more schools switch to digital learning. 
Education Stocks: Final Thoughts
These are our picks for the best education stocks on the market right now.
The education industry is rapidly evolving, and investing in these companies now could lead to strong returns in the future. 
While the pandemic has changed the way that students learn, it has also opened up plenty of new opportunities for companies in the digital education space.
It's likely that the internet will continue to play a big role in the way students learn over the coming years. 
If you don't have much capital to invest, there are plenty of affordable education stocks on the market right now.
This is an industry that will always be necessary, even as the world changes. 
Looking to get more diverse and interesting investment opportunities? Check out Trade Ideas! Trade Ideas is an innovative program that helps you find great stock picks using their AI system.