If you are reading this, you want to dig deeper to see if Black Box Stocks is the real deal! Let's dig into this Black Box Stocks review to find out if this top-tier stock screener lives up to its reputation.
Without a solid stock screener, combing through stocks and options leaves a lot to chance.
With more and more companies offering market scanners, how do you know which service is worth your time and money?
Our BlackBoxStocks review will break down everything you need to know about this elite stock screener.
Let's start with what is BlackBoxStocks?
What Is Black Box Stocks?
BlackBoxStocks is a stock and options screener that scours major exchanges in real-time to uncover market movements and unusual trading behavior.
BlackBoxStocks is headquartered in Dallas, Texas, but has data servers near the major exchanges on Wall Street in New York to cut down on latency.
This is a serious commitment to ensuring you receive market data as quickly as possible.
Despite using some of the most advanced proprietary algorithms, the BlackBoxStocks system is surprisingly user-friendly and easy to jump into.
This ease of use makes the BlackBoxStocks System a great companion to your favorite stock and options trading platform — especially TD Ameritrade.
With only one membership plan, all of BlackBoxStocks is available to you the moment you sign up.
Who Owns BlackBoxStocks?
BlackBoxStocks was founded in 2016 by Eric Pharis and originally specialized in real-time mobile and web-based analytical software tools.
But the company has grown a lot more over the years.
Pharis still owns and operates BlackBoxStocks to this day, and this doesn't look to be changing anytime soon.
Is BlackBoxStocks Legit?
BlackBoxStocks is the real deal and one of our favorite market scanning systems available.
The site has built up thousands of strong user base since its inception and is continuing its immense growth by adding new features and improving upon its unique stock data.
>> Already sold on BlackBoxStocks? Click here to sign up now! <<
How to Use Black Box Stocks
You use BlackBoxStocks like any other stock scanner, but this service has plenty of added features you might not find anywhere else.
After signing up, you can simply search for a stock, or run a complex scan based on your own criteria and get a flow of real-time data.
Even better, once you find stocks or options contracts you want to buy or sell, you can use its integrated brokerage support to trade without ever leaving the platform.
Read along to find out how it works.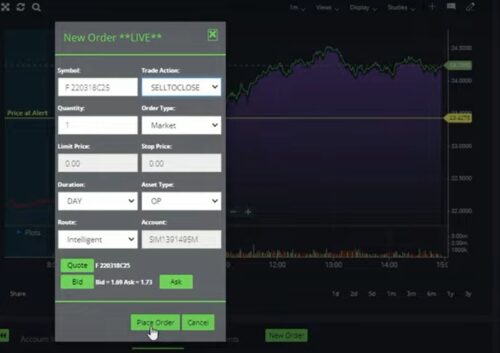 Can you Trade on BlackBoxStocks?
Unlike most stock screeners on the market, you can trade on BlackBoxStocks directly through broker integrations with TD Ameritrade and thinkorswim.
Pair this with the BlackBoxStocks mobile app, and you have a winning combination for traders on the go.
It's this level of accessibility that draws so many traders onto the platform.
BlackBoxStocks TD Ameritrade Integration
Aside from the convenience of integrating your BlackBoxStocks subscription with your TD Ameritrade account, you also get a discount on commissions.
You pay:
$0.00/stock trades

$0.65/per option contract, no ticket fee
This discount is even better for current TD Ameritrade members and new sign-ups.
Now that you know more about BlackBoxStocks and how it works, let's briefly break down each feature.
What's Included with Black Box Stocks?
Scanners

News Feed

Alerts

Chat Room

Charts

Social Media Integrations

BlackBox Bootcamp

BlackBoxStocks App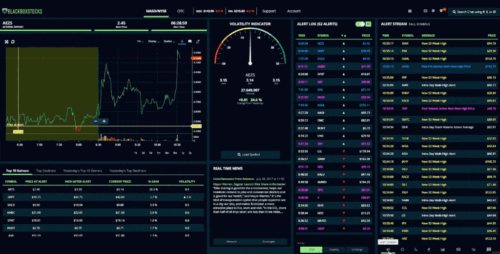 Scanners
Black Box Stocks uses both a stocks and options scanner to continuously search each market to help you generate lucrative trading ideas.
The trading software uses proprietary algorithms based on those used in high-frequency trading (HFT) systems to analyze over 8,000 stocks and more than 900,000 different options contracts.
Scanners for Stock and Options Trading
Both the stocks and options scanner run in real-time and search the most active stock and options.
The trading system automatically puts a symbol on any asset that may have a jump in price.
This feature really shines during pre-market to clue traders in on what's looking hot before the market even opens.
Also, you can buy or sell stocks or options contracts directly through BlackBoxStocks.
Stock Scanner
The stock screener may appear overwhelming at first glance, but it has many great features that are easy to use.
You can perform scans on one or more stocks or use various filters to narrow your search.
The dashboard will always show the top 10 gainers from today and yesterday.
Clicking on the stock symbol will provide more information about how that particular stock is doing.
Also, the volatility indicator in the middle of the screen shows how many swings a stock is seeing.
Options Scanner
Similar to the stock scanner, the options scanner has a list of the 20 most active calls and puts for the day.
This list lets you watch options flow to stay on the pulse of the market.
Traders can further customize the screener to their liking and filter down searches to customizable criteria.
Another big perk of the options trading software is the ability to export data to a program like Excel to run comparisons and analyze data further.
The scanner also allows users to look back at historical data at any point to see how options have progressed.
News Feed
BlackBoxStocks makes a point to ensure users will never miss out on the latest stock and options news.
The trading software has a built-in news feed that provides a continuous stream of data in real-time from companies and news sources.
Users can quickly sift through the news feed by creating filters to highlight the most important headlines.
Each newsfeed item of interest is given a stock symbol that a trader can trace back to a watch list or trade alerts.
Some companies skimp on the news sources they pull information from, but BlackBox Stocks uses top-tier sources to help traders develop the sharpest trading strategies.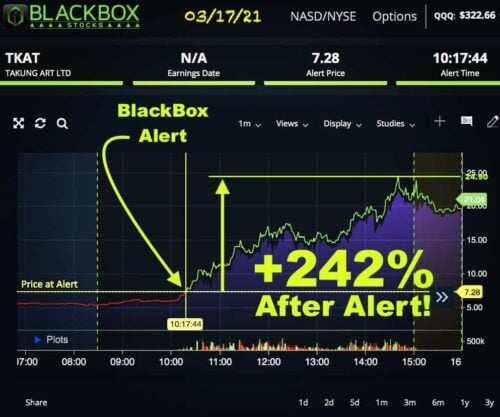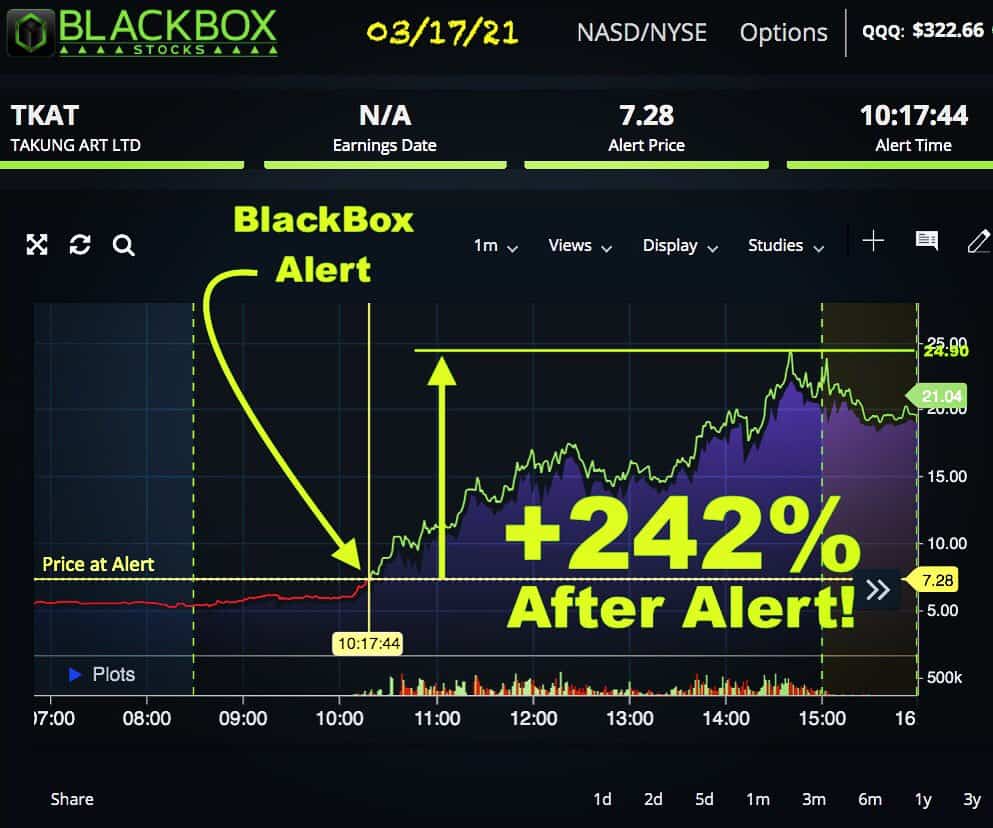 Stock Alerts
In addition to scanners, BlackBoxStocks has a lightning-fast alert system to keep traders on top of the latest happenings in the stock market.
The trading system streams alerts throughout the day and saves relevant information in the alert log.
Alerts come in many forms based on the criteria traders create in the system.
Here are just a few of the alerts traders can set up on their dashboard:
Pre-market alert pop ups any time a specific price or volume is met during pre-market trading activity.

Usual suspect alert signals pre-market when a flagged stock sees repeating patterns of movement during the trading day.

Rapid decline alert sends a note when a stock has dropped substantially on the previous day.

Price spike alert notifies traders when a stock has made a considerable price jump within a short time.
Traders can be notified of an alert by a visual popup or with an audio cue.
Alerts can even be sorted by time, percent change, volatility, and more.
Stock Charts
The BlackBox Stocks software has an impressive selection of institutional-grade charts all at your fingertips.
Clicking on a stock in the scanner allows you to pull up and review chart data for that particular stock.
During our Black Box Stocks review, we found the charts to be easy to use yet highly advanced.
Customization tools make it simple to add in trade studies or mark-up charts as you see fit.
Charts are automatically created every time account alerts are triggered to help reveal the reason for the alert.
Even better, you can effortlessly follow along because the charts reference where the underlying stock was at the time of the alert.
>> Want to get lightning-fast alerts on stock market happenings? Click here to become a BlackBoxStocks member TODAY! <<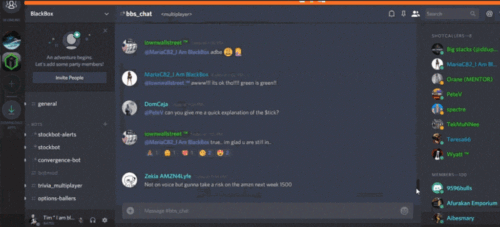 Chat Room
While other stock screening and trading platforms typically have a lackluster chat room, Black Box Stocks community integration puts them to shame.
The stock trading service features a private members-only community chat room that uses the Discord platform.
It's easy to see hundreds of users in the chat room on any trading day and a great place to receive stock trade alerts.
Also, moderators are always on hand to review content and keep things on topic.
Those same moderators are available to help field questions and offer guidance, which is an excellent pairing with its insightful community.
Also, the trading community is mature and happy to help, so you don't need to be afraid of asking questions.
Since information on stock and options trading is saved on the server, members can also scan community posts for ideas and tips to improve the value of their trades.
Social Media Integrations
The BlackBox Stocks platform has a few ways to tie into the world of social media.
The software is connected to a social media stream that will display information whenever a trader clicks a ticker.
This is an often underrated feature, as the feed from social media provides one more source of information on what's happening in the trading world.
You also get free access to two private Twitter groups that provide alerts whenever there's unusual stock market activity.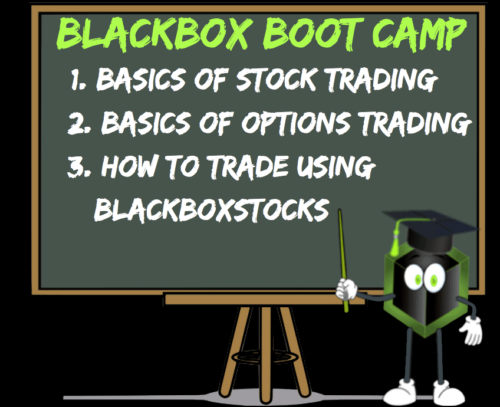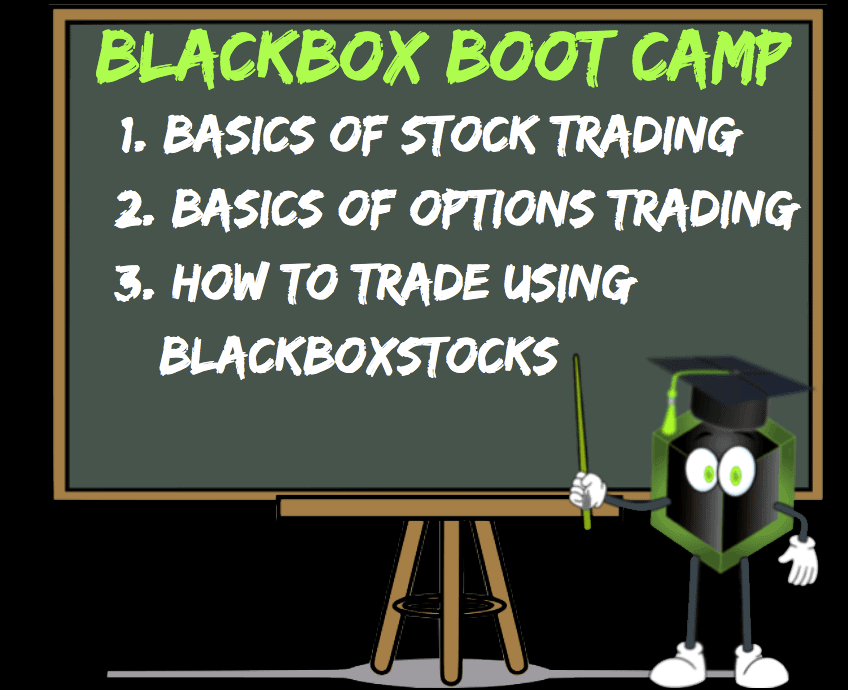 Bootcamp
BlackBoxStocks understands the need for a robust trading education to better position traders for success.
In fact, the platform offers several valuable educational tools, which are completely free of charge.
These tools range from beginner level to more advanced users.
The launching pad into the BlackBoxStocks trading education system begins with the BlackBox Bootcamp.
This three-hour webinar should be the first stop for any user with a new subscription who wants to use these trading tools to their highest potential.
The course begins by teaching you about terminology, how to trade, and trade pitfalls to watch out for.
Later in the course, you'll learn about essential features of the service, such as stock and options trading, before diving into tools like alerts and the stock screener.
This is a great place for new investors to build their trading skills or for experts to brush up on some important trading fundamentals.
BlackBoxStocks App
BlackBoxStocks app is an add-on to the desktop version that integrates with your BBS account.
It is the complete package on mobile, so you keep all the functionality from the desktop version.
This is a fantastic option for trading on the go.
>> Like everything BlackBoxStocks has to offer? Click here to sign up now! <<
Pros and Cons of BlackBoxStocks
BlackBoxStocks earns a lot of points as a powerful tool for trading stocks; though, there are some areas the stock screener could improve on.
Here's a list of the pros and cons of the trading platform.
Pros
Impressive tool for trading stocks and options

Real-time stocks and options scanner, including a pre-market, and post-market scanner

Sophisticated trading tools all under one umbrella platform

Dedicated options scanner can appeal to investors trading options

Useful for high-frequency trading strategies

Platform is browser-based, which is easier to run on older computers

Several alerts for staying on top of trades and alert log is sortable by various criteria

Very active chat room with experienced, helpful community members

Educational tools that can teach new investors about trading and using a stock screener

High-quality news feed

Uses algorithms based on a high-frequency trading system

Strong customer support
Cons
Requires active customization to filter out unneeded information

App may require a newer phone to run smoothly
>> The pros outweigh the cons so what are you waiting for? Click here to subscribe to BlackBoxStocks TODAY! <<
How Much Does BlackBoxStocks Cost?
BlackBoxStocks has two pricing options, monthly and annual.
The price of a monthly membership sits right at $99.97 per month.
There's a bit more value in the yearly subscription, with a total annual cost of $959 per year.
Signing up for a year membership means you're looking at a 20% savings off the monthly price.
The company occasionally offers a free trial to potential users, which is excellent if you want to test out the stock screener before joining.
How Do I Cancel a BlackBoxStocks Subscription?
You can cancel your subscription by emailing BlackBoxStocks.
There's no contract for the monthly plan, and you can cancel at any time.
Canceling anywhere during a month of service will allow you to continue using the platform until the billing cycle is over.
After that point, you won't be able to use or access any of the services offered by BlackBoxStocks.
For a yearly subscription, it seems that a refund for partial service is handled on a case-by-case basis, but it is ultimately up to the company how much you'll receive back — if anything.
BlackBoxStocks also makes it clear that signing up under any special promotion makes your subscription not eligible for a refund.
How Much Can You Make with BlackBoxStocks?
While the Black Box Stocks system can improve your chances of success in the financial markets, there are no guarantees on how much you can make using it.
At the end of the day, it's up to you and how well you can incorporate BlackBoxStock's powerful insights into your trading strategy.
Is BlackBoxStocks Right for Me?
BlackBoxStocks is an excellent tool for beginners to get started in the trading game.
The platform provides a steady flow of options and stocks data to give traders some ideas for assets to invest in.
The easy-to-learn user interface makes it a breeze to locate the latest alerts so you can capitalize on profit potential.
Ideal for Trading Stocks at Any Experience Level
More experienced traders will benefit from the amount of information each tool provides to perform an excellent in-depth analysis.
Video tutorials and webinars teach users how to use the platform's many tools and also cover lesser-known market topics such as options flow.
The chat room is a great source of information for trade ideas and feedback in a private, safe setting with potentially hundreds of members at any given time.
BlackBoxStocks Reviews by Members
There are tons of excellent reviews for BlackBoxStocks, most of which are found on social media platforms.
Here are a few recent reviews:
The company has a very loyal user base, so there's no shortage of praise for BlackBoxStocks online.

BlackBoxStocks App Reviews
The BlackBoxStocks App for iOS and Android has earned stellar reviews.
The mobile app has the same functionality, so this says a lot about the platform as a whole.


So while we think BlackBoxStocks is great, you don't just have to take our word for it.
Traders from all over highly rate BlackBoxStocks and its app.
Is BlackBoxStocks Worth It?
BlackBoxStocks is a great stock screener that's well worth the price.
The ease of use coupled with advanced tools and proprietary algorithmic features make it unique among a sea of unimpressive screeners.
This doesn't even take into account that you can actually trade directly from the platform — not to mention its commission discounts.
Also, the one-size-fits-all plan takes away the guesswork about which plan to jump into.
The education system is quite comprehensive, with videos and frequent webinars to keep you informed of the latest features and market happenings.
BlackBoxStocks brings a lot to the table and should be on your shortlist if you want an all-in-one stock screener.
>> Ready to join BlackBoxStocks? It's EASY! Just click HERE to sign up NOW! <<