Alpesh Patel has built an impressive track record of market-beating performance, but can his premium research service help members achieve the same feat? We're going to find out in our GVI Investor review, so keep reading to find out if Patel's research service is a good fit for your needs.
GVI Investor Review: Overview
GVI Investor is a research and advisory service from Alpesh Patel published by Manward Press. Patel made his name as a top analyst in the UK, and now he's bringing his talents to the US.
Alpesh Patel's GVI Investor service identifies high-growth trade opportunities and brings them directly to their subscribers. He typically aims to pinpoint stocks with the potential to produce triple-digit gains within a strict 12-month time frame.
The GVI strategy focuses on exponential profits potential as an important driver of long-term growth. Patel's latest package includes a wealth of additional investing resources alongside the GVI Investor newsletter.
Patel's service is named after the three primary criteria he uses to pick stocks: growth, value, and income. He also uses another metric called CROCI, which we'll explain more later in this review.
Patel has an impressive resume, and he brings all his experience and expertise to GVI Investor. Members get a first-class service experience and exclusive insights from Patel and his team.
GVI Investor includes semi-weekly stock picks from Alpesh Patel, full access to Patel's GVI Investor model portfolio, and a ton of additional bonus research.
Now that we've given you a birdseye view of the service, let's take a closer look at the guru behind the service. Who is Alpesh Patel and does he live up to his reputation?
>> Already sold on GVI Investor? Get started here <<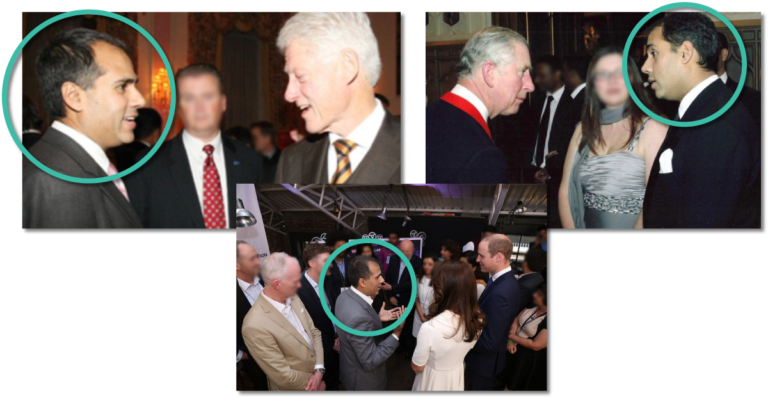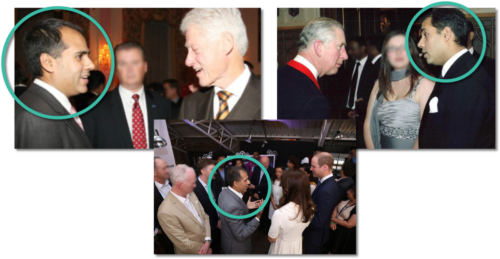 Alpesh Patel Review
Alpesh Patel is a stock-picking prodigy with an impressive track record of success. He made a name for himself as a top-tier analyst in the United Kingdom, but now American readers have a chance to access his research too.
Patel was a world-renowned private equity fund manager in the UK, where he founded and oversaw one of the top-performing hedge funds on the planet.
Since 2004, he's even outperformed Warren Buffett's Berkshire Hathaway by more than double, and his investing strategy generated returns as high as 580% over the past five years.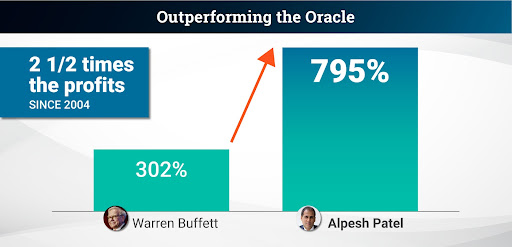 Patel's outstanding performance drove huge growth in his signature fund, Praefinium Partners. Today, the fund oversees hundreds of millions of dollars in capital.
Over the course of his career, Patel has penned 18 books on investing, and one of them even managed to rise to the number-one spot on Amazon's best sellers list.
He's also closed major deals for the British government. Former UK Prime Minister Tony Blair appointed him to a special advisory position, and Patel has spearheaded a team that brought $1.1 billion worth of investments into the UK since 2005.
The Queen herself even made Patel an Officer of the Order of the British Empire, and The Investor magazine called him"The U.K.'s most respected stock picker."
GVI Investor is Patel's first major stock advisory service published for US readers, and it utilizes many of the same investment strategies that made him so successful in Europe.
Patel has one of the most impressive resumes we've ever seen on a guru. He's a world-renowned expert with the credentials to prove it. If you want a proven winner at the helm, you can't go wrong with Alpesh Patel.
>> Access Alpesh Patel's exclusive research here <<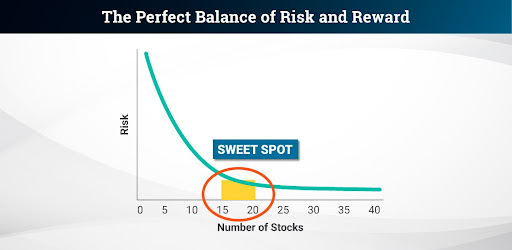 Alpesh Patel's GVI Investor Strategy
In his latest presentation for GVI Investor, Patel outlines his GVI system in explicit detail and explains how it's so effective at beating the market.
Most people who are familiar with the market have heard of the three most prevalent investment strategies: growth, value, and income.
Each approach has its own set of pros and cons, and different types of investors tend to zero in on one approach depending on the goals.
However, after years of trading the market, Patel had a sudden epiphany. Why focus on one approach when you can combine elements of all three?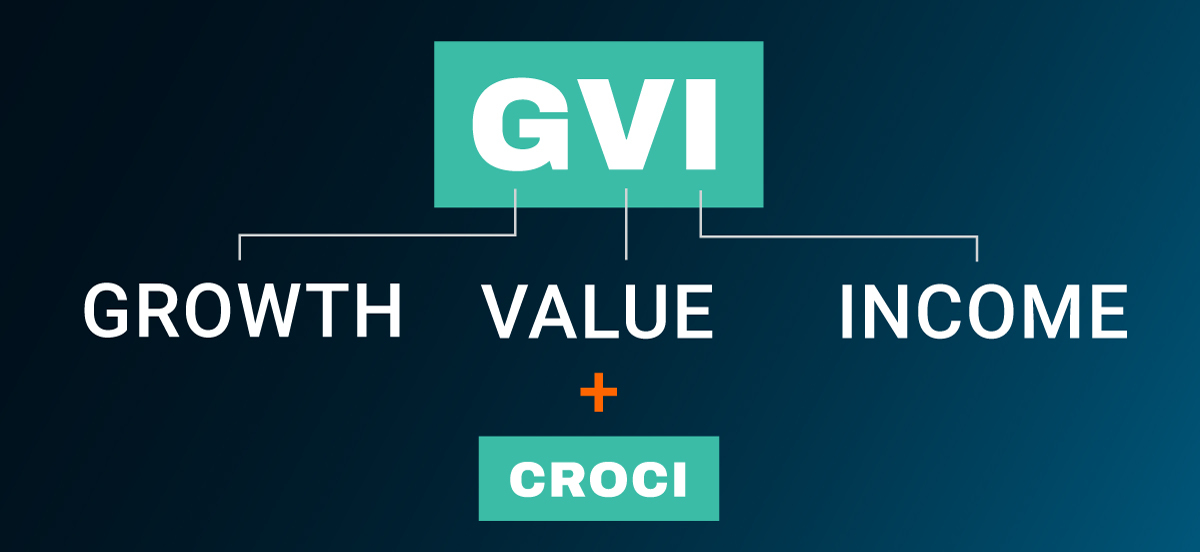 Patel's realization inspired him to develop his Growth-Value-Income strategy, and it's been his cornerstone investment methodology ever since.
Now, he's now sharing his secrets under the GVI Investor banner and showing US residents how they can use the strategy to help them achieve market-beating portfolio gains.
Patel's presentation explains the elements that make his GVI approach so successful and provides several examples demonstrating the strategy's effectiveness.
But, there's one more element of Patel's stock-picking criteria that we haven't discussed just yet, CROCI.
>> Join GVI Investor to access this cutting-edge strategy now <<

What is CROCI?
CROCI is the fourth and perhaps most important element in Patel's GIV Investor strategy. CROCI stands for Cash Return on Capital Invested, and it's a fantastic measurement for assessing a company's business quality and future growth.
This under-the-radar metric isn't very well-known outside among retail investors, but it's an important tool for many institutional money managers looking for strong cash flow.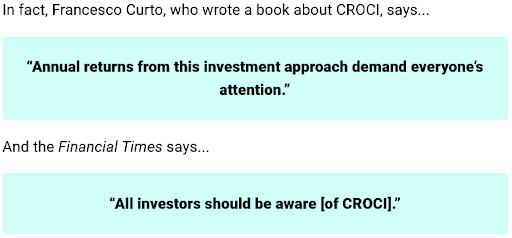 Patel first learned about CROCI during a Goldman Sachs presentation he attended for his hedge fund, and he quickly saw the value in it.
Patel later refined Goldman's approach to CROCI and made it all his own. He targets companies that score in the top 15% for CROCI so he can focus his efforts on the best possible opportunities.
The approach has worked well for Patel in the past, and it's helped him put together one of the most impressive track records we've seen.
Patel's latest deal for GVI Investor includes exclusive research on his top-rated CROCI stocks for the weeks ahead and other valuable bonuses.
>> Join now to see Patel's top CROCI stock. <<
Why is the GVI Investor System so Effective?
Growth, value, and income are widely viewed as their own separate investing styles, but each of these strategies has inherent strengths and weaknesses that can limit their ultimate effectiveness.
However, Patel takes a more diversified approach that utilizes the best elements from all three schools of thought. By combining these strategies, he can minimize the potential drawbacks associated with solely focusing on one approach.
The other main strong point for the GVI Investor system is its data-first approach. Patel makes his picks based on technical data, and he doesn't allow his personal biases to override the data.
For example, you might think Crocs are pretty goofy, but the company's stock exploded during the pandemic. Many people overlooked this stock because the product didn't agree with their fashion sense, but Patel's CROCI analysis pinpointed the stock as a potential winner.
Patel recommended the stock to his followers shortly after it flashed a CROCI "buy" signal in October 2020, and Crocs generated a return of well over 100% between November and August of the same year.
The Crocs trade is a perfect example of why you should never bring your personal biases to the trading desk.
Patel's system prioritizes concrete metrics over market sentiment, personal bias, and media hype. It's one of the all-around best methods for stock-picking success.
Alpesh Patel's Top-3 CROCI Stocks
Alpesh Patel's GVI Investor package includes three bonus reports detailing the top-three growth stocks according to his stock-picking criteria.
These companies all hail from different sectors and industry's, but the outlook for each of them is bright based on CROCI and GVI metrics.
The bonus reports are the headline component of this deal, and you get them for free when you join GVI Investor.
We're going to cover each of these reports in detail as part of our GVI Investor review. First, we'll take a closer look at the service's other features and benefits.
>> Sign up now to get the top-3 CROCI stocks <<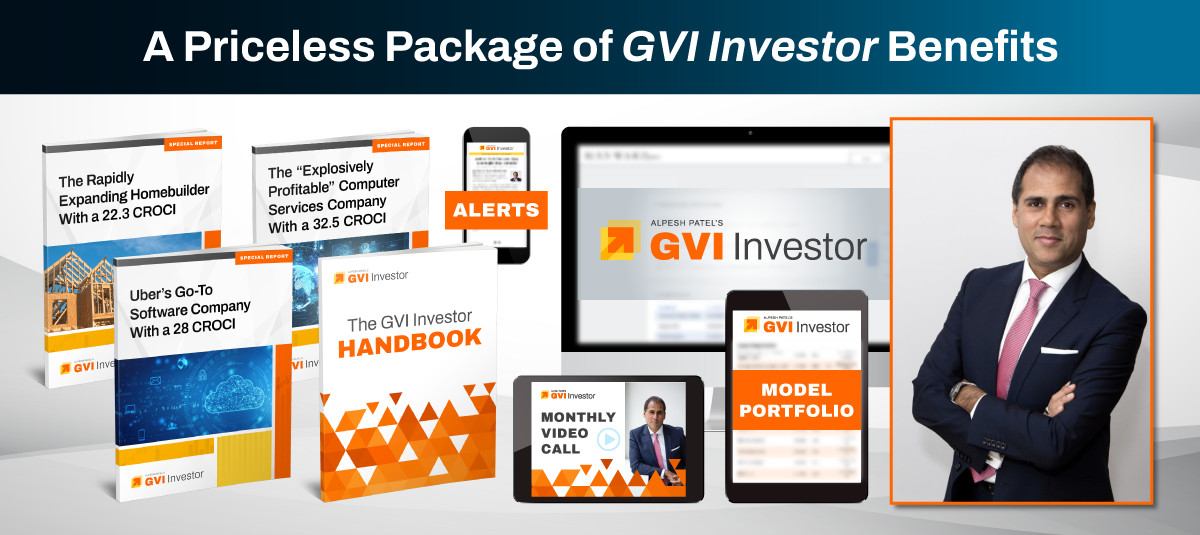 GVI Investor Review: Features
12 months of the

GVI Investor

newsletter

Unlimited model portfolio access

Alerts and updates

Monthly video calls for charter members

The GVI Investor Handbook

The Rapidly Expanding Homebuilder With a 22.3 CROCI

Uber's Go-To Software Company With a 28 CROCI

The 'Explosively Profitable' Computer Services Company With a 32.5 CROCI

365-Day, 100% Satisfaction Guarantee

GVI Investor Newsletter
The GVI Investor newsletter is the foundation of Alpesh Patel's service. This is where you can find all his latest research, analysis, and stock recommendations.
You'll get regular issues of the newsletter for as long as you're a GVI Investor member, and Patel says you'll receive around 15 to 20 stock recommendations in your first year.
Each of the picks will go towards building out the model portfolio, and Patel will provide regular updates on them for long as they're rated as an active recommendation.
The newsletter also includes general market research and analysis, so you can make better sense of the market's day-to-day moves.
Having regular access to an expert like Patel can significantly accelerate your stock market education and greatly improve your overall investing know-how.
Furthermore, the GVI Investor newsletter gives you the opportunity to have a world-renowned investor as your own personal stock market sherpa.
>> Get started with GVI Investor now <<

Model Portfolio
Every time Alpesh Patel makes a stock recommendation, the pick goes into the GVI Investor model portfolio. The portfolio makes it extremely easy to follow all of the service's trades and their progress.
You get immediate access to the model portfolio when you join, so you can scan Patel's latest picks as soon as you log into your account.
There, you'll find an overview of all the recommended stocks, along with their ticker symbols, price targets, current recommendations, and more.
The model portfolio is an excellent companion to the GVI Investor newsletter. You can find everything you need to know about Patel's current stock recommendations with a glance at this helpful quick-reference resource.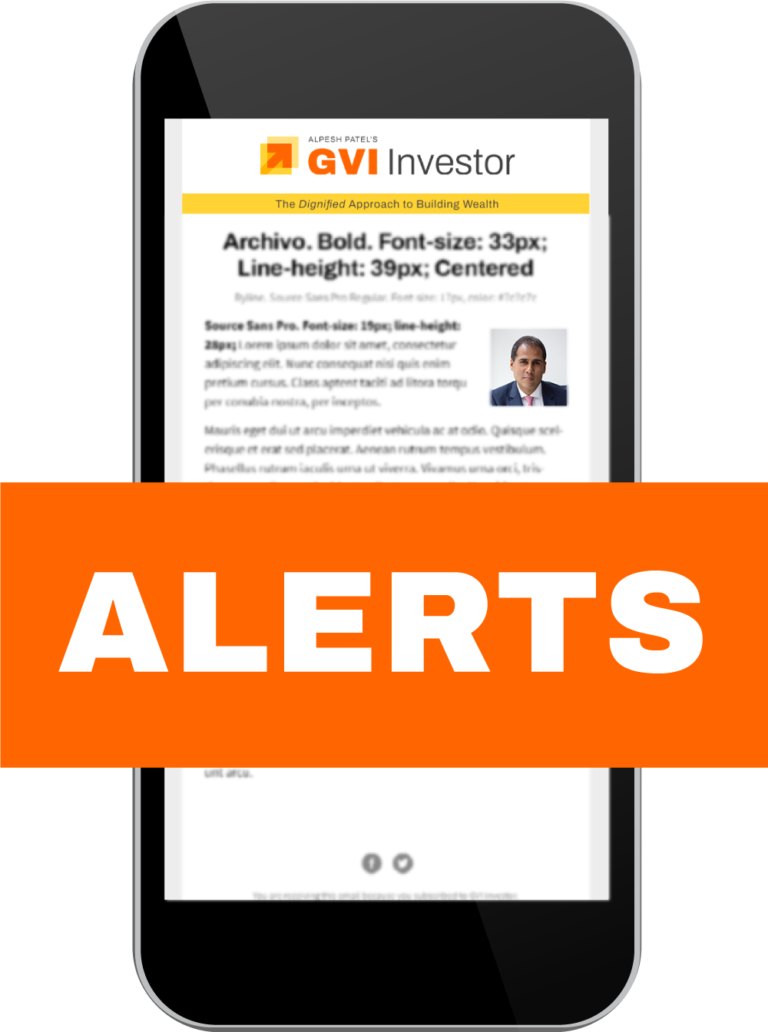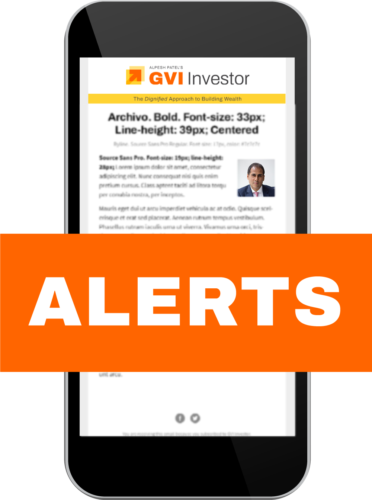 Alerts and Updates
The market is always moving, and circumstances can change rapidly. Fortunately, you don't have to worry about missing a beat with GVI Investor because Patel keeps you posted with alerts and updates.
Patel also provides weekly updates on the model portfolio, so you'll be fully aware of everything that's happening with each recommended stock.
If a big headline breaks that could affect a model portfolio stock, Patel will notify you with a special alert. Each alert explains the circumstances in detail and provides an updated recommendation based on the news.
For example, if any earnings releases change Patel's view on a stock, he might send out a 'sell' recommendation advising you to exit your trade.
Patel's alerts give you peace of mind and allow you to focus on your day without worrying about the market.
Thanks to Patel's alerts, you don't need to stay glued to your trading screen during market hours or consume a never-ending stream of financial media to be successful. Just follow the GVI Investor alerts and you'll never get caught flat-footed.
>> Sign up for GVI Investor now and never miss another opportunity <<

Monthly Video Calls
Patel hosts a monthly video call exclusively for his charter members. He uses these calls to discuss new opportunities and lay out his case for potential trades.
The monthly video calls give you unprecedented access to Patel, and they provide additional opportunities to tap into his expert investing insights.
Patel is one of the world's most talented investors, and his video calls could lead you to some extremely valuable conclusions.
The video calls are an excellent addition to the service that demonstrates Patel's dedication and commitment to his subscribers.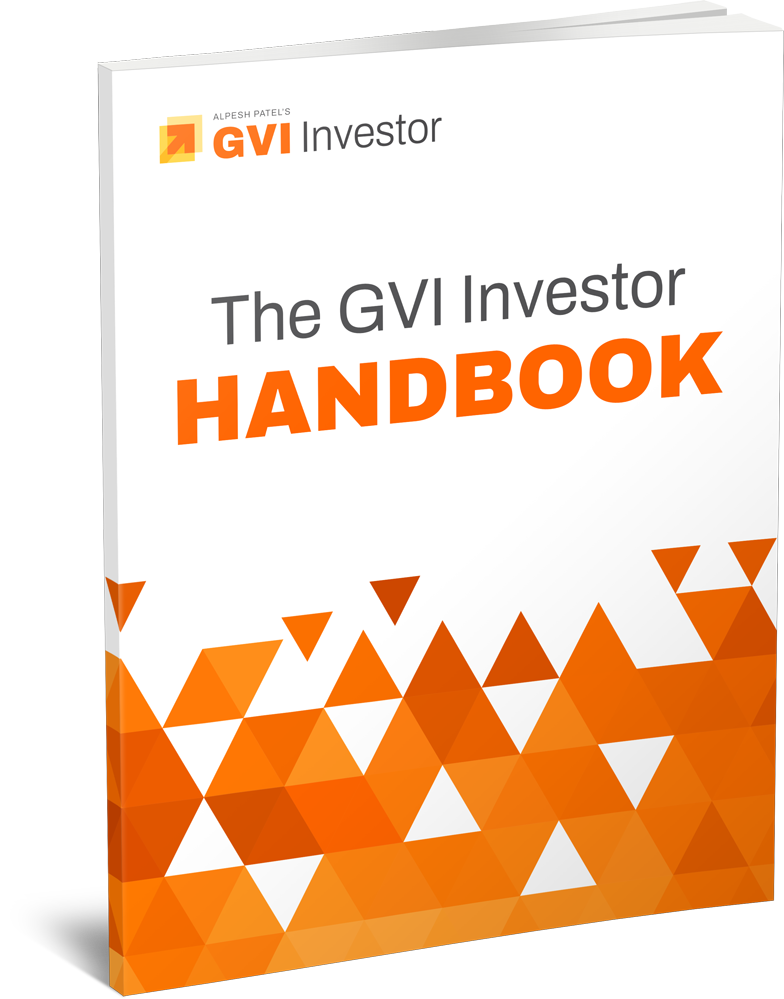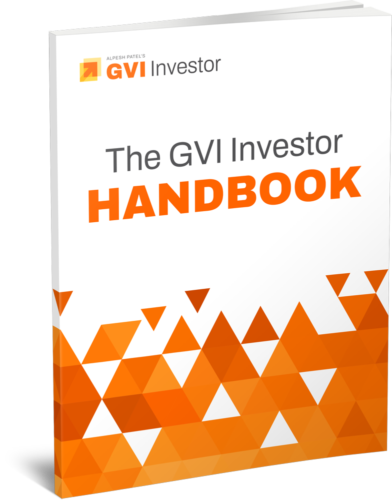 The GVI Investor Handbook
The first bonus resource in Alpesh Patel's GVI Investor package is the GVI Investor Handbook. The handbook explains everything you need to know to get the most out of Patel's growth value income system.
This report explains the GVI system in meticulous detail and shows you how you can apply the techniques to your stock market endeavors.
It includes a comprehensive blueprint for utilizing this sophisticated investment strategy, and it's written in laymen-friendly language that beginners can easily understand.
Whether you're a stock-picking pro or a total novice, this report offers valuable information that can help you sharpen your investing skillset and provides an excellent introduction to the service.
GVI Investor Bonus Reports
These featured reports include exclusive research on Patel's top-three growth stocks.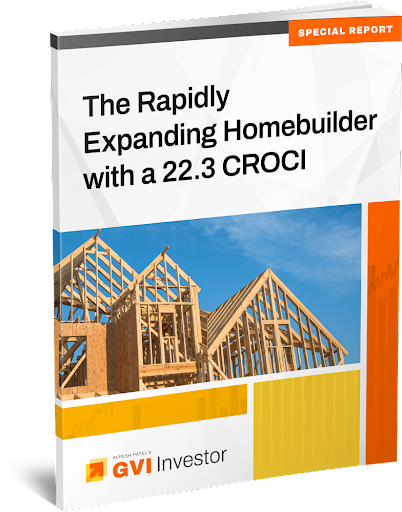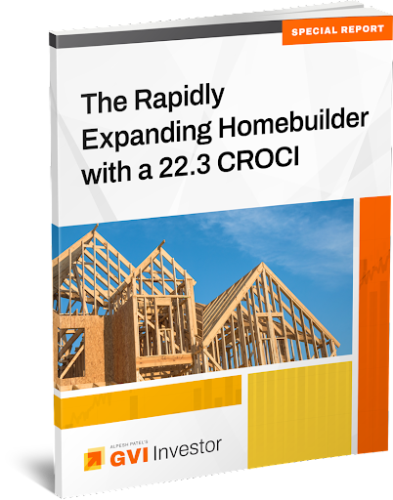 The Rapidly Expanding Homebuilder
It's no secret that the real estate market is hot, and homebuilders are scrambling to keep up with huge demand in the sector.
However, home building is a complex business with many nuances, so picking winners in this competitive sector is no easy task.
Fortunately, Alpesh Patel has identified one dominant homebuilder that could be the top trade candidate to come out of the sector.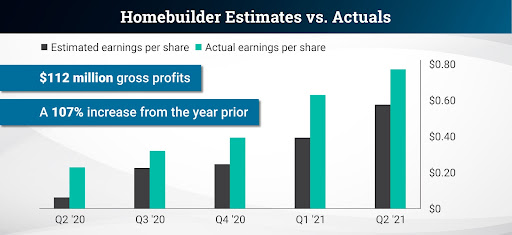 The homebuilding company stans to become a dominant force in the homebuilding market after a recent $53 million acquisition, and it boasts a CROCI score that is 123% better than Patel typically hopes to see in a stock.
You'll find all the details in this handy report, including the company's ticker symbol, supporting research, potential pitfalls, and much more. It has everything you need to make an educated decision.
This under-the-radar homebuilding company could provide an excellent means for capturing growth in this hot sector.
>> Access the Alpesh's top homebuilder stock here <<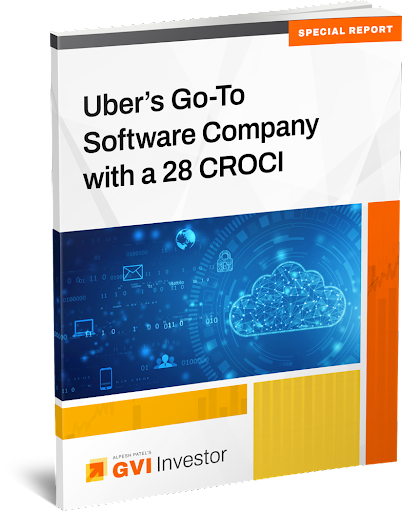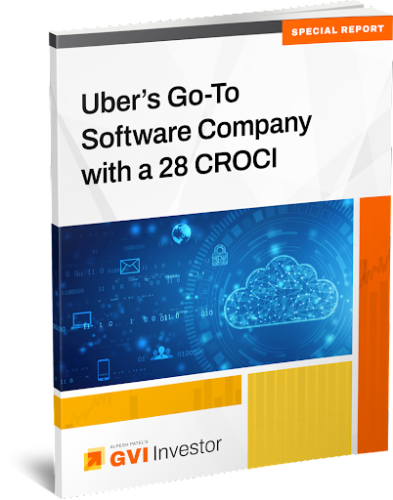 Uber's Go-To Software Company
Patel has also pinpointed a software company with excellent long-term growth potential. The firm recently entered into a contract with Uber that could drive insane revenue growth for years to come.
This software company also recently made a deal to acquire a prominent food delivery firm based in the UK which could drive even more growth in the months ahead.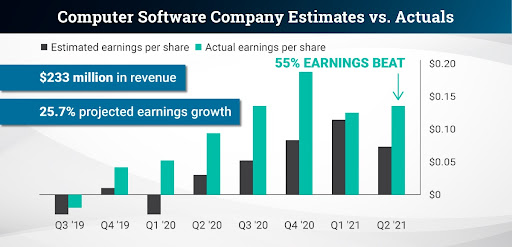 Alpesh Patel is very bullish on this stock. Its CROCI rating is a whopping 180% better than what he typically hopes to see, and Seeking Alpha predicted a 97% upside in the stock this year.
High-quality tech stocks are still a valuable commodity in this market, and this tiny software company could lead the next generation of big winners to come out of the sector.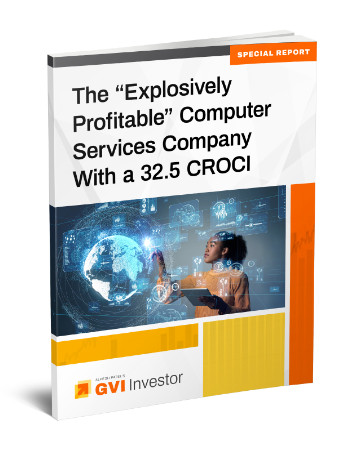 The 'Explosively Profitable' Computer Services Company
A tiny New York-based company could be in an excellent position to take the lead in the race towards efficient, widely deployable AI systems, and its efforts have landed it on Alpesh Patel's radar.
The company recently acquired three leading artificial intelligence platforms in a blockbuster deal worth millions of dollars, and the new acquisitions could produce epic revenue growth for the company as the AI revolution progresses.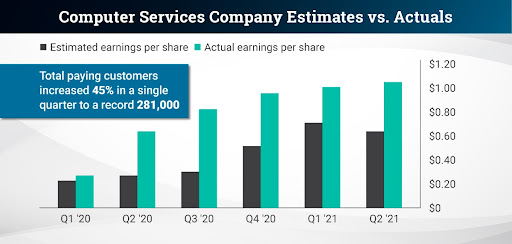 This could be the best company out of all the stock picks detailed in the bonus report. Its CROCI score is roughly 225% better than Patel typically expects to see.
There could be tremendous growth for the AI market in the future, and this company is a prime candidate to be a leader in this cutting-edge industry.
>> Check out Patel's top computer services stock here <<

100% Satisfaction Guarantee
Alpesh Patel offers a fantastic satisfaction guarantee with every new GVI Investor subscription. You have a full year to review the service and, if you're not satisfied, you can get a 100% credit for your purchase.
The guarantee covers the entire first year of your GVI Investor subscription, so you can experience the service for its full term before you decide if it's a fit.
You have 365 days to test drive the service under Patel's 100% satisfaction guarantee. If you're not satisfied for any reason, you can contact customer service within the first year of your subscription to receive a 100% matching credit for any of Manward Press's VIP services.
Although it's not a cash refund, it still provides peace of mind for new subscribers. You can't knock Alpesh Patel for not offering cash either because GVI Investor offers tons of upfront value and immediate benefits.
A money-back refund would open the door for bad actors to abuse the system. There'd be nothing stopping them from cashing in on Patel's research only to request their money back on the final day of their subscriptions.
When you consider all the nuances, Patel's satisfaction guarantee is a very fair compromise. You're covered for the entire length of your first-year subscription, and you can get some form of compensation if you're not satisfied.
It's not cash back, but it's a clear indicator that Patel stands behind his service.
>> Take advantage of GVI Investor's 365-day guarantee here <<
GVI Investor Track Record Review
In the UK, Patel has proven his stock-picking prowess time and time again. His picks gave his followers the opportunity to earn huge gains, and his insights have earned him legions of fans over the years.
Since October 2020, Patel's recommendations have produced enormous gains. Here are a few examples of his most recent hits: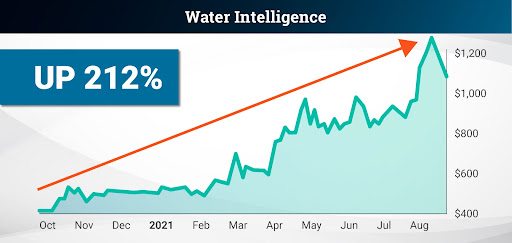 Water Intelligence flashed a 12.3 CROCI rating before exploding to a 212% gain.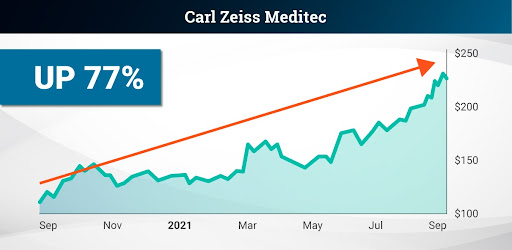 Carl Zeiss Meditec had an 11.1 CROCI when Patel made his call. It shot up 77% over the next 12 months.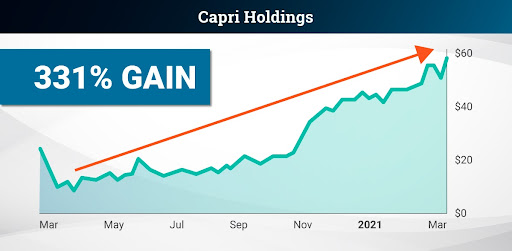 Patel set a price target of $12 on Capri Holdings, but it just kept going higher. It ended up with a 331% gain and a share price of more than $50 just a year later.
As you can see, Patel is not a one-hit-wonder. He's had amazing success in Europe, and he's producing similar results with GVI Investor.
>> Join GVI Investor now to get great stock picks like these <<
GVI Investor Pros and Cons
GVI Investor is an excellent service, but it has some drawbacks too. You should be aware of these pros and cons.
Pros
World-class guru in Alpesh Patel

Combines best elements of growth, value, and income strategies

New stock recommendations every other week

365-day satisfaction guarantee

Three bonus reports featuring high-potential stocks

The GVI Investor Handbook

shows you how to apply the GVI strategy

Impressive track record

Unlimited access to a customer service concierge team

Utilizes CROCI; a cutting-edge metric for predicting growth

Keeps you informed with alerts and notifications

Model portfolio for quickly and easily tracking each recommendation

Monthly video calls for charter members
Cons
Costs may be price prohibitive for some

No cash return policy
Is GVI Investor Right for Me?
GVI Investor has a lot to offer, but it's a particularly good fit for people interested in these topics:
Growth Stocks
Alpesh Patel has a nose for growth stocks. This package's bonus reports feature three particularly strong growth opportunities, and you can expect to receive a steady stream of high-quality stock recommendations throughout the course of your membership.
Technical Analysis
Alpesh Patel's GVI Investor utilizes a technical analysis-based investment strategy that helps eliminate personal bias by zeroing on stocks with the best statistical probability of success. If you believe in the merits of technical trading, you will be right at home with GVI Investor.
Talented Leadership
Few services can claim to have a guru as noteworthy as Alpesh Patel. Patel has an extremely impressive resume and a lengthy history of notable successes. He had a spectacular career in the UK, and he's encountering similar success in the US with GVI Investor.
Active Trading
GVI Investor keeps you busy with a steady stream of semi-weekly stock recommendations. You'll get a new pick to explore every two weeks so you'll never run short of new investment ideas. That's about double what the typical monthly newsletter service offers.
>> Sound like a fit? Get started now <<
More GVI Investor Reviews
Here are some additional Alpesh Patel and GVI Investor reviews from members: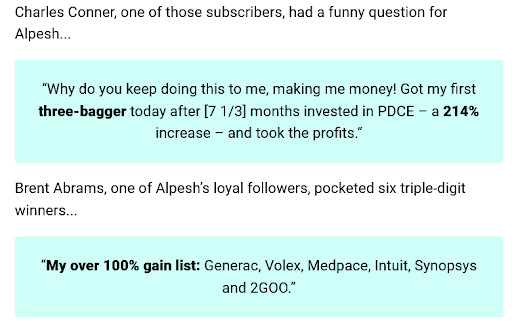 And here are a few more:


These reviews came directly from Alpesh Patel's latest GVI Investor presentation, so you should take them with a grain of salt. These results may not be typical, but the quotes nonetheless give you an idea of members' experience with the service.
How Much Does GVI Investor Cost?
In the UK, Alpesh Patel's readers paid as much as $27,000 to access his research. Fortunately, he's not charging quite as much for GVI Investor.
A charter membership to GVI Investor typically costs $4,900 per year, but our readers can get this entire package at a significantly discounted rate.
If you join under this deal, you can save $2,000 off the sticker price and pay just $2,900 for a one-year subscription to GVI Investor.

You can save even more if you upgrade to an additional year. Under the current package, you can signup for a two-year GVI Investor subscription for $3,000.
The two-year deal brings your average annual cost down to $1,500 per year, roughly $2,400 less than the typical sticker price.
While that's certainly a substantial cost, it's not outrageous when you weigh everything this package has to offer. Better yet, you can reap some serious savings by taking advantage of the discount and multi-year subscription options.
>> Get started now to save 40% on GVI Investor <<
Is GVI Investor Worth It?
GVI Investor is led by an award-winning hedge fund manager with a fantastic track record. Investors paid huge sums to have Patel manage their money, but you can access this talented guru's insights for substantially less with GVI Investor.
Alpesh Patel's GVI Investor isn't your average run-of-the-mill newsletter service. Members get a first-class service experience and access to exclusive research and insights.
This package also includes several bonus reports featuring three of the best stocks according to their GVI-CROCI ratings, and a handbook explaining how you can utilize Patel's system for your own purposes.
The upfront costs might seem substantial at first, but it's a lot more reasonable when you compare it with other options. This is a premium service that goes above and beyond what most basic newsletters offer.
GVI Investor typically provides twice as many stock picks as you would get with a bargain-bin monthly research service, and you also get weekly updates and monthly video calls with Alpesh Patel.
If you still have doubts, remember that your subscription includes a 100% satisfaction guarantee that covers the entire length of your first one-year subscription.
If you're not satisfied with GVI Investor for any reason, you can get a matching credit to spend on other Manward Press offerings. It doesn't matter if it's the 365th day of your subscription, you can qualify for full credit under the 'no-questions-asked refund policy.
Alpesh Patel's GVI Investor certainly carries a substantial upfront cost but, if you're serious about making a run at the market, it's worth every penny.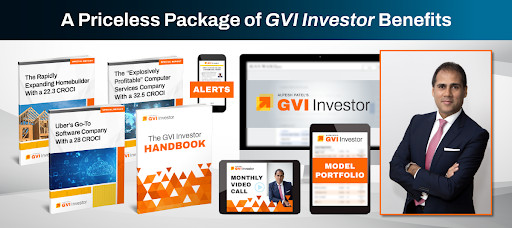 GVI Investor Review: Final Verdict
GVI Investor is an excellent service that can provide tremendous benefits. Alpesh Patel is an investing rockstar and his experience as a private equity fund manager is a real asset to the service.
Members can expect a steady stream of high-quality stock recommendations, concierge-grade service and support, exclusive access to Patel, and much more.
Best of all, your subscription is covered with a 100% satisfaction guarantee for the entire length of your first year.
As soon as you join, you get access to everything described here, including the bonus reports and model portfolio. So, you'll have several stock picks to explore right away.
Then, the hits keep coming with new recommendations every other week. You also get video calls with Patel where you can garner even more insights from the award-winning hedge fund manager.
Last but not least, you can save $2,000 on your GVI Subscription if you take advantage of this deal. That's a substantial discount that saves you upwards of 40% on your purchase.
Alpesh Patel's GVI Investor is an excellent service for people who are serious about advancing their stock market knowledge. It provides everything you need to take your portfolio to the next level.
>> That's it for our GVI Investor review. Get started now to save $2,000 <<