StreetAuthority and Nathan Slaughter are back with another presentation for their high-yield stocks research service, High-Yield Investing. We're going to put the Bulletproof Buys deal under the microscope in this High-Yield Investing review, so stay tuned to get the full story.
High-Yield Investing Review: Overview
High-Yield Investing is a research service and newsletter led by Nathan Slaughter and published by StreetAuthority. True to its title, the service primarily focuses on high-yield investment opportunities in the stock market.
Members of High-Yield Investing enjoy an extensive list of benefits, including monthly issues of the High-Yield Investing newsletter, full model portfolio access, portfolio alerts, and more.
Each new subscription also includes a robust money-back guarantee, and members get access to exclusive research from market veteran Nathan Slaughter.
Slaughter's latest presentation for High-Yield Investing focuses on a core group of high-yield stock recommendations he calls his Bulletproof Buys.

Nathan Slaughter's Bulletproof Buys
These five "bulletproof" stocks each have the potential to produce steady, long-term income, and the current deal includes an in-depth research report with individual analysis of all five Bulletproof Buys.
The Bulletproof Buys deal includes several additional research reports and bonuses focusing on promising investment opportunities.
We'll break down all of this package's features in the later sections, but first, who is Nathan Slaughter and is he worth listening to?
>> Join now to unlock Slaughter's Top-5 Bulletproof Buys <<
Nathan Slaughter Review
Nathan Slaughter is a respected investment guru and the Chief Investment Strategist for StreetAuthority's High-Yield Investing and The Daily Paycheck newsletter services.
Slaughter spent many years working closely with the market prior to his work with High-Yield Investing and other services. His resume includes stints at AXA/Equitable Advisors, one of the world's largest financial planning firms, and Morgan Keegan, where he worked as a portfolio manager.
Slaughter also has an impressive set of academic credentials, including a degree in Finance/Investment Management from the Sam M. Walton School of Business.
Nathan Slaughter Track Record
Since he began writing full-time in 2004, Slaughter has published hundreds of articles for prominent online and print publications, and many of his recommendations have produced outstanding results.
We couldn't find any verified examples of his past stock picks, but he must be doing something right to be in the industry this long.
He has a long career's worth of financial insights under his belt, and he's been writing about the market for almost two decades. It seems like Slaughter is an experienced hand with a good feel for markets.
>> Access exclusive Nathan Slaughter research when you join now <<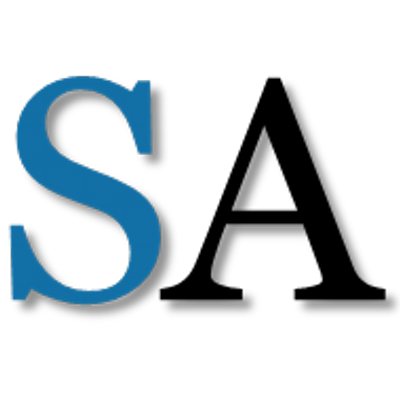 StreetAuthority Review
StreetAuthority is an investment research firm and the publisher of High-Yield Investing. The company also has several other services under its banner, including Maximum Profit and Takeover Trader.
The US-based company has been around for several years, and many of their services have produced noteworthy successes over that time. Most StreetAuthority services also include money-back guarantees, and the company has a professional member services team standing by to address any potential issues.
StreetAuthority's High-Yield Investing is one of its only services focusing on high-paying income investments, and the newsletter has become a respected voice among income investors.
Is StreetAuthority Legit?
StreetAuthority is a legitimate US-based company with a long track record for honest business and satisfied customers. You don't have to worry when you're doing business with this firm.
>> Get started with StreetAuthority's High-Yield Investing research service today <<
High-Yield Investing: Bulletproof Buys Review
In his latest presentation, Slaughter showcases his top-5 high-yield stocks from across the market. He believes these companies could produce steady cash flow for years to come.
Slaughter believes his Bulletproof Buys could produce superior returns to typical buy-and-hold plays because of their consistent, high-yield dividend payments.
Even if you're not primarily interested in investing to generate passive income, the extra payments can amount to a substantially greater return and may even outperform the typical buy-and-hold investment strategy.
According to Slaughter, you're leaving a ton of money on the table if you don't take advantage of income plays like these. The graph above compares how a $10,000 investment in 1960 would've fared in a buy-and-hold strategy versus Slaughter's Bulletproof Buys.
As you can see, the difference is massive. The Bulletproof Buys produced an overall return more than 6X that of the buy-and-hold stocks.
But, what exactly makes a stock "bulletproof"? Let's take a closer look at Slaughter's criteria for choosing his top buys.
Slaughter's Top High-Yield Stocks
When selecting his Bulletproof Buys, Slaughter focuses on a few key attributes: high-quality business, long history of steady payouts, and consistent dividend growth.
This formula led Slaughter to what he says are "five of the strongest, safest, and most generous income stocks [he's] ever recommended." So if you're not big on the typical high-risk, high reward stock picks from other gurus, these stocks could better suit your investment objectives.
Each company has been rewarding its investors for decades with consistent dividends that have only gotten larger over time.
>> Join now to get the tickers for all 5 Bulletproof Buys <<
The Bulletproof Stocks
During the presentation, Slaughter teases some details about each of his top-five high-yield investments. Here's what he reveals:
The first stock comes from an energy titan whose dividend has increased 683% since its IPO 20 years ago. If you invested $17,000 when it was first recommended, you'd be sitting on $36,000 in dividends alone.

Next comes an infrastructure giant whose dividends are up 171% in the past 10 years. The stock has delivered average annual returns of 20% over the last decade; almost doubling the S&P 500.

Third, this pipeline stock has increased its dividends for 22 years straight, and it had a 7% dividend yield when this presentation was released.

The fourth stock is a real estate investment trust (REIT) whose dividends are up 3,682% over the past 18 years, and it's produced a compounded annual return of 15.2% since going public in 1994.

Finally, the fifth stock represents one of the world's largest financial exchanges. Its dividend payouts are up 541% over the past ten years, and it pays out special dividends every December as a Christmas gift.
It certainly sounds like a promising collection of income stocks, but we're going to dig a lot deeper before this High-Yield Investing presentation is through. Stay tuned for a complete breakdown of all this service has to offer.
What's Included With High-Yield Investing: Bulletproof Buys?
12 months of the

High-Yield Investing

newsletter

Full access to the

High-Yield Investing

model portfolio

Portfolio Updates and Flash Alerts

Full access to Nathan Slaughter's research archives

Bonus subscription to

StreetAuthority Insider

FEATURED REPORT:

Bulletproof Buys: 5 Income Stocks to Own Forever

Easy Money: "Be the House" and Claim Your Share of Record Casino Riches BONUS REPORT

Social Security Insurance: How to Generate $32,522 Per Year Starting Tomorrow BONUS REPORT

100% Money-back guarantee for 90 days
>> Sign up now to lock in your Bulletproof Buys bonus bundle <<
High-Yield Investing Newsletter Review
The High-Yield Investing newsletter is the cornerstone of Nathan Slaughter's service. It's where you'll find all the latest research from him and his team, including fresh stock recommendations and more.
You'll get a new issue of the newsletter with a new stock pick to explore every month. Slaughter will also keep you apprised of the latest news impacting the model portfolio and the market as a whole.
This high-yield investments newsletter will help you navigate the market more effectively and keep you busy with a constant stream of new high-yield investment opportunities to explore.
Slaughter's market commentary is extremely insightful, and reading his writings regularly can expand your investment education and lead you to even more promising ideas.
Model Portfolio
High-Yield Investing members have unrestricted access to a model portfolio containing all of Nathan Slaughter's active stock recommendations and detailed info on each holding.
You can use the model portfolio to quickly check up on the status of each of High-Yield Investing's recommended stocks. Just a quick glance will tell you everything you need to know about the stock's progress as of late.
The portfolio provides all of Slaughter's active recommendations, including picks that may have been released before you signed up. So, you'll have a collection of promising stock picks waiting for you as soon as you join.
High-Yield Investing's model portfolio makes it easy to follow along with Slaughter's recommendations and track their progress. It's an excellent compliment to the service that deserves praise for its clean and intuitive layout.
Updates and Alerts
Once Slaughter recommends a stock, he and his team begin following its progress closely. They'll monitor the market and make sure nothing changes that would affect their view on a company.
However, the market is inherently unpredictable, so circumstances inevitably change. Fortunately, the team will notify subscribers whenever something needs their attention.
Slaughter keeps his readers up to speed with mid-month updates on the latest model portfolio news. These reports will keep you up to speed in between issues of the monthly newsletter.
These reports combine all the noteworthy news around each company into a quick and easy-to-read brief. So, you can keep up with the portfolio without spending hours researching individual stocks.
If something needs your attention right away, High-Yield Investing will send out a flash alert notifying you. The alerts will also include detailed instructions on the best course of action for responding to the new circumstances.
Long story short, you're covered with High-Yield Investing updates and alerts. All you have to do is follow along, and you'll have all the information you need for the best chance at success.
Nathan Slaughter Research Archives
Your membership also includes access to Nathan Slaughter's private, password-protected research archives, where you can find a complete collection of his work.
The archive contains a vast library of research reports that stretch back more than a decade. You can explore dozens of topics and companies to discover countless trade ideas and insights.
Between the bonus reports and research archives, you'll have no shortage of research materials to explore, and they could lead you to some valuable insights.
>> Get instant access to Nathan Slaughter's research library when you join now <<
StreetAuthority Insider
Members of High-Yield Investing also enjoy a bonus subscription to another weekly newsletter from StreetAuthority, StreetAuthority Insider.
This weekly brief brings you StreetAuthority's top-rated stock picks from the past week, along with details on the gurus who recommended them.
Picks like these have helped make StreetAuthority one of the fastest-growing investment advisory publishers in the U.S., and you get first-hand access for free as thanks for joining the StreetAuthority family.
Between the monthly newsletter, mid-month updates, and StreetAuthority Insider, you'll get new research updates every week for your entire 12-month subscription.
High-Yield Investing: Special Reports
Nathan Slaughter is throwing in a set of special research reports for his Bulletproof Buys deal. Here's what you get with each one:
Bulletproof Buys
The featured report in the Bulletproof Buys deal includes detailed information on Slaughter's highest-rated dividend stocks for long-term growth.
Inside, you'll find all the information you need to make a move, including each company's name, ticker symbol, growth outlook, and much more.
This report might be the most valuable piece of the entire package, but we discussed the five dividend stocks covered in this report at length in the previous sections.
Check out the earlier section on Bulletproof Buys to learn more about the companies included in this report.
Easy Money
Slaughter sees a major opportunity developing in the casino industry. COVID is on its way out the door, and he believes casinos are going to have a huge influx of newly liberated players coming their way.
However, Slaughter isn't recommending you run out and buy casino stocks. He's developed an even better strategy for cashing in on the gaming boom.
This guide explains how you can utilize his approach to capture a huge chunk of the expected growth without ever owning a single share of casino stocks.
It could be an excellent outside-the-box approach to capitalizing on the entertainment sector's bounce back from pandemic-induced hibernation, and the report tells you exactly how to get onboard.
Social Security Insurance
Many experts estimate that the Social Security trust fund could be bankrupt by as soon as 2034. Unfortunately, many people are still relying on their Social Security income to get them through retirement.
If you're banking on Social Security, Slaughter says you could be in store for a rude awakening. But, time is still on your side, and this report will show you how to secure a backup source of steady retirement income.
Two is always better than one, especially when it comes to your retirement livelihood. Slaughter's strategy can help you earn as much up to an additional $32,522 in income every single year.
An extra income stream like that can have a massive impact on your quality of living in retirement, and this report lays out a step-by-step plan for getting there.
>> Get instant access to these bonus reports when you sign up here <<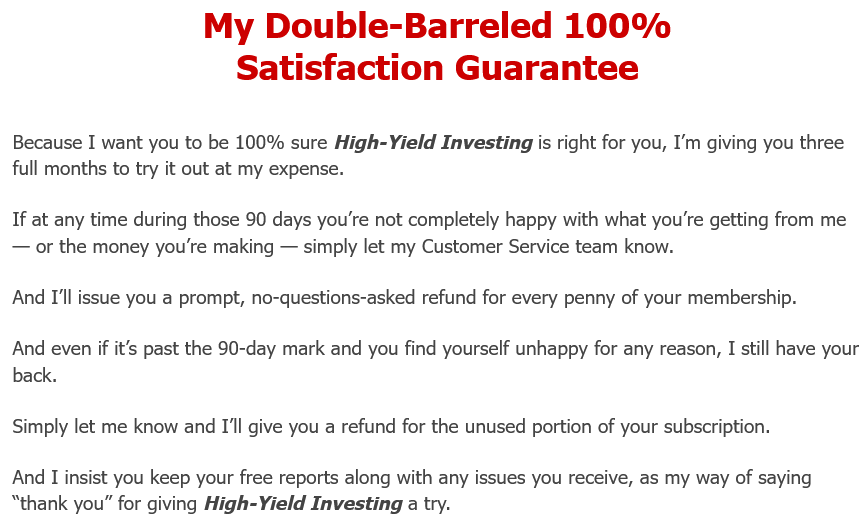 100% Money-Back Guarantee
Every new High-Yield Investing subscription includes a robust 90-day, 100% money-back guarantee.
If there's any issue with your subscription, you can contact customer service for a full refund of your subscription cost at any time within the first 90 days.
High-Yield Investing's guarantee is a substantial improvement over what you typically see from competitors. Most research newsletters only offer 30 days, if anything at all.
The guarantee should give you some much-needed peace of mind if you're considering signing on. Three months is plenty of time to decide if you're getting your money's worth, so it's basically risk-free.
>> Sign up now to take advantage of Nathan Slaughter's air-tight guarantee <<
High-Yield Investing Pros and Cons
Here are the pros and cons of High-Yield Investing:
Pros
New high-yield recommendations every month

Includes Slaughter's Top-5

Bulletproof Buys

Mid-monthly updates and flash alerts

StreetAuthority is a respected, US-based publisher

Bonus subscription to

StreetAuthority Insider

Focus on stocks that pay dividends through a fairly diversified portfolio

Two additional bonus reports

90-Day money-back guarantee

Access to Slaughter's personal research archives
Cons
No community chat or forum

Does not focus on all income-generating assets like corporate bonds or government bonds
High-Yield Investing: Track Record
Nathan Slaughter has been recommending his Bulletproof Buys for years, and they've already produced substantial returns.
Here's how Slaughter describes their results in his own words:
As you can see, these high-yielding dividend stocks have already produced massive gains, and Slaughter's readers have had the chance at huge returns as a result.
These stocks have put up fantastic numbers since Slaughter first recommended them, and they could continue to grow for years to come.
You'll get full access to all five of these stocks and many more exclusive stock picks from Nathan Slaughter when you join High-Yield Investing with the Bulletproof Buys deal.
>> Join now to get more great high-yield stocks like these <<
High-Yield Investing Reviews by Real Members
Here are some of the High-Yield Investing reviews by members we were able to dig up online:
These readers spoke highly of their experience with this service. However, it's worth noting that these reviews came from Nathan Slaughter's recent presentation, so take that into consideration.
However, these High-Yield Investing reviews still give you some valuable insights into what you can expect with Nathan Slaughter's service.
>> Sign up now to join these satisfied High-Yield Investing members <<
How Much Is High-Yield Investing?
StreetAuthority's High-Yield Investing newsletter typically sells for $99. However, our readers can access a special discount with the Bulletproof Buys package.
If you sign up now, you'll get Slaughter's Bulletproof Buys and all the other bonus resources covered in this review for the steeply discounted price of just $39.
The discount saves you more than 60% on the cost of a 12-month subscription, plus you also get tons of bonuses, including three bonus reports and archives access.
Alternatives to High-Yield Investing
High-Yield Investing is an excellent newsletter. However, there are alternatives worth considering.
Some of these services tackle different niches, which could complement High-Yield Investing and add even more diversity to your portfolio.
If you're in the market for multiple research products, these alternative services might also be a good fit.
Is High-Yield Investing Worth It?
High-Yield Investing looks like an absolute bargain at just $39 for the first year. You get a full-year of the newsletter plus tons of additional bonuses at an absolute steal of a price.
You could easily make the argument that the Bulletproof Buys report justifies the cost of the subscription on its own, and that's just one small piece of this jam-packed research package.
Altogether you'll get three bonus reports, weekly research updates for an entire year, new stock picks every month, model portfolio access, and much more.
Better yet, it's all covered with a 90-month guarantee, so it's virtually risk-free.
For just $39, you're getting a research service that can lead you to tons of promising high-yield stocks and other investment opportunities. This is a drop in the bucket when considering that these picks could set you up with a retirement portfolio that pays out like clockwork.
We think Nathan Slaughter is the real deal, and this High-Yield Investing package looks like the best value we've seen in some time.
If you're interested in taking your income investing knowledge to another level, you can't go wrong with High-Yield Investing's Bulletproof Buys package.
>> Claim your 60% discount and get started now for just $39 <<