Air travel is a massive global industry, and it's full of investment potential. Airlines are bouncing back in a huge way as travel restrictions lift worldwide.
Beginner or otherwise, this is a great time to look into the potential of rising airline stocks on the market.
In this article, we'll talk about some of the best airline stocks to buy right now.
Best Airline Stocks To Buy
Southwest Airlines (NYSE: LUV)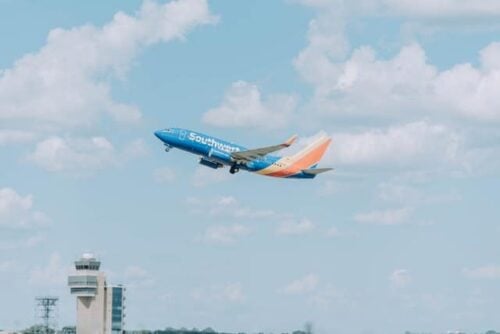 Southwest Airlines was founded in Dallas in 1967 and was one of the first low-cost airlines in the world.
They started off flying just within Texas but now fly to over 100 destinations domestically and to Mexico, Central America, and the Caribbean.
Southwest sets themselves apart from other airlines with their friendly customer service and transparent pricing model.
Each passenger gets two checked bags for free, and they also don't impose fees for travelers that need to change their flights.
One of the things that makes Southwest Airlines such a good buy is that they have a great financial track record.
They've managed to keep their expenses low and have historically been much more profitable than their competitors.
While all airlines suffered when the Covid-19 pandemic was in full swing, Southwest wasn't hit as hard due to the majority of their flights staying within the United States.
This company's financial successes are due to a very savvy business model that isn't changing anytime soon.
For example, Southwest does not use the traditional hub and spoke model, which can be very pricey.
Instead, they have direct flights from several key focus cities. They also stick to one Boeing aircraft model.
Southwest is expanding to six new cities across the US in 2021, with more expansion plans on the horizon.
Most notably, they have recently begun flying out of Chicago's O'Hare International Airport, which has long been dominated by United Airlines.
Investors are hopeful that the airline will eventually hit its pre-pandemic highs of over $65 per share.
Delta Air Lines (NYSE: DAL)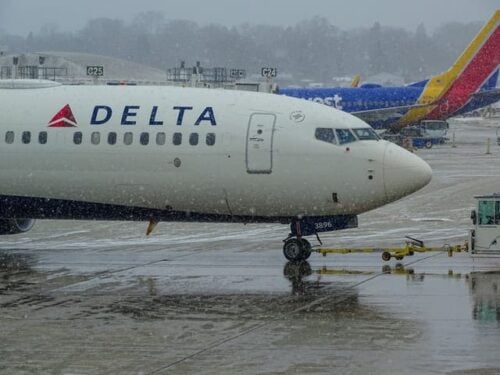 Delta Airlines is one of the largest carriers in the United States and in the world.
They have a very long history and began their first passenger service in 1929.
They were one of many airlines to struggle in the early 2000s and through the Great Recession but emerged stronger after acquiring Northwest Airlines in 2008.
They have since become one of the most innovative airlines on the market.
Delta shares dropped sharply when the pandemic hit but have seen increases heading into 2021 that continue to show positive momentum.
There are a few reasons why Delta is coming out of this crisis stronger than some of its competitors.
They have stakes in seven international airlines, and they also have 23 international codeshare agreements.
One of Delta's savviest financial moves was to purchase an oil refinery in 2012, which helped them manage their fuel costs much more effectively than competitors.
Delta has also figured out how to compete with low-cost carriers in a way that many of their high-end competitors have not.
They've done this through a focus on great customer service, efficiency, and transparency.
Biggest Airline Stocks
American Airlines Group Inc. (NASDAQ: AAL)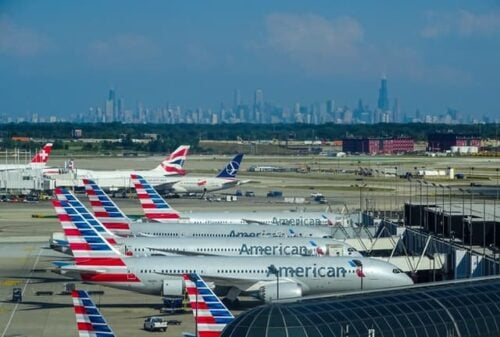 As of 2021, American Airlines is once again the largest airline in the world to date.
In 1930, more than 80 smaller air carriers merged to form American Airlines.
Since then, they've built a massive international presence in over 50 countries.
They currently serve more than 350 destinations and have joint ventures with five international airlines.
Additionally, the company owns US Airways, merging with them in 2013 as a result of financial struggles that American Airlines had at the time.
The company was hit particulaly hard as a result of the pandemic, having to cut back on routes and planes as shutdowns happened.
Luckily, they have risen out of 2020 with a solid increase in stock share, up over 80% what it was last year at this time.
Investors should be careful with American Airlines, as the company does carry a large amount of debt and has struggled financially for quite some time.
However, if you're looking for a long-term stock pick, this could be one to add to your portfolio.
As the largest airline in the world, it's unlikely that American will ever fully fold.
United Airlines Holdings (NASDAQ: UAL)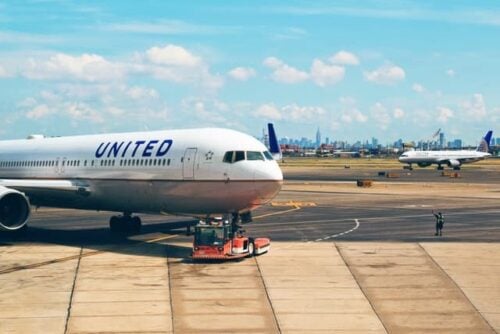 United Airlines is another one of the largest airlines in the world, acquiring Continental Airlines in 2010 and forming United Airlines Holdings.
This company is a member of the global Star Alliance and currently flies to all six continents. They have a substantial network within Asia, which is key for international business travel.
United operates a huge network of routes within the United States, centering around eight domestic hubs.
They serve many small airports through their United Express flights.
Since United flies internationally, the negative effects of the COVID-19 pandemic were quite difficult.
Even so, United has seen favorable increases in stock share coming out of 2020, with an over 40% increase since last year.
While susceptible to global changes, United looks promising as things continue to open up around the world.
Because of their huge market share, investors will want to keep an eye on this airline as the stock market continues to recover.
Airline Stocks To Buy Right Now
Alaska Air Group (NYSE: ALK)
Alaska Air Group is based in Seattle, Washington, and performs passenger and cargo services to 115 different destinations in North America.
This company owns Alaska Airlines as well as Horizon Airlines, which is a smaller regional air carrier.
Between the two companies, Alaska Air Group has five hubs on the west coast of the US.
They also have a strong presence in the Hawaiian market, flying to four airports there.
Alaska Air Group has seen huge gains coming out of the 2020 season with a significant increase in stock price over the first half of 2021.
They look favorable as an attractive stock pick thanks to their presence in top leisure travel markets.
These include resort destinations in Mexico and Hawaii, as well as popular tourist destinations in the US.
Alaska also gets great reviews for their customer experience.
They have a strong business model that makes them one of the best airline stocks to keep an eye on.
Allegiant Travel Co. (NASDAQ: ALGT)
Allegiant Travel is a low-cost carrier with destinations throughout the US.
They offer both scheduled and charter flights, which makes them different than many of the other airlines on this list.
Many of their destinations are small regional airports as opposed to large international hubs.
The company has seen significant growth from the beginning of 2021 and currently sits with stock share some 70% than last year at this time.
Allegiant has a very efficient business model that is designed to keep costs low without compromising the customer experience.
They operate many of their routes seasonally or only a few times per week, depending on the demand for each flight.
By flying only in the US, they haven't lost any revenue from international travel the way some competitors did during 2020.
Additionally, they focus more on the leisure destinations, which have maintained much of their demand.
With such a savvy business model, Allegiant is a stock to watch as the airline industry continues to come back to life.
International Airline Stocks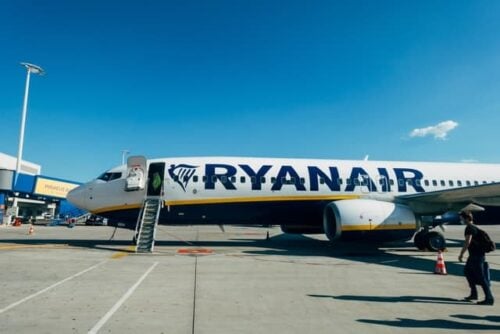 Ryanair Holdings (NASDAQ: RYAAY)
Ryanair is an Irish airline that provides low-cost flight services.
Their holdings group also owns both Buzz and Malta Air.
While the bulk of Ryanair's flights are in Europe, they also have some routes to the Middle East and northern Africa.
This company has been on an upward trajectory as European countries slowly started reopening their economies.
They also saw a significant spike in their share price at the beginning of November that has remained strong to date.
Ryanair is looking to buy 100 new Boeing MAX aircraft by the end of 2021 to further expand their fleet and their collective reach.
They are one of the first airlines to repurchase this aircraft after its struggles and grounding over the past several years.
This stock has had incredible year-over-year returns and huge momentum, sitting 45% higher than it was last year at this time.
Their low fares and general low-cost model have made Ryanair very popular among young leisure travelers.
Best Airline Penny Stocks
Mesa Air Group, Inc. (NASDAQ: MESA)
Mesa Airlines, part of the Mesa Air Group, is a North American carrier traveling to over 100 different cities throughout the United States, Canada, the Caribbean, and Mexico.
The company partners with American Airlines and United, accounting for many of their flights as American Eagle and United Express.
Mesa is growing with nearly 150 aircraft and approximately 400 different departures each day.
In addition to passenger flights, the airline also services air freight.
They were able to ride out 2020 with minimal bumps, and have seen large jumps in their services throughout 2021 to date.
In fact, their stock has seen nearly 200% growth since last year at this time.
The stock price is still quite low at the moment, but the recovering economy and partnerships with two major airlines paint Mesa in a very good light moving forward.
Should I Buy Airline Stocks?
As airlines climb out of a difficult 2020, stock prices are also on the rise. With things looking favorable for air travel to be back in full swing, stock prices are set to continue to improve.
Buying now, while the prices are rising means there's potential for big returns in the long run.
You'll want to ensure that the companies you are investing in have a strong business model.
When it comes to airlines, two key metrics to look at are cost per available seat miles and revenue per available seat miles.
Airline Stocks: Final Thoughts
The airline industry is on its way back up after an incredibly tough year.
The sky is the limit on what these airlines can do with a renewed lease on life as vaccines hopefully bring the pandemic to an end, and travel to the forefront once again.
Thinking ahead, reliable air carriers are a great addition to your long-term investment portfolio.