If you're looking for penny stocks on Fidelity, you've come to the right place. Follow along for our top picks.
Fidelity is one of the most well-known online brokerages globally, as it offers world-class research features.
Also, its research department constantly monitors these companies to ensure that only the most promising assets are offered to investors.
Additionally, Fidelity provides a powerful search tool that allows investors to filter penny stocks through various criteria, including price, market capitalization, and sector.
This all sounds good, but what Fidelity penny stocks should be on your radar?
Keep reading to find out.

Best Penny Stocks on Fidelity
Wrap Technologies, Inc. (NASDAQ: WRAP)
Wrap Technologies, Inc. (NASDAQ: WRAP) develops and sells products designed to improve the safety of law enforcement officers.
The company's flagship product is the BolaWrap 100, a tethered shooting device that fires a Kevlar cord around a subject's body, allowing officers to take them into custody without risk of injury.
WRAP has a strong management team, good products, and a growing market opportunity.
The company recently reported its full-year 2021 results, which showed strong growth.
WRAP's revenue increased by 96% year-over-year, gaining $7.7 million last year.
The company also collaborated with Amazon Web Services (AWS) to develop the WRAP Reality VR training platform for law enforcement agencies.
This is a significant opportunity for WRAP, as the VR training market is expected to grow to billions due to a surge of interest in the metaverse.
The company's growth potential is immense, and its collaboration with AWS could be a significant catalyst.
For these reasons, retail investors might want to consider adding WRAP to their portfolios.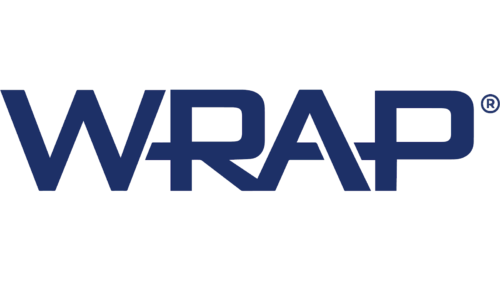 Mullen Automotive, Inc. (NASDAQ: MULN)
Mullen Automotive, Inc. manufactures and distributes solid-state polymer battery technology products.
The company is a pioneer in the development and commercialization of high-energy-density, low-cost, and long-life polymer lithium-ion cells and batteries.
MULN has gained 375.41% in its 1-year performance and is currently trading just under $3.00 this month.
With the rise of electric vehicles, Mullen Automotive is in a prime position to capitalize on the growing market.
The company has a strong balance sheet with no long-term debt and nearly $42 million in cash and equivalents.
Aside from its polymer battery offering, MULN also produces Mullen 5 EVs, which are competing strongly with Tesla and Ford, according to recent studies.
Why?
Because of its price point: it currently sells at $55,000.00, a pretty penny cheaper than the Tesla and Ford Mach.
Overall, MULN is an excellent investment for those looking to enter the electric vehicle and battery market.
With a strong balance sheet and growing product line, this penny stock could be poised for success.

LiqTech International Inc (NASDAQ: LIQT)
LiqTech International, Inc. (LIQT) is a technology penny stock company that engages in the design, development, and commercialization of products and solutions for purifying water and air.
The company offers advanced gas and liquid filtration, separation, and purification technologies.
Thus, it serves various markets, including municipal, industrial, and energy.
LiqTech International is a small-cap penny stock with a market cap of ~$53.33 million.
It has been operational since 2007 and is headquartered in Reno, Nevada.
The company's offerings include the Clarius, Aqua-Air, and Tri-Clarius product lines.
The Tri-Clarius is a three-in-one product that offers a single platform for purifying water, air, and gas.
The Aqua-Air product line offers a portable and easy-to-use purification system for air.
The Clarius product line offers a modular platform for water filtration and purification.
It generated $18.3 million in revenue, a 19% increase Year-over-Year in 2021.
LIQT also ended with a strong cash position of $17.5 million and signed a 3-year OEM membrane supply agreement worth $23 million.
Overall, the company is in a strong financial position with plenty of growth opportunities because of its strong product lines and increasing demand.

Globalstar, Inc. (NYSEAMERICAN: GSAT)
Globalstar, Inc. is a telecommunications company that provides mobile voice and data services to businesses, governments, and consumers in more than 120 countries worldwide.
It has a whole host of factors that make it prime for penny stock trading.
The company's satellite-based services include voice and data communication, asset tracking, remote monitoring and control, emergency response services, and other applications.
GSAT stock has risen by more than 8% to more than $1.34 per share.
This gives it gains of more than 19% and 34% in five days and one month, respectively.
These significant improvements reflect the current state of both Globalstar and the IT industry as a whole.
So, why are GSAT stock prices rising?
The company's strong performance is due to several factors, including its increasing subscriber base, expanding product offerings, and improving financial metrics.
In addition, Globalstar is benefiting from the growing demand for satellite-based services, fueled by the rapid expansion of the global cellular market.
Globalstar's subscriber base is expected to expand as it rolls out new products and services, and its financial position could continue to improve as it generates more revenue and reduces costs.
The company also recently announced plans for a new fleet of satellites in partnership with MDA and Rocketlab.
This is good news for long-term investors, as it indicates that Globalstar is committed to expanding its business and delivering value to its shareholders.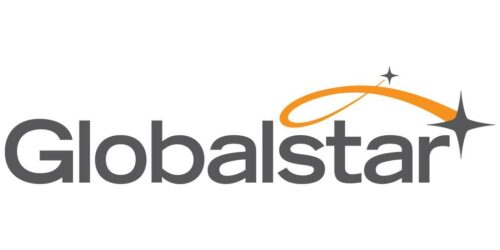 Top Penny Stocks on Fidelity
Amyris Inc (NASDAQ: AMRS)
Amyris Inc. is a penny stock company that is focused on the development of synthetic biotech products.
Some of Amyris Inc.'s products include flavors, fragrances, cosmetics, and pharmaceuticals.
It also has partnerships with some of the largest companies in the world, including BASF and Bayer.
In total, Amyris Inc. has raised over $200 million in funding, and its shares have increased by more than 7%.
This is on the heels of a one-month rise of over 12%, which is no minor achievement.
The company announced it had successfully completed a $30 million debt offering leading to the run-up.
This is a good move for the company because it will give more liquidity as it continues to develop its products.
The money will also be used to repay some of the company's outstanding debt.
In the most recent quarter, the company reduced its losses by more than 50% due to an increase in revenue of over 100%.
Buying stocks of Amyris is still a risky investment, but there is potential for upside if it can continue to grow its business.
If you are looking for exposure to the synthetic biotech market, this could be a good stock to consider.

Clear Channel Outdoor Holdings Inc (NYSE: CCO)
Clear Channel Outdoor Holdings is one of the largest outdoor advertising companies in the world, with more than 450,000 print and digital displays across 31 countries.
The company offers advertising services through billboards, digital billboards, transit shelters, and other out-of-home advertising media.
Clear Channel Outdoor Holdings has a market capitalization of $1.6 billion and is trading below its 52-week high of $4.01 and above its 52-week low of $1.87.
The company reported revenue in its US markets of $371 billion in 2021, an increase of 44% from 2020.
Its earnings before interest, taxes, depreciation, and amortization (EBITDA) were $169.8 million last year, up by 80.3% YoY.
While in Europe, revenue totaled $349.7 million in 2021, up by 30.3% from 2020.
The recovery of airport displays, growth in digital displays, and strength in the company's billboard portfolio all contributed to the gain.
Additionally, Clear Channel Outdoor Holdings repaid the $130 million outstanding balance on its Term Loan B and revolver during 2021.
It is expected to grow its revenue by high-single digits in 2022, and its EBITDA is expected to grow by low-double digits as the company benefits from its large and growing customer base, improving airport displays mix, and expansion in digital displays.
Overall, CCO is a healthy penny stock company with strong prospects for growth.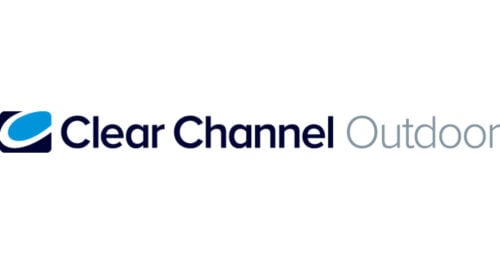 Should You Buy Penny Stocks on Fidelity?
Fidelity is one of the world's largest financial services providers, and it's a fantastic platform to buy and sell penny stocks.
It also supports over-the-counter (OTC) stocks, which are not offered by many trading platforms.
Stocks on the over-the-counter market are often issued by smaller, less-known companies and are considered high-risk investments — even riskier than typical penny stock trades.
Buying penny stocks on Fidelity can be a great way to get started in the stock market or invest in smaller companies that may not be available on other exchanges.
However, before you buy penny stocks on Fidelity (or any brokerage), it's essential to understand what they are and what risks are associated with them.
Volatility is a difficult tool to wield, but you could see impressive gains if you learn to time your trades effectively.
Always do your own research and only invest what you can afford to lose.
How to Enable Penny Stocks on Fidelity
You cannot simply register and buy penny stocks on Fidelity, as you would with most other stocks.
There are a few simple steps you need to do to start trading penny stocks on Fidelity:
Go to the Fidelity website and sign in to your account.

Click on the "My Accounts" tab at the top of the page.

Under the "Account Type" column, click on "Brokerage Account."

Head on to the Agreement Page and select the account you'll use to trade for penny stocks.

Agree to the acknowledgment of risks and hit "Next".
You can now search and trade penny stocks on Fidelity using their search bar or by looking through their OTC stocks list.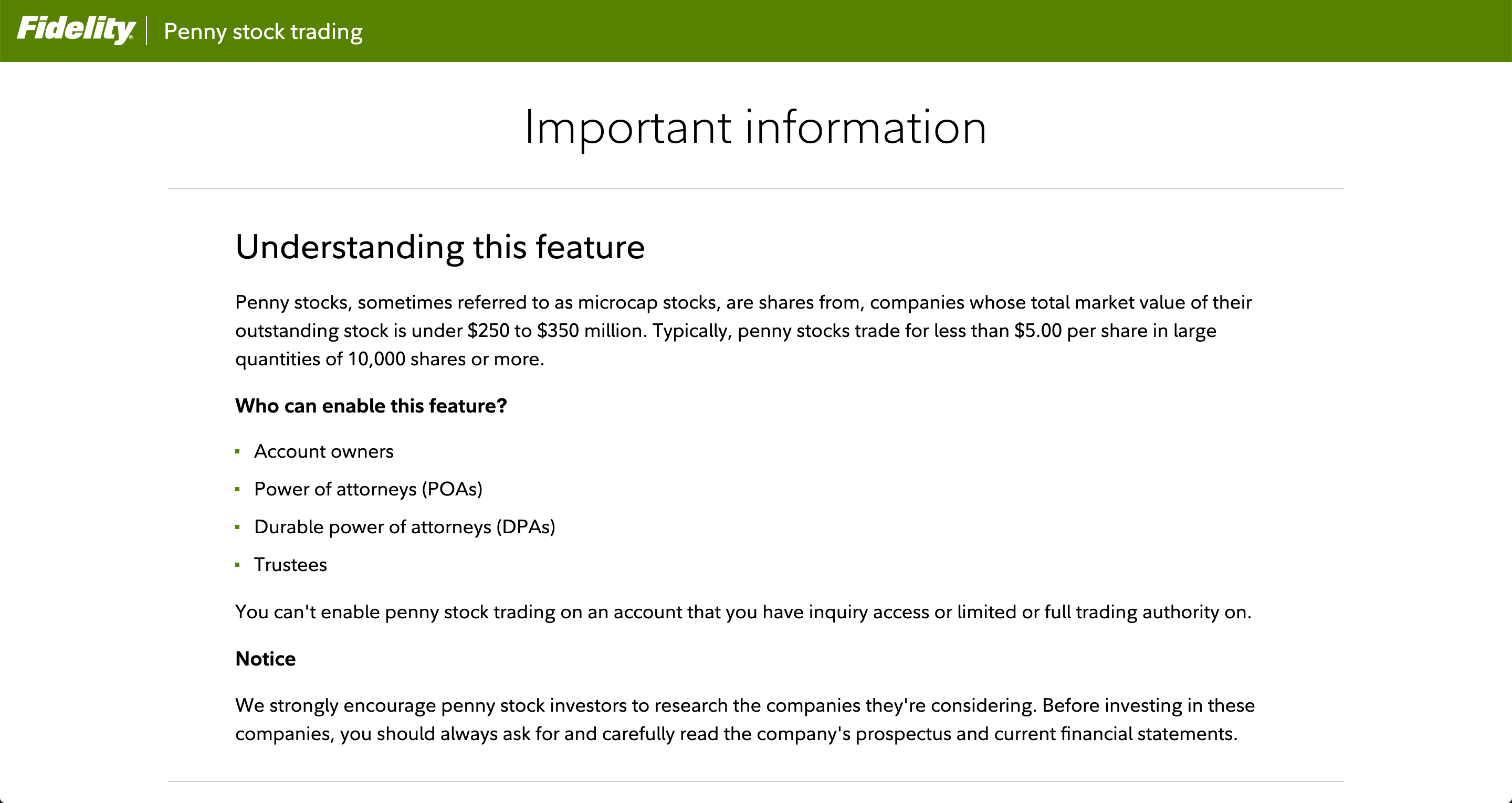 Penny Stocks on Fidelity: Final Thoughts
Fidelity does not charge commissions on stock trades, even penny stocks, and has no account minimum, which could be good for investors on a budget.
Regardless of trading frequency or amount, all Fidelity clients have access to the Active Trader Pro platform, and it includes features also available on the mobile app.
Fidelity also offers research and educational tools to help investors make informed decisions.
Overall, Fidelity is a good choice for investors of all levels, especially those who are new to investing, on a budget, or simply looking to invest in penny stocks.
Not all penny stocks are worth investing in, but Fidelity makes it easier to do your due diligence than most mobile trading apps.
Penny Stocks on Fidelity FAQ and Recap
Is Fidelity Good for Penny Stocks?
Fidelity Investments is a good platform for trading penny stocks. The company offers a wide variety of resources that can help you research and trade these low-priced securities. Additionally, Fidelity has a number of trading tools and features that could give you an added edge.
How Do I Find Penny Stocks on Fidelity?
There are a few ways to find penny stocks on Fidelity. The easiest way is to use the company's online stock screener. This tool allows you to filter stocks by price, and it will return all the penny stocks traded on major exchanges.
Alternatively, you can browse through the penny stocks listed on the Fidelity website. This can be a time-consuming process, but it can be helpful if you're looking for specific companies or industries.
What Are the Best-Performing Penny Stocks?
Wrap Technologies, Inc. (NASDAQ: WRAP) is a penny stock that has seen impressive gains over the past year. The company manufactures and sells a patented safety product called BolaWrap 100, a tethered shooting device that fires a cable around a suspect's waist and attaches the other end to a law enforcement officer.
Can I Buy Stocks Under $1 on Fidelity?
Yes, Fidelity customers can trade penny stocks under $1 on Fidelity. In fact, many penny stocks are traded on major exchanges, and you can buy and sell them using your Fidelity account. However, it's important to remember that penny stocks are high-risk investments that may not be suitable for all investors.
Are Penny Stocks Worth It?
That depends on the stock. It's important to do your research before buying any penny stock, and you should never invest more money than you can afford to lose. Also, if you're new to trading stocks in the $5 or under range, you might want to steer clear of OTC exchanges.