Did you know that you can invest in some of your favorite alcohol brands?
Many of the world's top beer, wine, and spirits producers are publicly traded so you can buy them as long as you have a brokerage account!
We've rounded up some of the best alcohol stocks on the market to add to your portfolio.
Alcohol is a regular part of life for so many people, regardless of the current economic climate.
This makes them a great addition to any investment portfolio.
Although many people consider them to be 'sin stocks,' the market's best alcohol stocks can actually be a very lucrative investment.
Best Alcohol Stocks To Buy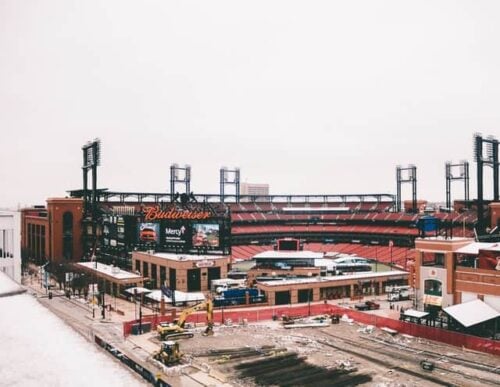 Anheuser Busch InBev (NYSE: BUD)
Anheuser Busch is one of the largest and most successful brewing companies in the world.
The company was formed in 2008 when InBev, an international brewing company, acquired Anheuser Busch.
The original InBev company was also formed through a merger of two brands.
These were AmBev, a Brazilian brewing company, and Interbrew, a Belgian brewing company.
The company maintains a large global presence today.
This company brews many of the world's most popular beers.
Their beer brands include Budweiser, Busch, Michelob, Stella Artois, and more.
Some of the company's subsidiaries also have a presence in the non-alcoholic soft drinks market, which diversifies their portfolio.
They also own a number of small craft beer companies in addition to their larger names.
Anheuser Busch is a major supplier of bars and restaurants.
They struggled last year as COVID-19 has caused shutdowns around the world.
Despite the challenges of 2020, the company has taken some smart steps in the right direction.
They're making a dedicated effort to reduce their debt and clean up their balance sheet.
Share prices have been steadily going up over the past several months, although they haven't yet returned to pre-pandemic levels.
Their earnings per share have been steadily improving as well.
COVID-19 vaccines are readily available in some parts of the world, which means that bars and restaurants can open up in some capacity.
This is a good sign for Anheuser Busch, who will be looking to recover some of the earnings they lost this year.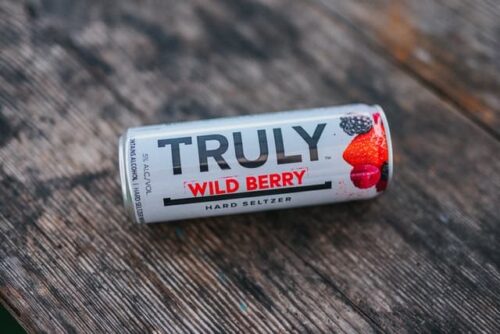 Boston Beer Company Inc. (NYSE: SAM)
Boston Beer Company is best known for Samuel Adams, which was one of the first craft breweries to make a splash in the national market.
However, they also run a number of other brands, with a focus on craft beers and other high-end drinks.
Some of these include Angry Orchard cider and Twisted Tea.
In 2016, Boston Beer launched a line of hard seltzer called Truly.
Hard seltzers have taken the alcohol industry by storm over the past few years, and Truly has been very successful.
In fact, it was one of the best selling products for Boston Beer this year.
There has been a trend towards high end craft drinks in recent years, which has really helped Boston Beer.
They saw a significant jump in revenue in mid-2020 despite the challenges of the pandemic.
This resulted in an increased share value as well.
Boston Beer's stock isn't cheap right now. Shares trade for over $1200 each and have steadily been going up over the last year.
This means they aren't a particularly accessible stock for every investor.
The company's most recent earnings report far exceeded analysts' expectations, which prompted a significant jump up in price.
This is likely due to the rise in popularity of Truly hard seltzer.
If they can continue focusing on Truly and other innovative new products, Boston Beer will likely remain a powerhouse in the alcohol market.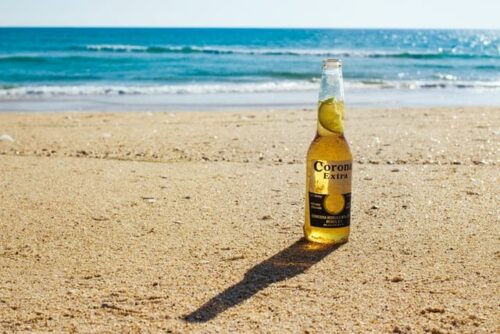 Constellation Brands Inc. (NYSE: STZ)
Constellation Brands has a huge portfolio of successful brands, including wine, beer, and liquor brands.
They are a Fortune 500 company and are based in New York, although they have brands from all over the US in their portfolio.
One of the things that sets Constellation Brands apart is the wine brands they own.
These include Robert Mondavi, Clos Du Bois, Mark West, and many more.
Constellation Brands also owns beer brands Modelo, Pacifico, and Corona.
Rounding out their portfolio are top spirit brands like High West Whiskey and Svedka Vodka.
In addition to their alcohol brands, Constellation Brands has a 38.6 percent stake in Canopy Growth, which is a leading cannabis company.
There's a huge market for both recreational and medical cannabis products right now as many countries are beginning to legalize them.
Constellation Brands has recovered quite well from the coronavirus pandemic.
By January 2021, their shares had risen higher than they were in January 2020.
This growth has continued into the spring.
They managed to fight off the challenges of the pandemic and kept their earnings stable.
Their beer sales were particularly strong this year.
Constellation Brands is definitely one of the top alcohol stocks to keep an eye on moving forward.
They make a diverse range of alcoholic beverages that appeal to a wide audience, which helps keep them stable.
Additionally, bars and restaurants are starting to open up around the world, which means even more revenue opportunities for this company.
Brown Forman Corporation (NYSE: BF.B)
Brown Forman is the largest spirits manufacturer in the US.
They are particularly well known for their whiskey brands, which include Jack Daniels and Woodford Reserve.
Their headquarters are in Louisville, Kentucky, but they sell products in over 170 countries.
In addition to whiskey, Brown Forman owns companies that make scotch, tequila, vodka, wine, and more.
Brown Forman has a very long history of success. Initial founder George Garvin Brown started the company in 1870.
Brown Forman bounced back from the challenges of the pandemic fairly quickly.
While their stock did take a dip in March of 2020, their share prices had fully recovered by August.
Some of their products did see a drop in sales during 2020, but Woodford Reserve sales actually increased.
Additionally, Brown Forman is a great dividend stock. They currently have a dividend yield of 0.94 percent.
Brown Forman has also seen continuous dividend growth for the last three decades.
Compania Cervecerias Unidas (NYSE: CCU)
The Compania Cervecerias Unidas is one of the leading alcohol companies in Latin America.
They have been around since 1902, and they make non-alcoholic beverages and food products in addition to their beer, wine, and spirits.
The company is currently based in Santiago, Chile.
They frequently collaborate with other notable beverage companies around the world, such as Heineken, Guinness, Pepsi, Snapple, and Nestle.
They have a diverse portfolio and significant market share in Latin America, which makes them a very interesting investment.
Like so many other alcohol brands, CCU struggled during 2020 in terms of total revenue.
Their returns suffered as a result, but now things are finally moving in the right direction.
After hitting a low point in November, their stock price has been consistently improving throughout 2021.
They're also an excellent stock for income investors, with a 2.85 percent dividend yield.
CCU is taking steps to reinvest in their business and improve their overall market performance.
However, it may still take a while before we see significant earnings growth again.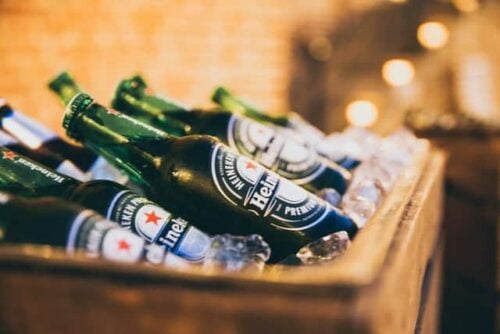 Heineken (OTC: HEINY)
Heineken is an iconic Dutch brewer that makes some of the world's most popular beers.
They currently own over 165 breweries around the world.
Their namesake brand is the most well-known in the US, but they have breweries operating in Europe, Asia, Latin America, and Africa as well.
Heineken's global presence has definitely been an advantage for them during the recent economic crisis.
Even when one part of the world is locked down, they've still been able to draw in revenue from other places where regulations might not be as strict.
Their most recent earnings report featured many positives, including an increase in sales in Asia and Africa.
While sales in Europe were down, global increases offset these losses.
This highlights the benefits of investing in a company with a diverse global portfolio.
Their share price jumped up after this recent earnings report, exceeding analyst expectations.
Heineken is also maintaining a 1.69 percent dividend yield.
Heineken's huge global market share and long history of success are both important considerations.
This is a stock to consider adding to your profile for the long term.
Alcohol Penny Stocks
Willamette Valley Vineyards (NASDAQ: WVVI)
Willamette Valley Vineyards is an Oregon-based wine producer.
Founder Jim Bernau started a crowdfunding campaign to get the winery up and running in 1988.
This was long before crowdfunding became trendy.
Today, the company is a leading American winemaker.
They produce a wide variety of grapes, but are most well known for their pinot noir and Reisling.
Since Willamette Valley Vineyards is a penny stock, they are subject to volatility in terms of share prices.
The stock saw a significant drop in March of 2020, but quickly rebounded over the next two months.
Their share price started climbing upward in the beginning of 2021, and the stock is now trading at a five-year high point.
This could be a good opportunity for investors on a budget to get into the alcohol industry.
This company's solid rebound has shown that consumers are still willing to spend money on wine, even during challenging times.
Their P/E ratio is also relatively low right now, indicating that there could be room to grow even more.
Alcohol Stocks That Pay Dividends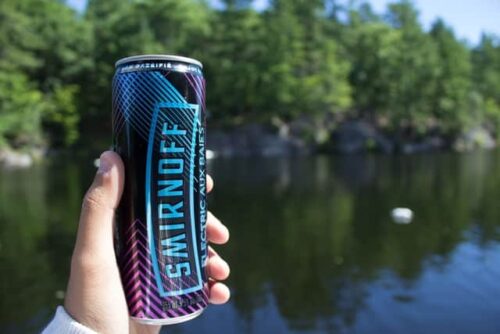 Diageo PLC (NYSE: DEO)
Diageo PLC is a British company that distributes a wide range of spirits and beer in over 180 different countries.
They own some of the world's most notable brands of spirits, including Smirnoff, Crown Royal, Johnnie Walker, Bulleit, Captain Morgan, Baileys, Don Julio, and more.
In particular, Diageo has one of the largest portfolios of Scotch whiskey in the world.
They also own Guinness and several other popular beer brands.
Their market share right now is huge, which has helped them stay afloat despite the huge challenges of 2020.
Diageo's stock dropped dramatically in March 2020 when the stock market crashed, but they bounced back quickly.
Their brands have huge name recognition, and consumers have shown that they're still willing to spend money on their favorite alcohol brands.
The company has had successful earnings reports over the last few quarters.
As a result, their share price has been on an upward trajectory.
Right now, they have some of the best momentum of any stock on the market.
Diageo is also one of the best dividend stocks in the alcohol sector.
They currently have a dividend yield of 2.85 percent and have seen consistent dividend growth over the past 20 years.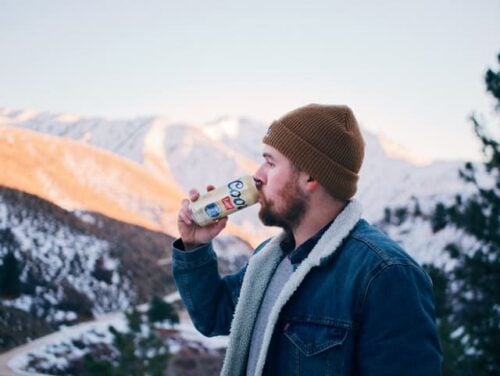 Molson Coors Beverage Co. (NYSE: TAP)
Molson Coors is one of the top alcohol stocks in terms of dividend yield.
They currently pay a dividend of 4.34 percent.
Their commitment to paying dividends makes Molson Coors a great long term investment.
Molson Coors came together in 2005 as a merger of Coors in the United States and Molson in Canada.
This merger created an amazing product portfolio of craft beer.
In addition to their namesake brands, they also own Blue Moon, Miller, Keystone, Redd's, and more.
Molson is currently headquartered in Chicago.
Their brands are particularly popular in North America, although they also have a presence in Europe.
Although Molson Coors runs several classic beer brands, they've also committed to keeping up with the trends.
They've recently collaborated with HEXO, a Canadian marijuana grower, to create a CBD-infused seltzer.
Molson Coors stock has been consistently performing well since November 2020.
They also have a dividend yield of 4.35 percent right now, which means it might be a good time for income investors to scoop up this stock.
Should You Buy Alcohol Stocks?
Alcohol stocks are a great long term investment.
Many people use alcohol as part of their routine, which means that they'll continue buying it even during difficult economic times.
There's still some volatility in this industry.
Alcohol sales have dropped slightly during the COVID-19 pandemic as a result of bar closures.
However, many brands have shown that they can pivot and appeal to consumers directly.
The hard seltzer market is a great example of this. Hard seltzer has become a very popular drink to have at home.
Many of the world's leading alcohol companies have released their own hard seltzers to keep up with the trend.
Additionally, alcohol stocks tend to be great dividend investments.
Many of the world's leading alcohol companies have consistently increased their dividends for several years in a row.
It's also important to note that bar and restaurant closures won't last forever.
Several of the world's largest countries are starting to distribute the COVID-19 vaccine.
That means that venues are starting to open with limited capacities and sell alcohol again.
Best Alcohol Stocks: Final Thoughts
Alcohol companies seem to have made it through the pandemic in one piece.
Many of the world's leading alcohol brands are finally starting to see their shares go back up after the March downturn.
It's likely that alcohol stocks could go up even more when bars and restaurants finally reopen to their full capacity.
Now could be the right time to add leading alcohol brands to your investment portfolio for strong returns in the future.