Read along for our picks for the best penny stocks on Robinhood.
Robinhood makes it easier than ever to buy stocks under $5.
The platform is very popular with young and new investors, as its interface makes finding, buying, and selling stocks a breeze.
But what are the top penny stocks on Robinhood?
Check out our picks to kickstart your stock research.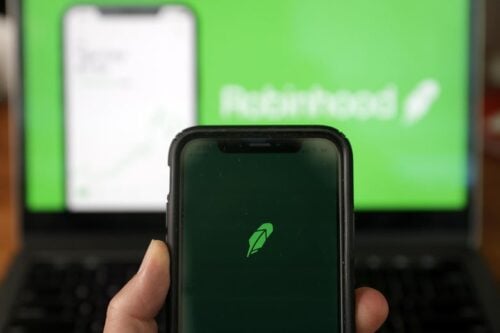 Best Robinhood Penny Stocks to Buy Now
United States Antimony Corporation (NYSEAMERICAN: UAMY)
The United States Antimony Corporation (USAC) explores and mines for antimony alongside a few other rare earth metals.
Antimony is commonly used in batteries and has uses in cable sheathing, small arms, and low friction metals.
USAC owns two of the only three antimony smelters in North and Central America.
All mining takes place in Mexico, with smelters located in Montana.
The company is also actively mining for zeolite and looks to begin digging up precious metals like gold and silver soon.
Although share prices have been pretty level throughout the summer and fall, third-quarter financials show that revenue and net income are on the rise.
With the addition of precious metal mining on the horizon, it makes sense for share prices to grow as well.
Zomedica Corp. (NYSE: ZOM)
Zomedica Corporation is a veterinary health company based out of Michigan.
Founded in 2015, the company specializes in diagnostic products to aid veterinarians in clinics.
The company launched its first product, Truforma, earlier this year.
Truforma helps vets discover and diagnose thyroid and adrenal conditions in household pets.
In October, it acquired Pulse Veterinary Technologies ("PulseVet"), a company with products to treat a wide variety of conditions in animals.
Zomedica is also experiencing a change in leadership as the current CEO has just retired.
Although back down from the highs of late winter, share prices are still over 100% higher than last year.
On the heels of change, Zomedica hopes to continue seeing growth as 2022 rolls around.
Ready to build your portfolio? With Public.com you can follow other investors, discover companies that are inline with your beliefs, and invest into stocks and crypto with very little money! What are you waiting for? Check out Public Now!
Best Robinhood Penny Stocks: Technology
Inuvo, Inc. (NYSE: INUV)
Inuvo is an artificial intelligence and technology venture based out of Arkansas that focuses on services for the internet.
The company utilizes artificial intelligence to splice brand messages with consumer interests.
Many of these technologies are proprietary, and Inuvo has 11 different patents to prove it.
Inuvo's product offerings include ValidClick, an online marketing service, and IntentKey, a customer recognition system.
These media solutions have caught the interest of some big names in the tech world.
This has allowed Inuvo to partner with Google to use Google's Web Search and Adsense on certain websites.
Moves like these have brought Inuvo's stock price up over 40% in the last year.
Inuvo plans to carry this momentum forward, taking its stock price up with it.
Best Penny Stocks to Buy On Robinhood for the Long Term
Naked Brand Group Ltd (NASDAQ: NAKD)
Naked Brand Group Ltd is a manufacturer and marketer of intimate apparel and swimwear.
The Australian company merged with New Zealand's Bendon Limited, a retail provider of intimates, in just 2018.
However, April 2021 saw an end to this merger as Naked Brand Group chose to focus its business model solely on the online crowd.
Just this month, Naked Brand Group announced its intent to enter the electric vehicle space through the acquisition of Cenntro Automotive Group.
This is a substantial diversifying move for an enterprise that's always been in the clothing space.
Naked has a market cap of over $515 million, a healthy amount for a penny stock.
Big changes may spell big successes for Naked Brand Group, as revenue and income have been down.
Share prices have also plateaued, but this may be the calm before an upward trend.

Cinedigm Corp. (NASDAQ: CIDM)
Cinedigm is an independent steaming company that reaches the United States, Canada, and New Zealand.
The entertainment enterprise showcases 25 different channels that cover a wide variety of genres.
In addition, Cinedigm provides access to more than 52,000 TV shows and movies from over 650 different partners.
The venture is also very active in pursuing new content for its subscriber base.
Cinedigm is also looking to 5G services to boost streaming speeds and video quality.
These initiatives have led to over 33 million active viewers each month.
In the third quarter of this year, revenue, net income, and earnings per share all made a substantial positive jump.
Share prices have seen gains but are currently rounding out the bottom of a valley.
Cinedigm has been added to the list of meme stocks, meaning social media has played a significant part in some of its past spikes.
With all things considered, this is a stock that's likely to resume growth as the company expands and incorporates new tech.
Best Robinhood Penny Stocks: Marijuana
Sundial Growers Inc. (NASDAQ: SNDL)
Sundial is a Canadian company that makes cannabis products for recreational consumption.
A large number of U.S. states have legalized marijuana, as have many countries around the world.
It seems a question of when, not if, the U.S. will legalize marijuana on a national level.
Sundial has several subsidiary brands, which it will use to appeal to different sectors of the cannabis market.
The company currently has its eye on Alcanna, Canada's premier wine, spirits, and beer retailer.
With this purchase, the hope is to incorporate cannabis products into beverages for sale in North America.
It will be imperative for the company to find a solid entry point into the U.S. market over the next few years.
There has been plenty of attention since cannabis was legalized in Canada.
Sundial shares saw a considerable spike in February and a few smaller ones since but seems to be trading sideways at the moment.
Regardless, Sundial remains one of the most popular stocks on Robinhood, as Robinhood investors are particularly enamored with the cannabis sector right now.

India Globalization (NYSEAMERICAN: IGC)
India Globalization looks to pioneer cannabinoid research by developing wellness solutions through hemp-based pharmaceuticals.
With headquarters in Mayland, the company has cultivation, testing, and research facilities in the United States, Colombia, and India.
After entering into cannabinoid research in 2014, India Globalization has developed a line of affordable products to meet various needs.
These products are designed with a specific purpose in mind, such as treating pain or anxiety.
India Globalization also has a beauty and skincare brand and a line of CBD-based beverages.
The company sits in a good place as a majority of states have now legalized medical cannabis use.
It's likely a matter of time before the others follow suit, and cannabis has also been legalized in certain states for recreational use.
India Globalization wants to be at the forefront with new products as more states pass laws to allow the use of cannabinoid oils and cannabis.
Best Robinhood Penny Stocks: Biotech
BIOLASE Inc. (NASDAQ: BIOL)
Biolase creates, manufactures, and markets dental lasers for in-office procedures.
The venture already has several lasers available for purchase alongside a take-home whitening system.
These lasers enable dentists and hygienists to perform various restorative, cosmetic, and more intense surgical applications from a single device.
Biolase's products are already being used in more than 90 countries around the world.
The latest earnings call puts Biolase ahead of its targeted earnings per share and revenue numbers, indicating good forward momentum.
Share prices have yet to rise since the early part of the year but still sit over 30% higher than last year.
With demand for dental lasers still high, it's only a matter of time before this pushes share prices up.
Oragenics Inc. (NYSE: OGEN)
Oragenics Inc. is a biotech company based out of Florida that is working on an antibiotic designed to combat several multi-drug resistant organisms.
These Lantibiotics are finishing pre-clinical trials and should be heading into phase 1 clinical trials shortly.
The company is also fast-tracking a vaccine against the SARS-CoV-2 virus and its variants.
The Oragenics stock could be a worthwhile investment if there are still many Americans unvaccinated at the time of its release.
It's also possible to be used as a booster for less effective vaccines.
Oragenics doesn't currently have any products on the market.
By investing in the company, you'll be making a similar risk that could see a huge payoff.
Can You Trade Penny Stocks Under 10 Cents On Robinhood?
Unfortunately, there are no stocks under 10 cents that trade on Robinhood.
Robinhood only supports the major exchanges with listing requirements that do not allow for stocks under 10 cents.
That's why the securities mentioned in our list contain penny stock picks above the 10-cent threshold.
Investments like this (especially a low-volume stock) can be a lot more volatile, so if you choose penny stocks at this price point or below, we recommend exercising caution.
Also, watch out for market manipulators and scam artists on the penny stock market.
Where to Buy Stocks for Less than 10 Cents Besides Robinhood
If you want to buy stocks for less than ten cents, there are Robinhood alternatives to choose from.
Fidelity and TradeStation are two other brokers that you can try.
Should You Buy Penny Stocks on Robinhood?
The Robinhood platform doesn't support over-the-counter penny stocks, only trading those listed on the NYSE or NASDAQ.
So if you want to trade penny stocks at a lower price point, say 50 cents or 10 cents, then you'll need to look somewhere other than Robinhood.
While it might seem like a bummer that you can't access every penny stock on the market, it's important to remember that cheap stocks are exceptionally volatile.
Robinhood Penny Stocks: Final Thoughts
Penny stocks aren't for everyone, but they could be an effective investment strategy for those willing to take a little risk.
One of the most popular places to buy penny stocks is Robinhood.
It's a popular place for new investors to get started building a portfolio.
Robinhood Penny Stocks FAQ
Take a look at our answers to the most commonly asked questions about Robinhood penny stocks.
What Penny Stocks Are on Robinhood?
Robinhood lists penny stocks that trade on major exchanges like the NASDAQ or NYSE.
This means you'll need to trade over-the-counter (OTC) stocks with a different broker, as they are not offered by Robinhood.
Is Robinhood Good for Penny Stocks?
Robinhood is a good online broker for buying penny stocks — or most stocks for that matter.
The only drawback to trading penny stocks on Robinhood, however, is that the platform only supports stocks traded on major exchanges.
Can You Get Rich Trading Penny Stocks?
Yes, you can get rich trading penny stocks.
That being said, you can also lose your investment in the blink of an eye.
Penny stocks are very volatile, and most don't succeed.
How to Find Penny Stocks on Robinhood?
If you want to find penny stocks on Robinhood, all you need to do is filter stocks for shares that trade for under $5.
After that, you can buy the stocks through the broker like any other stock offered.