Marc Chaikin and Pete Carmasino have put together a brand-new investment research service packed to the brim with insights and tools. But how do the features stack up? Read my Chaikin PowerTactics review to find out.
What Is Chaikin PowerTactics?
Chaikin PowerTactics is an investment newsletter led by Marc Chaikin and Pete Carmasino. It's published under the Chaikin Analytics banner.
This research suite offers a blend of trade ideas, bonus reports, and access to the team's proprietary stock rating tool, the Power Gauge System.
Like the publisher's other services, recommendations revolve around the Power Gauge.
Though, there's a bit of a twist: Pete's on the lookout for stocks that specifically rate Neutral+ within their system.
This focus identifies companies that could be on the very cusp of a bull run. In fact, their targets are opportunities with up to 5X potential.
Before I dig into the service, it's important to first understand Marc Chaikin's Power Gauge and how it works.
So let's start there.
>> Sign like a good fit? Sign up for 50% off TODAY <<

How Does the Chaikin Power Gauge Work?
The Chaikin Power Gauge is a proprietary stock rating system that leverages 20 fundamental and technical factors to gauge the future outlook of 5,000 stocks.
These indicators are broken up into four categories: Financials, Earnings, Technical, and Experts.
Depending on how the company fares, it is given a Bullish, Neutral, or Bearish rating.
There are also some variations, such as Very Bullish, Very Bearish, as well as Neutral+/-.
Here's what the whole picture looks like:
Financials includes LT Debt to Equity, Price to Book, Return on Equity, Price to Sales, and Free Cash Flow.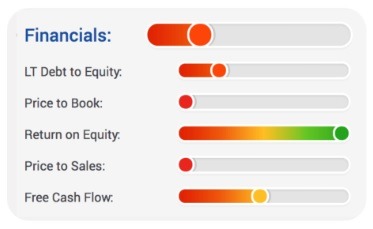 Earnings includes Earnings Growth, Earnings Surprise, Earnings Trend, Projected P/E, and Earnings Consistency.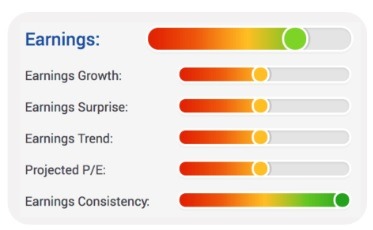 Technicals includes Relative Strength vs Market, Chaikin Money Flow, Price Strength, Price Trend ROC, and Volume Trend.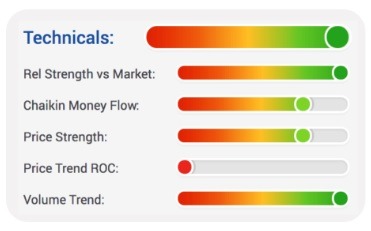 Experts includes Estimate Trend, Short Interest, Insider Activity, Analyst Rating Trend, and Industrial Relative Strength.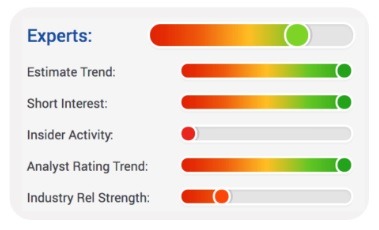 The team offers a range of software suites that tap into this rating tool.
The nomenclature can be a little difficult to follow, so here's the gist: Chaikin PowerTactics provides a more advanced version than the more beginner-friendly Power Pulse.
If you've taken the Power Pulse for a spin through the publisher's other services, such as the Power Gauge Report, this particular system is quite the upgrade.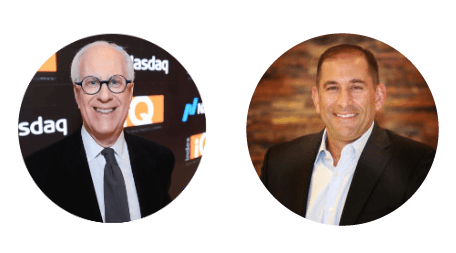 About Marc Chaikin and Pete Carmasino
Marc Chaikin and Pete Carmasino are expert analysts who distinguish themselves through their use of technical indicators.
Let's start with Marc, the founder of Chaikin Analytics.
He has over 40+ years of experience working on Wall Street as a trader, broker, and head of the options department of a major firm.
Over the decades, Marc's built a name for himself as a top-tier technical analyst. He even created his own proprietary indicators that are widely used by institutions and everyday folks: one being the Chaikin Money Flow.
Now for Pete's credentials…
He's Chaikin Analytics' chief market strategist and has more than 25 years in the financial services industry.
Pete also owned and operated a registered investment advisory. During this time, he helped manage the portfolios of his high-net-worth clientele, which includes families, individuals, and institutions.
>> Discover the team's latest recommendation <<
Chaikin PowerTactics: Features
This research suite offers much more than a monthly newsletter.
Tune in for the scoop on each feature.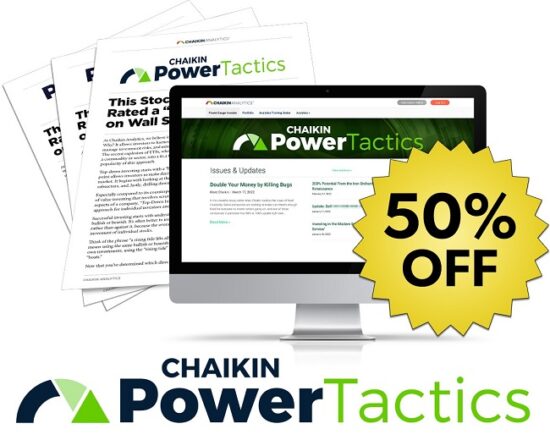 Annual Subscription to Chaikin PowerTactics
The newsletter delivers a direct line to the team's latest research and commentary.
Marc and Pete scour the market for stocks that the Power Gauge rates highly. Then, they filter the list down to one trade idea.
Their ideal recommendation provides the potential to 2X to 5X within 12 months or less. This means that positions typically follow have mid or long-term investment horizons.
Though, if it's time to get out earlier, the team will let you know.
Each pick reveals the ticker, buy price, supporting research, and more.
As far as the content goes, I'm a big fan of the team's ability to break down complex topics in a way that even a newcomer could understand.
The writing is crisp, clear, and light on the jargon.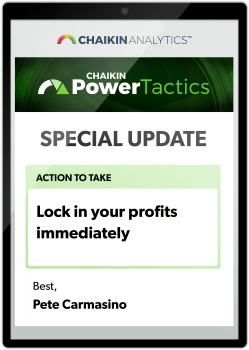 Special Updates
These email notifications alert members when it's time to make an exit or if a market-moving event could impact any of the portfolio's open positions.
It's a convenient feature that keeps members in the loop while they go about their day.
Even better, you can access these insights without logging into the member's account.
Simply skim your email from time to time to stay up to date.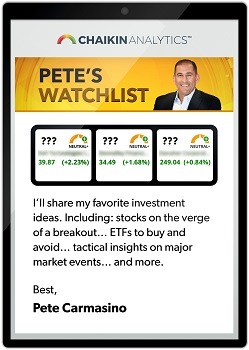 Pete's Watchlist
The watchlist cues members into investments Pete is eyeing aside from the monthly recommendations.
Some insights include stocks and ETFs that could be about to break out or bust.
It's important to note that these are not traditional trade ideas. Rather, they provide members the opportunity to vet additional investments.
Given that the watchlist offers a mix of encouraging leads or stark warnings, it's a good idea to check on this resource each month it drops.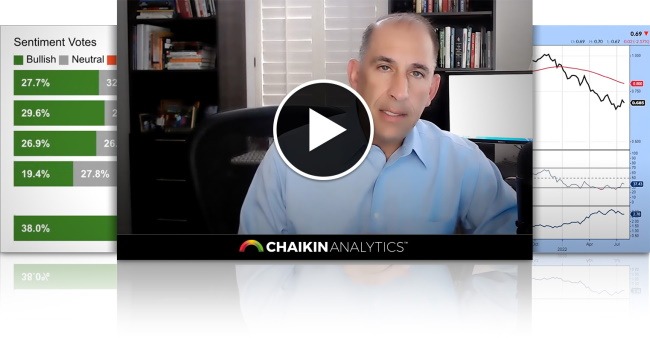 Video Chats
Pete occasionally shares his thoughts through members-only videos.
He lays out more of a big-picture view of market trends and where they could be headed.
These act as more of a free-form briefing and can cover a broader range of topics than the newsletter's monthly issue.
There's no regularly occurring schedule for the videos, so it's best to not wait on them for Pete's latest insights.
That said, it's always worth a listen when a new one releases.
It's also just a generally good resource for folks who like a more off-the-cuff, non-textual breakdown of market events.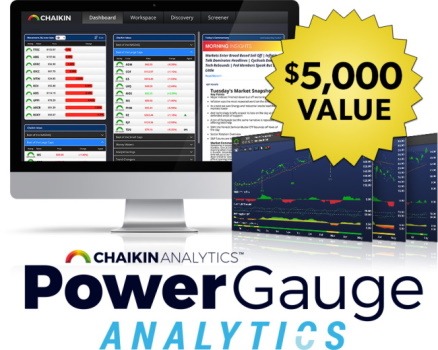 The Power Gauge System
This iteration of the Power Gauge software is an advanced screening and rating tool that predicts the long-term outlook of a stock or ETF based on 20 indicators.
As mentioned, it's essentially a beefed-up version of the Power Pulse, with screening functionalities and more.
Other features include stock reports, ETF comparisons, a weekly portfolio health check, and the Discovery Engine (more on this later).
If you're in the market for more than one trade idea a month, this tool could provide a steady stream of investments worth considering.
The team also includes a primer that teaches the ins and outs of the system.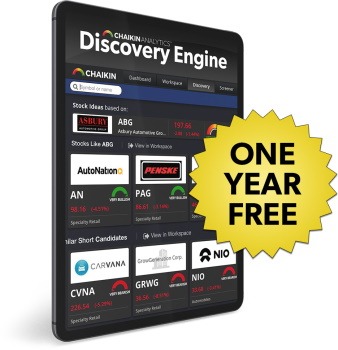 Discovery Engine
By typing a ticker into the Discovery Engine, you can find a list of companies with comparable standing — good and bad.
It's a handy feature that lets you generate a shortlist of stocks worth a closer look or ones that might not be worth your time.
Here's a quick glance at the Discovery Engine:
The system functions much like the technology that Netflix pioneered to recommend movies.
It's a simple addition to the service that adds a surprising amount of value.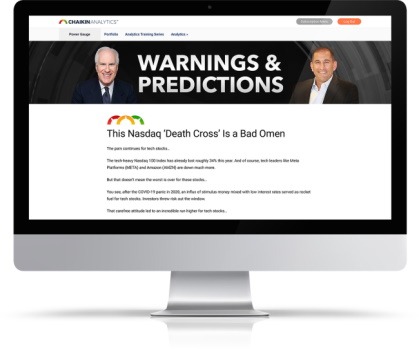 Marc and Pete's Market Warnings
Developing predictive models is Chaikin Analytic's bread and butter. So it's no surprise that one of the draws here is their warnings.
In addition to the typical, the market could take a dip in the next few months, Marc and Pete will inform members if they sense the rumblings of seismic market events.
The Power Gauge is a dispassionate warning system with a solid track record of spotting subtle shifts in investing behavior.
It's how the team cuts through the bias to spot market shifts regardless of what big media is saying.
Like Pete's videos, these warnings might not be a frequent occurrence, hopefully.
>> Access these benefits and more <<
Special Reports
New memberships also come with additional insights in the form of special reports.
Follow along for the full breakdown of each one.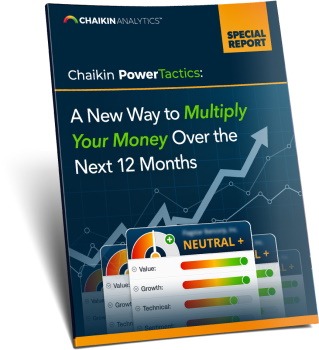 Chaikin PowerTactics: A New Way to Multiply Your Money Over the Next 12 Months
This report teaches members how to vet stocks with the same precision as Marc and Pete.
Many newsletters offer some sort of primer, which are usually best for beginners.
On the other hand, this is a resource I think every member that plans on using the Power Gauge System should check out.
It covers some of the basics, like timing an entry or exit.
But there's also a fantastic overview of using the system to its fullest potential through Neutral stock ratings.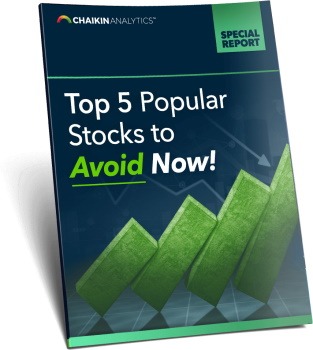 Top 5 Popular Stocks to Avoid Now
Making money on the stock market is about more than picking profitable investments: sometimes it's about knowing when to cut your losses.
The team reveals five popular stocks they believe should be immediately pruned from portfolios.
While many are hoping for a rebound or at least an opportunity to break even, Marc and Pete have their doubts.
Even if you don't own these stocks, the report could save you from adding another dud to your portfolio.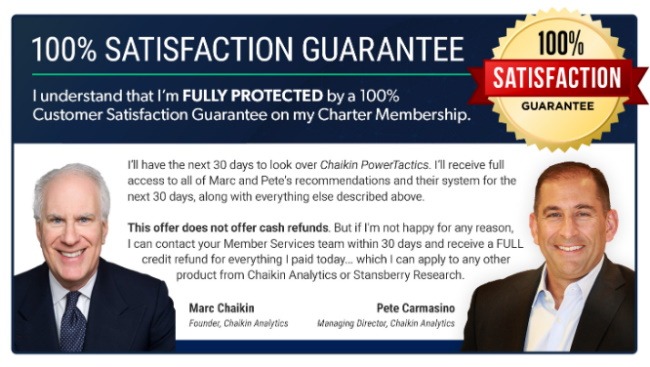 100% Satisfaction Guarantee
New memberships to PowerTactics are backed by a 100% satisfaction guarantee.
This means you have 30 days to test the waters. If you decide it's not a good match, you can opt for a refund of the cost of the subscription through in-house credit.
The credit can be applied toward any combination of services under the Chaikin Analytics umbrella.
While I would prefer cashback, credit is par for the course for many premium alternatives.
Plus, this publisher has built a rock-solid catalog over the years. So there are plenty of great places to put the credit to use.
>> Sign up under Marc and Pete's guarantee <<
Chaikin PowerTactics: Pros and Cons
The service has a lot to like. But there are some places it could improve.
Pros
Access to the Power Gauge System

Marc Chaikin and Pete Carmasino are legit

50% discount that carries over to the next subscription

Investment ideas with high upside potential
Cons
On the pricey side

No community forums
How Much Does Chaikin PowerTactics Cost?
Chaikin PowerTactics usually costs $5,000 for an annual membership. However, the team is running a limited-time deal that lets new members sign up with a 50% discount.
This brings the price tag down to $2,500 per year.
While the cost might cause some initial sticker shock, it lines up with many premium services of its kind — not just those offered by Chaikin Analytics.
Also, most alternatives I've seen at the same price point do not include software for scouting out your own stocks.
Even when they do, they don't tend to be as comprehensive as something like the Power Gauge System.
There's also another great bonus with the current deal.
The 50% discount carries over to the next subscription renewal. Usually, discounts only apply to the first year only.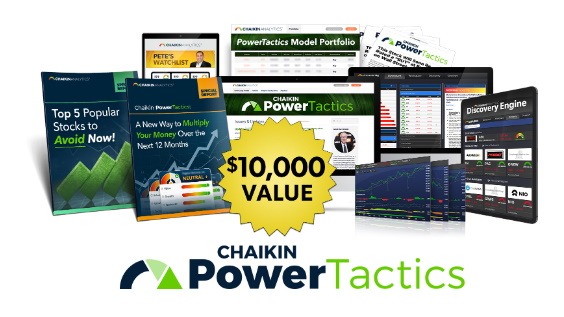 Is the Service Right for Me?
Chaikin PowerTactics is best suited for folks searching for carefully vetted monthly stocks and tools to find additional opportunities.
The Power Gauge System lets members analyze over 5,000 stocks, and the ratings are constantly updated with new market data.
Recommendations are intended to be held for around a year, so it's also a good fit for mid and long-term trading.
Also, Chaikin and Pete cast a broad net with the Power Gauge ratings, so the picks could bring a fair amount of diversity to a portfolio.
The team's more focused on the technical side of the analysis. In short, they don't play favorites with a single industry and, instead, go where the ratings take them.
Chaikin PowerTactics Review: Final Verdict
Chaikin PowerTactics is a great newsletter that delivers excellent value.
As far as premium subscriptions go, the amount of content provided is impressive. Members receive trade ideas, access to the Power Gauge System, plus a whole host of other add-ons.
The price tag is on the higher end. But pound for pound, the service is a serious deal.
I've reviewed many premium newsletters, and only a select few provide an advanced ratings system — let alone a stock and ETF screener.
Plus, it's backed by Marc's 100% satisfaction guarantee.
All in all, this is a fantastic package. I recommend checking it out if you're searching for a strong analytical team and the tools to find your own stocks with breakout potential.
>> That's it for my review. Claim your 50% discount <<