Savvy insurers have their eyes on the cybersecurity market right now, and for a good reason.
The coronavirus pandemic is changing the way we interact with technology.
This makes digital security more important than ever – and the best cybersecurity stocks are taking advantage of it.
It feels like new companies are getting into the cyber security game every day.
This means it can be difficult to determine which stocks to add to your portfolio.
We've rounded up some of the best cybersecurity stocks to buy as 2021omes to a close.
Why Invest In Cyber Security?
Even before the pandemic, there were plenty of great reasons to invest in cybersecurity.
Online data breaches have become increasingly common.
Both individuals and large corporations see the importance of protecting their digital information.
eBay, Marriott, Wells Fargo, and Target are just a few of the many global companies that have had data breaches in the last decade.
These breaches exposed sensitive financial or personal customer information.
Phishing scams are also becoming very common.
Because of this, large companies are investing more money into cybersecurity solutions.
Strong security is essential for building customer trust.
It's not just big companies that are susceptible to hacking.
Individuals and small businesses also need security to protect themselves against phishing scams and other password breaches.
To meet this need, many B2C cybersecurity solutions have become prominent in recent years.
The COVID-19 pandemic made cybersecurity even more of a necessity for businesses.
Companies across many different industries switched to a work from home setup.
They struggled to keep employee activity private and secure.
Many companies have been relying on cloud based technology for their day-to-day operations.
Cloud security is essential for safe and productive work right now.
Companies that make cloud based cybersecurity technology are in high demand.
The cybersecurity market has seen a stunning growth rate over the past few years.
What makes it so exciting is that there's still room for growth.
As our technologies develop, our cybersecurity tools are going to advance along with them.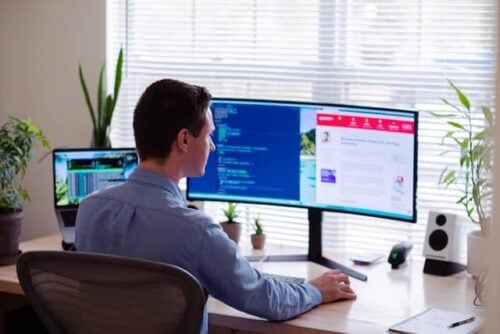 Best Cybersecurity Stocks Right Now
Palo Alto Networks (NYSE:PANW)
Palo Alto Networks is one of the most established cybersecurity companies on the market right now.
They were founded in 2005 in the Bay Area.
They are known for their advanced firewall technology, but are quickly expanding.
Recently, Palo Alto Networks has moved to expand their offerings.
Their firewalls now go beyond hardware as they're building a cloud security platform.
Palo Alto Networks has long been a major player in the cybersecurity space.
However, they continue to pursue an aggressive growth strategy with acquisitions.
In 2020 alone, they acquired both CloudGenix and Crypsis Group.
Palo Alto Networks has long been one of the best cyber securities stocks to watch.
Their move towards cloud technology has shown that they are committed to being adaptable.
This company has posted solid earnings numbers throughout the year.
Growth has been steady, with their newer cloud offerings taking up an increased percentage of their total earnings.
Palo Alto is trading at a low level relative to the financial growth they have experienced this year.
This means that investors can get a good deal on this stock right now.
This company has earned its status as an industry leader.
It's likely they'll continue to perform well, even with competition hot on their heels.
Crowdstrike (NASDAQ:CRWD)
Crowdstrike is poised to make a huge splash in the cybersecurity industry.
They specialize in endpoint security, which is highly sought after right now.
Endpoint security products protect devices like computers and cell phones from cyber attacks.
This technology is more important than ever as employees are working from home on their personal devices.
Crowdstrike was founded in 2011 in Silicon Valley.
Their security products have long had a positive reputation.
The company frequently assists government bodies and large corporations to investigate security breaches.
They went public in mid-2019 and have seen steady growth since then.
Today, companies of all sizes are moving to Crowdstrike to protect their devices.
What makes them so unique is their Falcon security platform.
The latest iteration of the Falcon includes cloud protection, which is so essential for today's devices.
It also uses artificial intelligence to identify and stop threats.
Crowdstrike stock currently has a high price tag relative to its revenue growth.
Although this could be a small risk in the short term, Crowdstrike's innovative technology means their market share is likely to continue growing.
That's why we've picked it as one of the top cybersecurity stocks to buy right now.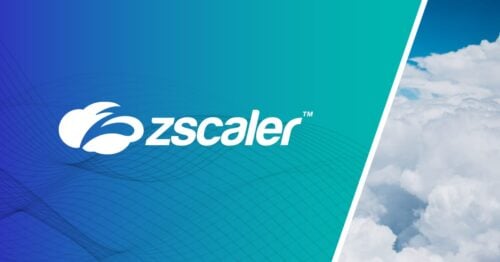 Zscaler (NASDAQ: ZS)
Zscaler is a company that offers cloud security products.
In particular, they're known for their secure web gateway (SWG) products.
A secure web gateway protects web traffic from threats.
These products have been particularly crucial as companies have been working from home.
So many employees are now unable to access company hardware.
SWGs and other cloud security tools ensure they can complete their work safely at home.
This company has a wide range of products available beyond SWGs.
They also provide security platforms that can be integrated with other apps.
Their products are designed not only to protect internal employee activity, but also to offer secure customer-facing web services.
Zscaler recently announced a partnership with VMWare.
This will enable them to offer these cloud security services on an enterprise level.
Out of all cybersecurity stocks on the market right now, this one has had some of the most consistent momentum.
Despite the challenges of this year, Zscaler has been on a steady upward trajectory.
The company has a strong earnings report for the third quarter. They posted $0.05 earnings per share.
The stock is currently trading much higher than its earnings.
This has left some investors worried that the stock is overvalued.
However, Zscaler's products offer excellent potential for growth, which should offer some stability.
Fortinet (NASDAQ:FTNT)
Fortinet is a very established cybersecurity company.
They were founded in 2000 and are known for products like firewalls and anti-virus.
Although they've been around for a long time, Fortinet is still a good buy.
This is because they've been able to adapt very well to the new demand for cloud products.
Right now, Fortinet's leading product is their software-defined wide area network.
This product increases efficiency within a company network, without compromising on security.
It's also cloud compatible, which is a must in today's work environment.
Fortinet also continues to have some of the strongest firewall products on the market.
Their product offering is one of the most diverse of any cybersecurity company.
This is a business model that sets them up for long-term financial stability.
Fortinet has seen steady demand this year to support a work from home environment.
Quarter three revenue growth has been strong. Their earnings per share and total revenue beat estimates.
This company's long history indicates that they're able to withstand the ups and downs of the market.
They're one of the best cyber security stock choices right now.
CACI International (NYSE:CACI)
CACI International is another good example of a cybersecurity stock that offers excellent value.
They are an established company that works mainly with government agencies.
CACI was founded in the 1960s to offer early IT services.
They have consistently acquired other IT and security companies throughout their history.
Their acquisitions enable them to improve and innovate their services.
Unlike many of the other companies on this list, CACI works with both domestic and international government agencies.
Government agencies face consistent security threats, so there's always a need for CACI's services.
CACI stock has been quite volatile this year.
Many consider the stock to be undervalued at the moment, meaning there is potential for growth.
However, it's important to note that the volatility means there's potential for losses as well.
Growing Cybersecurity Stocks to Watch
Ping Identity Holding Corp. (NYSE:PING)
Ping Identity Holding Corp. is a company that makes user authentication products.
Their products are cloud based and can integrate with a wide range of applications.
This company offers identity and access management for both employees and customers.
They also offer scalable solutions, which means they can appeal to businesses of all sizes.
Ping Identity's stock dropped this quarter after their earnings report failed to meet expectations.
However, that doesn't mean you should write them off.
They are one of the only companies in the industry with a strong focus on identity and access management.
Their products are also considered to be some of the most versatile for this market.
Since Ping offers cloud based products, they've been able to adapt to the needs of companies that are working from home.
As the need for identity security grows for both B2B and B2C businesses, Ping has plenty of opportunity for ongoing growth.
Splunk (NASDAQ:SPLK)
Machine generated data is a crucial part of operations for many organizations.
Splunk's products allow us to interface with big data in a variety of ways.
Their platform is multi-functional, which makes them stand out from other cybersecurity companies.
Not only do they monitor and protect machine generated data, but they also have created networks where users can easily search and analyze it.
Like many other successful cybersecurity stocks, Splunk is moving into the cloud space.
They have done this through key acquisitions like Plumbr and Rigor.
These are two digital tools that will expand Splunk's offerings significantly once they have been fully integrated.
In October 2020, Splunk announced updates to their already-robust platform.
These updates, called the Observability Suite, give users more ways to interact with and protect their data.
Unlike many other stocks, Splunk has consistently gone up in value through 2021.
They also had a 50% increase in annual revenue year over year in the second quarter.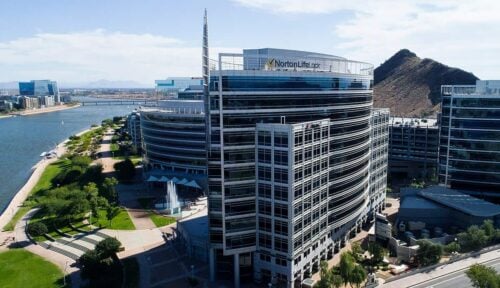 NortonLifeLock (NASDAQ:NLOCK)
NortonLifeLock is a consumer facing cybersecurity company that currently offers excellent value.
They make consumer facing cybersecurity products.
These include antivirus technology, VPNs, identity alert, backup storage, and much more.
What makes NortonLifeLock different from many of the other stocks on this list is that they are consumer facing.
Their products are very appealing to a wide variety of people, from gamers to small business owners to families.
People are spending more time than ever at home on their computers these days.
This makes Norton's products more desirable to demographics that might not have been interested in the past.
Norton has seen steady growth this year.
The stock is currently very affordable, and their strong performance indicates great potential for future growth.
Norton also currently has a very low price to earnings ratio.
This means that it offers some of the best value for money among cybersecurity stocks.
Best Cybersecurity Stocks: Final Thoughts
Cybersecurity and other tech stocks have fluctuated in 2021.
Although prices have gone up and down, the cybersecurity sector still offers plenty of potential.
It will likely take the broader market a long time to recover from the volatility of this year.
However, cybersecurity stocks have the advantage of being essential to a work-from-home atmosphere.
With employees in many industries working through the cloud, companies are looking for new solutions to keep their networks safe.
The next generation of cybersecurity products are going to offer more support for remote workers.
Cybersecurity technology is also essential for protecting online transactions.
With many brick-and-mortar stores limited right now, consumers are increasingly choosing to make their purchases online.
Online retailers need security solutions to build trust with their customers.
Overall, there's plenty of room for cybersecurity stocks to continue growing.
Many of the best cybersecurity stocks to buy have reported strong revenue this year despite the pandemic.
Savvy investors have plenty to gain from adding cybersecurity to their portfolios.