Dan Ferris says that a "cash frenzy" could sweep the market if the Everything Bubble bursts. But is he onto something, or simply being alarmist? Today, I'm taking a look at his latest presentation and namesake newsletter, The Ferris Report, to find out.
What Is Dan Ferris' "Cash Frenzy"?
Dan Ferris believes that if the Everything Bubble pops, it could trigger a "cash frenzy" where money is "frantically pulled out of the market" in an attempt to avoid further losses.
He warns that a sell-off could spell disaster for folks in the long run, however.
According to Dan, while dumping shares might protect against a sinking stock market, rampant inflation could still wipe out about 10% of savings.
This is all a part of his larger prediction of a stock market "Dead Zone," in which he believes the market could stagnate for years or even decades.
In response to a potential stock market "Dead Zone," he and The Ferris Report team have developed a blueprint to help tackle it head-on.
I'll check this out a little further down.
But first, let's do a deep dive into Dan's presentation, starting with what he calls a stock market "Dead Zone."
>> Join The Ferris Report TODAY <<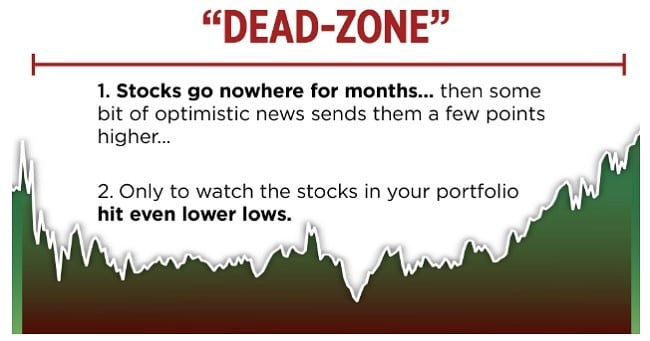 What Is a "Dead Zone"?
According to Dan, a "Dead Zone" is a period in the market where stocks can slump or trade sideways for months, years, or even decades.
It's similar to a bear market — though, he says that "Dead Zones" have the potential to last much longer.
But how does this market event start?
Here's an explanation in Dan's own words:
"Stocks go nowhere for months… then some bit of optimistic news sends them a few points higher… Only to watch the stocks in your portfolio hit even lower lows.

And as I'll show you now, this is a situation history tells us could last 5, 10, even 20 or 30 years until stocks hit new highs again."
In his presentation, he points to historical examples of "Dead Zones."
His first example is the stock index of one of the wealthiest countries in the world.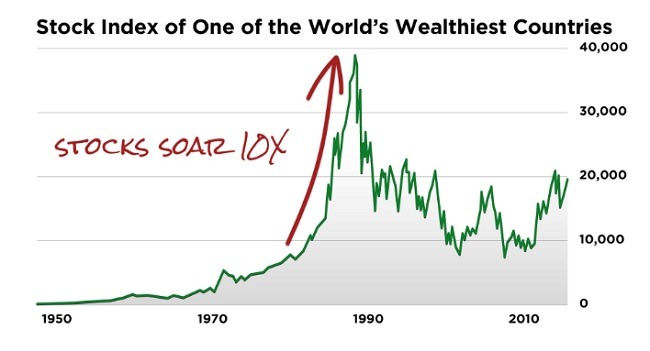 Back in the mid-80s, this market was on a serious tear, but it eventually dropped off — right around the time its own economic bubble popped.
Bubbles are nothing new, and when they pop, there's typically some serious fallout. Though, oftentimes they could rebound stronger than before.
But when you zoom out further on the chart above, it becomes clear why Dan's worried about a potential "Dead Zone" in the current day.
After 33 years, this stock index has never fully recovered from its initial crash.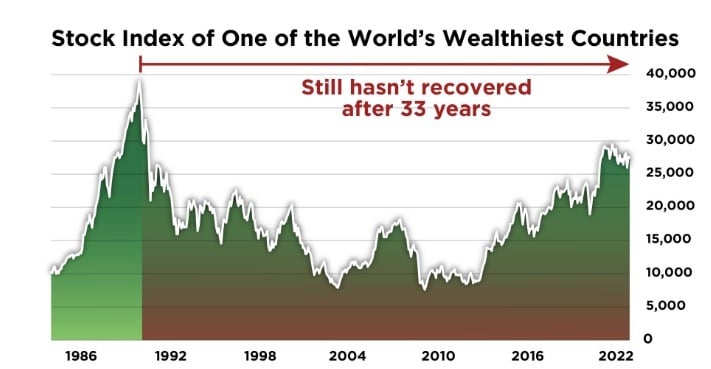 And at this point in the presentation, Dan reveals that the stock index he referenced belongs to Japan.
Something else he touches on is how incredibly difficult timing the market could be during a "Dead Zone."
Buying the dip at the right time with Japan wasn't easy: it took years for the market to hit the bottom.
If people bought right at the peak or shortly after the bubble busted, they could have been holding for decades to see meaningful returns in the long run.
Something else his presentation brings to light is that Japan's situation wasn't an outlier.
According to Dan, "Dead Zones" have plagued markets for decades, even in the US.
He mentioned a few more examples, including the drop-off following "The Roaring 1920s."
After this bubble popped, it took over 25 years for the market to break even when adjusted for inflation.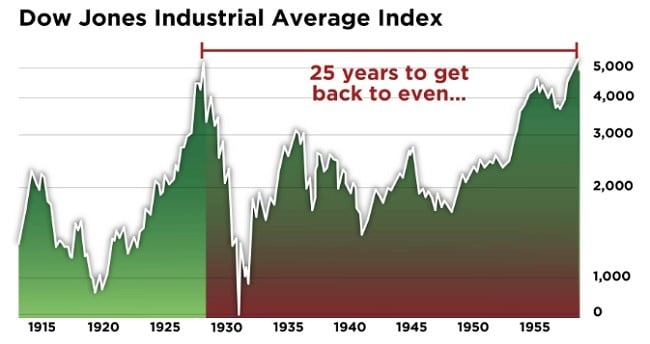 Then there was another "Dead Zone" that lasted for 29 years, which occurred on the heels of the 1966 crash.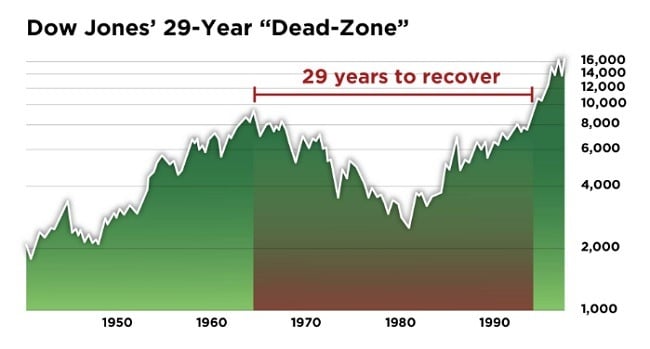 In inflation-adjusted terms, the market didn't recover until 1995 — just in time for the Dot-Com bubble to pop…
And this is where Dan highlights a pattern with these market events. He says many "Dead Zones" appear at the tail-end of "about nearly EVERY major bubble in history."
With all this in mind, it makes sense why the team is warning about the potential aftermath of the Everything Bubble bursting.
But what is the Everything Bubble, anyway?
The Everything Bubble
The Everything Bubble refers to an economic bubble spanning across a wide range of markets, sectors, and assets.
Some assets mentioned in the presentation include stocks, bonds, real estate, and more.
It's important to note that Dan did not coin this phrase — it has been talked about by experts for a while now.
So what's feeding this bubble?
The team believes that "ultra-low interest rates" over the last 15 years might be to blame:
"Instead of allowing badly indebted banks and corporations to go bankrupt…

The Federal Reserve had room to artificially suppress interest rates and allow all the bad debt to be kicked down the road."
And according to the team, the Fed's reckless policies have kicked off a cascade of disastrous effects that have culminated in the highest inflationary event in more than 40 years.
But at this point, Dan says the Fed is backed into a corner it can't print its way out of, and that the only option is higher interest rates.
This is the same playbook Japan's Central bank used to pop its bubble in the 80s, which is why Dan believes that a similar "Dead Zone" could occur here in the US.
As mentioned, The Ferris Report team have put together a blueprint that they believe could help folks make it out better on the other side.
Before I check it out, let's take a look at the mind behind the service.
>> Discover Dan's LATEST recommendation <<
Who Is Dan Ferris?
Dan Ferris is a value investor and top-tier stock market researcher.
His goal is to find "some of the safest and yet most profitable stocks in the market: great businesses trading at steep discounts."
Despite his cautious approach, he has spotted some solid opportunities for readers.
A few of his top past calls include
Intel (133%)

Prestige Brands Holdings (406%)

Latin American Export Bank (133%)

International Royalty (248%)
Dan joined Stansberry Research about two decades ago. And during this time, he's become one of the team's most revered analysts.
Before The Ferris Report, he launched Extreme Value back in 2002, an investment newsletter that follows his signature value investing approach.
The service is still going strong to this day and has racked up some positive press over the years, including a 4.1/5 rating on Stock Gumshoe.
Dan also leads a podcast, Stansberry Investor Hour, which is included with a subscription to The Ferris Report.
The podcast is worth checking out if you want to hear him dissect the markets along with some of the brightest minds in the industry.
Now that you know more about Dan and his latest prediction, let's take a look at his new newsletter.

What Is The Ferris Report?
The Ferris Report is an investment newsletter led by Dan Ferris and published by Stansberry Research.
It has a moderate safety rating and targets both stocks and ETFs. There also might be an occasional inverse ETF thrown in the mix as well.
Some member benefits include:
One monthly recommendation

Bonus reports

Trade alerts

A model portfolio and other perks
The research focuses on medium to long-term market trends, as well as navigating the aftermath "of the largest financial mega-bubble in recorded history."
Additionally, Dan anticipates that positions could be held for as long as years or decades. So long haulers might appreciate his approach.
>> Sound like a good fit? Sign up and SAVE 75% <<
What Comes with the Service?
The Ferris Report's latest deal is packed to the brim with excellent features.
Let's kick things off with a look at the newsletter.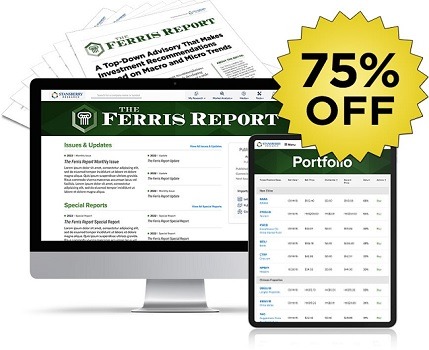 Annual Subscription to The Ferris Report Newsletter
On the fourth Wednesday of each month, members receive the team's latest market analysis along with one recommendation — either a stock or ETF.
While you could just check out the stock idea and go on about your day, a big plus of The Ferris Report is the team's insights.
Dan does a good job of breaking down market trends and dissecting the potential of industries.
The analysis is easy to follow, and newcomers to the stock market could learn a lot from tuning in each month.
Another benefit is the supporting research.
Every recommendation takes a thorough look into a company or ETF in question, so you know exactly why it pinged Dan's radar.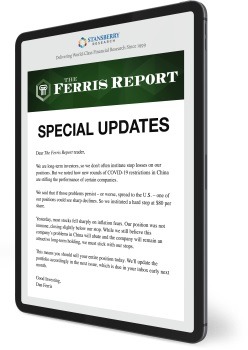 Special Alerts
A membership to The Ferris Report also includes special alerts.
These alerts let members know if it's time to lock in gains or close out a position to protect capital.
They're sent via email, which makes it easy to keep up with the latest breaking news that could affect the model portfolio.
It's also nice to know that the team is keeping an eye on the markets while you go about your day.
Dan's Complete Archive of Special Reports
Members receive access to The Ferris Report archives throughout their subscription.
This includes all current and future reports.
The service is relatively new, so the catalog might not be as fleshed out as other services.
Still, this feature has the potential to continue to grow in value over time.
>> Access these features and more for 75% OFF <<
New Member Bonuses
The latest deal stacks on five additional bonus reports for members to sink their teeth into.
Some of these include additional recommendations as well as warnings.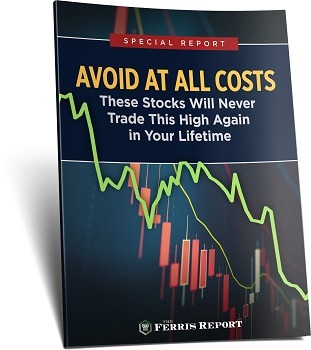 Avoid at All Costs: These Stocks Will Never Trade This High Again in Your Lifetime
In this first bonus report, the team points out 11 stocks that could drag portfolios down over time.
Based on Dan's presentation, it's clear he doesn't have high hopes for the broader market.
But he's especially bearish on the companies listed here.
As an added bonus, the report also shares some additional insights on sectors and industries that Dan believes could also fall by the wayside.
If you're considering pruning your portfolio or just want to dodge some potential duds, you might want to put this report first on your list.
The Best of the Best: The ONLY Stocks That Can Safely 8X Your Money During America's "Dead-Zone"
The second report details opportunities that Dan is particularly bullish on — even amidst a market "Dead Zone."
In fact, he and the team believe that these stocks could have up to 8X potential.
Despite the recent market turmoil, they also say that these types of stocks have persevered.
This could be a great place to start if you're looking for some of the team's top ideas for navigating a "Dead Zone."
Trade Your Dollars for Potential 1,000% Gains Thanks to Gold and Silver
Considering current market conditions, it's not surprising that the team recommends precious metals as a potential hedge against inflation.
Even more interesting, Dan says that buying bullion isn't the only way to tap into this time-tested strategy.
Unlike the newsletter's moderate safety profile, this is a more speculative play.
The trade-off is that the team says it could have substantial upside potential.
The Recession Haven That Could 7X Your Money in 10 Years
Dan's tight-lipped about his "recession haven," but he does share some valuable details in his presentation.
Despite the broader market's 20% drop this year, he reports that they have provided the opportunity for double-digit gains.
These stocks have also outperformed the S&P 500 by about 60% since 2001.
The World's Two Most Valuable Assets in a Time of Crisis
This report details two assets that Dan is especially bullish on.
His first asset is up 1,700% in the long term and has not had a single down year for decades.
The second has delivered the opportunity for 12% to 14% income for about 30 years.
Given these figures, it's easy to see why Dan and the team have such high hopes.
Keep in mind, however, that past performance does not predict future results.
30-Day Money-Back Guarantee
Under the latest deal, The Ferris Report subscriptions come with a 30-day money-back guarantee.
So you have about a month to take the service for a spin. If it does not live up to your expectations, you can request your money back for the cost of the subscription.
The newsletter's recommendations aim for a much longer investment horizon than 30 days.
This means you might not see a position to its completion during the money-back window.
Still, it provides enough time to check out the quality of the insights on offer, including the bonus reports.
>> Make the MOST of Dan's Guarantee <<
Pros and Cons
The Ferris Report is a solid newsletter, but there are a few downsides to the service.
Pros
Great price with 75% discount

30-day money-back window

Stock and ETF recommendations

One of Stansberry's top minds behind the wheel
Cons
No investment community

Does not cover shorts or options
How Much Does It Cost?
An annual subscription to The Ferris Report usually costs $199.
However, under the latest deal, members can sign up for the introductory rate of $49 for the first year.
This shakes out to a 75% discount, which is a pretty fantastic deal.
Also, members signing up under the new deal still receive all the bonuses mentioned above.
It's important to note that this is an introductory rate.
When the subscription renews, it will cost the original $199 for the next year.
While I'd prefer the discount to carry over to the next year, a 30-day money-back guarantee and 75% off the first year is still a great deal.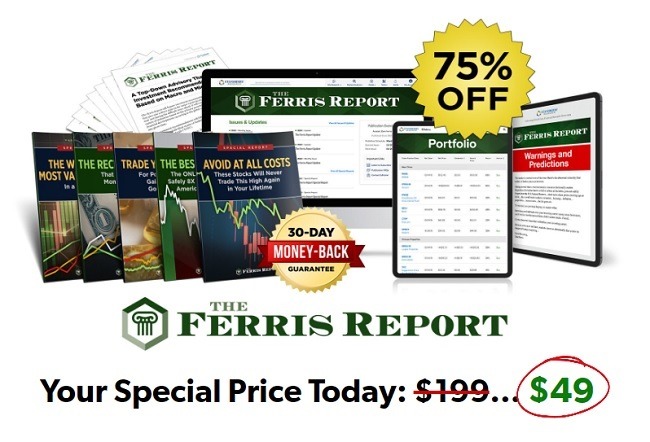 Is the Service Right for Me?
The Ferris Report could be a good match for folks in the market for mid to long-term recommendations from a proven analyst.
Though the service is rather new, it's nice to know it's led by some of Stansberry Research's top talent.
Also, the service follows Dan's signature value investing approach. So folks looking for stocks that could be trading at a discount might find a lot to like.
The team says that $1,000 in capital could be a good place to start.
This is just a friendly recommendation. Members are free to put up how much (or little) they want.
All in all, plenty of people could appreciate the service and Dan's approach.
It's not ideal for day trading, however. One stock pick a month won't cut it for someone looking for a more steady stream of ideas.
Final Verdict
The Ferris Report team put together a great package at an even better price.
For just $49 for the first year, there's a surprising amount of research provided.
Members receive quality market commentary, solid analysis, one vetted recommendation each month, and bonus reports.
To top it all off, the bundle is covered by Dan's 30-day money-back guarantee.
Even if you ultimately decide the research isn't a good fit, you could learn a thing or two from Dan and the team.
This is especially true when considering that the service is throwing in five special reports. It's a big step up from the one or two that come with many similar deals.
Altogether, this is an impressive collection of research.
I recommend checking out The Ferris Report if you're in the market for top-notch analysis and quality research on value investments.
>> Claim your 75% discount on The Ferris Report HERE <<