Dr. David Eifrig claims he's spotted a serious opportunity in the healthcare industry that could grow nesteggs for years to come. But is he really on to something? I'm putting his Biggest Shock to Retirement presentation under the microscope to find out.
What Is David Eifrig's Biggest Shock to Retirement?
David Eifrig's Biggest Shock to Retirement is a presentation that reveals a unique investment opportunity in the medical field.
There's an up-and-coming technology that has the potential to reshape the medical industry and usher in "Medicine 2.0."
And David says that folks who get in on the ground floor could use it to build a strong foundation for retirement.
Even better, his latest research suite provides Retirement Millionaire members with a blueprint for making the most of this transformative shift in the healthcare space.
I'll do a deep dive into the presentation, the mind behind the service, and the latest package. So stay tuned.
Let's start by taking a look at what the team refers to as "Medicine 2.0."
>> Discover the companies behind "Medicine 2.0" <<

The Shift to "Medicine 2.0"
In 2020, Google's AI soundly defeated a team of highly trained professionals in detecting breast cancer from x-rays. And Medications created by artificial intelligence are now entering clinical trials.
Computers are also leading the way in disease detection, which opens up a whole new level of care.
Healthcare is now moving from simply trying to control the symptoms of a disease to cures and prevention.
David believes these innovations in AI signal that "Medicine 2.0" is here.
This is great news from a health standpoint, but it also speaks volumes about finance.
The healthcare industry represents nearly 20% of the US economy, totaling a staggering $4.1 trillion in spending. Any innovation in this field could amount to billions of dollars.
Plus, there will always be a demand for health care. It's one of the most recession-resistant industries on the planet.
Companies that have nothing to do with health care have figured this out, and they want in. Amazon recently dropped $3.9 billion in an all-cash deal to purchase a primary care provider called One Medical.
If the likes of Amazon and Google are hopping on board, it seems like a no-brainer to include health care in an investment strategy.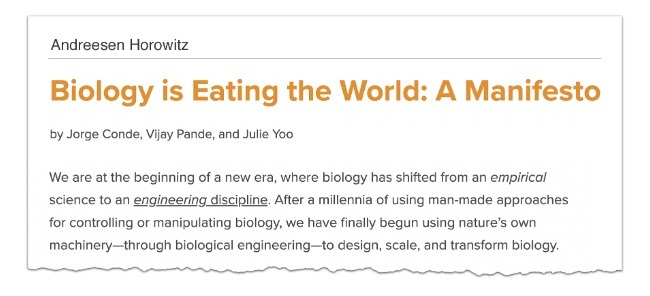 What Is "Eating the World"?
Eleven years ago, we experienced first-hand software "eating the world".
Bookstores like Barnes and Noble and Borders got devoured by Amazon. Netflix ate rental stores with its movie delivery service and then went on to be the streaming platform we know today.
People investing in those "world eaters" back then saw four-digit gains if they played their cards right.
David believes we're on the cusp of the same movement, but this time with biology.
He claims that healthcare is going to head through the same transition, with digital care leading the way.
Eifrig points out how telehealth grew 80-fold when we were all at home during the pandemic. And some analysts believe telehealth will become a $250 billion annual business in the years ahead.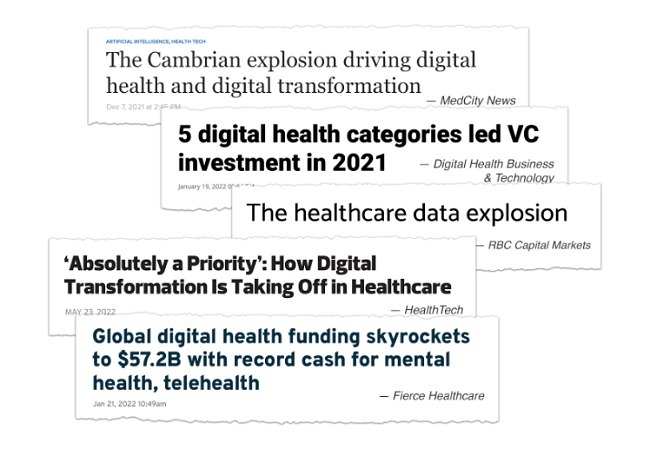 The revolution doesn't end there.
In the past, patients had to spend days in the hospital for monitoring following even mundane procedures.
We could soon see a device patients could wear at home to monitor vitals and effectively save thousands on hospital bills.
Doctors can already observe respiratory health from someone wearing a CPAP machine at night.
These innovations are only the beginning of something much greater on the horizon.
What happens when digital care eats old, outdated technology?
Everything from patient records to full-body scans and real-time data to heart monitors might become completely digital.
Case history, genome mapping, and knowledge of every drug molecule all come together in one massive database.
>> Join Retirement Millionaire today <<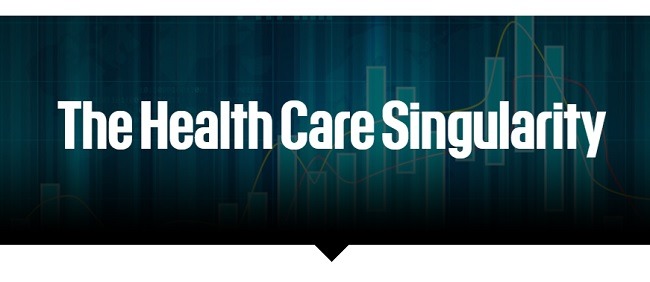 What Is Eifrig's Health Care Singularity?
Eifrig's Health Care Singularity refers to the perfect world where digital care meets the computational tools to fully harness it.
We can already see the beginnings of this singularity in a few areas.
Wrist monitors can detect the signs of a heart attack before it happens. Also, computers are already scanning databases for cancer, discovering patterns humans have missed.
Although we've seen a taste of this healthcare singularity, we're not there yet.
The problem isn't the technology, it's the implementation.
According to Eifrig, healthcare generates more than 2.3 trillion gigabytes of data each year and is expected to double by 2025.
No one can keep up with all the medical knowledge floating around. There are also more diseases, medications, and tests than ever before.
Doctors and researchers simply can't translate all that incoming data into approved treatments, procedures, and medicines fast enough.
There's been this gap between medical discovery and medical practice as far back as we can remember.
People first documented chest pain leading to heart attacks around 600 BC, but the knowledge wasn't put into practice for over 2,300 years.
It also took 200 years for the medical world to implement a treatment plan for sailors dealing with scurvy on the high seas.
Fortunately, with AI in the mix, these gaps between identifying a problem and treating it are shrinking.
The Retirement Millionaire team believes we could be seeing the healthcare singularity come to pass sometime in the next few years.

Billions for Megadeals on the Horizon?
Doctors are seeing this digital shift happening right before their eyes.
Computers can now generate algorithms to plot a course for a patient's cancer care that's completely specific to their age, diagnosis, history, and even genetics.
The complexity of these treatment plans has increased dramatically in just the past few months, with no end in sight.
Cures completely unimaginable a few years ago are just one of the game-changing effects of this new digital era in medicine.
Medical science is on the cusp of truly personalized patient care.
Big biopharmaceutical companies with billions of dollars in hand are ready to pounce on acquisitions. They're looking for megadeals to capitalize on some of the growth right on the horizon.
We've only just created the computational power for computers to outperform doctors, and now we're loading the system with data.
The Health Care Singularity could be primed and ready to take off.
More comprehensive research about this opportunity is included in Retirement Millionaire's Biggest Shock to Retirement package.
Before we dig into the details, let's examine David's credentials.
>> Access the entire package here <<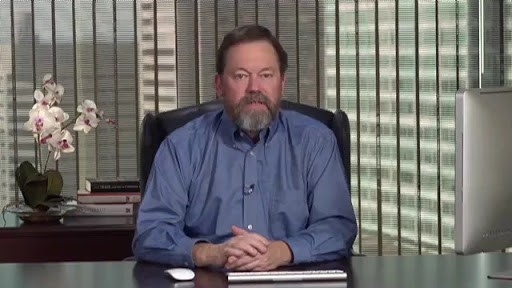 Who Is David Eifrig?
Doctor David Eifrig is the editor of Retirement Millionaire, a newsletter designed to pave the way to a happy retirement.
Eifrig entered into finance fresh out of college, starting with Goldman Sachs. He spent a decade on Wall Street before switching gears and pursuing a career in medicine.
After earning his MD with clinical honors at the University of North Carolina at Chapel Hill, Eifrig completed a research fellowship in molecular genetics and became a board-eligible eye surgeon.
In 2008, David pivoted his career again, joining Stansberry Research and starting Retirement Millionaire. In the past 14 years, he's established himself as a leader in retirement investing.
In addition to Retirement Millionaire, Eifrig also writes other publications, including Retirement Trader, Prosperity Investor, and Income Intelligence.
What Is Retirement Millionaire?
Retirement Millionaire is a unique investment bundle from Doctor David Eifrig, featuring the culmination of his years of research in finance and medicine.
Not only does it come with the latest research to help you reach retirement, but the bundle also offers a roadmap for improving physical health.
Let's look at everything you'll get when signing up.
1 Full Year of Retirement Millionaire
A subscription comes with 12 issues of the Retirement Millionaire monthly newsletter.
It delivers tips designed to help you thrive in the stock market and with your personal health.
With the "Health Care Singularity" so close, medical breakthroughs could spell big gains.
Retirement Millionaire helps to maximize profit potential by pinpointing innovative companies leading the charge.
Eifrig also includes information to help you stay healthy at the same time.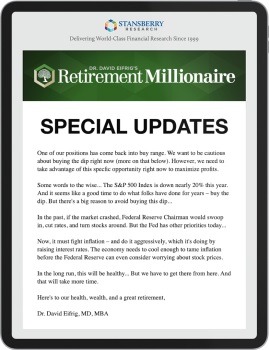 Updates and Alerts
The stock market moves at break-neck speed, and David doesn't want you to fall behind.
That's why the team send out email updates when a market event could affect open positions.
If a stock looks ready to take a dive, you'll receive a prompt heads-up to get out. When a stock is primed to sell, an alert will tell you to jump in for an opportunity to seize profits.
No matter what's happening, you'll be completely in the know.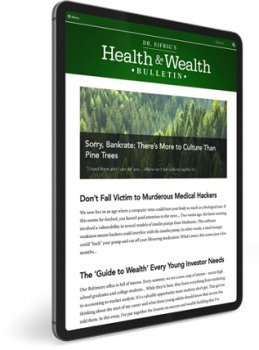 Health & Wealth Bulletin
Any day the market is open, you'll receive a copy of David's daily newsletter sent directly to your inbox.
This guide for living well comes with insights and tips you can use to improve your life in more ways than one.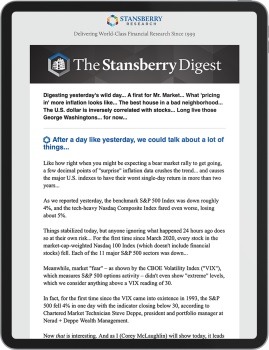 The Stansberry Digest
A Retirement Millionaire membership also includes a subscription to the Stansberry Digest.
The daily market newsletter offers an inside look into the minds of expert analysts.
You can learn about the most important market-moving news, ideas, and opportunities they're following each day.
>> Tap into the team's latest insights <<
New Member Bonuses
In addition to the content above, you'll have full access to a selection of bonus materials created by Doc Eifrig and his research team.
Let's check it out.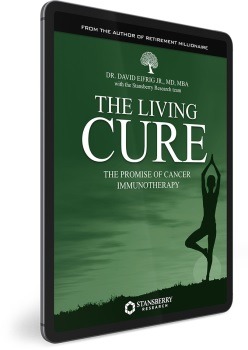 The Living Cure
This book details David Eifrig's research into a cancer treatment that has gained traction over the years, immunotherapy.
David dives into the basics of immunotherapy and its benefits. The book is essentially a crash course on why many are looking at this treatment over more traditional options, such as chemotherapy.
Additionally, The Living Cure lays out steps for gaining access to immunotherapy and more.
This is not a research report. However, one of the core focuses of Retirement Millionaire is health and well-being, so it makes sense for David to add it to the line-up.
It's important to note that this book does not provide medical advice, nor is it a substitute for medical advice.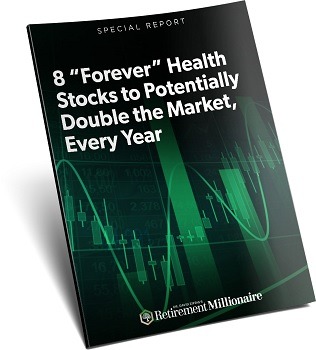 8 "Forever" Health Stocks to Potentially Double the Market, Every Year
As the title implies, this special report lists eight stocks Doc Eifrig believes could be the foundation of a strong portfolio.
These heavy-hitting stocks have shown the ability to rise even when the market falls.
Each stock represents a leader in the healthcare industry and has solid upward momentum thanks to advancements in digital care.
David Eifrig expects that these stocks could compound wealth by at least 15% each year while greatly reducing risks.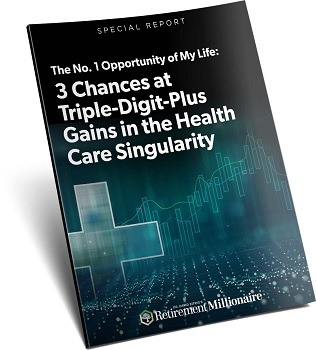 3 Chances at Triple-Digit-Plus Gains in the Health Care Singularity
Davide believes the biggest winners of the healthcare revolution will be companies with innovative technology.
Intuitive Surgical, which helped pioneer medical robotics in the past few decades, is up over 10,000% since its IPO.
David says that today's setups could be the same or better.
The team anticipates that the "Health Care Singularity" could create trillions of dollars in investment opportunities.
You'll get an in-depth analysis of each pick, including ticker symbols and supporting research.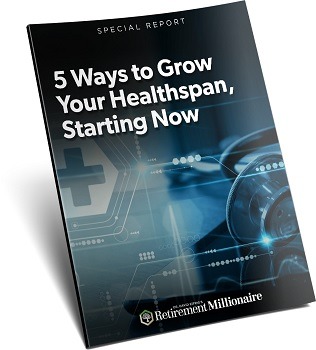 5 Ways to Grow Your Healthspan, Starting Now
Doc Eifrig wants you to invest as much in your health as you do in your finances. That's why his insights offer a solid blend of health and wealth tips.
In 5 Ways to Grow Your Healthspan, Starting Now, he shares five ways that could improve health based on the latest clinical research and technology.
Some of these tips could help with inflammation as well as aches and pains.
Such a report may not be something you'd expect from a financial service, but these health tips are nothing to scoff at.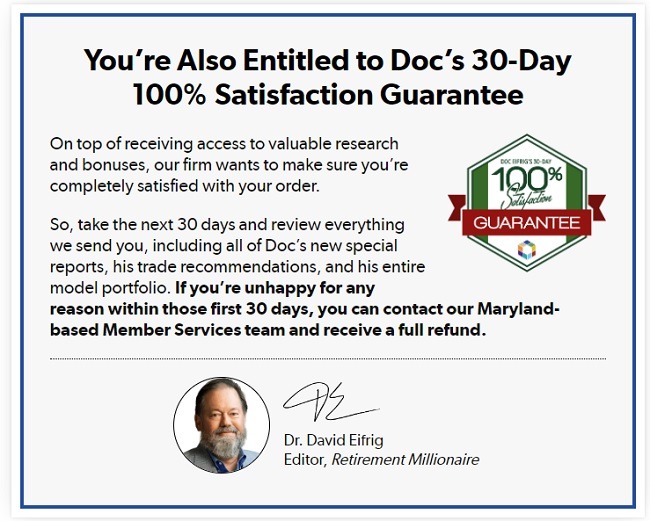 30-Day Satisfaction Guarantee
After picking up your Retirement Millionaire subscription, you'll have 30 days to pore over it with a fine-toothed comb.
This includes the monthly newsletter, daily publications, and all the bonus materials.
If you're not satisfied with the service at any point during those first 30 days, you can call the Stansberry Research customer service team for a full refund of the price of your subscription.
>> Join under Eifrig's guarantee <<
Is the Biggest Shock to Retirement Legit?
The Biggest Shock to Retirement is legit.
And Retirement Millionaire subscribers have already seen Doc Eifrig in action.
He reports his past trades have offered the opportunity for gains as high as 910%, and he has an all-time 77% win rate.
Retirement Millionaire Pros and Cons
Retirement Millionaire is an excellent package, but it's not without some flaws. Let's take a look at the pros and cons.
Pros
12 issues of

Retirement Millionaire

newsletter

Includes several materials on improving health and wealth

Currently discounted 75% from the retail price

30-day money-back guarantee
Cons
Lacks a community forum or chat room

No short trades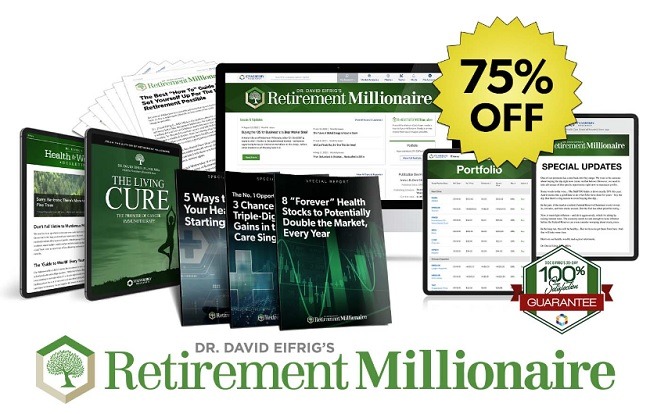 How Much Does Retirement Millionaire Cost?
Retirement Millionaire typically costs $199 for an annual subscription. However, if you sign up under the latest deal, you'll receive 12 issues of the newsletter for just $49.
That low price tag includes updates, alerts, and all the materials we talked about earlier.
Each standalone report is valued higher than the price you'll currently pay for this entire package, so it's a great deal.
Biggest Shock to Retirement: Final Verdict
We'll have to wait and see if David Eifrig's predictions about the healthcare industry pan out. That said, his research is solid, and his background in finance gives him a pretty compelling vantage point.
I also appreciate that his research suite covers a more niche topic in the investing space.
Even at $199, it would be well worth the investment in the newsletter. But right now, you can join for just a quarter of the price.
Let's not forget the slew of additional materials you get for free with a membership.
If that wasn't enough, Eifrig also drops tips and insights for staying healthy so you can actually enjoy your golden years.
You have 30 days to decide whether Retirement Millionaire is for you. If you're not happy, it only takes a phone call to get a full refund of your purchase.
>> That's it for my review. Sign up for 75% off <<