Once considered a thing of the future, electric cars have finally made their way to the mainstream.
This new technology will be used to combat climate change and reduce our reliance on fossil fuels.
The best electric car stocks could see rapid growth as the industry booms.
There are many companies around the world that are involved in the production, distribution, and even car transport of electric vehicles.
As this industry grows, we've rounded up the best electric car stocks to add to your portfolio.
Electric Car Stocks To Invest In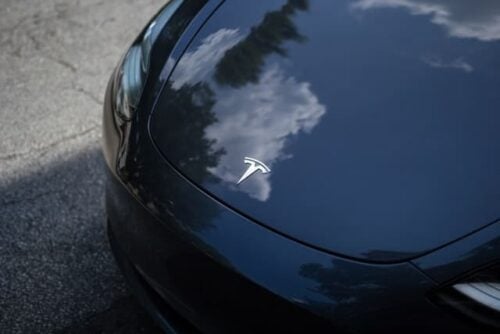 Tesla Inc (NASDAQ: TSLA)
Tesla Inc. is one of the most well-known electric car companies in the world.
They are currently based in Silicon Valley, where they produce electric cars and a number of other clean energy products. Tesla is run by world-renowned businessman Elon Musk.
Tesla led the market in the development of electric vehicles. They released their first model, the Roadster, in 2008.
They have released four newer models in the years since.
Investors have been very keen on Tesla over the past few years, and for good reason. No other electric car brand comes close to Tesla's name recognition or its market share.
They are currently the most valuable car producer in the world and have been added to the S&P500.
One of the things that helps Tesla stay profitable is their diverse business model. In addition to cars, they also create solar energy products and rechargeable electric batteries.
In the past, Tesla has catered to the luxury consumer, but this could change as they expand their operations.
They are expanding their global footprint and will likely expand their sales into China in the future. They are already producing their latest car, the Model Y, in China.
Tesla's share price has decreased slightly after hitting a peak in January. However, they are expected to announce their Q2 earnings shortly.
If this earnings report goes according to plan, it could push Tesla stock back up again.
The company already announced that they made record delivery numbers this quarter, which should result in huge earnings numbers.
Tesla's biggest liability is also their biggest asset: CEO Elon Musk. Musk is a very controversial figure, and his behavior often has a direct impact on the stock's price.
Despite Musk's sometimes-incendiary behavior and stiff competition from other EV manufacturers, Tesla remains on top of the EV market.
Tesla remains a popular stock to buy and hold for the long run.
General Motors Company (NYSE: GM)
General Motors is one of the world's most well-known manufacturers of vehicle parts. They were founded in 1908 and are based in Detroit, Michigan.
GM owns several successful car brands, most notably Cadillac, Chevrolet, Buick, and GMC.
Over the last decade, GM has taken huge steps to be more environmentally friendly. This has included a newfound focus on hybrid and all-electric vehicles.
Earlier in 2021, they announced that they are planning to be entirely emissions-free by 2035.
GM and its subsidiaries already have electric vehicles on the market, most notably the Chevrolet Bolt.
They've also partnered with Nikola on their Badger vehicle, which will be a fully electric pickup truck.
On top of that, they recently announced that they will be launching their own electric vehicle charging service, called Utium Charge 360.
GM stock has been on the way up in the first half of 2021. In fact, their share price hit a five-year high in June.
Despite this growth, their price-to-earnings ratio is still less than 10. This low P/E ratio indicates that the stock is fairly affordable given the company's financial performance.
GM's commitment to electric vehicles and sustainable technology is going to help them stay ahead of the pack in the global fight against climate change.
Ford Motor Company (NYSE: F)
Ford is another established car company that is making their way into the electric vehicle sector.
The company was founded in 1903 and is based in Michigan. They started making hybrid vehicles in 2004, and they're currently focusing on new all-electric vehicles.
Ford is currently developing several new electric vehicles, most notably the F-150 Lightning.
This will be an electric pickup truck and will go on sale next year.
After debuting at auto shows, there's already a lot of buzz around this car.
Ford is planning to have approximately 40 percent of their cars be electric by 2030.
Ford stock recently went down slightly due to a recall, but this didn't have anything to do with their electric vehicle brands.
In fact, there's a good chance their stock could go up once anticipated EV models like the F-150 Lightning hit the market.
Fisker (NYSE:FSR)
Fisker is one of the newer electric car stocks on the market.
They were founded in 2016 and are the latest venture from legendary vehicle designer Henrik Fisker. They released their IPO in 2020
Fisker has released several electric vehicle prototypes. Some of the most exciting include the Fisker Ocean and the Fisker EMotion.
The EMotion is a streamlined sports sedan, while the Ocean is a larger SUV. Both will be long-range and designed for high performance.
Although these are luxury vehicles, they have captured the attention of the market.
Since they are newly public, it might take some time before their share value stabilizes.
However, they have excellent potential for the future, especially when their cars eventually make it to market.
The company recently finalized a manufacturing agreement with Magna International. Production of the Ocean SUV is scheduled to start in 2022.
Chinese Electric Car Stocks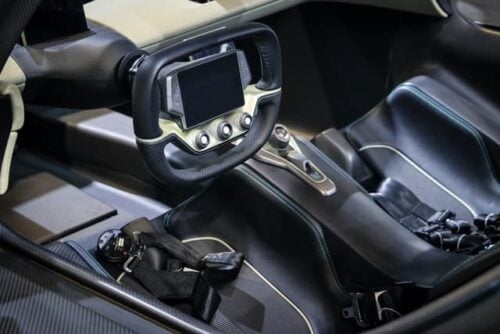 Nio (NYSE:NIO)
Nio is a Chinese electric car manufacturer based in Shanghai.
While Tesla has been leading the way in the EV market in recent years, Chinese companies are catching up.
Nio currently has four electric car models on the market. They also produce semi-autonomous car technology.
They operate battery swap, charging, and service stations throughout China for their electric vehicles.
Nio currently leads the market in battery swap technology.
Nio's year-over-year returns have been incredible. As of July 2021, Nio stock is up more than 285 percent since this time last year.
The stock is down slightly from its peak in February, but this is more to do with general market sentiment than news from the company itself.
EV stocks were in a period of aggressive growth earlier this year that has since cooled off. Additionally, some investors are wary of Chinese stocks due to tensions between China and the West.
Nio is planning to start selling their vehicles in Norway later this year.
If Nio can continue to expand outside of China, they can be more competitive with Tesla and other EV manufacturers and continue their strong performance in the long term.
XPeng (NYSE:XPEV)
XPeng is another leading Chinese EV stock. They currently have operations in Guangzhou, China, and Mountain View, California.
XPeng was founded in 2014, but only launched their IPO in August of 2020.
Electric vehicles have already become very popular in China. Although XPeng has stiff competition, they've already made a big impact on the Chinese market.
XPeng is also plans on breaking into the European market in the years to come. They've started by selling their G3 SUV in Norway.
The company doesn't currently have any plans to introduce their vehicles to the US market. However, the fact that they already have offices in California might make it easier to do so in the future.
Their most recent delivery numbers are their highest ever, indicating that demand for electric vehicles is continuing to go up.
XPeng has been public for less than a year. This has resulted in some volatility in term of share prices.
However, the company's financial performance has been positive. If they can keep their deliveries up and expand into new markets, it could have a positive effect on their share price.
Li Auto (NASDAQ:LI)
Li Auto is another new electric vehicle company based in China.
They only went public in July of 2020, but have made a splash in the market.
This company takes a slightly different approach to electric vehicles than its competitors. Many of their products are hybrid models that can run on either electric or gasoline.
Since Li is one of the newer electric car stocks on the Chinese market, it still has plenty of room to grow.
Since going public, their share price has gone up over 80 percent.
They've consistently increased their deliveries and posted strong earnings reports.
Their revenue for the first quarter of 2021 was significantly higher than the first quarter of 2020. Their most recent delivery numbers set a monthly record.
This will likely set them up for a strong Q2 earnings report, which could have a positive effect on their share price.
Electric Car Battery Stocks
Albemarle Corporation (NYSE:ALB)
Albemarle Corporation is the world's largest producer of lithium, which is a key component of electric car batteries.
This chemical company also produces catalysts and bromine specialties.
This company is based in Charlotte, North Carolina, but has plants all over the world.
Recently, they have been increasing their lithium production to take advantage of opportunities in the electric car market.
They have also been tapped by the US Department of Energy for key lithium research projects.
This makes them an industry leader in developing electric car batteries and other rechargeable technologies.
Albemarle stock has performed very well so far in 2021.
Their recent growth seems to have been fueled by excitement about electric vehicles as well as sustainable energy in general.
Since President Biden has taken office, the US has made major strides in the fight against climate change, and other countries are taking action as well.
It's become clear that we will need much more storage for this sustainable energy in the form of lithium batteries, which bodes well for Albemarle in the future.
Albemarle isn't a pure electric vehicle play, so it could be a good pick for investors who are intrigued by the electric vehicle market but don't want to go all in just yet.
Panasonic (OTC:PCRFY)
Panasonic is a Japanese electronics company that is heavily involved in the electric vehicle market.
They are one of the world's largest suppliers of lithium-ion batteries.
A lithium-ion battery is essential for both electric and hybrid vehicles.
They currently have a deal with Tesla, as well as many other notable electric car manufacturers.
Since landing the Tesla deal, Panasonic has reported very strong revenue numbers.
They have consistently increased their battery sales, and they're also optimizing their production to minimize excess costs.
They also have a 2.73 percent dividend yield, which will be very appealing for income investors.
This is a great value stock for any investor wanting to benefit from the electric vehicle trend.
Electric Car Charging Stocks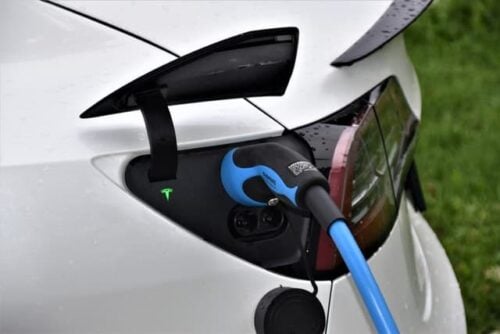 Blink Charging Co (NASDAQ:BLNK)
Blink is one of the leading provides of electric vehicle charging stations in the US.
They are based in Miami but have charging stations available throughout the country, especially in large metro areas.
In addition to running the charging stations, Blink also acquired BlueLA Carsharing in September. This company runs Los Angeles's city car-sharing program.
Auto sharing solutions are likely to get more popular as society transitions to electric cars. This acquisition places Blink in an exciting position going forward.
Blink Charging Co. has been a very volatile stock, so investors will want to be cautious until the price stabilizes.
While the stock has generated huge returns since the beginning of 2020, their share price has gone down after peaking earlier in the spring.
Since there's so much potential in the electric vehicle market, Blink Charging could be a good long-term play despite these challenges.
ChargePoint Holdings (NYSE: CHPT)
ChargePoint Holdings is another major EV charging company based in the United States.
ChargePoint actually has a much larger network than Blink, with over 100,000 charging stations in both North America and Europe.
While there is a lot of demand right now for electric vehicle charging stations, it's been difficult to monetize.
ChargePoint's revenue has gone up over the last year, but they still aren't profitable.
Like Blink, ChargePoint's share price is down significantly from a peak in late June.
This could be partially due to a second offering that the company is conducting.
Regardless, this company could be a good long-term play for those interested in the electric vehicle market.
As electric vehicles become more widespread, demand for charging stations is only going to increase.
Electric Car Stocks: Final Thoughts
EV stocks are very exciting right now.
Electric vehicles are hitting the mainstream, with much of the development happening in China and in the US.
Sustainable transportation has become a must have to combat our global climate crisis.
Electric car stocks have been very successful in the last year, and it's likely just the beginning.
As governments around the world continue to encourage low-emissions technology, we can expect to see EV stocks increase in value.