Dan Ferris claims his investing strategy could protect portfolios from an impending mega-bubble bust. But is he really on to something or just telling tall tales? I'm putting his research under the microscope with my Extreme Value review to find out.
What Is Extreme Value?
Extreme Value is an advanced-level investment research service run by Dan Ferris and published by Stansberry Research.
Some member perks include stock picks, special reports, market predictions, and more.
Compared to the publisher's other offerings, this newsletter is on the premium end of the spectrum.
And as you may have guessed, it targets excellent stocks that could be trading at a discount to their intrinsic worth.
There's a lot more going on under the surface, so stay tuned for the full breakdown.
>> This offer is expired, but you can save 75% off our #1 alternative here <<
The Team's Strategy
As mentioned, the Extreme Value team leverages a value investing strategy when scouting out investment ideas.
The typical holding period for investments is between four and five years. Some recs also include short positions.
To vet opportunities, the team spends endless hours researching SEC filings and balance sheets.
Since these stocks might be significantly lower than they're worth, they could offer a greater margin of safety.
Now that you know more about the newsletter and its strategy, let's take a look at the mind behind the service.
Who Is Dan Ferris?
Dan Ferris is a talented stock picker with a strong track record.
Many of his followers are drawn to his research for his classic value investing philosophy.
This strategy is one of the oldest, most proven trading strategies in the book.
As the Extreme Value editor and top researcher, he's the one who sets the tone for the publication.
Dan has been a Stansberry stalwart since the earliest days of the firm. He was one of the first two analysts that the firm's founder, Porter Stansberry, hired after launching the company.
In addition to his work with Extreme Value, he also hosts a podcast called Stansberry Investor Hour.
If you want to get a better feel for how he thinks, you should check it out. It's surprising how down-to-earth Dan can be, given the complex topics he covers.
His premium services are the only places to get stock picks, however.
>> This offer has ended. But you discover the team's latest trade ideas here <<

What Is Stansberry Research?
Extreme Value is published by Stansberry Research, an industry-leading research firm based right here in the good ol' US of A.
This is an established firm that runs several financial services under its banner.
It offers affordable newsletters designed for the general public but also provides a handful of services that utilize more advanced strategies.
This is a reliable source of insights that, as a US-based firm, is beholden to follow US consumer protection laws.
What Comes with the Service?
This investment research suite is packed to the brim with insights and analysis.
Read on for a deep dive into each offering.
2 Full Years of the Extreme Value Newsletter
The main entrée of this full helping of stock market research is the newsletter.
Each month, you'll get a new issue loaded with insights and market commentary.
Every issue also includes a new stock recommendation and a robust value analysis of every opportunity.
In addition, the team keeps you up to date on the latest news and explains how macro-scale forces are impacting the market.
Altogether, you'll get more than two dozen high-potential stock recommendations by the time your subscription is through.
Special Alerts
The team notifies members whenever it's time to lock in gains, add to a position, or sell.
To stay in the loop, simply check your email or log into your account to see the latest news.
New stock recommendations are also logged into the model portfolio.
Dan's Full Archives
Another big bonus of this subscription is access to the team's archives.
It includes past newsletter issues and dozens of special reports.
Typically, I think archives are a nice touch, but they can be a little unhelpful if stocks have lived past their investment thesis.
However, because of Dan's investment strategy, I'd argue that his archives are an exceptional resource.
He aims for a holding period of around 4-5 years. So two or even three-year-old reports could still hold tremendous value.
If you join the service and like his current picks, I definitely recommend checking back on the past reports.
Model Portfolio
The Extreme Value model portfolio lists all the active "buy" recommendations in one convenient place.
This handy tool gives you a bird's-eye view of the service's top picks, along with pertinent information about each recommendation.
A quick look could lead you to the service's most profitable stocks, or you could limit your search to cheaper shares.
Predictions and Warnings from Dan Ferris
Dan has a keen eye for marketing moving trends, and he keeps members in the know if he believes he's spotted something on the horizon.
His previous predictions include the Bitcoin crash, Lehman Brothers collapse, top of the Nasdaq, and other black swan events on the stock market.
Given his track record, when Dan issues a serious warning, it's definitely worth a listen.
>> This offer is closed. But now you can access tomorrow's 10x power trends here <<
Special Reports and Bonuses
The latest Extreme Value bundle also includes a spread of bonus research and other resources.
Here's what else you get when you join.
10-Stock Portfolio for a 20-Year Go-Nowhere Market
Even though the market has slowed to a crawl, the team isn't convinced the worst is over.
That's why they crafted a carefully curated model portfolio of stocks to hold during a decades-long down market.
While the portfolio is intended to endure a struggling economy, Dan says it could also provide some solid upside in the coming years.
This is not the same as the model portfolio that logs the team's monthly stock picks.
Your Meltdown Survival Guide: Everything You Need to Know to Survive the Coming Crash, and 20 Years of Zero Returns
The team believes that one of the biggest mega-bubbles in history could be about to burst. And if it does, a seismic economic crash might follow.
This report focuses on an inversion of market conditions and how to respond accordingly.
Some inversions covered include:
Navigating a high-interest market

Lower equity valuations

Stocks and bonds becoming highly correlated and more
A key strategy laid out in the bonus report pertains to investing in precious metals, especially gold.
If the markets get flipped on their head after the mega-bubble pops, the team believes that this time-tested approach could persevere.
Stansberry's Financial Survival Program
In anticipation of continued market volatility, Stansberry Research tasked its analysts to build an easy-to-follow plan for navigating the fallout.
This blueprint contains Dan's seven high-potential stocks that he believes have enormous potential.
He goes as far as saying that "every one of which could deliver up to hundreds of percent upside."
The report also details ways these investments could help improve a portfolio's stability.
100% Satisfaction Guarantee
The team is offering a 30-day window to check out Extreme Value. If you decide it's not for you, you can get a full refund in the form of in-house credit.
Credit can be applied to any one of more than 20 services under the Stansberry Research umbrella.
With so many services to choose from, you're bound to find something that piques your interest.
While it's not a cash refund, it's certainly reassuring.
After all, you get the featured special report, the model portfolio, and access to past reports as soon as you sign up.
That's a lot of value, so it's understandable why they wouldn't offer a full cash refund from a business perspective.
The 100% credit refund is a fair compromise given the service's potential benefits.
>> This offer is closed. But now get Power Gauge Report and save 75% under Marc's guarantee here <<
Extreme Value Track Record
As many would expect from a Dan Ferris service, Extreme Value has a respectable track record.
It has produced some of the highest-returning stock recommendations in Stansberry Research's 20-year history.
Take a look and see for yourself:
You'd be hard-pressed to get returns like this out of your index fund.
Clearly, Dan can pick winners with the best of them, and you're in good hands with this service in your corner.
It's important to not that past performance is not an indicator of future results.
Is Dan Ferris Legit?
Dan Ferris is legit.
He has one of the most impressive track records of anyone at Stansberry Research, and he's been through bear markets, a financial crisis, and much more.
His team has been responsible for finding some of the most profitable stocks in the company's history.
For instance, one of the top Extreme Value stocks, Constellation Brands, gained 628% following his call.
In short, Dan is a powerhouse stock picker, and he has the credentials to back it up.
Pros and Cons
The newsletter has a lot of ups, but there are some downs to consider.
Pros
57% discount on two-year subscription

Additional portfolio and bonus reports

30-day credit refund

Led by one of Stansberry's top minds
Cons
Carries a higher price tag

No community forums or chat room
Is the Service Right for Me?
Extreme Value could be best suited for the following users:
Market Experienced
As an advanced-level research service, it's an especially good option for advanced users.
If you've ever read an investing newsletter and found yourself yelling, "Duh!," you're probably ready for more advanced resources.
Dan's sophisticated strategies will definitely fit the bill.
Approaching Retirement
If you're getting close to retirement, you might have a nice nest egg saved up.
You have a lot of skin in the game, so you can't afford to rely on cut-rate research.
The team's research standards make the service an excellent option for any long-time saver that's approaching their golden years.
Active Movers
So, you're getting into trading, and you're starting to sharpen your skills.
If you're ready to take your trades to the next level, advanced research can go a long way toward upgrading a portfolio.
These are just a few examples of people we think would get a lot out of this service, so it's by no means definitive.
>> This offer is closed. But you can access one free year of Power Gauge Report model portfolio here <<
Dan Ferris Extreme Value Reviews
Dan Ferris and his newsletter appear to have overwhelming positive reception online.
Extreme Value has locked in a rock-solid 4.1/5 on the review site Stock Gumshoe.
This is out of 141 reviews, which is a pretty solid sample size.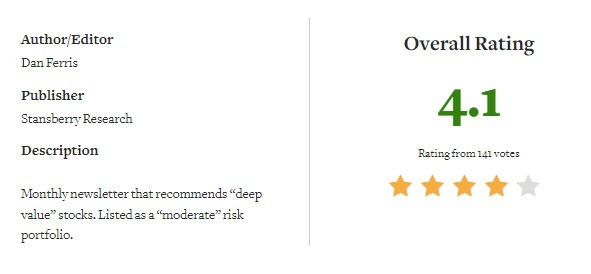 The caveat is that I can't verify the veracity of these ratings, as this is a third-party review site.
Still, it's a good sign that the service has earned glowing praise online.
How Much Does Extreme Value Cost?
A two-year subscription to Extreme Value typically costs $4,000.
However, the team is sweetening the deal by knocking the price down to just $1,695 for two years.
That's about a 57% discount off the usual rate.
The cost may seem high at first, but this is an advanced investment suite.
You can't compare it with bargain-basement newsletters that do little more than pick stocks.
Plus, it has one of the leading teams at Stansberry Research.
When you look at similar top-tier services, it's actually somewhat affordable in comparison.
Many premium research alternatives cost upwards of $2,500 for just a year, let alone two.
When you judge it from that perspective, an upfront investment of $1,695 isn't all that outlandish.
Is Extreme Value Worth It?
Extreme Value requires a higher upfront investment than an entry-level research service, but its features justify the sticker price.
You're getting a much higher caliber of service in return.
Dan Ferris has been leading one of Stansberry Research's top publications for over 20 years, and he's produced some of the company's biggest wins over that time span.
If the track record doesn't convince you, consider the fact that many online reviews also attest to his stock-picking prowess.
Plus, you receive much higher-quality picks in exchange for the higher cost.
Also, you're getting a full two years of Extreme Value at this rate.
Some services only offer introductory discounts that shoot up to a higher rate at the end of the first year, so this newsletter scores brownie points here as well.
All in all, it's a solid service with a lot going for it. I recommend checking it out if you're in the market for top-tier research.
>> This offer has expired. But now you can save 75% off Power Gauge Report with 100% cash-back guarantee here<<