Austrian-based decentralized finance (DeFi) platform, Gains Network announced the launch of its gTrade feature to allow users to trade the price of US stocks on-chain with leverage.
According to a statement, gTrade will launch its beta version first, welcoming three top US stocks to the platform namely $GOOG, $FB, and $AAPL, with more stock prices to be listed in the coming weeks and months.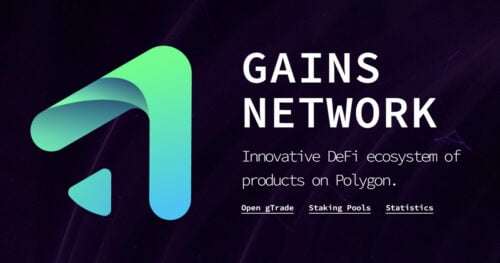 About gTrade
gTrade becomes the first-ever DeFi protocol to allow leveraged trading on stock prices marking a significant milestone for the DeFi space and increasing the adoption rates for the ecosystem globally. The addition of leveraged stock price trading will complement the wide range of features currently offered on gTrade with an aim to enhance customers' experience on the platform.
gTrade is built with a focus on reducing the protocol fees, trading fees and transaction fees for leverage traders. The platform will have no borrowing or funding fees, offers users high leverage, and reduced the chances of liquidation for traders.
Notwithstanding, gTrade has integrated Chainlink's decentralized oracles network to ensure the stock's spot prices will be accurate and sent to the protocol in real-time.
The leverage trading on gTrade separates itself from other DeFi platforms by reducing liquidation risk and ensuring there are no scam wicks or price impacts from the trading.
On the launch of the gTrade stock price leverage trading, Gains Network founder, Sébastien, said,
"We are delighted and honoured to be the project that takes DeFi a significant step further by being the first to offer synthetic leveraged trading on the spot price of US stocks. Use cases are getting closer to what TradFi offers, and the user experience is finally reaching acceptable levels for mass adoption. It truly is the most exciting time to be in DeFi."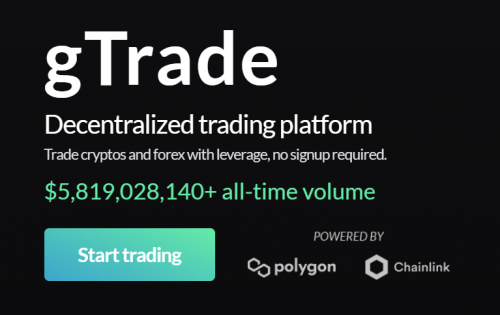 Ready to build your portfolio? With Public.com you can follow other investors, discover companies that are inline with your beliefs, and invest into stocks and crypto with very little money! What are you waiting for? Check out Public Now!
Synthetic leveraged trading on the gTrade platform
Built as an innovative DeFi ecosystem, Gains Network's latest launch of gTrade's leveraged trading of stock prices will bring extra liquidity, welcoming huge adoption of the platform. So how does Gains Network offer crypto and DeFi users leveraged trading of US stocks?
Simple, synthetic assets. Gains Network uses an innovative synthetic leveraged trading architecture powered by the $GNS utility token. The ecosystem uses two liquidity pools to execute trades for all pairs listed on gTrade. The benefit of this approach is that the protocol doesn't have to build liquidity for every pair.
It is also worth noting the leverage isn't borrowed but rather synthetic in nature, unlocking a much higher degree of liquidity efficiency than the current DeFi trading protocols.
The protocol is built on Polygon Network ($MATIC) ensuring low on-chain fees and fast transactions. With gTrade having an all-time volume of over $11 billion, the DeFi ecosystem on Polygon is set to benefit greatly, especially in added liquidity.
Finally, the trading of the US stock prices will go live on May 2nd, 2022, as the market opens at 9:30 AM EST. One week later, on May 9th, the team will list the second batch of 20 big US stocks, which have yet to be revealed.
In the future, gTrade APIs will support virtually all US-listed stock prices, allowing leveraged trading on them, a move that could further boost the trading volumes on the platform.