Instacart is a 'done for you' shopping and delivery service that takes care of your weekly trip to the grocery store. You'll place an order through the app, and Instacart will assign a personal shopper to fulfill it.
Instacart is very similar to services like UbetEats or Deliveroo, but they work with major grocery outlets instead of restaurants. Some chains they work with include Kroger, Costco, and Shaw's.
You may be wondering – how does Instacart make money? We've found the answer. Instacart isn't yet public, but they are considering an IPO in 2021. We recommend the WeBull app for all of your investing needs. WeBull does not charge commission fees, and they'll give you free stock just for signing up!
How Does Instacart Make Money
Instacart has multiple revenue streams that it uses to make money. They keep their overhead to a minimum by hiring gig economy workers instead of full-time employees.
Delivery Fees
The first way that Instacart makes money is through their delivery fees. Fees can vary depending on order quantity and size, as well as the customer's preferred delivery time. Fees range from $3.99 to $9.99.
Service Fees
Instacart tacks on a service fee to every order, which can range from 5 percent to 10 percent of the order's total cost. Fees are higher during peak periods, which is similar to apps like Uber and Lyft.
Instacart Express
Instacart has their own subscription service. For $99 a year or $9.99 a month, customers can avoid delivery fees. Customers will also not see any surge pricing and service fees will be reduced.
This subscription service helps increase customer loyalty and generates additional income for Instacart.
Instacart strike deals with the shops they work with to make a commission on sales. Some items are more expensive on Instacart than they would be in the store because of this.
Advertising
Instacart is a very attractive platform for advertisers. Companies like Coca-Cola, Pepsi, and Johnson and Johnson buy ad space on Instacart's app and website.
How Much Money Does Instacart Make?
Like many tech startups, Instacart didn't turn a profit during its infancy. Instead, they relied on venture capital funding to expand aggressively.
The company became much more profitable almost overnight in 2020. With strict social distancing measures in place, consumers relied on Instacart to get their groceries safely.
The company turned their first profit soon afterward. Because Instacart is a private company, they do not disclose their earnings.
This makes it difficult to determine exactly how much Instacart makes. However, we do know that they were able to make a $10 million profit in April 2020.
History of Instacart
Instacart was founded by Apoorva Mehta, Max Mullen, and Brandon Leonardo. Instacart began when Apoorva Mehta left his job as a supply chain engineer at Amazon.
Feeling unfulfilled, he relocated to San Francisco to start his own company. Over the next two years, he came up with ideas for more than 20 companies, but none of them lasted.
He would come up with the concept for Instacart to bring a fresh change to the grocery shopping industry. Together with Max Mullen and Brandon Leonardo, he began to code the Instacart app.
Despite initially missing the deadline for Y Combinator, they were able to win over the leadership team. This gave them some seed money to expand the company.
Instacart would launch in August of 2012. Initially, they were only available for iPhone. They quickly made a name for themselves within the delivery space.
They offered one hour delivery times, which were much faster than any competitor at the time.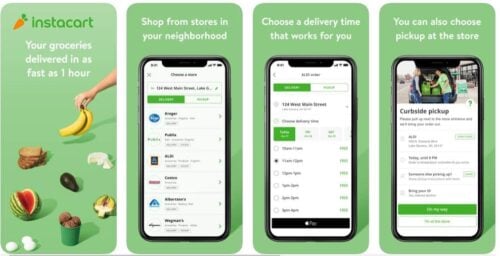 Who Owns Instacart?
As a private company, Instacart's ownership structure is not publicly available. The founders of the company are Apoorva Mehta, Max Mullen, and Brandon Leonardo.
Mr. Mehta is the CEO. Forbes estimates that CEO Apoorva Mehta owns about 10 percent of Instacart. This would make his personal net worth around $1.2 billion.
What Is Instacart Worth?
By 2020, the company had raised a total of $2.4 billion in venture capital funding. They achieved this through 14 funding rounds. This has led to their current valuation of $17.7 billion.
The company's fast-paced growth has made them an attractive investment. The prominent venture capital investors involved are Tiger Global Management, Thrive Capital, General Catalyst, and Sequoia Capital.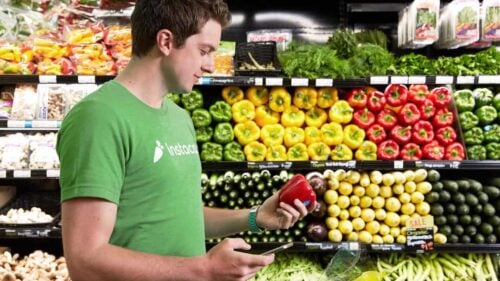 How Can Instacart Make Money In The Future?
Instacarts' main focus going forward will be onboarding new customers. The company operates in over 5,500 cities across the United States and Canada.
By expanding to more cities and reaching new customers, the company can grow its revenue. Through ad impressions, subscriptions, and fees, the company's revenue continues to grow.
The company may decide to branch out internationally to challenge their global competitors. Companies like Deliveroo and Uber offer food delivery services around the world.
However, there is room in the market for Instacart should they wish to expand overseas.
How Does Instacart Make Money: Final Thoughts
Instacart has managed to diversify their income in a niche market. The company has different income streams from service fees, commissions, and ads.
Having multiple streams of income helps to ensure Instacart's longevity. However, Instacart has attracted some bad press in the past.
In 2018, the company received some backlash after reports of decreasing tips. It came out that the company was keeping a portion of their delivery driver's tips, and in some cases were keeping all of them.
This caused public outrage, as patrons intended for those tips to go to their drivers, not the company. Instacart went on to change its policy on tipping. Despite the negative press, the company continues to grow.
Instacart provides a service that saw its demand soar during the 2020 pandemic. This has lead to exponential growth for the company, which is a great sign for its investors.
In fact, the company is doing so well that they are likely to go public sometime in 2021.