Slack is a popular online messaging platform with many advanced features. The name 'Slack' is an acronym for 'Searchable Lock of All Conversation and Knowledge'.
The platform was initially developed for a video game but has evolved into a business tool. Slack has become a very profitable company over the years.
If you're wondering, 'how does Slack make money?', keep reading to find out.
Interested in buying stock in Salesforce, the owner of Slacks stock? Check out WeBull! WeBull is an investment app with no commission fees to make trading accessible. They'll even give you a free stock just for signing up!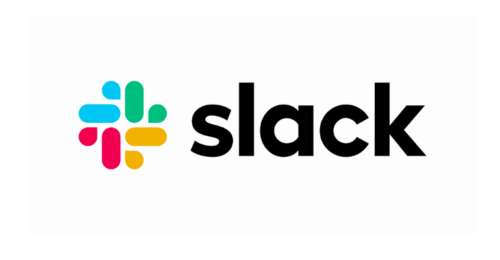 How Does Slack Make Money?
Slack has over 10 million daily users, which means it has huge financial potential. However, Slack advertises itself as a completely free site. So, how does it generate income?
While Slack does have a free version, you'll need a premium subscription to access most of their advanced features. Their Standard subscription costs $6.67 per month and is for small to mid-sized businesses.
Their Plus subscription costs $12.50 per month and provides advanced tech features and support for large businesses. Slack also offers their Enterprise Grid plan.
This product is aimed at large organizations, and gives them the option to customize two or more Slack workspaces for their company.
Enterprise Grid elevated the Slack brand, and now many of the world's most notable companies use it.
How Much Money Does Slack Make?
Slack makes a lot of money from their paid subscription model. The paid subscription model offers advanced features that are very attractive to growing businesses.
According to investopedia.com, Slack generated $400.6 million in 2018. This was an 82% increase from the last year.
As of April 2019, Slack boasts over 95,000 companies as subscribers.
History of Slack
Slack was originally developed as an in-game tool for Stewart Butterfield's company, Tiny Speck.
It was made specifically for an online game called Glitch but has since developed into its own entity which is completely different from its original intended use.
In the first 24 hours of its official launch as a messaging service, Slack had 8000 user sign-ups. By February 2015, these numbers had grown to over 135,000 individual users spread across 60,000 organizations.
Nowadays, Slack has over 10 million users from 600,000 different organizations. In March of 2015, Slack experienced an online attack.
Usernames, email addresses, Skype profiles, phone numbers, and passwords were all compromised. To prevent this from happening again, Slack introduced two-factor authentication.
In 2017, Slack received an award for the best startup of the year at TechCrunch's Crunchies awards. In the tail-end of 2020, Salesforce bought Slack in a $27.7 billion deal.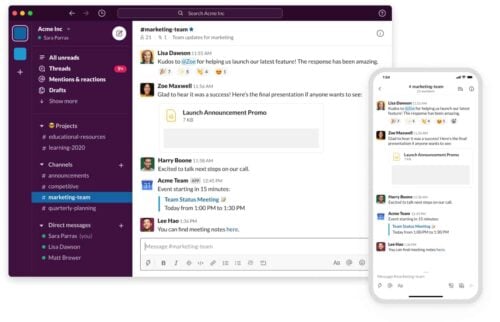 Who Owns Slack?
The original developers of the Slack software were Stewart Butterfield, Eric Costello, Cal Henderson, and Serguei Mourachov.
Stewart Butterfield is the current CEO. He is a Canadian billionaire that reached a net worth of over $1.3 billion in June 2019.
He is also a key co-founder of Flickr, a popular photo sharing website. In 2020, Salesforce bought Slack. The deal was worth an estimated $27.7 billion.
What is Slack Worth?
When Slack went public in 2019, their shares were priced at $26 each. This brought the total valuation of the company to $15.7 billion.
The company ran 10 funding rounds, during which they raised $1.4 billion.
These funding rounds brought in money from venture capital firms and angel investors. In December 2020, Salesforce bought Slack for $27.7 billion.
Many experts saw this as Salesforce's attempt to compete with Microsoft.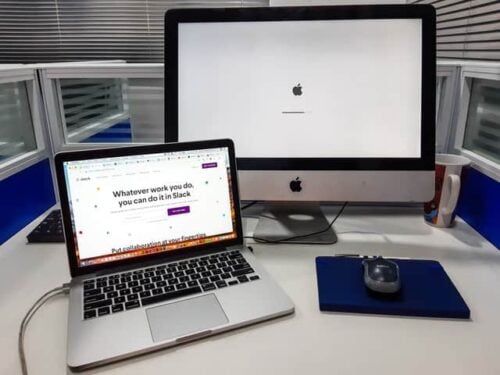 How Can Slack Make Money in the Future?
Slack has been very successful so far, but they still face their fair share of challenges. Its revenue has grown every single year, and went up 82 percent in 2019. However, Slack is still operating at a loss.
This is very common for startup companies, as it can take time for their business model to work. Their first years are an important time for company growth.
If Slack wants to continue to be successful, they'll need to maintain the pace of growth and innovation that they have set in the early years of their operations.
Slack has named Microsoft as their primary competitor, but they have competition from several older and more experienced tech brands.
Microsoft Teams is very similar to Slack's product. Many consider Slack to have a superior interface, but they'll need to maintain their growth in order to keep up.
Microsoft is a household name that could attract people new to digital messaging and video conferencing. If Slack wants to maintain their momentum, they will need to increase their brand recognition.
This could include expanding their services and releasing new products to appeal to a broader range of customers.
Additionally, Slack will need to maintain their international growth.
The software is currently available in over 150 countries, but expanding could generate much more revenue.
How Does Slack Make Money: Final Thoughts
Slack is a massive company worth over $15 billion, which has experienced consistent growth since it was founded.
With over 10 million individual users and over 600,000 teams using the platform, they see a huge amount of traffic each day.
However, they will need to continue to adjust their business model if they want to maintain this pace of growth.