Robinhood offers a different type of brokerage account because investors can manage their entire portfolio directly from their phones. Many investors use the free version every day, but is Robinhood Gold worth it? Read on to find out.
The Robinhood app doesn't come with any fees for use, transfers, or for maintaining your account like other brokerages.
There's also no account minimum and you can get free stock for signing up and linking your bank account.
While Robinhood is a free mobile trading app, traders can opt for Robinhood Gold, the platform's paid version that grants access to exclusive features.
But is Robinhood Gold worth it or should you simply stick with the free version?
Keep reading to see if this premium service is right for you.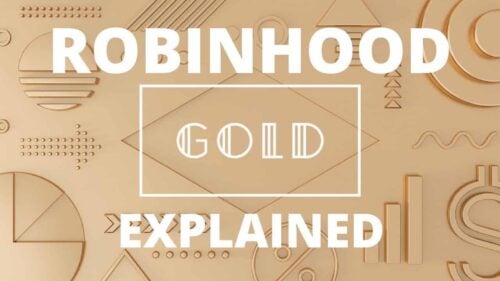 What Is Robinhood Gold?
Robinhood's subscription is free for 30 days.
Robinhood Gold users have access to all the features during this trial period without cost.
It's a great option for investors who want access to more advanced investing methods without paying the extra cost of commission fees.
Even better, the Robinhood app can be effortlessly navigated, making it easy to manage multiple trades simultaneously.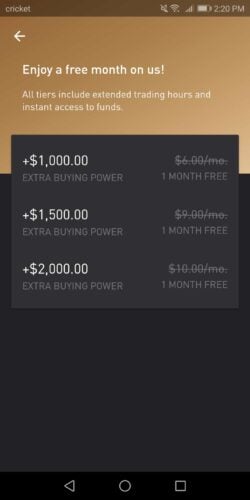 Investors who make a large number of stock or ETF trades find the Robinhood app especially appealing because there are no commission fees.
Robinhood Gold is accessible through the regular Robinhood mobile app, so you can access your portfolio anywhere, anytime.
This ease of access is what has made Robinhood a staple in the lives of most day traders.
For customers without the funds to go through standard brokers, Robinhood Gold provides a great online brokerage for advanced options without the large price.
Most small and new traders find the flat monthly fee more appealing than having to pay a fee on every trade, especially for smaller trades.
>> Already sold on Robinhood Gold? Click here to sign up for a 30-day free trial TODAY! <<
Robinhood Gold Features
For just $5 a month, users get access to the Robinhood Gold features that standard users do not have.
Robinhood Gold's trading features include:
Professional Morningstar research reports on 1,000+ stocks
Level II market data
Larger instant deposit ($5k to $50k)
Access to margins
Note that interest is paid separately
Longer trading hours
Basic Robinhood account users are bound by the Regular Trading Hours of 9:30 to 16:00 New York time (EST).
However, Robinhood Gold members gain access to extended trading hours, meaning they can maximize their investments in volatile stocks around the clock.
So if you're an active trader who wants to make late-night trades whenever the markets move, Gold is the way to go.
Are Morningstar Reports Helpful?
Morningstar is a leading investment research firm that many active traders use.
While the company utilizes information available to the general public (such as SEC filings) for their reports, they compile it all for investors in a way that helps them better understand a company, without having to search for themselves.
While these reports are useful, they are not completely indicative of whether or not you should buy a stock.
There are also other traders, such as Charles Schwab, who offer Morningstar reports completely free as well.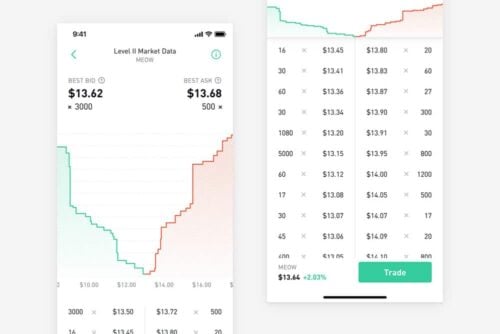 What is Level II Market Data?
Robinhood Gold's Level II market data is much more detailed than Level I market data.
The data goes beyond displaying the last price traded and the current best ask, but it also includes an in-depth breakdown of the number of bids and offers for stocks.
Level II data is mainly used to help investors identify short-term supply and demands.
For Robinhood Gold members to get the most out of their Robinhood account, they need to know how to read the market data.
Level II data shows customers what another broker has ordered in stocks.
This "open orders" book essentially allows you to analyze what direction the stock will go.
The key factors to look at when reading level II market data are:
The Market Maker
Who placed the order
The purchase price
The number of shares purchased in the order
Even if you don't know how to read the data, when you upgrade to Robinhood Gold, you can learn as you go to boost your trading skills in a short amount of time.
So a Gold Robinhood account can be useful for traders of all experience levels and backgrounds.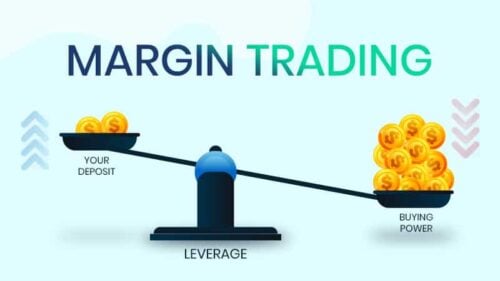 What Is Margin Trading?
When you invest on margin, you are borrowing money from your broker to invest in stocks.
This approach appeals to many investors because they can leverage more money without selling off any of their assets.
Though, there are drawbacks (more on that later).
More on Margin Investing
Margins can result in huge profits, but they are also incredibly risky for several reasons:
You pay interest on what you borrow for the duration of the investment.
The longer you hold the stock, the more interest you pay.
You can lose borrowed money and the value of the cash in your securities account.
Robinhood can make a "margin call" if you begin to show great losses.
Margin calls allow a broker to force a sale of securities and other assets.
When you're in a margin call, you are not entitled to a time extension. The brokerage also does not have to contact you before selling off securities.
Margin trading can increase your losses because the losses will be deducted from your portfolio value, not the amount you borrowed.
So you should certainly put a lot of thought into this type of trading before jumping in headfirst.
>> Like what Robinhood Gold has to offer? Sign up for the premium service TODAY by clicking here! <<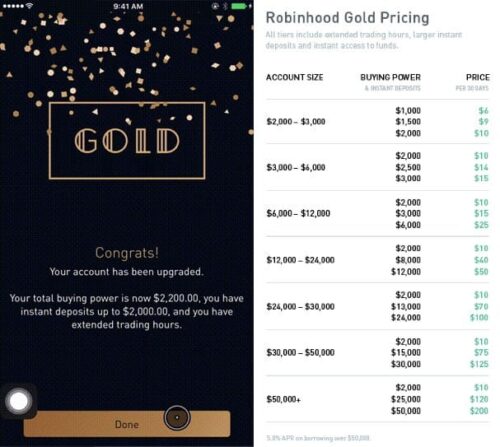 What Does Robinhood Gold Cost
Robinhood Gold costs $5 per month for access to all the premium features.
While Robinhood does not charge trading fees and commissions, there are other costs associated with using the app.
The trading platform includes the first $1,000 of margin; after that, you'll be charged 5% yearly interest.
Your Robin account will be charged at the end of each billing cycle based on your daily levels.
There are also additional costs that may come from margin investments if your stocks lose value.
While Robinhood Gold is a margin account, you do not have to utilize the feature to sign up for premium.
So you will not need to trade on margin to make the most out of Robinhood Gold.
Robinhood Gold Pros
Robinhood is known as an app for beginner investors.
Beyond this, what is so great about this online brokerage, and why should traders use it?
There are several pros to investing with Robinhood Gold:
No account minimums to start investing; however, users need at least a $2,000 portfolio value to qualify for margin investing
Simple and streamlined interfaces make it user-friendly
Ability to see how a stock is performing in real-time
Access to Level II data
Robinhood Gold provides users with more advanced tools than the free version of the app.
Robinhood's commitment to no fees allows those with a smaller income to still build wealth on the app.
The price point of $5 per month (not including any money borrowed on margin) so it is an affordable subscription even as a premium account.
Robinhood Gold Cons
Just as with any investment, there are associated risks.
As a margin account, Robinhood Gold does have some downsides to consider:
Margin trading is riskier for investors
Investors can potentially lose more money than they originally invested and get themselves into massive debt
Robinhood Gold lacks sources for investors to conduct research
It does not have built-in reports, software analysis, or educational resources beyond Level II data and Morningstar reports (both may not always be enough to rely on)
There is no feature for automated broker transfers
Investors have to utilize the Automated Customer Account Transfer Service (ACATS) for transfers from another platform.
If you have the cash to spare and want to take more risks, margin trading may be a good option for you.
We highly recommend doing extensive research before taking this trade type on or setting up a margin account.
How Can I Upgrade to Robinhood Gold?
Upgrading to Robinhood Gold is easy from both the mobile app and the website.
If you are using the app, you can upgrade by:
Navigating to the account icon in the bottom right of the screen
Tap Settings
Tap "Get Robinhood Gold"
If you're on the website, the steps are very similar:
Tap the account menu at the top right of the screen
Click "Get Robinhood Gold"
So… Is Robinhood Gold Worth It?
Whether or not Robinhood Gold is worth the money depends on who you are as an investor and what your goals are.
Many Robinhood traders have made the shift toward Gold, though.
Things you should consider are:
Will you read the Morningstar reports?
Do you plan on using margins?
Will larger deposits maximize your investment goals or get you in on deals sooner?
Do you understand Level II market data and how to use it? Are you willing to learn?
If you answered yes to all or some of these questions, it may be worth your while to sign up.
Even if you didn't, Robinhood traders get a 30-day free trial, meaning you have nothing to lose by giving it a try!
However, keep in mind that if you are using margin or the larger instant deposit feature when your trial expires, you won't be able to downgrade back to the free version.
If you want an alternative to Robinhood Gold, you can check out Webull.
>> Want to upgrade? Click here to become a Robinhood Gold member today! <<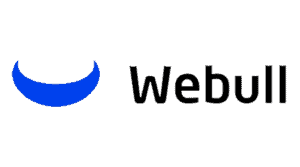 How About Webull?
Webull is another online brokerage that appeals to many customers, especially young investors.
Like Robinhood, Webull features commission-free trades and has a variety of the same features, as well as additional features.
Investors who open a Webull account will also receive two free stocks.
Webull markets itself to both desktop and mobile users and has a more sophisticated design, whereas Robinhood is largely focused on being a mobile trading platform with a simple interface for beginners.
So how do the two platforms compare when it comes to stock trading?
Let's see.
Similarities Between Webull and Robinhood
Both Webull and Robinhood are committed to commission-free trades.
They both also offer investors the ability to trade in U.S. stocks, ETFs, etc..
At this time, neither Webull nor Robinhood allows users to trade in mutual funds or bonds.
While this may turn some investors away, it's important to remember that both platforms support phenomenal features that provide many research and trading options.
Both platforms also do not require account minimums to start investing and do not charge inactivity fees, or deposit/withdrawal fees for transfers from a bank account.
Robinhood Gold and Webull also offer margin trading.
Differences Between Webull and Robinhood
While Robinhood and Webull both offer margin investing and margin accounts, they differ on the costs associated with their services.
When investors utilize Robinhood Gold, they pay $5 a month on top of any interest accrued with margins over $1,000.
Robinhood previously had an interest rate of 5% but has since lowered it to a flat rate of 2.5%.
On the Webull mobile app, interest rates start at 6.99% and increase from there.
Although this may turn some traders away, Webull does have more to offer some traders — especially short-stock sellers.
Webull also has a unique feature called paper trading that allows you to simulate trades without committing any money.
This is a feature that both the free version of Robinhood and Robinhood Gold lack.
Is Robinhood Gold Worth It: Final Thoughts
In 2021, Robinhood Gold is a viable premium option, but there are still plenty of other trading platforms out there.
Every investor should research their options and consider their goals.
This is especially true if you plan on getting into margin investments, as they are extremely risky.
Fortunately, the Robinhood app shares valuable insights and tools so you can learn the basics of margin trades.
Robinhood has come under scrutiny in the past for breaches and potentially unethical tactics.
But this is why you as a consumer must do your research before choosing a brokerage.
The features that Robinhood Gold offers versus their free version may make it enticing for anyone who uses the platform.
No matter what knowledge of the market you have, your financial status, your investment objectives, or what your portfolio value is, investing always comes with some risks.
If Robinhood Gold aligns with the way you want to invest and what you look for in a trading platform, you can open an account today.
>> Ready to start your 30-day FREE trial with Robinhood Gold TODAY? Click here to sign up! <<