TradeSmith's Keith Kaplan says he wants to show 10,000 people how to get on the path to seven-figure financial success. But is TradeStops Plus up to the task? Read my review of the service and Keith Kaplan's 10K New Millionaires Project to find out.
What's Keith Kaplan's 10K New Millionaires Project?
Keith Kaplan's 10,000 New Millionaires Project is a research package by TradeSmith.
As the name suggests, it has an ambitious target.
In Keith's own words:
"Our goal is to put at least 10,000 people…

Including viewers like you…

On the same path to seven-figure financial success."
And he believes that TradeStops Plus' tools are uniquely positioned to help people strive closer to this goal by avoiding common mistakes.
Some of the biggest mistakes he points to are:
Clinging on to losing positions (buying all the way to the bottom)

Bad market timing (selling early and buying late)
Keith says that emotions play a heavy hand in making these mistakes.
And that's where TradeStops Plus comes into play.
It offers a suite of tools that cut through the bias and help members tackle the markets head-on.
>> Sound like a good fit? Sign up and save 86% <<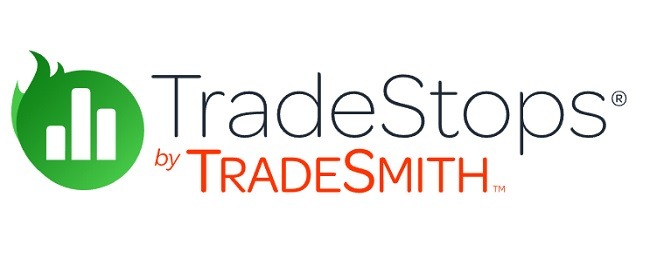 What Is TradeStops Plus?
TradeStops Plus is an investment research software developed by TradeSmith.
Some membership perks include volatility indicators, a risk calculator, bonus reports, and much more.
The two biggest draws are the proprietary health status indicators and the Volatility Quotient (VQ) scores.
The health statuses offer a "stoplight" style system that lets you know when the price action is bullish, cautious, or bearish on a security.
And the VQ scores provide members with a percentage range of volatility based on past trends and other data.
These technical indicators are just the tip of the iceberg, however. The service has much more going on underneath the surface.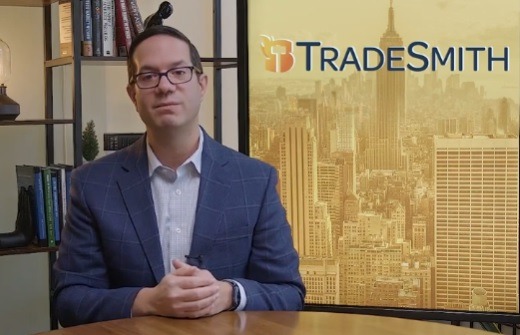 Who Is Keith Kaplan?
Keith Kaplan is the CEO of TradeSmith, and he has a more active role than most higher-ups in the industry.
His insights are featured in TradeSmith's articles on the main site, and he is the face of many of the service's presentations.
He's also been investing and trading in various markets for 25+ years, including bull and bear markets.
His extensive experience as a software architect made him a natural fit at TradeSmith. And since hopping on board, he's worked to advance the company's mission of providing members with the tools to trade with confidence.
What Is TradeSmith?
TradeSmith is an investment research company that provides top-tier software and hedge-fund-level insights.
Some of the company's tools include:
Advanced risk management tools

Portfolio analysis tools

Stock state indicators

Screeners
Compared to many alternatives, TradeSmith occupies a rather unique space in the industry.
While the company started as "a simple way to track portfolios using trailing stops," over the years, it's grown into a one-stop shop for market research.
It even has a few premium investment newsletters under its belt.
This gradual evolution is, perhaps, one of TradeSmith's greatest strengths. The company began its journey building sophisticated software that's established a strong foundation for its growing catalog of services.
>> Access TradeStop Plus' Toolkit here <<
What Comes With the Service?
TradeStops Plus is packed with stand-out features.
Follow along for a look at each one.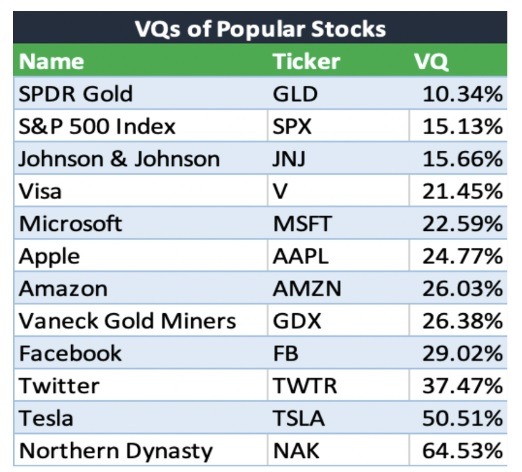 Instant VQ Scores for Over 150K Securities
Volatility Quotient scores calculate how volatile an investment can be.
The platform provides VQ scores for over 150,000 securities, such as stocks, index funds, mutual funds, and ETFs.
In general, highly volatile stocks tend to have higher VQ percentages, while the opposite applies to less volatile stocks.
All securities have different patterns, and understanding trends can help you make informed decisions instead of gut reactions.
For instance, some stocks are characteristically volatile. And a price swing could be seen as a sign of trouble. But in reality, this might be a commonplace occurrence.
VQ scores can also be used to better plot out stops or warn members of black-swan events that could dramatically affect a position.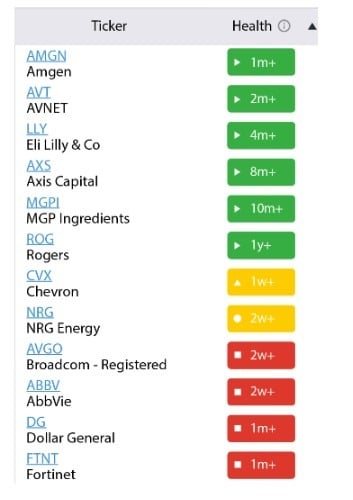 Proprietary "Health Status" Indicator
A membership to TradeStops Plus includes access to its proprietary health status indicator.
While the computations made to produce these scores are complex, the system is surprisingly intuitive.
The team likens the readings to a stoplight:
Green

means that it could be a good time to buy

Yellow

means that a security might go in either direction

Red

means that it could be a good time to sell
As the cherry on top, the score also lets you know how long a security has held its health rating.
Another solid feature is the ability to organize your view by the health score (as seen above).
It's a small touch that dramatically improves user experience by allowing you to quickly sift through the results.
Private Read On Your Own Portfolio
This feature lets members input their portfolio to see how each position fares based on the platform's criteria.
The analysis includes VQ scores and other indicators.
Another plus is that the service also allows you to set up and customize alerts that inform you of any changes to the health score of your positions.
Also, this info is kept private and is protected by bank-level security.
Position Size Calculator
The calculator shows you the projected risk in dollar amounts for any theoretical position in a security.
Here's how it works.
Simply enter a ticker into the Position Size Calculator as well as the investment amount. Then, the platform offers an estimate of how much money might be risked with the position based on the VQ score.
The team shares a helpful example in their presentation, with a $5,000 investment in Apple (AAPL).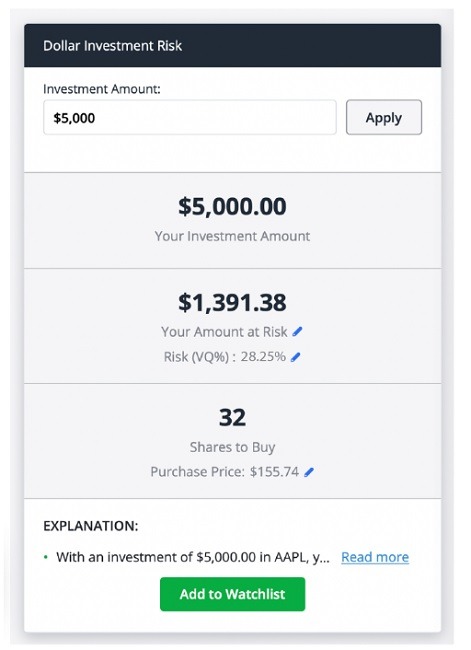 At the time this stock was checked, the VQ score was 28%.
So out of the $5,000 invested, the risk was projected at $1,391.38.
Keep in mind that these values are based on historical trends. While they can provide an idea of potential risks, past performance is not an indicator of future results.
>> Access these features and more HERE <<
Our Powerful Newsletter Tracking Engine
Have a favorite newsletter you want to analyze through TradeStops Plus?
No problem.
The Newsletter Tracking Engine lets you check their health status and VQ score.

It's a convenient feature that could be a substantial time saver during your research.
Not every newsletter under the sun is supported, but the list is quite comprehensive.
Also, if a newsletter is not supported, you can still easily check positions by adding them to the portfolio.
Instant and Automatic Custom Alerts
As a member, you can set up alert triggers for buy, hold, or sell events to stocks on your radar.
The process is simple, and it only takes a few clicks to start tracking a stock.
Additionally, alerts can be customized to your exact criteria. So you decide which events trigger the system.
Here's a look at the interface: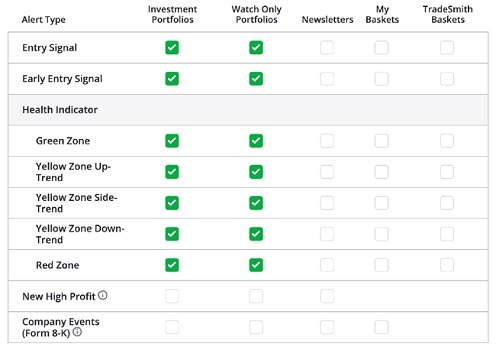 Altogether, this is a handy feature that lets you go about your day knowing that the software is keeping a watchful eye on positions.
Not everyone has the time or energy to manually track this type of data. So the automated approach is a great touch.
Bonus Reports
A membership to TradeStops Plus also comes with three exclusive bonus reports.
Here's what you get:
When to Sell 50 of the World's Most Popular Stocks

Beat the Billionaires: Insights, Errors, and Recommendations from the Brightest Minds on Wall Street

The Millionaire Master Plan
The reports add quite a bit of value, and you can explore them at your leisure during your membership.
That said, it might be a good idea to check out the Millionaire Master Plan before diving into TradeStops Plus' toolkit.
It teaches the ins and outs of the service and offers a crash course on how to make the most of the features.
Help Tutorials and Concierge Service
Something I appreciate about TradeSmith is that the team goes above and beyond many alternatives in the realm of customer support.
Most services I've seen only offer support regarding a subscription.
But with TradeSmith, if you have any questions about the service or software, you can tap into a full library of training videos, members-only boot camps, a help center, and more.
This includes the "Customer Concierge," which is based in the US.
You can call or email any time Monday through Friday, 9 am through pm ET.
It's important to note that the team can answer questions about the service and features, but they do not offer individualized investment advice.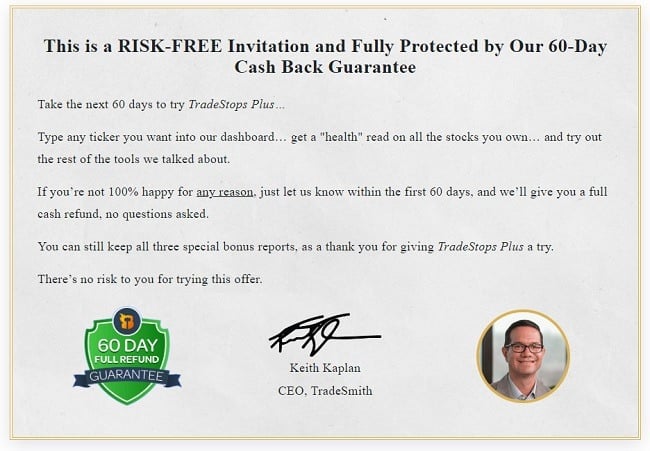 60-Day Cash-Back Guarantee
Under the latest deal, new memberships are covered by the team's 60-day cash-back guarantee.
This means you have about two months to check out the service and its features. If you feel that they're not a good fit, you can opt for a full refund on the cost of the subscription.
Many investment research services offer a 30-day guarantee, so the team's policy doubles the industry standard.
There are many tools at members' disposal, so it's great to have a generous window to examine them.
Also, the guarantee is cash back — which is another big plus.
>> sign up under Keith's guarantee <<
Pros and Cons
The service provides a ton of value, but there are some places it could improve.
Pros
Excellent price with 86% introductory discount

Solid 60-day refund window

Links to many popular newsletters

VQ scores for 150,000 plus securities
Cons
Small decrease in discount on renewal (86% to 82%)

No trading community
How Much Does It Cost?
An annual subscription to TradeStops Plus usually costs $588.
However, under the new deal, members can sign up for just $79 for the first year.
This adds up to an 86% discount.
It's important to note that this is an introductory deal, however.
When the subscription renews, it will cost $99 for the next year (an 82% discount).
Many similar services I've reviewed with introductory rates usually revert to their original price after the first year.
So even though the discount offered on the recurring year is slightly less, I'm still going to give TradeStops Plus extra points for keeping the cost down to a much more affordable range.
There is also a basic and premium version of TradeStops. However, I think you get the most bang for your buck with Plus.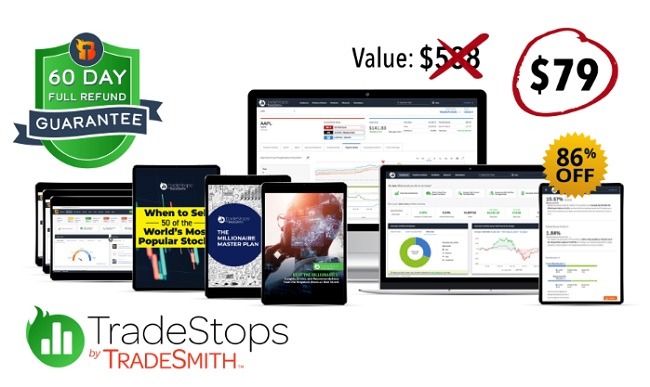 Is the Service Right for Me?
TradeStops Plus is best suited for folks in search of powerful tools for stock market research.
The platform pores over mountains of data to calculate the potential outlook of each security analyzed. And the system presents its findings with easily digestible indicators, such as VC scores or health status.
Given the ease of use, the platform could be especially well-suited for folks new to self-directed investing.
People with more experience trading might also find a lot to like, as the intuitive system streamlines the research process.
The VC scores cover over 150,000 securities. So it's a big boon for folks looking to build an extensive shortlist of opportunities with potential.
The price point is also very fair considering everything on offer.
This could make the service a good fit for someone in the market for solid vetting tools that won't break the bank.
Is TradeStops Plus Worth It?
TradeStops Plus is an excellent service with a great price.
For just $79, members receive access to top-tier software for analyzing securities.
Even though scores are based on thousands of calculations, the output is surprisingly simple to follow with the "stoplight" alert system and VC scores.
I'm also a big fan of some of the quality-of-life additions, including the Position Size Calculator.
All in all, the team has put together an impressive package.
I recommend checking it out if you're looking for rock-solid research tools at an affordable price.
>> That's it for my review. Sign up and SAVE 86% <<