Microcap Millionaires has made a name for itself as a provider of extensively researched penny stock picks. But does this research service live up to its reputation? Follow along with our Microcap Millionaires review to find out.
Microcap Millionaires Review: Overview
Founded in 2008, Microcap Millionaires is a highly regarded penny stock newsletter service.
It's owned by Matt Morris and has amassed thousands of subscribers to date.
This weekly newsletter's main audience is anyone interested in trading small and micro-cap stocks.
While many micro-cap stocks are penny stocks, Microcap Millionaires doesn't just focus on penny stocks.
Its picks feature a range of shares of companies with market capitalizations ranging from $50 to 300 million.
The research service also offers best practices for penny stock trading, which can help improve your approach to the markets.
This is a definite plus if you're looking to build your confidence and find trades outside of Microcap Millionaires.
We'll break this service down in granular detail, but first…
Who is Matt Morris, and can you trust him?

>> Ready to see what all the hype is about? Sign up now! <<
Matt Morris Review
Matt Morris is a penny stock expert from Toledo, Ohio, who founded Microcap Millionaires.
He's the chief data analyst for the service, and his insights have earned him a dedicated following over the years.
After finding a formula for success trading micro-cap stocks as a retail investor, Morris shifted his focus toward helping others find potentially profitable opportunities.
His stock picking service, Microcap Millionaire, is the culmination of all the lessons that he's learned trading small and micro caps.
So if you want to learn Morris' most profitable strategies and find opportunities that could provide substantial gains, you've come to the right place.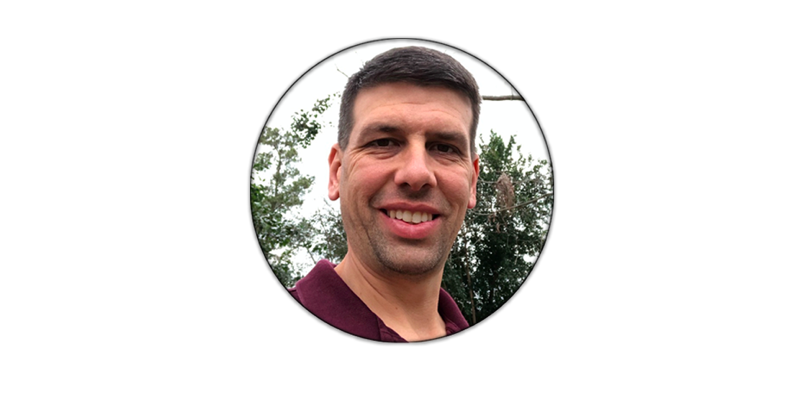 How Does Microcap Millionaires Work?
The Microcap Millionaires weekly newsletter details Morris' latest stock picks, as well as strategies for tackling each stock.
It provides subscribers with entry and exit points, which cuts down on the guesswork.
Every pick also comes with detailed analysis to help you understand why a stock was selected.
Microcap Millionaires doesn't guarantee profits but gives anyone who wants to invest in stock a roadmap to trade micro caps.
Due to their inherent volatility, micro-cap stocks are especially difficult to wield, so the research service also provides educational resources to help you navigate this niche.
While the name is a little bombastic, this stock research service follows a no-nonsense approach, foregoing promoting hyped stocks for more quality picks.
Microcap Millionaires employs a range of strategies and commonly targets oversold stocks and capitalizes on reverse mergers, bottom bouncers, and sub-penny stocks.
The service is open to anyone but would likely appeal most to folks living in the US.
If you live outside the US, you need to open an account with a brokerage that lets you purchase stocks on American exchanges.
>> Sold on Microcap Millionaires? Sign up now! <<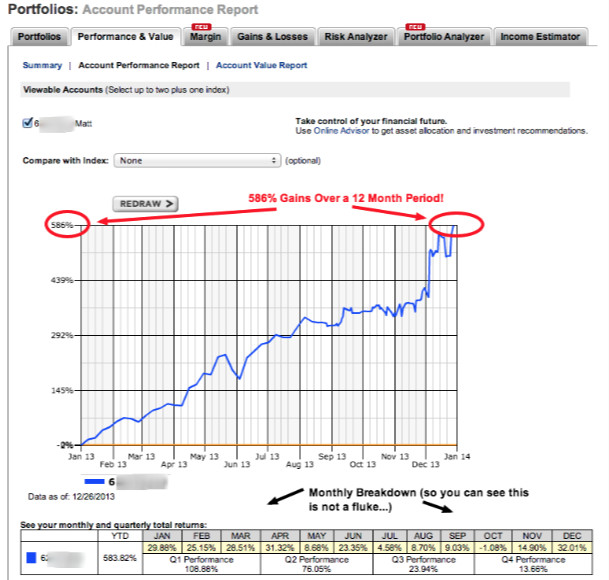 What's Included with Microcap Millionaire?
Weekly

Microcap Millionaires

Newsletter

Watch List

Microcap Millionaires

Forum

Educational Materials

Penny Stock Strategy Guide

Technical Analysis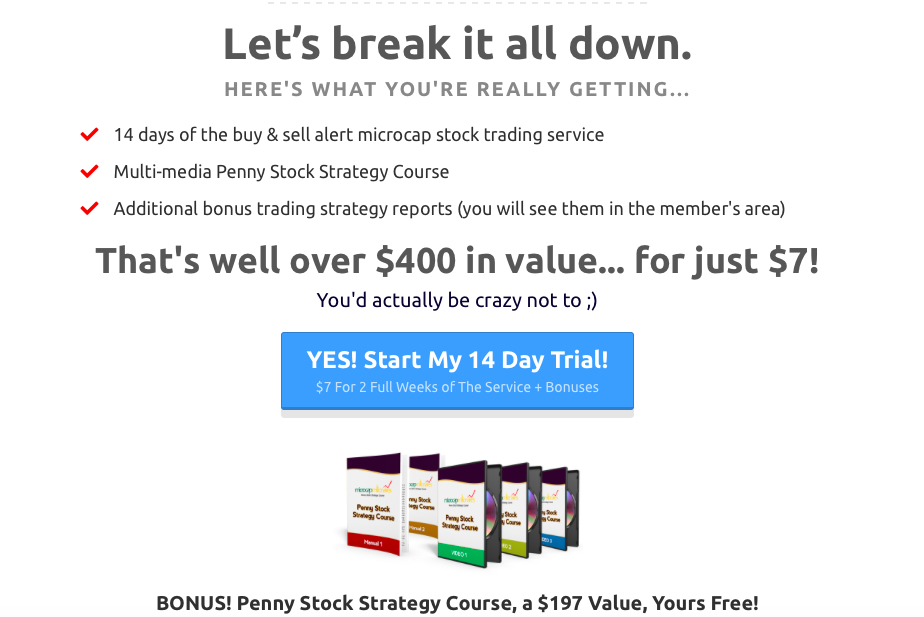 >> Get the FULL PACKAGE now! Just click here! <<
Weekly Microcap Millionaires Newsletter
After signing up for the Microcap Millionaires service, you get weekly stock picks via email that points you to stocks that have the potential to lead to big wins.
Short, medium, and long-term stocks are featured among the newsletter's picks, making the research service an ideal place for people interested in short or long-term investments.
Morris alerts subscribers when to buy and sell stocks and at the specific price to do either.
The picks included in the newsletter are based on the trend of stock prices, detailing the most profitable markets and anticipated price fluctuations.
What really stands out here is that these are weekly picks.
Most research newsletter services offer picks only once a month, which can be less than ideal for small-cap stocks.
Many of these investments are highly speculative, and this often translates to needing to be quick on the draw to capitalize on them.
Couple this newsletter with Microcap Millionaire's watch lists, and you have a steady stream of investment opportunities at your fingertips.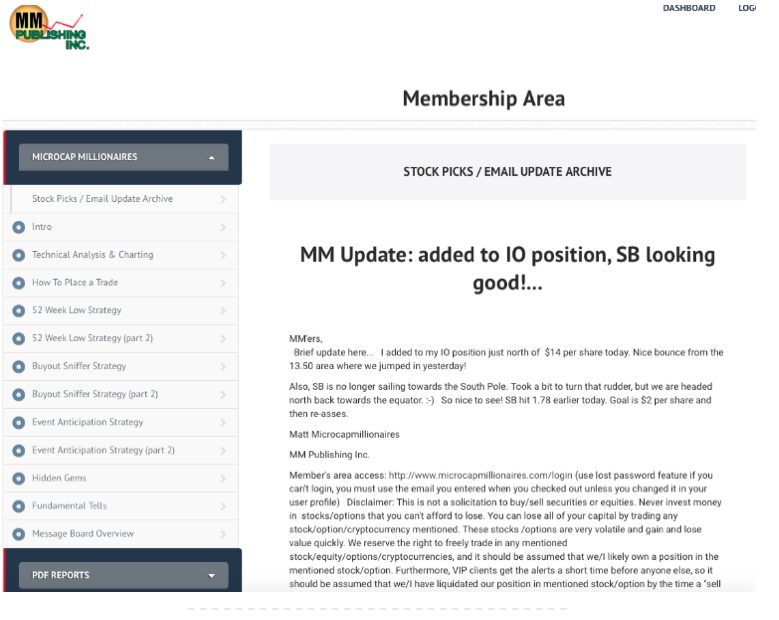 Watch List
As a follow-up to the weekly stock picks, the service provides a watch list of various stocks that Matt Morris believes might have the potential to be profitable.
This watch list cues subscribers in on what stocks are worth keeping an eye on and which ones you might want to avoid.
It's a solid addition for anyone who actively trades and wants a lineup for stocks that could have potential down the road.
The world of small caps moves fast, so the more ideas at your disposal, the better.
>> Click here to start getting market-beating stock alerts! <<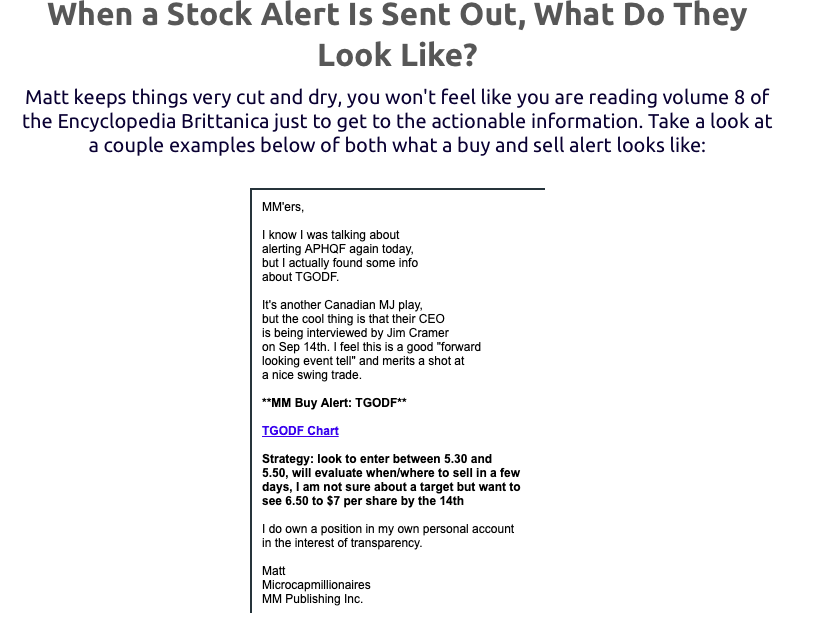 Microcap Millionaires Forum
The Microcap Millionaires Forum is a place where subscribers can interact with other members and gain insights on trading and stocks.
The research service's forum allows members to ask any questions about stocks, stock price, trading, or otherwise.
It's particularly helpful for beginners seeking knowledge from veterans who can outline different strategies for trading.
Dedicated forums are quite rare in the research space, so it's a nice change of pace.
Usually, you need to pay for a dedicated service to access a robust trading community.
It's a great place to pick up some new trade ideas from folks who have carved out their own niche in the micro-cap market.
These added stock ideas are provided by other members, with some having the potential to be on par with a Morris recommendation.
However, you should still do your own due diligence on members' trade ideas.
Educational Materials
Another fantastic feature of Microcap Millionaires is its wealth of educational materials.
Morris provides subscribers with several videos with comprehensive analysis covering the various strategies that he uses to make his weekly stock picks.
The videos feature topics such as money management, technical analysis, and resistance.
These are also downloadable reports that give members an in-depth look at Morris' thoughts on a position.
Penny Stock Strategy Guide
As a bonus, Microcap Millionaires includes immediate access to a penny stock strategy guide, which provides paid members with important details on penny stocks, trades, and more.
The guide is a course that can only be accessed in the members' area and contains key information about trading small-cap stocks.
As we said, penny stocks and micro caps are especially difficult to navigate, so any added insights are welcome.

>> Get your Penny Stock Strategy Course FREE TODAY! <<
Technical Analysis
Each stock recommendation is delivered with detailed technical analysis.
Additionally, the technical analysis featured lets Microcap Millionaires members see the full process behind selecting penny stocks.
This is a great resource for anyone looking to find their own trades.
It's nice to see the inner workings of Morris' strategies and adds another layer of introspection that's a breath of fresh air in an industry that often heavily relies on chasing news cycles rather than comprehensive research.
Microcap Millionaires Reviews
Microcap Millionaires has earned quite a bit of praise over the years, with many members giving its research glowing reviews.
In fact, the service locked in a respectable 4/5 rating on Aff Gadgets.
Let's see what members have to say:
So while we think Microcap Millionaires is an excellent service, you don't need to take our word for it.
These reviews speak for themselves.
>> Join these other happy customers and sign up now! <<
Is Microcap Millionaires Legit?
Microcap Millionaires offers legitimate research that provides great insights into the world of small-cap trading.
While the service might be better suited toward beginners or intermediates, experts can get a lot from the research provided.
It walks you through when to make a move, and what time might be the best exit from a position.
This service is well-suited for anyone who wants to have a finger on the pulse of the market while trading penny stocks.
Pros and Cons of Microcap Millionaires
We found a lot to like about this research service during our Microcap Millionaires review.
However, there are a few places it could improve on.
Pros:
A Variety of Picks – The service broadens its horizons and offers more than just penny stock picks.
Starting Small – The general consensus is that you only need $2,000 in capital to make the most out of the service.
Active Forum – You can interact with other subscribers in the private member's forum and get extra stock ideas from a knowledgeable community.
Beginner-Friendly – Thanks to its wealth of educational resources, beginners get comprehensive guidance on how to enter and exit markets.
Morris Track Record – Based on the reviews available, it appears that many members are satisfied with the service.
Cons:
Many micro caps require a lot of attention – Microcaps are characteristically volatile, which means that you might need to keep a close eye on the market to make the most out of price swings.
No SMS Alerts – Subscribers to Microcap Millionaires can only get alerts via email. While email alerts are readily accessible in today's age, it would be better to have more avenues to check notifications.
How Much Does Microcap Millionaires Cost?
Currently, you can sign up for Microcap Millionaires for just $97 a month.
There's also a 14-day trial that lets you test drive the service for just $7.
The service accepts most mainstream credit cards and secures payment through PayPal.

Free Trial
If you want to see what Microcap Millionaires has to offer before paying full price, you can sign up for a free trial.
It comes with 2 free stock picks and some of the best strategies that Morris has to offer.
Alternatives to Microcap Millionaires
Microcap Millionaires is an excellent newsletter. However, there are alternatives worth considering.
Is Microcap Millionaires Worth It?
The Microcap Millionaires newsletter offers a wealth of valuable insights and is well worth the sticker price.
While micro caps have their drawbacks, the service makes a genuine effort to prepare you to navigate the ups and downs of this volatile market.
With affordable pricing, a free trial, and boatloads of analysis, you should definitely keep Microcap Millionaires on your radar.
>> That's it for our Microcap Millionaires Review! Click HERE to sign up TODAY! <<