There's quite a bit of buzz online about Mindful Traders stock picks and alerts. But does this stock market research service really live up to the hype? Tune into our Mindful Trader review for a full breakdown of the service and its founder, Eric Ferguson.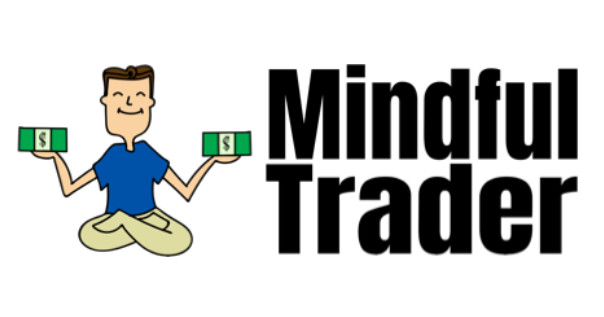 Mindful Trader Review: Overview
Mindful Trader is a stock-picking service that focuses on swing trading strategies and timely alerts. Founder Eric Ferguson designed it to help anyone who wants to get into trading but doesn't have hundreds of hours to learn the ropes through trial and error.
Ferguson's trading strategies are based on backtesting 20 years of stock performance and analyzing trends.
Mindful Trader has a lot to offer beginners, but advanced traders will appreciate its steady stream of alerts that could cue them into potentially profitable opportunities.
The service focuses on:
Swing trading

Options trading

Futures trading

Short-term stock trading
Mindful Trader also provides insights that help you improve your trade strategies to succeed outside the service's stock picks.
You're not just getting swing trade alerts: Ferguson also sets you up with a foundational approach that can help you tackle the financial markets. It also has videos that can teach you how to trade stocks effectively.
Backtested Trading Strategies
Ferguson spends countless hours analyzing the market and backtesting historical data. He then sends users alerts based on this data throughout the day. So you don't need to spend your spare time with your eyes glued to the screen.
This is why the Mindful Trader approach will likely appeal to busy swing traders who want a more hands-off approach to investing. Not everyone has the time for day and intraday trading, and that's where the service comes into play.
Now that you have an overview, let's take a look at the mind behind the service, Eric Ferguson.
Strategic Foundations of Mindful Trader
Eric Ferguson has a compelling repertoire of cunning trading strategies at his disposal. Here's how he uses them to identify the best opportunities for his Mindful Trader subscribers.
Diverse Portfolio

: By encompassing a range of stocks and options from multiple sectors, Mindful Trader ensures a balanced risk profile, safeguarding investments from market volatility.

Historical Rigor

: Each trading technique is put to the test using data spanning over two decades. This rigorous analysis confirms the strategy's adaptability, ensuring it remains effective regardless of market fluctuations.

Unwavering Robustness

: Mindful Trader's strategies are designed with a core strength, ensuring they don't hinge heavily on specific market conditions. This inherent advantage guarantees consistent profitability.

Scenario Simulations

: Employing Monte Carlo simulations gives Ferguson insights into each strategy's potential pitfalls. Then, it prepares for and mitigates unforeseen challenges by extrapolating this data into countless simulated scenarios.

Strategy Distinctiveness

: Through meticulous statistical tests, the service ensures that no two strategies overlap excessively, further diversifying the portfolio and reducing synchronized failures.

Cross-Period Validation

: In addition to individual backtesting, Ferguson aslo tests his approach across different time periods. Cross-validation ensures each strategy is broadly effective and not overly specialized.

Continuous Monitoring

: Mindful Trader regularly monitors each strategy's performance to ensure it remains within expected parameters.

Transparent Returns

: By accounting for transaction costs and potential trade price variations, Mindful Trader offers a realistic and transparent picture of potential returns, ensuring users have a clear understanding of the market. .
Mindful Trader's strategies are built on a foundation of rigorous analysis and a deep understanding of market dynamics.
But who is the mastermind behind this meticulous approach? I'll introduce you to him next.
>> Already sold on The Mindful Trader? Click here to get started with the platform today! <<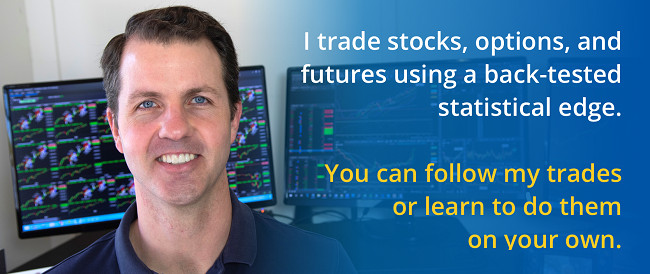 Eric Ferguson Review
It's no accident Eric Ferguson is one of the few people to achieve a perfect SAT math score. He was high school valedictorian and one of the few to earn a perfect score on the math section of the SAT.
A Stanford University grad, Ferguson majored in Economics where he learned to apply his mathematical mind to market trends, creating the perfect base for someone who was destined to rule the stock market.
As a professional mathematician, Eric Ferguson combined his extensive historical stock market analysis with a mindful approach to swing trading.
Eric analyzes over 20 years of historical market performance statistics so that he can help others increase their median annual return and long-term earnings. In short, Mindful Trader strategies leverage a statistical approach to stock picking that you won't find elsewhere.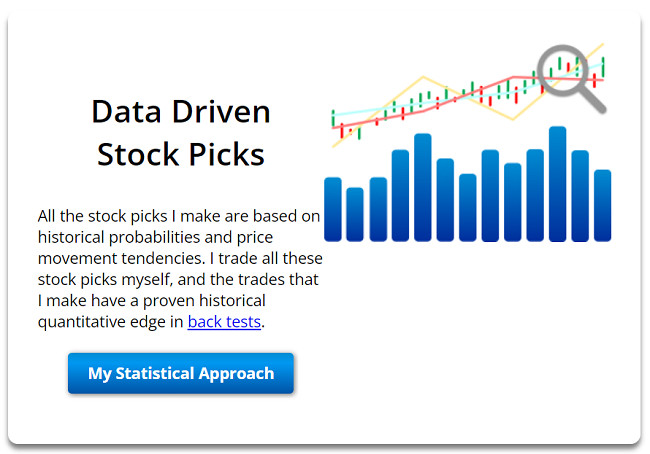 Mindful Trader Review: How Does It Work?
Each data-driven trade on average lasts from three to seven days.
While the main draw for many will be Ferguson's swing trades, it's a great place to find recommendations and data on options as well as futures.
The purpose of the program is to send out trade alerts to users, and this allows you to jump in on the same trade that Eric Ferguson is making.
Each trade alert is issued as a text and email and includes the exact ticker that he purchased, the price he paid, and where he has chosen to set his profit target and stop loss.
In other words, it helps you to quickly replicate trades in a matter of minutes. All traders need to do is simply buy and hold a few stocks per week for a chance at making profitable swing trades with a statistical edge.
Ferguson invests in every single stock that he sends out a trade alert for, which helps you feel better about making the same leap.
Is there a Mindful Trader App?
Currently, there is not a Mindful Trader App available.
That being said, you do receive SMS trade alerts and emails, which are easily accessible by phone.
>> Ready to start your subscription with The Mindful Trader? Click here to sign up now! <<
Mindful Trader Review: What's Included?
Mindful Trader trade alerts

Direct contact with Eric Ferguson

Backtesting

Education

Wealthy Heart blog

Mindful Trader Trade Alerts
Mindful Trader's alerts are the centerpiece of this stock market research service. They help you make quick trading decisions to build your portfolio and profits.
Trade alerts are released one to three times a day and usually between the hours of 6:30 am and 3 pm Pacific time. The volume is pretty impressive here, and it rivals the number of recommendations you'd find in many day-trading services.
All trade alerts are delivered via phone and/or email and include the ticker name, the price Ferguson paid when he made the purchase, and the profit exit and stop loss.
In addition, it offers recommendations on when to close out the trade if it never makes it to the target price, protecting your investment.
All you need to do is set your parameters to match Ferguson's, and then sit back and wait.
Deeper into Mindful Trader's Alerts:
Why Swing Traders Love It

: The allure of Mindful Trader lies in its precise alerts. Subscribers receive concise notifications on each selected stock, along with Ferguson's reasoning for the trade. Whether you mirror his moves or use the data for personal analysis, the information is invaluable.

Stop-Loss Protocols

: Each alert clearly defines a stop-loss price. If MSFT's price dips to $205, the system will auto-close the trade, curbing potential losses.

Time Limits

: The alerts also specify a maximum holding duration. If neither profit nor stop-loss targets are achieved by the given date, it's a signal to close the trade. This approach safeguards against prolonged market unpredictability.
With these insights, traders can navigate the stock market maze with increased confidence, leveraging Ferguson's expertise to their advantage.
Backtesting (20 Years)
Eric Ferguson's strategies for the Mindful Trader program are built on extensive backtesting. In fact, the service's backtesting spans two decades, so users have access to quite a bit of data.
It wasn't easy, and Ferguson went to great lengths to collect and test this data.
In his own words, Ferguson says:
"It cost me more than $200,000 and 4 years of my time to learn and develop these trading strategies."
Few folks in the business are willing to make such a commitment to ensure that their stock markets insights are rigorously tested.
Let's look at this in more detail:
What is Backtesting

?
Backtesting is the process of evaluating trading strategies against historical market data using sophisticated algorithmic processes.
Although the results don't always mirror real-world outcomes, it's widely considered to be one of the most excellent tools for measuring the effectiveness of trading strategies.
Backtested strategies aren't infallible because the market is inherently uncertain and unpredictable. However, it's a very useful tool in the hands of experienced traders.
Professional-grade backtesting requires massive databases of historical market data and enormous computing power, so this technique was mostly exclusively used by professionals in the past.
However, you can utilize this powerful tool by proxy with Mindful Trader. Ferguson's meticulous vetting process ensures only the most promising picks make it to your inbox.
In addition, Ferguson also utilizes complex strategies and extensive statistical testing to refine each technique.
Ultimately, you don't have to worry about backtesting complexities because Ferguson does the heavy lifting for you.
Direct Contact with Eric Ferguson
Not only does Eric Ferguson invest in every trade alert he sends out to his base, but he also welcomes contact.
Anybody who signs up for Mindful Trader has access to Ferguson's personal email. Ferguson loves the chance to interact with beginner and experienced traders and offers immediate email responses.
Upon request, Ferguson has even accepted phone calls and Zoom calls from people looking for insights.
>> Click here to learn from Ferguson <<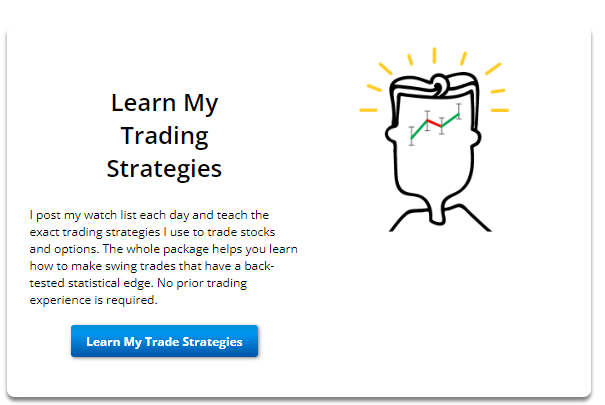 Trader Education
Mindful Trader also provides extensive educational material so you can make the most of every trade.
The training library features lessons on swing trading, options strategies, and the futures marketand more. If you want to sharpen your skills and get the most out of Mindufl Trader's research,, this should be your first stop.
The lessons provide easy to-understand explanations of complex investing topics, so you don't need to be a veteran to make use of them.
Even if you're a veteran market watcher, you're sure to pick up a new trick or two by following along with Mindful Trader's lessons.
The Trade Strategies library is a valuable addition to this deal that will help you sharpen your trading skills and learn more about the market.

Wealthy Heart Blog
The Wealthy Heart Blog is another stand-out feature we found during our Mindful Trader review. Eric uses his blog to teach about the value of mindfulness when analyzing economics.
This helps you better understand the Mindful Trader strategies that are used to identify stocks ripe for swing trading and the mindset behind them.
The Wealthy Heart is subtitled "emotions around money" — an apt title since Eric spends numerous blog posts offering calming strategies, perspective, and of course, a few tips about how to make money.
Anyone who has ever felt nervous about trading should check out the Wealthy Heart blog for a sense of who Ferguson is as a person, and why you can trust Mindful Trader.
Mindful Trader Review: Is It Legit?
Mindful Trader is a legit research and stock alert service that offers excellent insights into trading stocks, options, and futures.
Eric Ferguson carefully outlines that the goal of his Mindful Trader is to help you find opportunities with top-tier stock picks; he is transparent about his approach and does not make sensational claims.
Mindful Trader focuses on improving diversity and returns while lowering risk exposure. Ferguson makes his trades based on data, research, and historical analysis.
This transparency is a breath of fresh air compared to other stock alert services where gurus expect you to invest based on a hunch. Ferguson's goal is to provide people access to wise stocks based on the extensive backtesting he has spent hundreds of hours performing.
In addition, Ferguson invites anyone who isn't turning a profit to contact him directly. He will then compare notes and see where the disconnect is coming from so he can fix it.
>> Sound like a good fit? Sign up today <<
Mindful Trader Review: Performance
One excellent aspect of Mindful Trader is how transparent founder Eric Ferguson is.
He lists every single trade alert result since Mindful Trader went live, so you can see the type of return his trade alerts have earned him and his followers for yourself before signing up.
The Mindful Trader website reports that the trade performance of its 20-year backtesting has seen an average return of 143% and an average account drawdown of 28%.

In addition, Ferguson offers potential subscribers a 12-minute video that shows the performance of live trades over a two-week period and offers a basic explanation of what the results mean.
This video is a great tool for beginner traders who need some help getting their toes wet in the trading market.
Mindful Trader Review: Pros and Cons
Still, weighing Mindful Trader Review to figure out if it's the right product for you?
Here's a simple pros and cons list to help you decide if the program is right for you.
Pros
Mindful Trader is competitively priced when compared to similar trade alert services

Stock trade alerts in your inbox multiple times a day

Requires minimal effort or stock market knowledge

Mindful Trader returns are easy to track

Educational content offers a great foundation for stock trading

Trading strategy built on 20+ years of historical data
Cons
Does not link to brokerages/trading accounts

Only offers alerts for options, futures, and stocks — not geared toward penny stocks
Mindful Trader Reviews by Members
We couldn't find any Mindful Trader reviews on third-party aggregate sites like Trustpilot or Stock Gumshoe, but the online chatter surrounding the service appears to be very positive.
Also, the Mindful Trader website does have reviews listed.
Here's what reported members have to say about the service: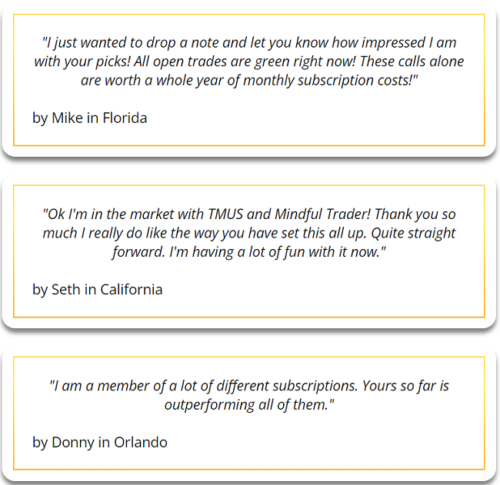 Because they are only listed on the main site, you might want to take them with a grain of salt.
That being said, we're very impressed with the service.
Is Mindful Trader Right for Me?
Mindful Trader could appeal to a broad range of folks, but some will get more out of the service than others.
If you're new to swing trading, options, and futures, then this could be a great place to start. You're only on the hook for a month, meaning that you can test out the service for a small price.
Another group that Mindful Trader could appeal to is expert swing traders who want access to a list of potentially profitable trades from someone with a strong analytical approach.
Finally, this service could be a great fit for day traders making the leap into swing trading. It requires an entirely different approach, and Ferguson's excellent insights could help you hit the ground running.
Mindful Trader Review: How Much Does It Cost?
You can sign up to Mindful Trader for just $47 a month. That's it.
This is a fair price given everything you get with the service, and you can cancel at any time.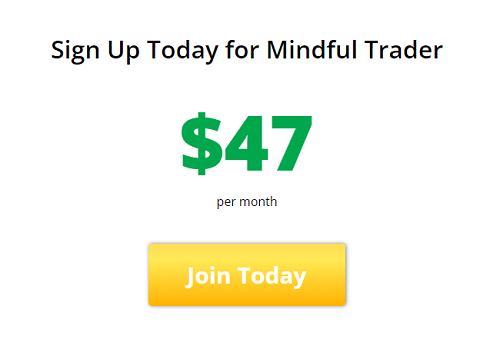 Mindful Trader pricing offers you an opportunity to test drive the service for a relatively low price and see if its strategies and analysis meet your needs.
At this time, there's no Mindful Trader discount. The service is affordably priced, so we won't count this as a point against it.
Mindful Trader Cancellation Policy
Mindful Trader's refund policy is simple and straightforward: you can cancel at any time, no questions asked.
Because it's a monthly subscription, you pay as you go and won't be locked in for months. This should offer some reassurance for folks who prefer not to be locked into quarterly or annual billing cycles.
While you can cancel at any time, Mindful Trader does not issue refunds. Given the price and all the value you get upfront, this is fair.
Mindful Trader Review: Is It Worth It?
Mindful Trader is an excellent trade alert service that provides great analysis on swing trading, options, and futures.
Eric Ferguson continually posts updates, videos, and blogs to keep his subscription base in the loop — even if you aren't a member, you can sign up for his email list. This way, you can see how his stock trade alerts perform.
The service does all the work for you and even provides the abbreviated ticker you'll need to buy a stock. Eric Ferguson breaks down every single step so you can place a swing trade in as little as five minutes.
If you're in the market for top-tier analysis, trade alerts, and data-driven decisions, keep Mindful Trader on your radar.
>> Become a member of The Mindful Trader today! Click here to sign up! <<