Motley Fool's Epic Bundle combines three of Fool's most popular services in one convenient subscription package. But is it worth the added expense? We'll get to the bottom of that question in our Motley Fool Epic Bundle review.
WHY YOU SHOULD TRUST US
Whether you're looking for long term plays or lightning-fast day trade action, we have you covered! At "The Stock Dork," we focus on providing our readers with accurate and detailed market information that will help you make the right investment decisions on your road to financial freedom.

The Stock Dork will enable you to build real wealth, avoid common mistakes, and make smart investments to help you reach your goals.
What Is Motley Fool Epic Bundle?
The Epic Bundle includes three of Motley Fool's top subscriptions and costs substantially less than buying each service individually. Members get access to Motley Fool Stock Advisor, Rule Breakers, and Everlasting Stocks.
This collection represents some of Motley Fool's best research. Stock Advisor and Rule Breakers are two of the company's most popular offerings, and Everlasting Stocks is a similarly high-quality service.
Previously, Fool fans had to pay full price to subscribe to each of these services separately, but now you can bundle all three into one convenient discounted subscription package.
We're going to go over everything you need to know about these three subscriptions in this Epic Bundle review, so you can decide if it's a good fit. We'll cover benefits, performance, and more.
But first, let's take a closer look at the publisher in our Motley Fool review.
Is Motley Fool Epic Bundle Legit?
The Epic Bundle is a legit service that's bursting at the seams with comprehensive market analysis. This package includes some of the most acclaimed research services offered by The Fool.
Each service offers its own unique investment angle, which means you can draw on an extensive pool of insights and build a diversified portfolio in no time.
Even better, you get three services for less than the price of two. This is possibly the best value that The Fool universe of services has to offer.
Buying the bundle will set you up with a large assortment of monthly stock picks, which is a fantastic value for a budding portfolio.
>> Already sold? Get the Epic Bundle here for huge savings on Motley Fool services <<
What Is Motley Fool?
Motley Fool is a leading retail research firm and the publisher behind Epic Bundle's services. It's a respected company known for its commitment to delivering consistent value for its members.
Founded in the mid-90s by brothers Tom and David Gardner, The Fool has earned a stellar reputation for its insightful research, transparent marketing, and objective stance on the market.
Motley Fool founders Tom and David Gardner set out to provide quality market analysis that could appeal to folks of all investing backgrounds. And over the years, the firm has developed a deep catalog of offerings tailored to specific market niches.
Rule Breakers and Stock Advisor were some of The Fool's first services, and they helped make the company a household name with several years of market-beating performance.
The Fool also has a track record for excellent customer service. Most of their subscriptions include satisfaction guarantees that allow subscribers to recoup their membership fee, with no questions asked.
The Motley Fool was among the first companies to pioneer email-based stock-picking newsletters, so they know the market and the research industry better than almost anyone else.
In addition to their experience and expertise, the company's commitment to superior service and quality makes Motley Fool services some of the best in the industry. Rest assured, you're in good hands when you see The Fool brand.
What's Included with Motley Fool Epic Bundle?
Stock Advisor

Rule Breakers

Everlasting Stocks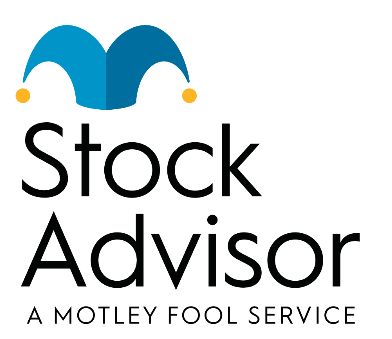 What Is Stock Advisor?
Motley Fool Stock Advisor is one of the company's original flagship research services. Launched in 2002, it remains one of the firm's most popular subscriptions to this day.
Stock Advisor's investment philosophy favors longer holding periods in a select group of high-quality stocks. Typically, the service aims to have about 25 stocks in its model portfolio at a time, with expected holding periods of no less than five years for each stock.
This investment strategy tends to overlook short-term volatility in favor of consistent growth over time. So, if you're interested in buy-and-hold plays, Stock Advisor's monthly stock picks could be a great fit.
The service is provided through a model portfolio containing all of its active recommendations and regular newsletters that keep members updated on the team's latest research.
New members receive unrestricted access to the Stock Advisor model portfolio as soon as they join, plus two new stock picks every month.
Stock Advisor members also enjoy a wide array of additional research materials, educational resources, expert analysis of emerging stock market trends, and more.
Currently, Stock Advisor has more than 1 million members, making it one of the company's most influential research publications.
We also have a dedicated Stock Advisor review that you can check out for more details on the service. If you want to learn more, you should give it a look.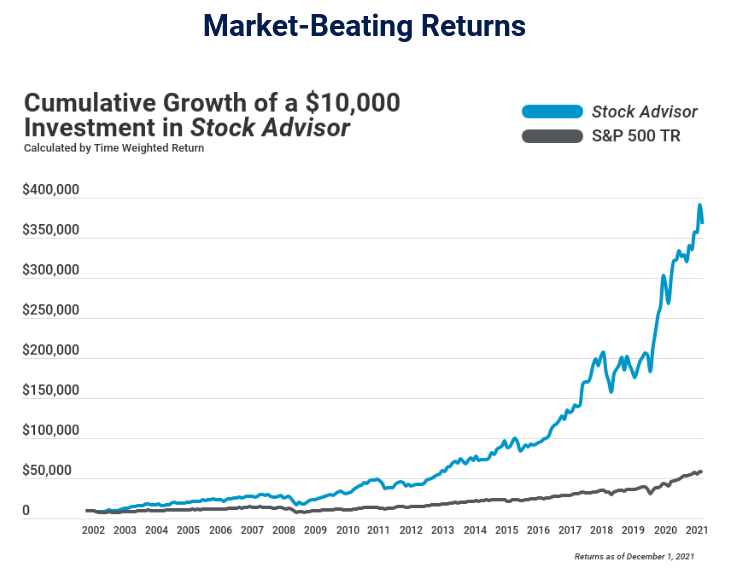 Stock Advisor Performance
Stock Advisor's recommendations have performed admirably since the service's inception nearly 20 years ago. As of the time of writing this, 192 Stock Advisor picks have produced 100% gains or higher.
That's an impressive collection of home runs, but the service's overall performance has also been outstanding. Over the same time, Stock Advisor stocks have produced an average return of a whopping 628%.
Those are impressive numbers, but make sure you keep your expectations in line with reality. This service makes long-term recommendations, and it's been around for a long time.
Expecting every pick to produce triple-digit gains overnight is misguided, so don't set yourself up for disappointment.
However, Stock Advisor's track record is a direct result of superior long-term performance. If you play your hand correctly, you could see excellent results with this service.
>> Sign up for an individual subscription to Stock Advisor here <<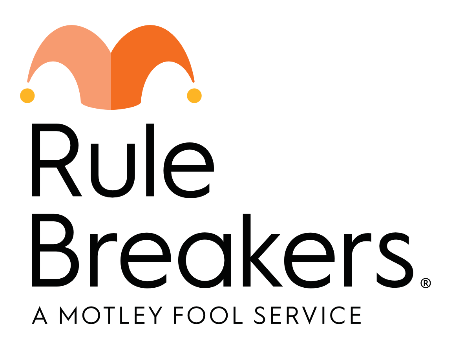 What Is Rule Breakers?
Motley Fool launched Rule Breakers shortly after Stock Advisor made its rise to notoriety, and the service quickly followed its predecessor's act with a similarly strong performance.
Rule Breakers' research focuses on industry disruptors and high-octane growth plays, and the service has produced many of The Fool's biggest winners over the years.
However, it maintains many of the same investment principles we mentioned with Motley Fool's Stock Advisor. For example, Rule Breakers also believes a portfolio of 25 stocks with projected holding periods of at least five years gives investors the best possible chance at long-term success.
Despite the similarities, Rule Breakers has a separate research team from Stock Advisor, and the service's recommendations are entirely its own.
Rule Breakers operates in a similar fashion to Stock Advisor. It includes a model portfolio, research reports, and two new stock recommendations every month.
Members also get access to other Motley Fool resources like exclusive analysis reports, trader education resources, community forums, and more.
Currently, Rule Breakers has about 100,000 members, so it's quite a ways behind Stock Advisor in terms of circulation. However, it's widely regarded as one of the Motley Fool's most notable offerings.
Stock Advisor focuses on great stocks from all over the market. But Rule Breakers is a much more targeted service that's built for risk-hungry traders.
Check out our Motley Fool Rule Breakers review for a closer look at this service.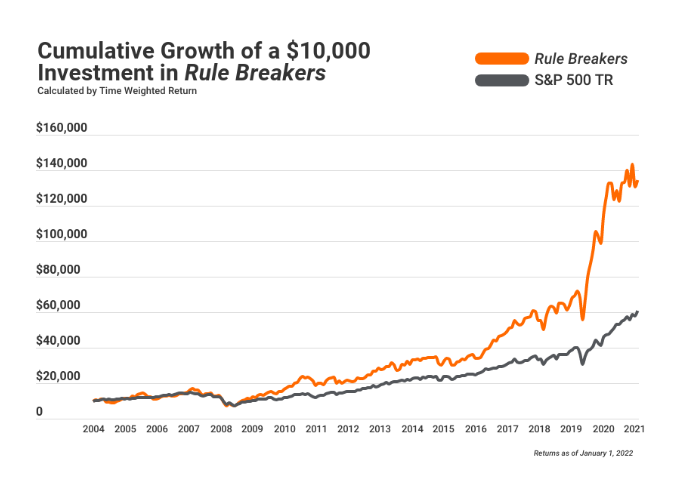 Rule Breakers Performance
Many previous stock picks from Rule Breakers have performed excellently since the service's inception in 2004, just two years after Stock Advisor made its debut.
According to Motley Fool's December 2021's performance figures, 160 of Rule Breakers' recommendations have gone on to gain upwards of 100%.
Including those triple-digit winners, the average Rule Breakers' stock recommendation has produced a return higher than 330%.
Furthermore, many of the service's stock picks beat the S&P 500 by a wide margin over the past few years.
>> Join Rule Breakers now and pay just $99 for the first year <<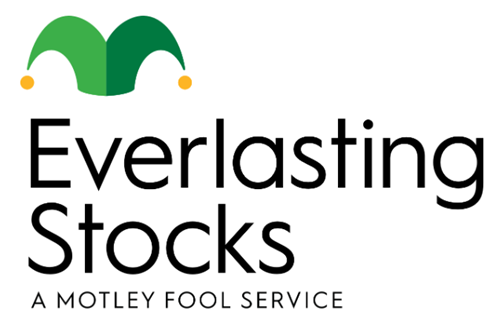 What Is Everlasting Stocks?
Everlasting Stocks is the cherry on top of this triple-helping of research goodness. This service includes the top-rated stocks favored by none other than Fool co-founder and CEO Tom Gardner and his team of experts.
The service is backed by the same team of analysts that beat the S&P 500 by a 4-to-1 margin over the past 19 years, and it features stocks that are personally favored by Motley Fool's Tom Gardner.
Tom Gardner believes investors can buy any of these Everlasting Stocks and expect to hold them forever. These buy-and-hold-forever recommendations are the service's backbone and main draw.
Members get instant access to 15 stock recommendations as soon as they sign up. Plus, you'll have access to any future stock picks from the team for as long as you're a member.
You'll also receive a brand new stock pick from legendary investor and Fool co-founder Tom Gardner every quarter.
Currently, Everlasting Stocks has about 700,000 members. It's still behind Stock Advisor, but it's a substantially larger audience than Rule Breakers.
To learn more about this service, check out our in-depth Everlasting Stocks review.
Everlasting Stocks Performance
We don't have as much information on Everlasting Stocks' track record as we did with the previous two services.
The service just launched in 2018, so it hasn't had as much time to amass the type of detailed figures we saw with Rule Breakers and Stock Advisor.
However, the team behind Everlasting Stocks has an excellent resume. It's run by the same Motley Fool analysts who beat the market by more than 4X over a nearly two-decade period.
Furthermore, the same team's previous picks have an average return of 352%. With performance numbers like that, this team is clearly doing something right, and Everlasting Stocks was built to take full advantage of their expertise and experience.
Plus, market veteran and Fool CEO Tom Gardner also personally oversees this service, and his investing track record is equally, if not more, impressive.
>> Join Everlasting Stocks now for just $99 for the first year <<
Epic Bundle Bonus Reports and Stock Picks
Epic Bundle members also get an exclusive set of 10 bonus research reports when they sign up for the service.
You won't have access to any of these reports if you join the service individually, but Epic Bundle members get them as an added "thank you" from The Fool.
Unfortunately, we don't have many details on what these reports cover. The firm teases the 10 bonus reports with The Motley Fool Epic Bundle deal but doesn't divulge much on their contents.
Given Fool's reputation for quality research and transparency, we're confident the reports can offer some valuable insights and potential investment ideas.
Motley Fool Epic Bundle Reviews
While each of these services is popular individually, we couldn't find any Epic Bundle reviews from third-party review sites, such as Trustpilot or Stock Gumshoe.
We'll keep you posted if this changes in the future.
For now, we can say that it's a rock-solid service that provides tons of value, and we rate it highly.
Motley Fool Epic Bundle Pros and Cons
The Epic Bundle looks pretty promising, but there are always downsides. Here's our take on this bundle's pros and cons.
Pros
Includes three of Motley Fool's top services in one subscription

Over 300 stock recommendations have produced 100%+ returns

50 Epic Bundle stocks have produced 1,000%+ returns

6 new Motley Fool stock picks every month

Instant access to three model portfolios and dozens of stock picks

Buy and sell alerts for all active recommendations

Regular research and analysis from Fool's top stock market experts
Cons
No introductory rate

Higher upfront cost to join
>> Access these benefits now when you join Epic Bundle <<
Motley Fool Epic Bundle Cost
The Motley Fool Epic Bundle is a great deal that costs $499 and includes one-year subscriptions to all three publications mentioned in this review.
At that rate, your cost averages out to about $42 per month. In exchange, you get unlimited access to some of Fool's best offerings.
The Epic Bundle's rate isn't introductory, so what you pay for the first year is what you'll pay for the second year.
Of course, future price increases are always possible. However, you won't have to worry about your introductory rate expiring when your first year is over.
Epic Bundle Refund Policy
Epic Bundle's refund policy lets you test drive the service for a full thirty days. If you decide that the service isn't right for you, then you get every penny of your purchase back.
It's all outlined here by Motley Fool:
So you get full access to the Motley Fool subscriptions mentioned above, including the 10 bonus reports, and it's all backed by a 30-day money-back guarantee.
Is Epic Bundle Worth It?
The Epic Bundle is an excellent deal for anyone looking to get their hands on Rule Breakers, Stock Advisor, and Everlasting Stocks at a hefty discount.
You'll also get access to 10 exclusive Epic Bundle research reports when you sign up with the service. These added bonuses are not available with individual memberships.
The Epic Bundle has everything you need to make a serious run at the stock market in one convenient subscription package. And you'll enjoy it all at a substantially discounted rate.
What's not to like?
The Fool's Epic Bundle seems like a great option for anyone who's serious about advancing their investing skills. We highly recommend you give it a close look.
>> Get the Epic Bundle here and save big on top-rated Motley Fool services <<