Chris Douthit is a finance guru who claims that his step-by-step strategy can turn anyone into an investor, regardless of experience. But are his option trading strategies legit? Read our Option Strategies Insider Review and see for yourself.

What Is Option Strategies Insider?
Option Strategies Insider is a service that teaches the intricacies of options trading. It breaks down complex topics and strategies that tackle how to read options, pricing, vertical spreads, and more.
It also provides swing trading alerts.
What really sets this service apart from other products on the market is its dynamic use of videos and structure: the videos are easy to follow and offer a nice mix of theory and trading insights.
Chris Douthit, an options expert, helms the service. He created Option Strategies Insider to help folks struggling to understand the market and improve trading performance.
The service has various stock market education resources, including free and paid modules. The free courses offer a range of insights, but the more advanced strategies are found in the premium modules.
An extra perk of this options trading educational program is that its tools can be applied to markets in any environment.
By spending just a couple of hours a week on these lessons, you can master the pros' options strategies.
>> Already sold? Click here to sign up today! <<
How Does Option Strategies Insider Work?
Option Strategy Insider Strategies offer three separate subscription models. Each tier unlocks even more strategies, features, and tools.
So, while this is an education platform, there are tons of excellent add-ons.
Here's the general breakdown of the service's memberships.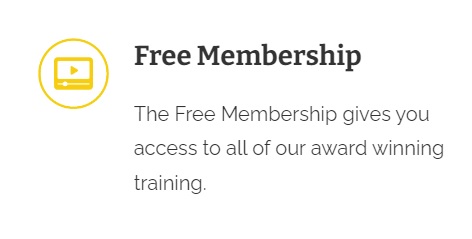 Free Membership
The Option Strategies Insider entry-level membership is considered perfect for beginners and offers hours of option strategy training.
If you're a newbie looking to understand trading options, as well as learn how to trade them successfully, this module is for you.
The 2-D animation presentations add entertainment to the mix while effectively utilizing auditory and kinesthetic learning.
The module also employs plenty of charts, maps, and diagrams, as well as quizzes, to drill home the principles, and the Free membership offers options traders:
Beginning Options Course

Intermediate Options Course

thinkorswim Training Center

Investing Books Library

Options Dictionary

Trading Examples

FAQ Database

Market Blog

Partner Eligibility

Webinar Training
The free membership will likely appeal to folks who are just learning the ropes. There's an intermediate course, which helps bridge the gap between skill levels.
This membership could also be a good fit for someone who has some experience trading options and wants a refresher.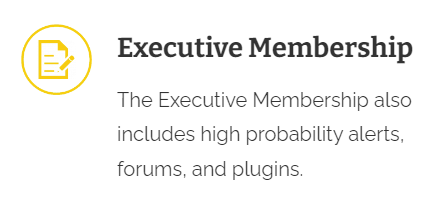 Executive Membership
Executive members gain access to highly researched trades that take advantage of unpredictability in the market.
An executive membership also provides you with a course certificate and access to advanced options strategies, including multi-leg options trading and vertical spreads, plus butterfly strategies and strangles.
Option Strategies Insider posts three to six trades per month.
Since it started, Option Strategies Insider has enjoyed a ~88% success rate, along with a 50% yearly return on capital
The Executive Membership offers options traders:
Everything included with Free Membership

Executive Research

Instant Trade Alert

Member Forum with Access to Chris

IV Rank Plugin

Beginning Options Course

Intermediate Options Course

Advanced Options Course

thinkorswim Training Center

Discount Transaction Fees

Watchlists
Where the Free Membership gives you access to options training, the Executive package comes with features to put the lessons into practice, such as trade alerts and watchlists.
If you're looking to simply test out the platform, you might want to check out the Free Membership first.
However, anyone looking for immediate access to trade ideas should give the Executive Membership a closer look.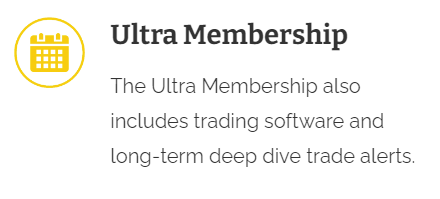 Ultra Membership
The Ultra Membership targets more experienced traders who are ready to commit to their financial future.
This membership includes all the perks of the other two, with the addition of long-term power play investment choices that could net vast returns in a single trade.
The Ultra Membership plums the depths to find lesser-known option trading situations that can grow quickly over time.
This membership averages one to three trades per month, and the Ultra Membership offers options traders:
Everything included with Free and Executive Membership

Ultra Research

Executive Research

Instant Trade Alert

Member Forum with Access to Chris

IV Rank Plugin

Beginning Options Course

Intermediate Options Course

Advanced Options Course

thinkorswim Training Center

Discount Transaction Fees

Watchlists
I'm going to dig deeper into the individual tools and features, so stay tuned.
But first, let's turn our attention to the mind behind the service, Chris Douthit.
>> Click here to start your membership! <<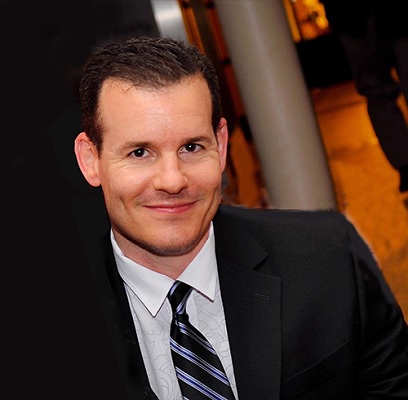 Who Is Chris Douthit?
Option Strategies Insider founder Chris Douthit is a 20-year veteran of the finance industry. He has an MBA in finance, along with several finance degrees.
Chris earned his stripes as a professional trader for TFM, Spear, Leads, and Kellogg, and Goldman Sachs, and received his training from world-class options traders.
He's also written several successful books about finance and wealth management; his first book "Mastering Google AdWords" turned him into a household name.
Chris started Option Strategies Insider after discovering that investor sites were being started (and run) by people with no options trading experience.
In a personal letter on the site, Chris assures would-be investors that, once learned, trading options can net more wealth than any other form of investment.
The key, he says, is learning how to trade them properly right from the start.
Something I really appreciate about Chris is that he's upfront about the real challenges with options. There's no magic bullet with this investment class: learning how to trade them takes work.
While options are one of the more complex investments, Chris breaks down how to trade options in easy-to-understand modules.
>> Learn Chris Douthit's options strategies <<

What's Included with Option Strategies Insider?
Option Strategies Insider is packed to the brim with excellent features — even the Free Membership.
It's important to note, however, that the premium memberships come with trade alerts and more add-ons.
Option Strategies Training Center
In the Training Center, members can access in-depth options trading education material, making it the best place to start for a newbie options trader.
It offers access to both beginner and intermediate options courses that make understanding options trading concepts a breeze.
The Training Center allows entry into the thinkorswim platform as well as extremely helpful webinar training.
The Training Center's educational training modules are divided into three distinct sections.
Beginning Options (8 lessons)
The Beginning Options modules teach the basics that every aspiring options trader needs to learn.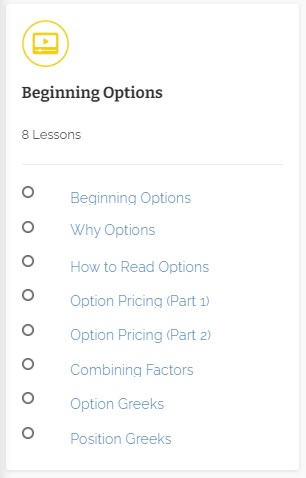 A great place to start is learning how to read options as well as how they are priced.
You can also learn about option "Greeks" — or its risk parameters — in this module.
Intermediate Options (6 lessons)
For the videos in the intermediate section, Chris devotes the first 25 minutes to talking about buying options.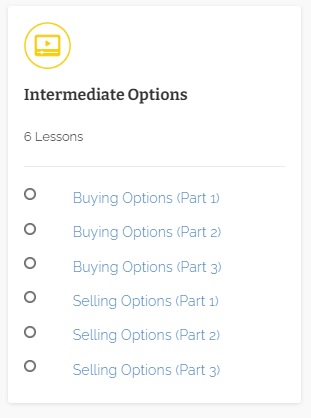 He spends the second 25 minutes using his thinkorswim platform to show real-world examples.
In the third video, Chris goes into more depth about how buying and selling options are taught.
Advanced Options Strategies (11 lessons)
To unlock these lessons, you'll need a paid membership.
Chris uses the advanced tutorials to drill down on multi-leg options trading and buy-write trading.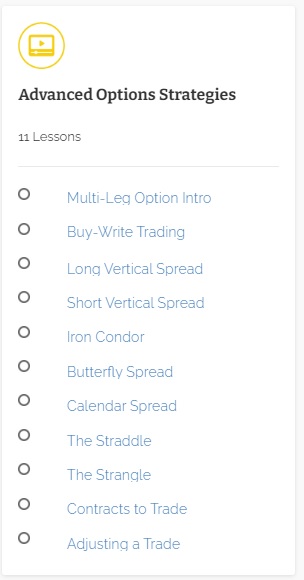 >> Level up your options strategy <<
He then deciphers the 7 most popular multi-leg trading strategies, including long and short vertical spread, iron condor, butterfly, and calendar spread as well as straddle and strangle.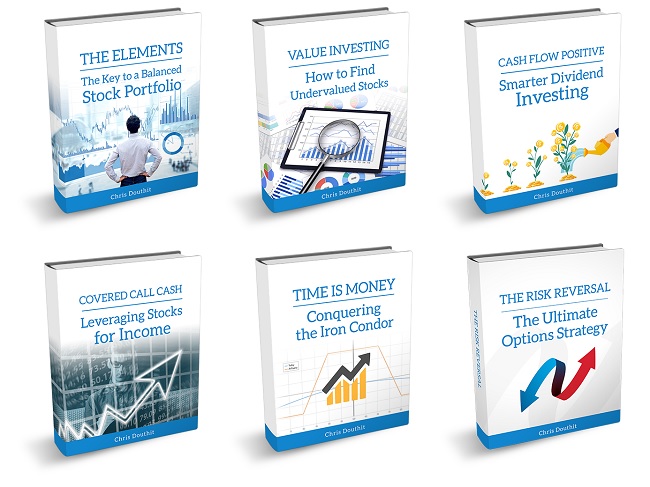 eBooks
Option Strategies Insider has a range of eBooks on offer that drill down on specific trading topics.
These are foundational strategies that can be used in and out of the options market.
The Elements: The Key to a Balanced Stock Portfolio

– This eBook teaches the basics of investing. It focuses on building a smart portfolio that can outpace the markets.

Value Investing: How to Find Undervalued Stocks

– As the name suggests, this guide teaches you everything you need to know about finding undervalued stocks. Readers can learn how to pinpoint company shares trading at a discount.

Cash Flow Positive: Smarter Dividend Investing

– Readers will learn how to use dividend stocks as a tool for building wealth. Building steady income with dividends is also a great way to bolster options trading strategies.

Covered Call Cash: Leveraging Stocks for Income

– This ebook shows how to utilize one of the less risky options strategies. It's also one of the more accessible options strategies for beginners.

Time Is Money: Conquering the Iron Condor

– The Iron Condor is one of the more complicated strategies, but it provides the opportunity for consistent profits.

The Risk Reversal: The Ultimate Options Strategy

– This strategy involves buying calls and selling puts at the same time. The risk reversal strategy is actually used in the Option Strategy Insider's Ultra portfolio.
Trade Alerts
Members of the premium service receive three to six new options trade alerts each month.
Most services I review offer about one to two monthly trade ideas, so Options Strategies Insider is a big step-up here.
Since it started, Option Strategies Insider has reported an 88% success rate and a 50% yearly return on capital.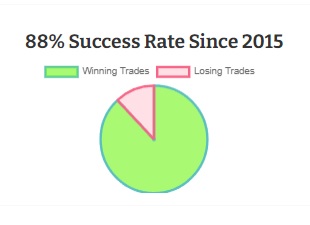 Considering how many trade ideas you get, these figures are even more impressive.
Members also receive additional options plays by signing up for the Ultra membership.
>> Access Option Strategies Insider trade alerts <<
Trading Tools
Option Strategies Insider also offers tools for members to help improve trading performance and market analysis.
Here are some of the tools you get:
Thinkorswim plugins (IV rank chart and watchlist)

Short put calculator

Stock price alert
Using these tools is not mandatory, but they could go a long way toward providing even more insights.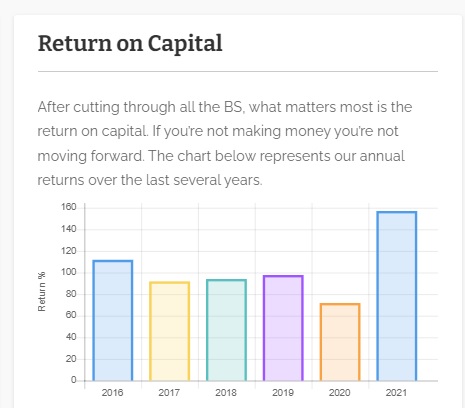 Is Option Strategies Insider Legit?
Option Strategies Insider is a legit education and trading alert program. It provides solid strategies and market research.
In 2014, Chris was consulting for a wealthy client who was essentially tricked into using a pricey option trade alert service.
After some investigating, Chris realized the company wasn't applying any logic to their trading, nor were they thinking of an exit strategy — in fact, they were counting losses as wins.
So while the site consistently posted returns over 100%, Chris's client continued to hemorrhage money.
Chris launched Strategies Options Insider as a way to help people grow and safeguard their wealth with the trading platform's insights.
Option Strategies Insider Pros and Cons
The platform has a lot of pros, with just a few cons.
Pros
Excellent educational material for trading options

Free options trading education

The training material is skillfully structured and ensures rapid learning

Investors can execute swing trade ideas and still keep their day job

Free membership offers access to almost 60% of the material

The 7-day trial offers members complete access to everything
Cons
The program currently lacks a detailed trade history that shows the date a trade was made, along with the option and strategy trades

Members can only access trade details for active positions and new trades

Service has a strict focus on trading options only
How Much Does Option Strategies Insider Cost?
Members can choose between the Executive membership for $97 per month and the Ultra membership for $167 per month.
For $7, you can also take advantage of Option Strategies Insider's 7-day trial and receive 20% off forever.
That translates to a monthly price of $134 versus $167 (or a savings of $33 per month).
You can also opt for a free membership to test out the service.
>> Start your 7-day free trial <<
Is Option Strategies Insider Right for Me?
If you want to master the options trading market by learning to read, buy, and sell options, Option Strategies Insider is solid service.
There is a small-time investment off the top, but it's time well spent.
By taking 3 hours to watch all the available videos, you will give yourself a solid background in Chris's beginner and advanced options strategies.
The site also gets top marks for being user-friendly through its innovative combination of slides and trading platform insights.
In general, the videos provide a much more efficient tool for learning a complex topic like options trading.
Is Option Strategies Insider Worth It?
Option Strategies Insider is a great service that's well worth the price.
The sign of a great company is the passion behind it, and Chris Douthit has that in spades. His credentials and his extraordinary career speak for themselves.
Option Strategies Insider uses advanced strategies and easy-to-grasp lessons to empower traders and help them grow their portfolios each month.
Additionally, the platform is highly personalized, which makes you feel like you are in good hands when learning the ins and outs of options trading.
If you want to learn how to trade options correctly and also receive options trading alerts, Option Strategies Insider deserves your attention.
By offering three distinct membership levels, Option Strategies Insider truly caters to all classes of investors, from beginner to advanced.
It's hard to question the value of Option Strategies Insider when you consider that you can access 60% of the trading program's content for free.
Factor in that for a mere $7 entry price, and you have an excellent entry point to learning options.
You can even complete the entire course courtesy of the trial offer and leave with a powerful option strategy or two.
Want to learn options trading?
Start today!
>> Ready To Get Started? Join Now And Get A 20% Lifetime Discount and a $7 Trial! <<