Dylan Jovine's elite research service pinpoints top buy-out opportunities from across the market, but is it worth the price of admission? Read our Takeover Targets review to find out.
What Is Takeover Targets?
Takeover Targets is an investment service based on Dylan Jovine's thirty years of success picking stocks before they've been acquired.
It's an elite-level service that includes a weekly newsletter, regular updates, and a treasure trove of additional bonuses.
The service is led by chief analyst Dylan Jovine and published by the research pros at Behind the Markets.
Buyout deals can quickly skyrocket share prices for the company, especially when the acquiring company pays a premium over the market price.
Takeover Targets exploits the scenarios to help their members capture massive gains.
>> Already sold on Dylan Jovine and Takeover Targets? Join now to save 65% or more <<
How Does Takeover Targets Work?
What makes Takeover Targets so unique is that the service makes money one of two ways:
They use merger-arbitrage investing to "skim" income from announced takeover deals.
They call this a "skim" because they're skimming money off of a deal that's already been announced.
For example, on October 2, 2020, WPX Energy announced it was being taken over by Devon Energy.
They recommended shares at $5 each and sold them for a 43% profit, allowing their members to skim $10,375 in two months.
They invest in straight takeover plays to make bigger profits.
Using merger-arbitrage to generate income is their bread and butter.
But sometimes, they get a chance to hit some home runs.
They tend to do this in industries that are consolidating.
For example, on August 14th, 2020, they recommended shares of Denali at $30.71 because they believed it could be a strong takeover candidate.
The stock soared to $83 after they announced a deal with Big Pharma giant Biogen.
This system of investing works, but just how effective is it?
Takeover Targets Track Record
Since January 1st, 2020, Takeover Targets Has Only Closed One Losing Trade.
They closed 36 trades last since January 2020.
Every position they closed was a winner, except one.
That has given members the opportunity to consistently skim extra income from Takeover Targets every month.
Dylan says the philosophy is all about getting Base hits and home runs.
"Using merger-arbitrage to make base hits is how we try to pay the bills. Using straight Takeover Targets for home runs is how we take the kids and grandkids on vacation."

— Dylan Jovine
Nobody else is doing anything like this, and we're grateful for the opportunity to share it with you.
>> Sign up for Takeover Targets for more info on potential buyout deals <<
Dylan Jovine Review
Dylan Jovine is one of the lead researchers at Behind the Markets and the mastermind of Takeover Targets.
A former CEO and finance veteran, Jovine is a sought-after analysis with an excellent feel for the market.
Jovine has a lengthy track record of insightful research and successful predictions.
Before joining up with Behind the Markets, he was the owner of Lexington Capital Partners, a Wall Street investment bank.
His work with Takeover Targets is equally admirable.
In 2020, Dylan Jovine's picks produced a successful takeover every 94 days, on average, and his calls gave subscribers the opportunity to earn an average gain of 24% per deal.
In his latest presentation, Jovine is calling attention to the biotech industry.
He believes the sector could see a rush of Big Pharma acquisitions soon, and getting in early could result in massive gains.
Is Dylan Jovine Legit?
Dylan Jovine is a legit guru who has carved out a pretty appealing niche with biotech stocks.
It's true that biotech stocks are very popular among folks looking for speculative investment, but few gurus tackle this as a specialization.
For this reason alone, Takeover Targets offers a range of insights that you would be hard-pressed to find anywhere else.
Dylan Jovine Reviews
While you can find reviews for Dylan Jovine online, we couldn't find any from third-party review sites, including Stock Gumshoe.
This could change down the road, but for now, it's slim pickings.
Dylan Jovine Net Worth
Dylan Jovine's net worth is not publicly available.
We've seen estimates around the $9 million mark, but we can't know for sure.
If this changes, we'll make sure to keep you posted.
Next, we'll discuss Dylan Jovine's latest presentation in detail later in our Takeover Targets review.
1 Treatment That Could Stop 7 Different Cancers
In his latest presentation for Takeover Targets, Dylan Jovine calls attention to an accelerating rush of acquisition deals for small biotech companies and his prediction for the next company to be acquired.
The company in question is a small biotech firm working on precision medicine that genetically attacks melanoma.
It can also be an effective treatment for all solid tumors, including those found in lung cancer, pancreatic cancer, and breast cancer patients.
To illustrate this drug's ultimate potential, Jovine points out that Big Pharma spent $100 billion pursuing similar types of treatments over the past two years.
This company could be a ripe target for Big Pharma takeover offers, and that's why Jovine is featuring it as his #1 Buyout Target for this deal.
Better yet, the situation has all the hallmarks of a good deal for early adopters.
It has all the necessary ingredients for a potentially lucrative takeover by Jovine's standards, which we'll explain next.
>> Get started with Takeover Targets to learn more about this cutting-edge biotech stock <<
3 Key Ingredients to Any Takeover Deal
After a lengthy career at the helm of Lexington Capital Partners, Dylan Jovine has developed a keen eye for potential takeover plays.
His experience has helped him identify three simple elements that have helped him pick Takeover Targets for years.
You can also use these same call signs to help you find buyout deals of your own.
A Large Gap Between the Value of a Company and What the Common Stock is Selling for

You Need a Board of Directors Open to a Legitimate Offer

You Need Potential Buyers
Jovine goes on to explain that his #1 Takeover Target has all these bases covered.
Its patented treatment could be light-years ahead of anything else on the market at the moment, and several Big Pharma firms could be weighing potential offers.
You'll get a full report on Dylan Jovine's #1 Takeover Target when you sign up for Takeover Targets, plus a wealth of additional bonuses, including his 6 Great Trades You Can Make Right Now.
We're going to break each of these bonuses down in detail, so keep reading our Takeover Targets review to find out more.
Dylan Jovine Takeover Targets Features
48 Weekly issues of the

Takeover Targets

newsletter for an entire year

Our #1 Takeover Target

Key Code: How to Skin $6,130 a Month Picking Takeovers

6 Great Trades You Can Make Right Now

30-day 100% money-back guarantee
>> Join Takeover Targets now and start enjoying these benefits right away <<
Takeover Targets Newsletter Review
Each week, you receive a new update from Dylan Jovine covering his latest insights into potential takeover plays.
Unlike other analysts, Jovine's reports are brief, easy-to-read, and digestible.
His updates quickly summarize the most crucial information without getting lost in excruciating detail, so you can quickly get up to speed without wasting your time.
You'll receive a new issue of Takeover Targets every Friday, so you get a total of 48 issues throughout your 12-month subscription.
That's four times what you would get with a basic monthly service.
Each issue includes updates on the latest takeover news.
Jovine also uses the newsletter to announce new findings and his latest takeover recommendations.
With new recommendations every month, you'll have a steady stream of new opportunities to explore.
Throughout your subscription, you'll get a total of 48 new Takeover Targets.
You also get instant access to Jovine's active recommendations when you join.
The Takeover Targets newsletter is the backbone of the service, and it's a pleasure to read thanks to Jovine's straightforward writing style and insightful research.
You'll appreciate having it in your inbox at the end of every trading week.
Our #1 Takeover Target Review
Jovine's #1 Takeover Target could be an excellent growth opportunity, and you'll get immediate access to his research on the company as soon as you join Takeover Targets.
This company could have significant buyout potential, and Jovine is anticipating that there could be sharp gains for the stock.
His minimum growth target for this trade is 100%, but the potential upside could be even higher.
You'll find all the details you need to know about this up-and-coming biotech company in this featured report.
Please note, this is the same company we discussed in our earlier section; the one developing the cancer drug.
The report includes a complete breakdown of the developing situation surrounding the potential buyout target and a blueprint for taking advantage of a possible move.
It also contains the stock's name, ticker symbol, price targets, supporting research, and more.
Jovine's #1 Takeover Target could be the best opportunity of the year.
This stock could undergo drastic growth in the wake of a buyout announcement, and it's currently trading for an excellent value.
You don't want to miss this report.
>> Sign up now for instant access to Jovine's #1 Takeover Target <<
Key Code Review
As we've mentioned earlier, Dylan Jovine is a talented stock picker with a deep pool of investing experience.
In addition, his followers have had the chance to earn huge gains thanks to his takeover insights.
Now, he wants to show you how to put his strategies to work in your portfolio.
His Key Code presentation offers a detailed look into the same techniques he successfully used to predict so many takeovers throughout his 30-plus year career.
Jovine picked up quite a few tricks over his time at Lexington Capital Partners and Behind the Markets, and he spills all the beans in this tell-all presentation.
By the time you finish it, you'll have all the necessary tools for spotting takeover target companies.
These educational materials could add dozens of new tools to your trading toolbox.
Moreover, it's an excellent addition to the package because it teaches you how to pick takeover stocks of your own.
You might only get a year of the Takeover Targets newsletter with the entry-level deal, but the skills you learn from Dylan Jovine's Key Code will last a lifetime.
6 Great Trades Review
As soon as you join Takeover Targets, you'll get instant access to Jovine's active recommendations.
These takeover trades are still developing, so it's not too late to get in position.
These 6 Great Trades give you immediate value for your dollar.
You get several recommendations to explore right off the bat, so you'll have plenty of options to explore while you wait for Jovine's next takeover target.
Jovine puts his money where his mouth is with this deal.
He wants his members to have time to try out the service without fully committing, so he makes these recommendations available upfront.
Otherwise, the service's 30-day money-back guarantee could expire while you're still waiting to receive a new pick.
Instead, he gives you these 6 Great Trades immediately so you can get the whole Takeover Targets experience.
It's a clear demonstration that Jovine wants to be as transparent as possible with his members.
He gives you access to the resources you need to get the complete picture while you're still covered under the guarantee, so you can make a fully educated decision about whether it's a good fit for your tastes.
Money-Back Guarantee Review
As we touched on in the previous section, Takeover Targets comes with an air-tight 30-day money-back guarantee.
So you have an entire month to take the service for a test run and, if you don't like it, you can get a full refund if you request it within the first 30 days of your membership.
If you decide Takeover Targets isn't suitable for you, Behind the Markets will give you a full cash refund on your purchase.
You get complete access to these Takeover Targets perks when you join, including the 6 Great Trades and both bonus reports.
That gives you plenty of time to review Dylan Jovine's research.
If you decide you're not satisfied, you still get the reports.
So, you're sure to get some excellent value out of this service one way or the other.
Jovine's satisfaction guarantee proves he stands by his work.
He wants you to get the full Takeover Targets experience, and he doesn't hold back any of the perks.
So you'll have plenty of days to review the service and decide if it's right for you.
>> Sign up now to take advantage of Jovine's 30-day money-back guarantee <<
Takeover Targets' Recent Hits
Dylan Jovine's previous takeover predictions have given his subscribers several opportunities to see huge returns.
Here are some of his latest winners:
Array Biopharma
Jovine recommended Array Biopharma back when the stock was trading for just $18.90 per share.
His original alert estimated the company's actual value was closer to $50, and a buyout deal could be in the works.
Sure enough, he was right.
The company eventually announced a deal, and the news sent shares skyrocketing to a 148% gain overnight.
Loxo Oncology
When Takeover Targets recommended Loxo Oncology on January 4th, 2019, people were paying $131 a share for the stock.
Jovine targeted the company because he knew the board was open to a deal.
The stock later rocketed to a 71% gain as the market came to the same realization as Jovine.
Tesaro
Shares of Tesaro were trading for just $38 back on October 1st, 2018, when Takeover Targets recommended it.
Just 63 days later, the company announced Glaxo was taking it over, and shares skyrocketed.
All and all, the stock produced a whopping 91% gain.
>> Sign up for Takeover Targets now to access more potential takeover stocks <<
These predictions represent just a tiny sampling of Dylan Jovine's successful takeover calls.
He's picked countless winners over his lengthy career in finance.
These are only some of Jovine's most recent wins, but they serve as indisputable testaments to Jovine's forecasting ability.
Jovine is a proven winner, and you're in good hands with him leading the service.
Takeover Targets Reviews
We checked online and it looks like Dylan Jovine's Takeover Markets is not reviewed on third-party sites, such as Stock Gumshoe or Trustpilot.
We'll keep you posted if reviews are posted.
Until then, we can say that we're impressed by Takeover Targets.
Pros and Cons of Takeover Targets
Takeover Targets has a lot going for it, but nobody's perfect.
Here are the pros and cons:
Pros
Targets takeover plays before they make their move

Led by 30-year finance veteran and Behind the Markets founder Dylan Jovine

Jovine's

#1 Takeover Target

could have huge potential

Key Code

presentation teaches you how to use Jovine's techniques

Get

6 Great Trades

as soon as you join

Your purchase is protected with a 30-day money-back guarantee

Weekly updates for an entire year

New Takeover Target recommendations every month

Proven track record for successful predictions
Cons
May be price prohibitive for smaller budgets

No chat rooms, forums, or social elements
>> Join Takeover Targets now for instant access to these benefits <<
How Much Does Takeover Targets Cost?
Takeover Targets is an elite service, and it carries a price to match.
A one-year membership typically goes for $3,000 per year, and Jovine says you can't find a better value anywhere.
However, you can save big if you sign up under the current deal.
You can save 50% on your Takeover Targets subscription if you join now.
The discount brings the cost of a one-year subscription down to $1,497.
That discounted price averages out to less than $125 per month and makes the upfront investment much more palatable.
Of course, you still get the complete package covered above with the discount, including the bonus reports and the money-back guarantee, so you won't miss out on any of the benefits we discussed.
You can also save even more if you decide to upgrade.
Takeover Targets also offers a two-year subscription for $1,997, giving you a discount of more than 66% off the regular price.
Best of all, your purchase locks in your discount for as long as you're a member.
You don't have to worry about a bait-and-switch here because your subscription will renew at the same discounted price.
For a limited time, you can also sign up for a lifetime membership at an unbelievable cost of just $2,497.
This package gives you unlimited access to Dylan Jovine's research and weekly Takeover Targets reports for life.
Typically, the lifetime memberships go for upwards of $12,500, making this the best deal for your dollar if you can swing it.
And, you're still entitled to the 30-day guarantee, so you won't be locked in if you're not satisfied.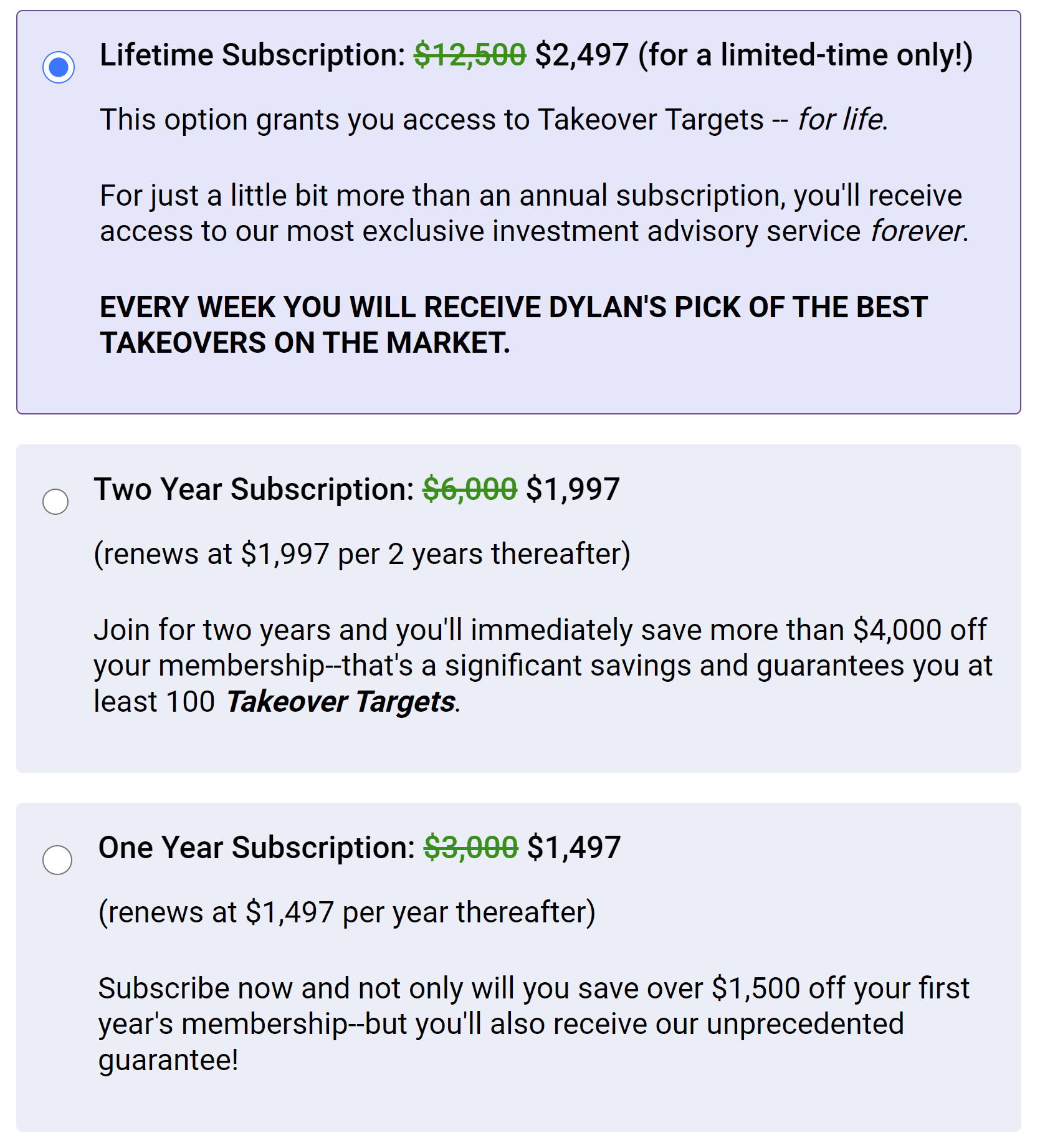 Is Takeover Targets Worth It?
Takeover Targets might not be the cheapest research service around, but we find it hard to argue with Jovine when he says it's "the best value around."
We love this service's overarching strategy because we've seen countless occasions where buyouts produce sharp gains.
Knowing about these run-ups in advance could lead you to massive returns.
Better yet, Takeover Targets does more than just point you towards stocks.
The included Key Code bonus shows you how to learn and properly apply these techniques, so you can build lifelong knowledge and sharpen your trading skills.
You also get weekly updates, so you get four times as many reports as you typically get with a monthly service.
In addition, you will never get caught flat-footed because Jovine will send you a new report every week.
Takeover Targets also offers tons of upfront value, including instant access to Jovine's #1 Takeover Target and 6 Great Trades as soon as you join.
Best of all, your purchase is covered with an excellent money-back guarantee, so you can comfortably test drive the service for an entire month without worrying about buyer's remorse.
Although the price might give you some sticker shock, Takeover Targets is a great value when you consider how much you're getting, the quality of the research, and the potential returns you could earn.
The 6 Great Trades could also produce several winners, and you'll get all the picks as soon as you join.
Plus, with new recommendations every month, you'll have a steady stream of new Takeover Targets to explore.
A Takeover Targets subscription will cost you a substantial upfront investment, but we believe it's well worth it.
Better yet, you can save 50% or more with the latest discounted deal.
Jovine's track record speaks for itself, and you're covered with a 30-day guarantee that gives you plenty of time to evaluate the service properly.
With all that in mind, Takeover Targets looks like an excellent option.
>> That's it for our Takeover Targets review. Join now to access this month's takeover target! <<