On Saturday, April 17 there were reports of a Model S Tesla crash in the Woodlands, a subdivision near the city of Houston, TX. Two people tragically lost their lives, and, according to reports, the initial fire from the crash tied up first responders for 4 hours. Federal safety officials are still investigating the crash and have not determined the cause yet, but concerns online are being raised by the car's automatic steering and braking system.
The Federal government has sent two National Transportation Safety Board investigators to determine the cause of the crash and what Tesla systems were in play when it happened.
According to Tesla CEO Elon Musk, data logs recovered from the vehicle showed that it was not operating on autopilot mode. Musk has frequently defended Teslas automated systems online as safer than manual cars, however, there have been more than 20 recent similar crashes that are being investigated to see if they involved Teslas auto-guidance systems.
According to eyewitnesses, the car was traveling at high speeds when it took a curve and failed to slow down. The car went off the road and crashed into a tree where it then burst into flames. The bodies of the two victims of the crash were found in the front passenger seat and the owner in the backseat. According to witness statements, the owner of the car and the passenger originally left to test the autopilot mechanism and show the friend how the car can drive itself.
The blaze from the crash also reportedly took over 4 hours to put out. Tesla cars use high-density lithium-ion batteries. Lithium-ion batteries can leak a substance called lithium hexafluorophosphate when damaged, which is highly flammable and can cause severe fires that are water-resistant. According to initial reports, the car fire took near 30,000-40,000 gallons of water to fully put out because the battery kept reigniting.
Stock Advice That Beats The Market!
Stock Advisor's recommendations
have beaten the market over the past 19 years. Tired of picking losers?
Stock Dork readers can join for only $99 a year!
Check out Stock Advisor today!
Tesla Crash: Are Tesla Cars Self-Driving?
A lot of people claim that Tesla cars are self-driving. Strictly speaking, this is not true. Tesla cars are not self-driving and claim that they require "active driver supervision." But the autopilot mechanism is capable of steering, braking, and accelerating within a single lane. Tesla is clear that this feature does not make the vehicle autonomous and that the driver must still pay attention to the road when the autopilot mode is engaged.
Tesla's autopilot mode works on a deep neural network that uses cameras, light sensors, and ultrasonic sensors to create a map of the environment around the car. These inputs are monitored by a powerful onboard computer that makes decisions to accelerate, brake, or turn slightly depending on what it detects.
Further Tesla identifies certain conditions that can make the autopilot function not as effectively. Heavy rain/sleet/snow/fog, interference from external objects, obstruction from paint or adhesives, and the curvature and shape of roads are all known to affect how the autopilot system functions.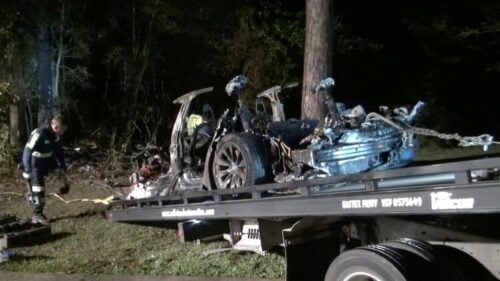 Crypto Alert
I'm A One Percenter
It doesn't matter if you have $500 or $5 million.
Here's what I recommend you do with your money right now.
ATTENTION: The following video is a serious financial warning from one of America's richest men. He believes this event will make the rich even richer while financially affecting countless others and fan the flames of social protest.
It's free to watch and by doing so I believe you'll be ahead of everyone else struggling to understand what is really going on. I hope you take advantage of this opportunity!
Click Here For All Of The Details
We earn a commission if you click this link and make a purchase at no additional cost to you.
Ready to build your portfolio? With Public.com you can follow other investors, discover companies that are inline with your beliefs, and invest into stocks and crypto with very little money! What are you waiting for? Check out Public Now!
Tesla Crash Aftermath
Elon Musk stated on social media on Monday that data logs recovered from the acne of the accident showed that autopilot was not enabled, implying that the crash was due to user error, not a malfunction in the autopilot program. Further, the autopilot function is designed to not work without regular steering-wheel input, so passengers would not be able to use autopilot and not be located in the front seat, periodically touching the wheel.
Federal investigators are expected to subpoena Tesla for data logs to indicate if autopilot was on during the crash or not.
The National Highway Traffic Safety Administration is also investigating a February crash also in Houston in which a Tesla crashed into a stationary police car on the side of the highway. In this case, too, it was not clear whether the driver was using the autopilot feature. To date, the NHTSA has opened 28 cases of Tesla crashes, 24 of which are still active.
Another organization, the National Traffic Safety Board (NTSB) has called out Tesla in the past for poor safety practice, and have especially taken umbrage with the NHTSA's reluctance to investigate multiple fatal Tesla crashes.
Also Read: Fast Fortune Club Review
In the immediate aftermath of the crash on the 19th, Tesla stock closed at -3% for the day and is still about 3% down from its weekend high. Similar dips and drops in Tesla stock have occurred when the other past crashes were reported, but Tesla stock has still held steady for the past 2 or so months.
The police have gathered information from the car but it is unclear whether they will be able to recover any diagnostic data from the burned components.
On the day of the crash, Elon Musk tweeted an infographic and stated that Tesla autopilot results in a 10 times lower chance of an accident than an average car.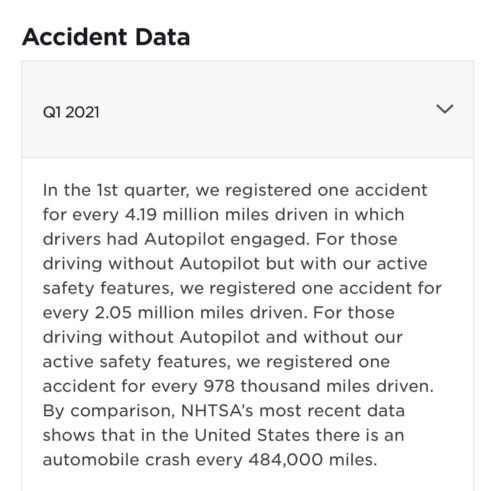 >> Interested in buying Tesla stock? Click here to learn how. <<