One of the biggest mistakes crypto investors make is investing in crypto assets without understanding what they are buying and ignoring the new coin listings. Cryptocurrencies are not like stocks; you do not have an inherent right to the protocol by buying their coin.
How, then, can we participate and invest in this space? Read here as we discuss the best new crypto to invest in and why these coins create such buzz.
Best New Crypto to Invest in Right Now
1. CoinMooner – $Mooner
CoinMooner is a newer coin that has good potential. CoinMooner originally started as a cryptocurrency community platform and launched its $Mooner token earlier this year.
The Coinmooner platform has been very popular amongst crypto investors as it aims to make investing in cryptocurrency more accessible to the general public.
The coin comes with full transparency and an audited contract, which might put its investors at ease.
In terms of price, $Mooner currently sits at $0.004 USD, with a market cap of ​​$165,614. According to many analysts, this exciting new coin has good room for growth, with some predictions expecting to see the coin reach a value of $0.06 sometime this year.
This new crypto can be purchased directly on a few exchanges, such as Binance and PacakeSwap.
There is a max supply of 51,881,294 $Mooner coins.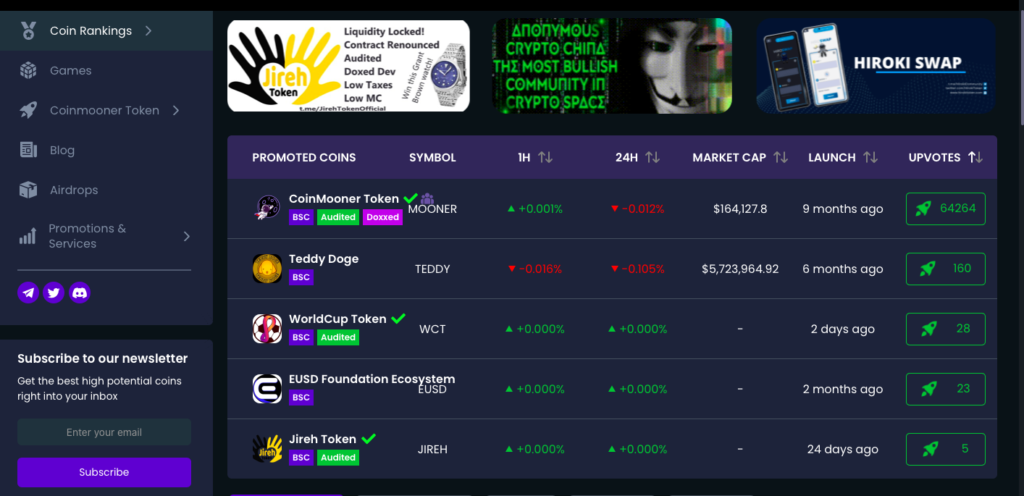 2. $OHM
Olympus DAO is a decentralized finance (Defi) project changing how we think about digital money. They aim to create a community-owned, decentralized financial reserve system for web3.
Financial institutions control fiat currencies to power global payment systems, which leaves 30% of the world's population unbanked. OHM seeks to be the reserve currency of decentralized finance across all chains in the crypto space.
Whether it be the Ethereum blockchain, Binance Smart Chain, Avalanche, or any other blockchain network, OHM seeks to be available as an alternative to fiat currencies.
Users can complete transactions on decentralized apps (dApps) using their OHM. It will be this widespread utility that will make OHM a popular coin.
OHM minimizes price slips to utilize the currency throughout the crypto world. Their strategic partnership with the Balancer liquidity pool is a significant source of fundraising for the protocol.
The Balancer ecosystem also allows OHM to be a popular trading pair and increases the token's trading volume and liquidity.
The OHM stablecoin has been anything but stable in the past few months. The coin gained massive popularity in late 2021 and was the interest of a large number of forks.
OHM forks became infamous for offering absurdly high APY in an unsustainable manner. One famous example is the protocol Wonderland with their $TIME token.
The best place to buy gOHM is through SushiSwap on the Arbitrum network. Users that prefer Avalanche may also use the DEX Trader Joe.
The current price of gOHM is $2,755 with a market capitalization of $323,000,000, making it rank 112 on CoinGecko. The price of OHM is down 91.2% from its all-time high.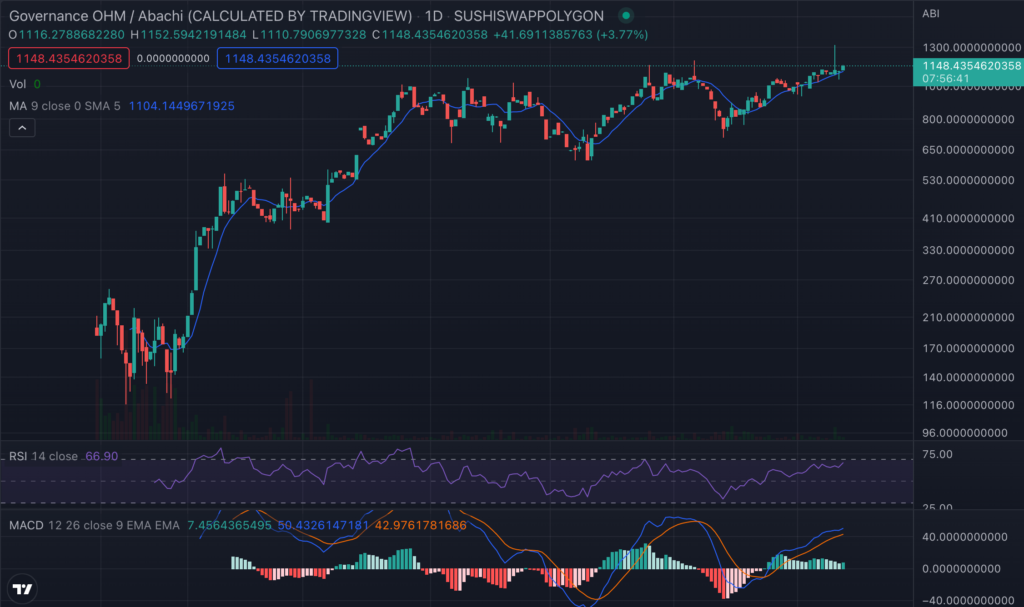 3. $LOOKS
Users who want to gain exposure to non-fungible tokens (NFTs) should consider the token from LooksRare. LooksRare is a decentralized platform for trading NFT.
The largest NFT trading market is the company OpenSea. LooksRare is a decentralized exchange for NFTs which the ownership is divided using the LOOKS governance token instead of stock.
Users can stake their LOOKS to earn rewards. Users can also earn LOOKS through trading NFTs on their exchange. LOOKS token holders are distributed 100% of transaction fees, paid in ETH.
The LOOKS token was initially airdropped to users that had made transactions on OpenSea, and the total allocation of tokens can be found here.
The token has been losing attention since the initial airdrop. It has managed to attract the attention of many users but is still second in transactions compared to OpenSea, despite the token incentive and cheaper transaction fees.
The NFT market has been down overall in the past few months. NFT bull runs are correlated with strong or stable overall market conditions.
This token is a must-have before the next NFT bull run. Money follows attention, and owning LOOKS is like having a diversified NFT portfolio all wrapped up in one token. It is the community lead, crypto-native NFT marketplace.
The best place to buy LOOKS is UniSwap on the Ethereum Mainnet. Before buying, I would check if there has been an opportunity to buy the token on a Layer 2 solution to avoid those Mainnet gas fees.
The current price of LOOKS is $0.28 with a market cap of $138,000,000, making it rank 193 on CoinGecko. The price of LOOKS is down 96.0% from its all-time high.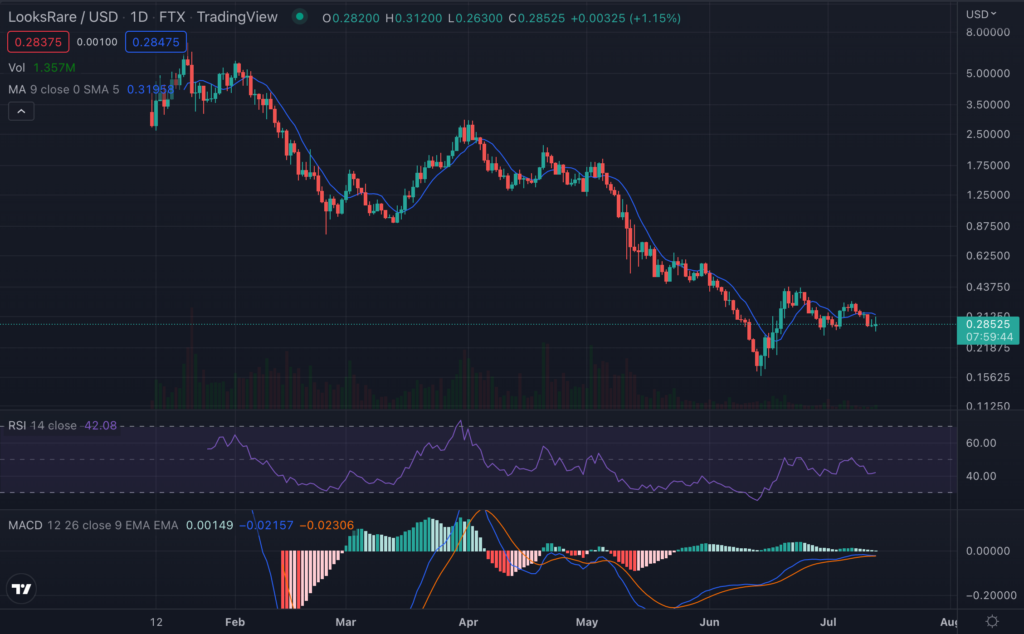 4. $ TRIBE
TRIBE is the governance token for TRIBE DAO. The DAO consists of individual crypto projects with a shared incentive structure using the same DAO token. The DAO started with the Fei-Rari merger in December of 2021.
The total DAO consists of:
Fei Protocol: a decentralized stablecoin ($FEI) pegged to $1 USD
Rari Capital: a lending and interest rate protocol through fuse pools
Volt: an inflation-protected stablecoin ($VOLT) pegged to the USD rate of inflation
Midas Capital: A multi-chain lending and interest rate protocol using Fuse pools.
The price of TRIBE has struggled to maintain support in the current market. DeFi tokens have been hit harder than most cryptocurrencies and price has also suffered since the Rari Fuse Pool hack in April 2022 where a hacker exploited the pool for $80 million.
There is a proposal from March 22, 2022, to upgrade the token to xTribe which will be automatically staked and auto-compounding. This will make TRIBE compatible with the ERC4626 standard.
Ethereum Improvement Proposal (EIP) 4626 introduced a new token standard for yield bearing tokens to the Ethereum blockchain. It's an exciting innovation for DeFi tokens and the entire crypto ecosystem.
The best place to buy TRIBE is Uniswap on either the Arbitrum or Polygon networks and to stake through the TRIBE fuse pool. It is also available for purchase on Coinbase.
The price of TRIBE is $0.14 with a market capitalization of $68,000,000, ranking it 313 on CoinGecko. The price of TRIBE is down 91.2% from its all-time high.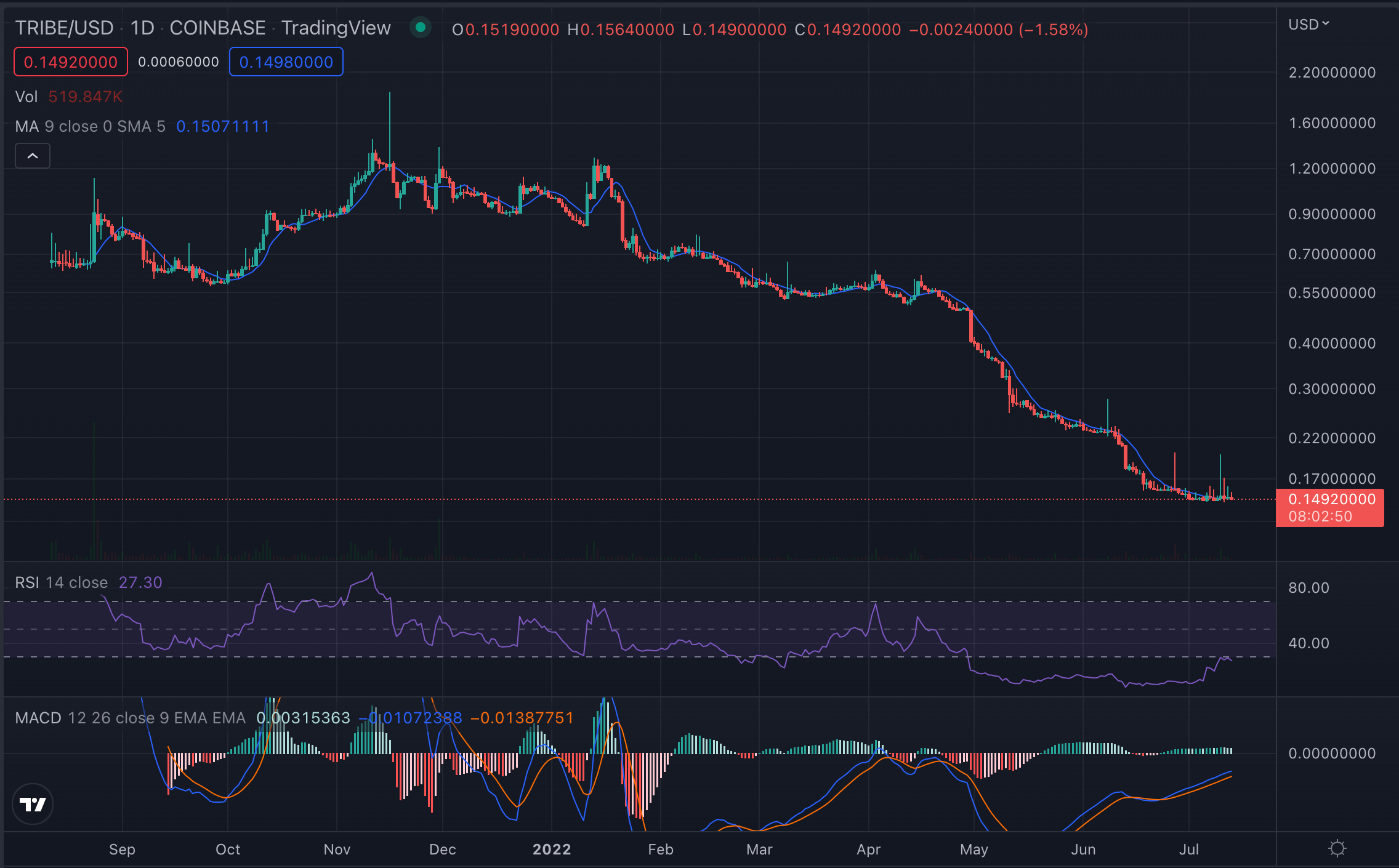 5. $RAD
Radicle is a decentralized platform where developers can share innovative technology for collaboration. A platform like this, named GitHub, was acquired by Microsoft in 2018 for 7.5 billion dollars.
The downside of using a centralized platform like GitHub is it is has been subject to censorship. Radicle provides a crypto native, permissionless, censorship-resistant option for developers building blockchain technology.
The project is not yet complete and is still being improved upon. It can be challenging to use and confusing at times. Radicle's vision is to provide a much-needed tool in infrastructure development for the cryptocurrency market.
The best place to buy RAD is Uniswap on the Polygon network. It is also available for purchase on Coinbase.
The current price of RAD is $1.59 with a market cap of $65,500,000, making it rank 322 on CoinGecko. The price of RAD is down 94.3% from its all-time high.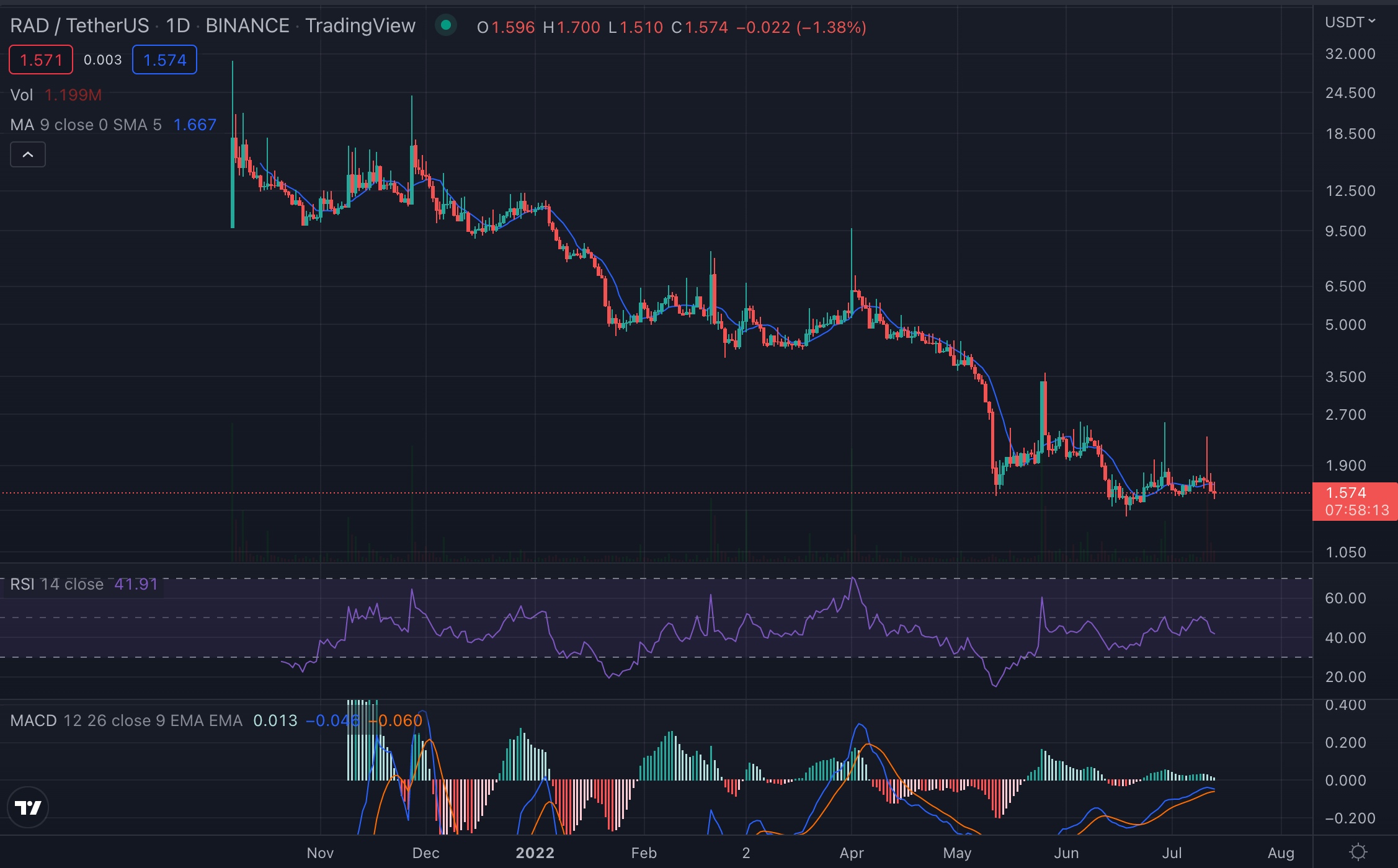 More on Investing in Cryptocurrency
Coins are the native cryptocurrency for a blockchain and are used to complete transactions. The native coin on the Ethereum platform is Ether or $ETH, Solana uses $Sol, and these blockchains use coins to operate and provide rewards to the users making the chain.
On the other hand, tokens are digital assets that developers make using smart contracts. These tokens interact with the crypto protocol.
Every good investor needs to understand what they are buying. The crypto market is not like the stock market. Token economics and utility differentiate between a good investment and losing everything.
A user can buy three main kinds of tokens: utility, governance, and social.
Allows a user to complete a certain action within a protocol. A decentralized exchange might issue a native token to their DEX, allowing holders cheaper transaction fees and better prices on their trades.
Grants holders voting rights and often included rewards from protocol fees. Popular crypto in this category is Curve's $CRV token.
Tokens are created to identify holders as a member of a community. There are a few different types of social tokens. Examples include:
Personal tokens- tokens created by an individual. I could create $BRAD token and issue it. Users could verify that they hold the token and gain access to a new NFT project.
Community tokens- tokens issued by a community like a DAO to allow access to resources. We could issue $DORK tokens to allow holders exclusive access to The Stock Dork Discord page.
DAO tokens are often, but not always, governance tokens granting voting rights. Curve's CRV is both a DAO and governance token.
Once the current crypto market becomes more developed, we will see less investment into utility tokens as investments. Token holders will have a coin to use the coin.
Should You Invest in Newer Cryptocurrency?
Investing in cryptocurrency, especially new cryptocurrency, is risky; every investor should weigh the amount they are willing to lose. Bitcoin and Ethereum are the foundation of every portfolio.
There is room for calculated risk. The tokens I listed here, other DeFi and governance tokens, there's even a place for a meme coin or two. There is risk in crypto, and no investor should invest more than they can lose.
In this article, I touched briefly on a few cryptos I'm watching. Don't just take our word for it; the best thing for any investor interested in these coins is to due your due diligence.
Final Words: Best New Crypto to Invest In
While these may best some of the best new crypto to invest in, remember, there is a risk here. Factors regarding the volatile nature of cryptocurrency, crypto regulation, and inflation make this investment fall on the riskier side of things. Be sure to speak with a qualified financial advisor before making significant investments that may affect your wealth.