Crypto Swap Profits is considered by many as one of the top names in cryptocurrency education. But does it live up to its reputation? Read our Crypto Swap Profits review to find out.
What is Crypto Swap Profits?
Crypto Swap Profits is an entirely-online training program designed to teach you everything you need to know about dealings in the cryptocurrency market.
Crypto investor Joel Peterson developed the platform to shed light on the frequent changes surrounding the space. In addition to bringing to light up-and-coming tokens, Peterson looks to equip investors with the tools needed to find promising coins on their own.
With the crypto sector changing so frequently, Crypto Swap Profits keeps its material up to date, so traders are always in the know.
>> Already sold on Crypto Swap Profits? Sign up NOW! <<
How Does Crypto Swap Profits Work?
Subscribers to the Crypto Swap Profits Mastermind instantly gain access to the program's massive list of contents.
You'll receive login information after signing up that will take you to your personal landing page. The entire program is split into two main sections, each serving a specific teaching purpose.
From there, you can check out any of the many topics as many times as you need to understand proper trading principles.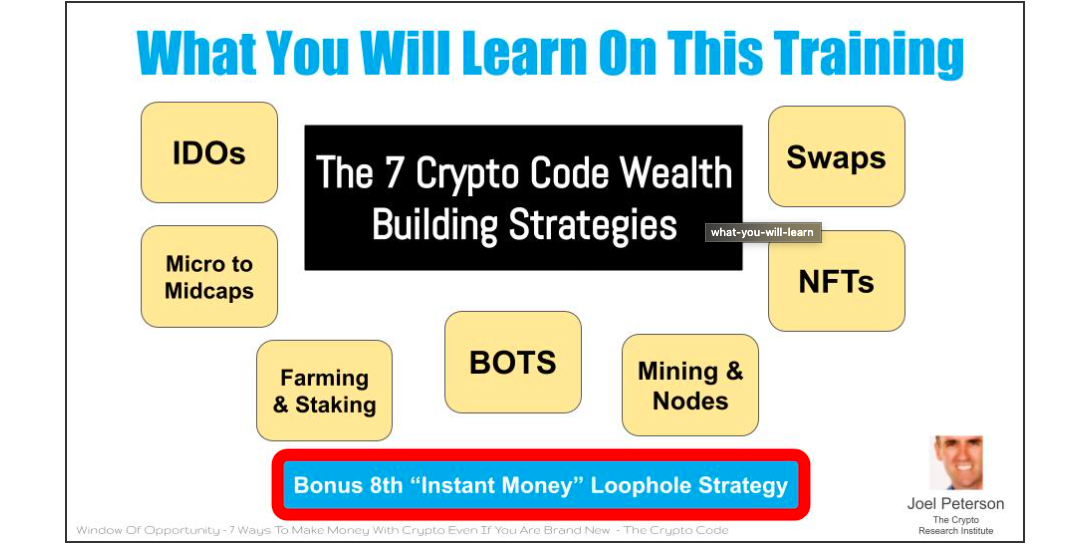 Crypto Swap Profits Features
The Crypto Swap Profits program consists of two action-packed courses:
Part 1: The Core Training

Part 2: Live Mastermind and Support
Part 1: The Core Training
The Core Training program becomes available the moment you first sign up for your Crypto Swap Profits Mastermind course.
Starting with a welcome video, you'll receive an introduction to what Mastermind has to offer and a look into the Crypto Swap Profits team that makes it possible.
The online training program provides "over-the-shoulder" video lessons designed for anyone from beginners to advanced users who want to get into the crypto trading market as soon as possible.
>> Start Mastermind TODAY! Click here to sign up! <<
Check out some materials you'll be privy to in this online content:
The Basics of Cryptocurrency: A straightforward introduction to the world of crypto trading.
Decentralized Finance (DeFi): This course explains what decentralized finance is and how it's changing the world of finance.
You'll also learn how to use this technology to generate profits.
Rules-based Trading System with High Reward and Smart Risk: This section of Crypto Swap Profits Mastermind shows it's possible to take smart risks when pursuing huge profits.
Through its rules-based trading system, you'll learn how to use smart risk to uncover the best trading opportunities while protecting your crypto wallet.
The Power of Altcoins: DOGE coin is perhaps the most popular altcoin, but there are over 9,000 more crypto coins seeing absurd growth in the crypto market.
After learning what altcoins are, this core training section reveals how to choose the best ones for any investment strategy.
The CSP Game Plan: Here, the Crypto Swap Profits team shares the CSP game plan strategy they've been using for years to bring in profits and minimize risks.
Avoiding Major Risks: With DeFi being so new, the Crypto Swap Team educates members on how to shield themselves from hard-to-spot risks.
Through conservative trades, you'll learn which coins to be wary of and how to keep finances secure.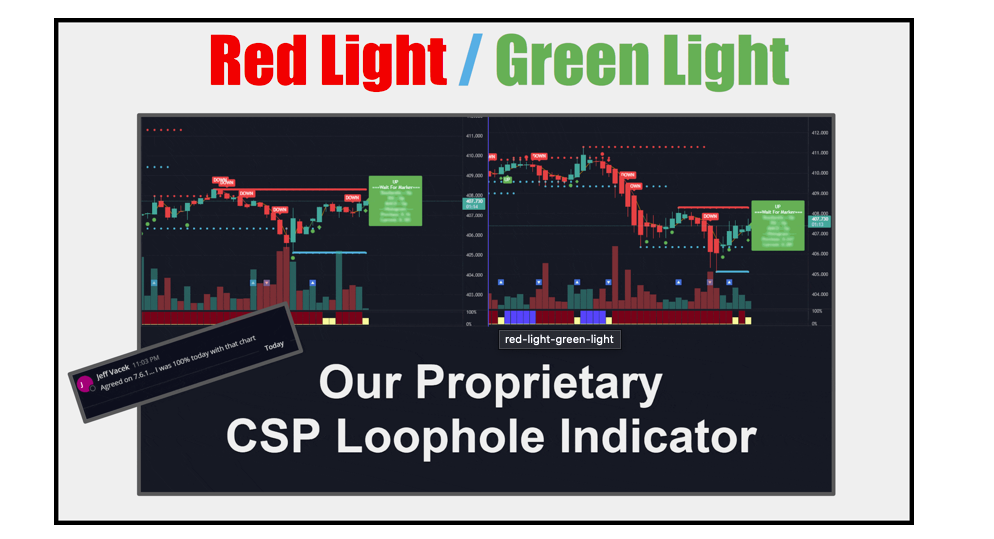 >> Don't delay on getting in on this game-changer! Sign up TODAY! <<
Understanding DApps and DEX: These digital assets offer the latest technology while cutting out the middleman between you and digital currency.
You'll also learn about the many DEX swap sites and which ones the Crypto Swap Profits Mastermind crew feels are best.
Breaking Down Blockchains and Protocols: Blockchain technology is constantly redefining the crypto trading game as we know it.
This Crypto Swap Profits program gives you the knowledge you need to make the most of your investment options.
Crypto Wallets: Here, you'll learn how to keep your crypto wallet safe and accessible.
The last thing anyone needs is a forgotten password or lost hard drive with countless crypto locked inside.
Furthermore, Crypto Swap Profits Mastermind reveals how to correctly set up different crypto wallets while avoiding unnecessary fees.
Finding the Right Crypto Profits to Invest In: Like any other financial market, the goal with cryptocurrency is to buy low and sell high.
Crypto Swap Profits Mastermind seeks to teach members how to navigate crypto trading and locate new and existing opportunities on their own.
IDOs and Pre-Sales: Investing on the ground floor when new crypto projects launch can prove incredibly fruitful.
To date, Mastermind's top record was a token that grew 18,000% in just 90 days.
Passive Income With Crypto: Crypto Swap Profits Mastermind shows you how to set up passive income opportunities through methods like "staking" and "farming".
These often-overlooked methods can generate compounding interest that will have you making money without lifting a finger.
Looking into NFTs: Non-fungible tokens (NFTs) are an up-and-coming investment asset, typically purchasable with cryptocurrency.
Here you'll learn more about these lucrative tokens and how to benefit from them.
The Secret Weapon of Automation: Automated tools enable you to perform daily and weekly trades through a predetermined setup.
Using a program to buy and sell crypto can spell the difference between a successful investment and failure, and you don't even have to be there to execute it.
>> Ready to join Crypto Swap Profits? Sign up NOW! <<
Part 2: Live Mastermind and Support
Crypto Swap Profits claims that part 2 of the course is the fuel investors need to power smart trading strategies.
Let's take a look at everything included:
A Community of Experts: Crypto Swap Profits Mastermind has an online forum and live chat that you can use to engage expert traders. You can use these spaces to search for hot tips or ask a question about a crypto trading strategy you'd like to pursue.
If you're not getting the feedback you need, the Crypto Swap team often steps in to offer a hand.
Researched Trade Opportunities: DeFi trading frequently hides its best opportunities until they've been out on the crypto market for some time. Those jumping on the bandwagon so late in the game miss out on what could be impressive gains.
Crypto Swap Profits catches sight of these opportunities early on and publishes them in the forums each day.
Swap Alerts: Crypto Swap Profits Mastermind is always on the lookout for potentially profitable projects to act upon. Due to the short-lived nature of these opportunities, swap alerts allow members to take immediate action.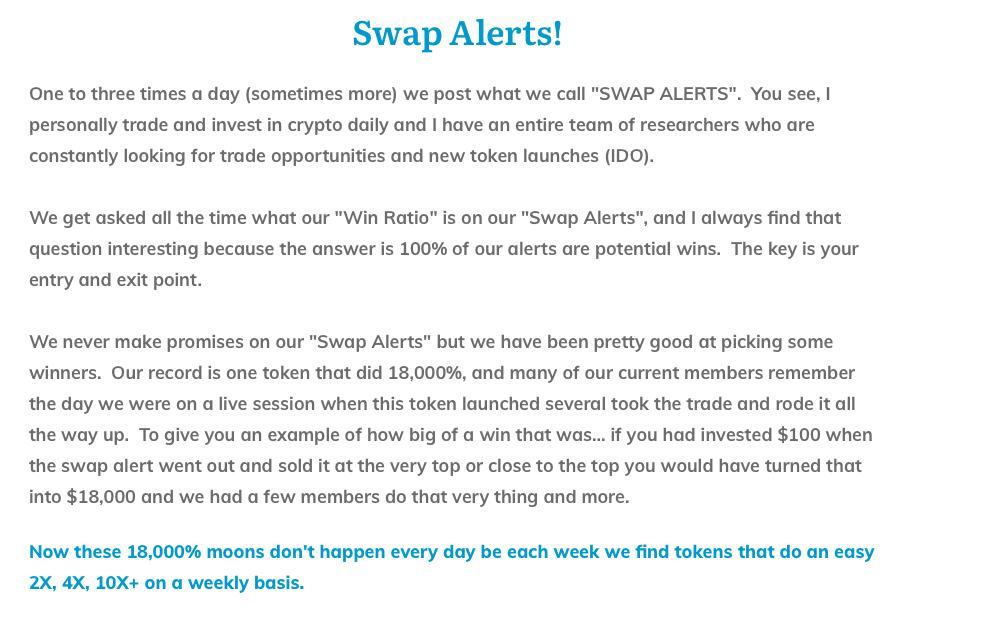 >> Get access to Swap Alerts TODAY! Click here to sign up! <<
These trade alerts are usually solid picks, but Crypto Swap Profits Mastermind still encourages traders to do their due diligence before making an investment.
Group Coaching: With things in the crypto trading world changing at a rapid pace, Crypto Swap Profits understands the need to keep its information up to date. The team does the legwork for you, learning how changes affect the cryptocurrency space.
They roll this information through daily and weekly educational videos to keep you one step ahead of the game.
Bonus " Crypto Loophole Strategy"
Crytpo Swap Profits also offers a free bonus "crypto loophole strategy" that claims to teach you how to create daily crypto profits no matter if markets are up or down at any given time.
This loophole strategy is considered a skill, according to the guys at Crypto Swap Profits, and can result in a good chance of a 75% win rate when trading cryptocurrency.
All Crypto Swap Profits subscribers will have access to this game-changing strategy. It should be noted that a Tradingview account is needed to use the indicators.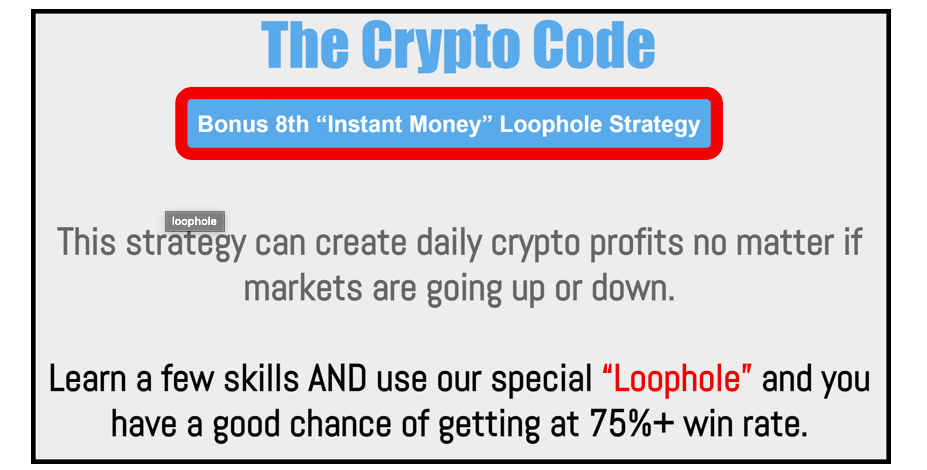 >> Learn the Crypto Loophole Strategy! Sign up NOW! <<
Is Crypto Swap Profits Legit?
Crypto Swap Profits Mastermind is the brainchild of Joel Peterson, an experienced investor looking to teach others the tools he's learned in crypto trading.
Far from a get-rich-quick scheme, this crypto trading course is built in two parts to explain how crypto trading works before providing all the tools you need to fuel the fire.
Like most investments, it takes time to build a successful portfolio, but the Crypto Swap Profit team shows you how to do just that.
Joel Peterson is so confident in his approach that he's willing to pay back double someone's investment if they are unable to double it on their own in the first year.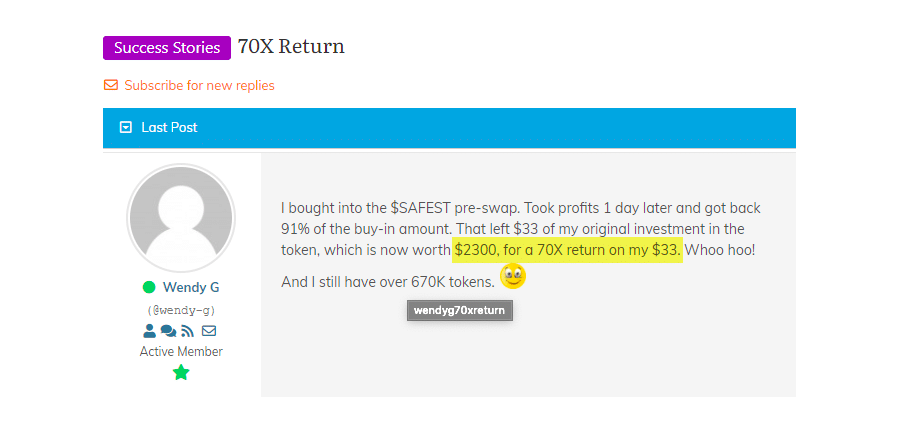 Crypto Swap Profits Reviews
Surprisingly, there aren't any review details from consumers or third-party sites.
Our experience with Crypto Swap Profits Mastermind has been positive, and we feel confident about the service.
We'll make sure you're in the know if this changes.
Pros and Cons of Crypto Swap Profits
There's a lot to like with Crypto Swap Profits, but no one is perfect.
Here are the pros and cons:
Pros
Extensive educational materials on cryptocurrency

Pricing after the initial investment is substantially reduced

Excellent trading community

Well-organized catalog of videos

Great for beginners
Cons
On the pricey side

No traditional refunds
>> Don't wait any longer! Click HERE to get access NOW! <<
How Much Does Crypto Swap Profits Cost?
To gain full access to the Crypto Swap Profits Program, you'll need to make a one-time payment of $1,497.
Doing so unlocks everything the Crypto Swap Profits Course has to offer for that first month, alongside a crypto hardware wallet and tickets to in-person and live stream events at no additional cost.
Assuming you want to continue your Crypto Swap Profits membership, you'll need to pay a $97 monthly subscription fee to continue accessing content after the first month.
It's worth pointing out that this program has no upsells.
These fees include the entire gamut of features Crypto Swap Profits Mastermind offers, so you don't have to worry about what you might be missing.
>> Ready to get started with Crypto Swap Profits? JOIN NOW! <<
Crypto Profits Swap Cancellation and Refund Policy
Crypto Swap Profits makes it clear that there are no refunds for the initial investment of $1,497 under any circumstance. Once you've started making monthly payments, you can cancel your membership at any time.
At the end of the billing cycle, your subscription fades away until you start making monthly payments again.
However, to remove the risk to those willing to put forth the effort, Crypto Swap Profits Mastermind offers an incredible double your money-back guarantee. The Crypto Swap team is so confident in this product that they believe it will work for anyone who takes it seriously.
Anyone unable to double their initial trading investment after 12 months will receive twice their investment back.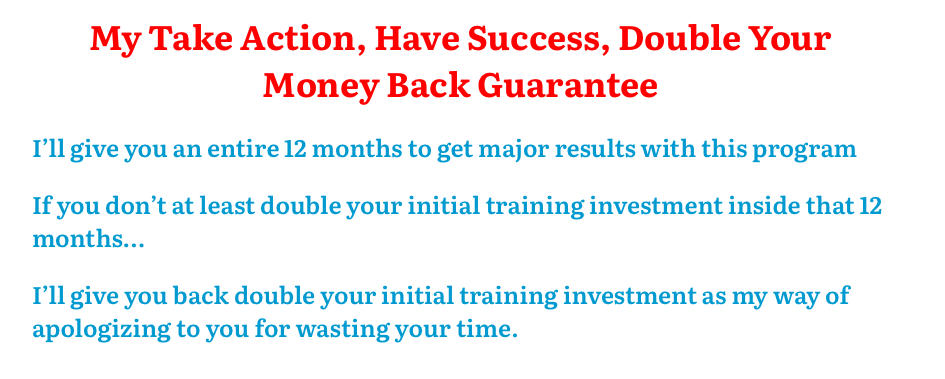 Is Crypto Swap Profits Worth It?
Crypto Swap Profits Mastermind is packed full of information from the cryptocurrency sector. The platform frequently updates its teaching to reflect new trends in this ever-evolving space.
Signing up for a monthly membership keeps you up to speed with these happenings. The course seeks to not only locate new and existing tokens to generate profit but also teach users how to discover opportunities on their own.
Its initial price point does cause some sticker shock at $1,497, but monthly fees drop to $97 after that.
If the program ends up not working for you after a year, you'll receive back twice this investment amount to offset the loss.
As long as you can stomach membership costs, Crypto Swap Profits Mastermind has all the workings of an excellent crypto education system.
>> That's it for our Crypto Swap Profits Review! Click here to sign up TODAY! <<