If you're looking to start investing but don't want to spend a lot of money, penny stocks are a great way to start. But which stocks should be on your list, and are they safe? In this article, we'll be discussing the top penny stocks under $2.
Best Stocks Under $2 To Buy
Pedevco (NYSE: PED)
Pedevco, short for Pacific Energy Development Company, is an energy firm headquartered in Houston, Texas. The company looks to acquire and develop oil and natural gas properties in areas where modern techniques have not yet been applied.
Its most significant assets are currently in New Mexico and Colorado, and the venture has made some exciting expansions over the past year. At the end of 2021, Pedevco brought two new horizontal oil wells online.
It has also taken steps to enhance its current assets for more efficient production by using more sustainable materials and processes. Pedevco's most recent earnings reports have been very promising, with huge jumps in revenue, net income, and earnings per share.

In the three months that made up the first quarter of 2022, the company generated an average of 1,074 barrels of oil equivalent per day (80% oil). With Q1 2022 revenue of $7.1 million increased by 101%, the company looks to be very profitable.
Additionally, the business announced its operating profits of $1.26 million, up 74% from Q1 2021.
Oil prices are rising again, possibly explaining the recent share price spike in March. Prices have cooled off some since, but Pedevco could be primed to take off as 2022 rolls on.
Gran Tierra Energy Inc. (NYSE: GTE)
Gran Tierra Energy Inc. (NYSE: GTE) is a Calgary, Alberta-based independent oil and gas exploration and production company with assets in Colombia.
The company has a market capitalization of $1.5 billion and trades at just under $2 per share, making it one of the best stocks under $2.
Gran Tierra Energy is focused on conventional oil and gas exploration and production in Colombia, where it has a large and highly prospective acreage position. The company has been growing rapidly and producing more than 80,000 barrels of oil per day.
GTE stock is one of the recent biggest gainers. Nearly the past week, GTE stock prices have soared by more than 4%, reaching over $1.66 per share. And if that weren't enough, shares of GTE stock have increased by more than 88% over the previous six months.
The organization's most recent news surfaced only days before its anticipated May 3 earnings announcement. The business recorded a net income of $42 million for 2021, the highest realized net income since 2018.
Additionally, the firm was able to redeem its credit facility by around $123 million over the course of the year, and it anticipates that it will be entirely repaid by June 2022. It's obvious that GTE is still in the spotlight with the recent spike in oil prices.
Denison Mines (NYSEAMERICAN: DNN)
Denison Mines is a Canadian mining and exploration venture with a specific focus on uranium. The company strives to be the first of its kind to provide uranium oxides at a low cost.
It has an effective 95% interest in the Wheeler River Uranium Project, the largest undeveloped area rich in uranium in northern Saskatchewan. Denison also has joint ventures with other businesses throughout Canada.
This diversity will help protect the mining enterprise should one mine shut down for any reason. Share prices have seen gains of 50% over the last year, kissing a share price of $2 at one point.

Based on its most recent financial report, the company's earnings for the three months ending March 31, 2022 were $0.05 per share. These include mark-to-market gains of $47.8 million on its investment in 2.5 million pounds of actual uranium assets.
Also, the McClean Lake Tailings Management Facility's expansion has received regulatory permission, according to the company's announcement.
Additionally, it recently made a high-grade uranium mineral discovery at its 24.68% owned Waterfound River Joint Venture. With a solid year of mining ahead, Denison could uncover higher than ever stock numbers.
Goodness Growth Holdings (OTC: GDNSF)
Goodness Growth Holdings is a cannabis holding company based in Minneapolis. The company currently has two subsidiaries — Vireo Health and Resurgent Biosciences.
Vireo Health has four cannabis brands sold at dispensaries in Minnesota, New York, New Mexico, Maryland, and Arizona. Goodness Growth purchased cannabis licenses in Nevada at the beginning of the year, allowing it to expand sales in the future.
Resurgent Biosciences focuses on developing natural medicines and technology. Resurgent's research has focused mainly on cannabis, but it has also indicated that it would like to expand into psychedelic medicine.
There is a movement in the U.S. to decriminalize or even legalize psychedelic drugs, although it is still in the early stages. If the Resurgent does move in this direction, the company could capitalize on this growing trend.
Vireo Health is looking to acquire Verano in the near future to tap into lucrative locations. Goodness Growth saw an increase in revenue this last quarter but fell short of its goals.
Except for Arizona, where it has been dealing with biomass loss due to weather issues, the company's first-quarter statistics showed steady growth throughout all of its markets.
The company has seen a recent shift to adult-use sales in New Mexico and the introduction of flower sales in Minnesota's medical market. These are expected to contribute to better sales growth for its Green Goods-retail locations this year.
The recent legislative changes in its markets will continue to be advantageous to the business, and adult-use sales may start in New York sometime in the second half of 2022.
Share prices have crossed the $2 threshold a few times already this year and look to do so again shortly.
Best Tech Stocks Under $2
Globalstar, Inc. (NYSEAMERICAN: GSAT)
Globalstar is an American satellite company providing solutions to communication, navigation, and Internet of Things. It is already heavily invested in several industries, including transportation, energy, commercial maritime, agriculture, safety, and forestry.
With 48 satellites in constant use around the globe, Globalstar can meet the needs of many sectors and consumers simultaneously. Finding a budding company with so many satellites already off the ground in this industry is rare.
In addition to helping businesses stay connected, the company offers satellite radios and message devices to allow people to talk from anywhere on the planet. Globalstar stock has seen some ups and downs over the last year but still sits 30% higher than last year.
The business recently made headlines when it collaborated with SpaceX to launch a rocket successfully.
This satellite, which will act as an in-orbit spare, is essential to its ongoing expansion plans. Globalstar also has additional satellites purchased from MDA and Rocket Lab that are anticipated to launch in 2025,
The company is quickly positioning itself to be profitable in the near future and hopes to continue this trend.
Meta Materials Inc. (NASDAQ: MMAT)
Meta Materials develops highly functional materials and intelligent surfaces that are efficient, scalable, and sustainable. These new technologies have already been put to use in electronics, 5G communications, aerospace, automotive, and more.
Meta's products also serve anti-counterfeiting measures and authentification by using unique optic tech. The company's achievements have earned its accolades for innovator of the year in 2021.
The company recently reported that it had entered into a binding agreement to buy nearly all of Optodot Corporation's assets and IP. These include 89 patents for a total of $48.5 million, made up of $3.5 million in cash and $45 million in META shares of common stock.
Based in Devens, Massachusetts, Optodot is a top creator and licensee of nano-composite battery separators and infrared optical coating technology. The transaction is anticipated to conclude in June, pending usual closing requirements and regulatory clearances.
Meta hopes to continue using its new technology in unique ways, as metamaterials interact with other forms of energy in never before seen ways. Financials show steady increases in revenue as Meta invests back into itself to innovate and increase production.
Share prices seem quiet at present but could see an explosion if this tech takes off.
Best Biotech Stocks Under $2
Biotricity Inc. (NASDAQ: BTCY)
Biotricity was recently rated one of the world's 50 most innovative companies. The company is known for delivering remote biometric monitoring solutions to the world at large.
These products work to provide diagnostic and post-diagnostic solutions that deal with chronic conditions and create a better quality of life. Devices like Bioflux monitor a patient's heart rate in real-time, providing accurate feedback to the wearer and health specialists.
Some wearables promote healthy lifestyles, helping individuals stay heart healthy through smart choices. Biotricity's innovations are bringing in solid revenue numbers, but these values are still a bit lower than expected.
The business was recognized as one of the Most Innovative Companies in the World for 2022.
Fast Company's esteemed list recognizes companies with the most influence on their respective markets and cultures as a whole, eventually succeeding in today's quickly evolving world.
The result is a downturn in share performance that can take off at any time.
Acasti Pharma (NASDAQ: ACST)
Acasti Pharma is a biotech firm with products in the pipeline to target diseases with unmet medical needs. Of the three products currently being trialed, two look to move into phase 3 testing within a year's time.
These yet unnamed drugs look to treat brain hemorrhaging and ataxia-telangiectasia, respectively. A third medication for post-herpetic neuralgia should enter phase 2 testing this year.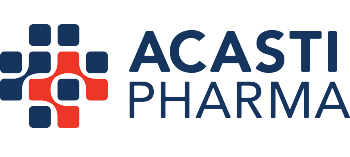 The company has already generated over 40 patents to keep exclusivity well beyond the year 2036. Without any products currently on the market, Acasti isn't making money at this time.
In a recent financial report for the fourth quarter of 2021, Acasti Pharma Inc. said that it has cash and cash equivalents totaling $46.3 million as opposed to $26.5 million at the end of December 2020. The finance resources provide 21 months of operating runway.
However, with a share price under $2, any significant investment into the company can cause share prices to soar. In addition, once a project is deemed safe and effective, the sky is the limit for how high gains can go.
Should You Buy Stocks Under $2?
Buying stocks under $2 can be a good way for new investors to get into trading without the initial financial risk. While these stocks don't cost much, there's a genuine potential for them to double or triple in price in a relatively short period of time.
Investing in affordable penny stocks can have a big payoff if you're strategic, as many of the world's most exciting companies were once trading under $2 per share. However, there are some things to be aware of when purchasing these affordable stocks.
These penny stocks are known for seeing a lot of volatility on the market. A savvy investor can leverage this to make a nice return, although it's unlikely that your penny stocks under $2 will eventually be worth thousands.
When buying stocks at these low prices, it is imperative to research the company ahead of time. You should have a good understanding of their business model and their recent performance before adding them to your portfolio.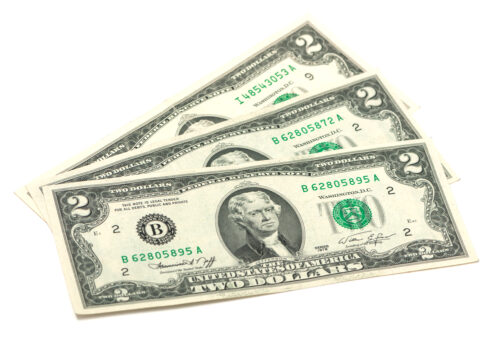 Where to Buy Stocks Under $2
There are a limited number of sub $2 stocks on the major exchanges, as NASDAQ and the NYSE have specific requirements regarding the number of shares and trading volume to be listed.
If you want to peruse these markets, we suggest using Robinhood or Webull. Robinhood is best suited for newer traders with its low-key user interface. Webull speaks most to more experienced investors who want to dig a little deeper.
For OTC stocks, look to a trading app like Fidelity. Fidelity offers commission-free trading for even the lowest-valued tickers.
Best Stocks Under $2: Final Thoughts
Stocks under $2 can be a great entry point for new traders. These tickers exist in every sector and in every exchange. It's important to study potential picks before making an investment. No matter how sure a pick may seem, always keep an eye out for volatility.
Stocks Under $2 FAQ
Below we've answered the top questions surrounding stocks under $2.
What Are the Best Stocks Under $2?
We've shared with you our favorite picks for this price range. Globalstar's satellite reach is just starting to take shape as a major player in communication. Denison Mines is just starting to scrape the surface of uranium deposits it's invested in.
What Is the Best $1 Stock To Buy?
With so many stocks to choose from, we've listed GEE Group as one of our top picks right now. The ticker is on the cutting edge of the job market and looks to grow in big ways. For more ideas, check out our best stocks under $1 guide.
What Is the Best $5 Stock?
Gran Tierra Energy Inc. (NYSE: GTE) has been on a tear recently. The company explores for, produces, and sells crude oil and natural gas in South America. It has a market cap of $471.63 million. In addition, the company posted a record net revenue of $48 million last year.
How Do I Find Penny Stocks?
Some penny stocks have enough volume to trade on NASDAQ or the NYSE. Still, others are found on over-the-counter markets that are more subject to volatility. No matter which way you go, a good penny stock trading platform will let you search for stocks that speak to you.
What Stocks Are Good for Beginners?
Penny stocks can be a great place for beginners to start investing in the stock market, as they offer the opportunity for high returns at a lower buy-in price.
Many penny stocks are not well known, so there is less competition among investors and greater potential for price appreciation.