Artificial intelligence stocks are the future of investing. This innovative tech has the potential to reshape almost every aspect of our lives, which is why investors want in on the ground floor. If you're looking for the best Artificial intelligence stocks under 5 bucks, keep reading for our top picks.
Artificial intelligence stocks are on the rise, and for good reason.
AI is one of the hottest industries in the tech sector right now, and more and more companies are investing in it every day.
In fact, the market for AI stocks has grown so much in recent years that it's become a popular investment vehicle for both expert and novice investors.
But what are the best stocks to buy, and where can you buy them?
Best AI Stocks Under $5
Cheetah Mobile (NYSE: CMCM)
Cheetah Mobile is a Chinese mobile app company based in Beijing, China.
The company is famous for developing different mobile games and apps for a variety of purposes, including browser applications and antivirus systems.
Cheetah Mobile is also involved in the development of AI and AI systems for its suite of artificial intelligence products, ranging from voice recognition to bots that speak with consumers.
With over 600 million active monthly users, Cheetah Mobile has already proven that it can create apps and AI systems that will sell to the average consumer.
As the artificial intelligence market continues to grow, especially in the company's primary market in China, Cheetah Mobile could have high growth potential.
So if you're a growth investor, this might be a stock to watch out for.


Ideanomics, Inc. (NASDAQ: IDEX)
Ideanomics Incorporated is primarily an electric vehicle company that is focused on the adoption of sustainable energy solutions for the e-mobility industry.
Aside from its electric vehicle focus, Ideanomics is also involved with financial technology, renewable energy, agriculture, and real estate industries.
Ideanomics Capital is a division of the company that provides innovative fintech solutions.
These solutions include a digital commodities trading platform and an online real estate platform that uses AI to create powerful and convenient tools for buyers, sellers, and professionals.
Simply put, Ideanomics uses artificial intelligence and machine learning to innovate while promoting efficiency and profitability.
As the world continues to transition towards cleaner energy sources, Ideanomics' goal of driving transformation through sustainability can help lead the company toward profitability.
Kubient, Inc. (NASDAQ: KBNT)
Kubient Incorporated is a digital advertising company that uses AI and machine learning for its services.
The company develops audience automation platforms that easily connect its clients' brands to their appropriate audiences without the hassle of middlemen or lengthy consumer research.
By harnessing the power and capabilities of AI and machine learning, Kubient seamlessly builds meaningful and long-lasting relationships between advertisers and their respective audiences.
With the rise of digital platforms, social media, and websites, Kubient's services are proving to be extremely lucrative in this digital marketing era.
This is how it's earned its keep as a top artificial intelligence stock.
Qudian, Inc. (NYSE: QD)
Qudian Incorporated is a Chinese financial service and credit company.
The fintech company operates a platform of the same name that aims to empower and improve the everyday lives of young and mobile-active consumers in China.
Qudian's niche is an underserved market with plenty of potential for rapid growth and development.
The company was the largest online provider of small cash credit products in the entire country during 2017.
Through artificial intelligence and machine learning, Qudian has created an accurate credit assessment model that analyses a borrower's ability and willingness to repay loans.
Short-term credit is quickly becoming the go-to choice for many young Chinese consumers, and Qudian is at the receiving end of this increased demand and profitability.
Crypto Alert
I'm A One Percenter
It doesn't matter if you have $500 or $5 million.
Here's what I recommend you do with your money right now.
ATTENTION: The following video is a serious financial warning from one of America's richest men. He believes this event will make the rich even richer while financially affecting countless others and fan the flames of social protest.
It's free to watch and by doing so I believe you'll be ahead of everyone else struggling to understand what is really going on. I hope you take advantage of this opportunity!
Click Here For All Of The Details
We earn a commission if you click this link and make a purchase at no additional cost to you.
Ready to build your portfolio? With Public.com you can follow other investors, discover companies that are inline with your beliefs, and invest into stocks and crypto with very little money! What are you waiting for? Check out Public Now!
Top AI Tech Stocks Under $5
Creative Realities, Inc. (NASDAQ: CREX)
Creative Realities is a digital marketing solutions company that provides analytic tools, technology design, and content management software.
The company's focus is on developing and delivering retail technology and solutions for its clients with the help of artificial intelligence and machine learning.
Through this tech, Creative Realities provides analytics, scheduling, and content management tools for its clients.
As more companies and businesses transition toward digital transformation, Creative Realities has the opportunity to deliver on growing demands with its suite of sophisticated AI solutions.
And this is why Creative Realities is on our shortlist for the top AI penny stocks.
Aurora Mobile Ltd (NASDAQ: JG)
Aurora Mobile Limited is a mobile developer and service provider for Chinese applications.
The company provides a wide variety of services for Chinese mobile app developers, like push notifications, analytics, and monetization.
As a service provider for mobile apps, a vast amount of private data and personal information go through their systems daily.
With the help of AI, it uses this same data to create actionable results and effective insights for the betterment of its operations and the analytics purposes of its clients.
The Chinese mobile app industry is the largest in the entire world, and as more companies and businesses look towards Aurora Mobile for its services, this stock can continue to grow in value.
CooTek (Cayman), Inc. (NYSE: CTK)
CooTek is a Chinese mobile internet company that is based in Shanghai, China.
The tech firm develops mobile games, applications, and platforms for American and Chinese mobile markets.
Besides app development, CooTek also uses artificial intelligence with their primary product, TouchPal, a smart input method for mobile devices, and Talia, an artificial intelligence-powered virtual personal assistant.
CooTek is an artificial intelligence stock that has a high potential for growth thanks to its rapidly developing American and Chinese artificial intelligence and mobile internet markets.
What You Should Know About Penny Stocks
Penny stocks are stocks that trade for $5 or less and are usually owned by companies with a small market cap.
While some penny stocks are traded on large exchanges, most are done over the counter.
With their often low liquidity and lack of ready buyers in the market, investing in penny stocks comes with risks.
Also, their high implied volatility means that they could swing hard in either direction at a moment's notice.
So do your due diligence and invest with caution.
Should You Buy Artificial Intelligence Stocks?
It's hard to give a definitive "no" or a resounding "yes" to the question of whether or not you should buy artificial intelligence stocks.
As with any investment — investing in AI stocks isn't without risks.
Still, it's worth mentioning the growing importance and influence that artificial intelligence has on our world today.
Artificial intelligence is a technology that has the potential to radically change our future for the better — and even today, it is already playing an integral role in many industries.
As with many other types of investments, it's important to determine which companies have a good chance of success before putting your money down.
Stock Advice That Beats The Market!
Stock Advisor's recommendations
have beaten the market over the past 19 years. Tired of picking losers?
Stock Dork readers can join for only $99 a year!
Check out Stock Advisor today!
Where to Buy AI Stocks Under $5?
Our top platform for investing is public.com, but they don't trade over-the-counter markets, which means that some AI stocks from companies with a micro market cap might be unavailable.
If you want even more brokers to choose from, keep reading.
Robinhood
Although Robinhood doesn't support OTC trading, it's still a great place to find penny stocks that trade on NASDAQ or NYSE.
Robinhood is a trusted and well-known broker; plus, its mobile app also provides great accessibility for traders and investors.
We also have a guide on the best penny stocks on Robinhood if you want more stock picks.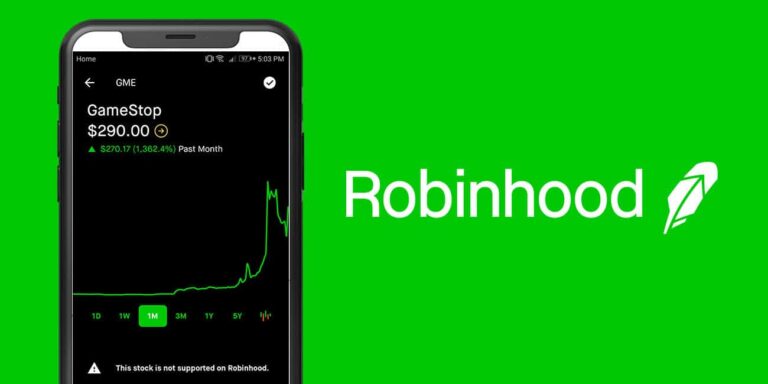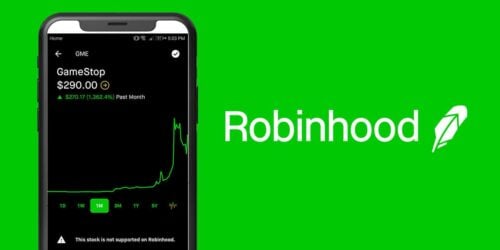 Fidelity
Fidelity is a great platform for most traders as it provides an easy-to-use interface that is continuously updated in real-time.
The platform does not charge a commission at all for the trading of U.S. stocks, including artificial intelligence stocks.
Charles Schwab
Charles Schwab provides a complete suite of tools for stock trading and investment.
The platform is ideal for traders who want to stay up with the most recent market information, as it has a wealth of tools and widgets.
TradeStation
TradeStation is a well-known and established platform for stock trading.
To level the playing field for experienced and novice traders, they provide an intuitive yet powerful platform for trading that can be accessed through their website and mobile app.
With over 30 years of proven and tested experience in the industry, TradeStation makes trading accessible.
Interactive Brokers
Interactive Brokers provides a centralized account that is synced in real-time across different devices on its platform.
As artificial intelligence penny stocks are more volatile and unpredictable, you'll want to consistently stay up to date on your shares' performances on the markets.
Traders can easily monitor stock market activity wherever they may be through their desktop, web, and mobile platforms.
Artificial Intelligence Stocks Under 5 Bucks: Final Thoughts
If you want to invest in artificial intelligence stocks before they blow up, now is the time.
AI companies are poised for serious growth, and there's a lot of profit potential for investors that get in on the ground floor.
Any growth investor dealing in small-cap or micro-cap stocks would be wise to keep an eye on this market.