Special purpose acquisition companies, or SPACs, are owning 2021. But what is a SPAC, and what are the best SPACs to buy right now? Keep reading to find out.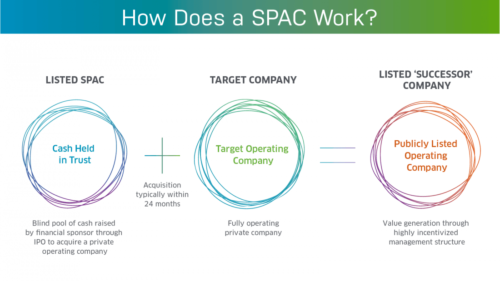 What Is a SPAC?
A special purpose acquisition company (SPAC) is essentially a shell corporation or "blank check company" whose sole purpose is to raise money to acquire one or more businesses or assets.
So a SPAC does not engage in commercial operations.
The acquisition target companies are usually privately held, and acquisitions happen through a reverse merger or a purchase agreement.
Often, SPACs are called blank check companies because they are just that: funds from investors sitting in escrow until a company is acquired.
What You Should Know About SPACs
In the past, many investors avoided SPACs, thinking they were too risky.
The SPAC process — to go public through a reverse merger — presents a scenario of reduced regulatory scrutiny compared to the traditional Initial Public Offering (IPO).
Because of this, many retail investors consider SPAC stocks to be a sneaky back door into the public markets.
However, the year 2020 turned the concept of SPACs on its head.
Now, private companies in big tech are using this once shady vehicle to keep funds away from banks and hedge funds, largely due to a costly IPO process.
Many large tech companies have felt like their loyal employees, some of whom have been around since the garage days, were robbed by the IPO process.
This is where SPACs come in — after all, they are good enough for Bill Ackman and Richard Branson.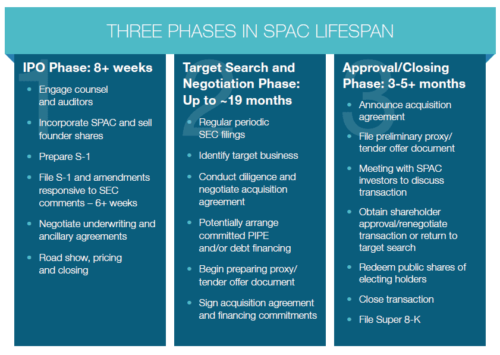 Ready to build your portfolio? With Public.com you can follow other investors, discover companies that are inline with your beliefs, and invest into stocks and crypto with very little money! What are you waiting for? Check out Public Now!
How Does a SPAC Work?
As stated earlier, a SPAC is a public company created to acquire a private company.
It works like this: a group of investors or a sponsor with a set of expertise raises money to acquire a non-listed company.
In short, a special purpose acquisition company sponsor and investor might have no idea what company they will be buying at the outset.
The money raised exists in escrow for a certain period of time, usually two years.
The money in that account is distributed to either complete the acquisition for the private company on the merger agreement or when that money is returned to investors after time expires.
Once approved by investors, the new company will start to trade on a public exchange.
What Is a SPAC Warrant?
A special purpose acquisition company holds investor money in escrow, and then those funds buy the targeted company.
After the IPO, SPAC units often get split into warrants and common stock.
This gives investors extra incentive as the warrants can also be traded in the open market.
These warrants represent the bonus for investors who have put their money into a blind pool.
For example, as stated above, units will often contain ½ warrant, a ¼ warrant, or a full warrant.
The warrant type will depend on the sponsor or the track record of who is leading/promoting the SPAC.
The SPAC warrants will be redeemable at certain trading price thresholds.
The strike price for most warrants is $11.50 per whole warrant, with adjustments for splits and other factors.
The warrants can be exercised only if the SPAC completes a deal before the specified date.
This date usually occurs 30 days after the de-SPAC transaction.
The Lifecycle of a Special Purpose Acquisition Company
A special purpose acquisition company will go through the normal Initial Public Offering (IPO) registration process, which includes filing an S-1, communicating with SEC regulators, negotiating underwriting agreements along with the roadshow, pricing, and, finally, closing.
The IPO places funds in a trust account while the management team seeks a suitable takeover candidate.
The terms of the SPAC will vary from deal to deal, but management has a given time to find an acquisition and complete the deal (24-months is a standard timeframe).
Often, initial investors into SPAC's will get units consisting of one share, plus a fraction (usually 1/3rd to 1/9th) of a warrant.
When the units split (usually 60 days after their IPO), investors get shares and warrants.
If the time expires, the capital returns to investors.
In many cases, special purpose acquisition companies will go public with a narrow or sector-specific focus in their search for an acquisition.
Following a successful acquisition, the SPAC will call a mandatory shareholder vote or tender offer.
If the shareholders vote in the negatory, they can get their money back (SPACs are usually priced at $10 per share, but this can vary).
Should the shareholders approve the deal, the combination will commence (called a "De-SPAC transaction"), and the target business will combine into the publicly traded company.
The Best SPACs to Buy
If you are sold on SPACs and want to check out some options to invest in, take a look at our top picks for the best SPACs to buy now.
Social Capital Hedosophia IV or VI (NYSE: IPOD or IPOF)
IPOD and IPOF are the fourth and sixth of Charmath Palihapitya's growing series of SPACs and are currently trading at around $10 per share.
Given the company's current value, this is a very affordable price and makes these some of the best SPACs to buy right now.
It is next in line with four previous closed deals.
These deals include IPOC, which merged with Clover Health in early 2021, and IPOE, which recently merged with finance business SoFi.
Venture capitalist Palihapitiya has an excellent reputation and a natural eye for success. He rose to notoriety by taking Virgin Galactic public with his first SPAC IPOA.
Anything Social Capital Hedosophia touches immediately generates hype among market investors.
IPOD and IPOF offer a relatively low-risk investment, especially if they follow the same trajectory as IPOB and IPOC.
IPOD is expected to announce its target shortly, so investors should buy in now if they want this stock in their portfolio before it merges.
IPOF was in line to merge with Equinox, but the deal is believed to have ended as of July.
For reference, IPOB's merger announcement with Opendoor saw the stock price jump from $10 a share to almost $25 a share in a single day.
Right now, these stocks are trading at one of their lowest points ever.
This would be a bad thing for most stocks, but for a Social Capital Hedosophia SPAC, it just presents an opportunity to buy in before an exciting target is announced.
Dune Acquisition Corp. (NASDAQ: DUNE)
Dune Acquisition Corp. is a newer SPAC, formed in December of 2020.
The company was founded by Carter Glatt and is based out of Florida.
Although Dune has not announced a merger yet, it's looking at companies in the software-as-a-service (SaaS) industry.
The team recently got to ring the NASDAQ opening bell, drawing even more attention to the new SPAC.
Crypto Alert
I'm A One Percenter
It doesn't matter if you have $500 or $5 million.
Here's what I recommend you do with your money right now.
ATTENTION: The following video is a serious financial warning from one of America's richest men. He believes this event will make the rich even richer while financially affecting countless others and fan the flames of social protest.
It's free to watch and by doing so I believe you'll be ahead of everyone else struggling to understand what is really going on. I hope you take advantage of this opportunity!
Click Here For All Of The Details
We earn a commission if you click this link and make a purchase at no additional cost to you.
The company currently trades at just under $10 per share.
Dune stands out thanks to its redemption rights, where you can redeem your shares for a set price if the company fails to merge.
Its redemption price is almost identical to its current share price, adding a nice safety net to your investment.
Soaring Eagle Acquisition Corp. (SRNGU)
Soaring Eagle Acquisition Corp. has been behind some of the top SPACs of the last several years.
For example, this was the company that took both DraftKings and Skillz public.
Its team is led by Harry Sloan, Jeff Sagansky, and Eli Baker.
They're looking to replicate this success with their seventh overall SPAC.
Since Soaring Eagle has had multiple successful SPACs in the past, this seems like a stock worth keeping a close eye on.
This SPAC recently announced a potential merger with Ginkgo Bioworks Holdings.
This is a biotech company that uses genetic engineering technology to create bacteria for specific industrial applications.
The company has also been involved in COVID-19 testing and support operations.
News about this merger was just announced at the end of July, so we don't know exactly when it will be finalized.
However, this is an exciting step forward for Soaring Eagle Acquisition Corp.
FirstMark Horizon Acquisition Corp. (NYSE: FMAC)
FirstMark Horizon is a SPAC based in New York.
The company hit the market in the fall of 2020 and has yet to announce a target.
However, the company claims that its target will likely be a technology company in the U.S. or Canada.
FirstMark's team consists of experienced technology investors that have worked with some of the world's top tech companies.
According to the company's website, its team members have worked with companies like Pinterest, Shopify, and DraftKings.
The terms of this SPAC specify that it can pursue a deal with companies affiliated with FirstMark's board members or sponsors.
This gives it a bit more flexibility than usual in acquiring a target and leverages its connections in the tech industry.
Many of the world's top tech companies have been very successful on the stock market, so investors have good reason to be excited about this SPAC.
Best SPACs to Buy: List of SPACs that Announced a Merger
If you're interested in investing in SPACs that just announced a merger, take a look at the entries that made out the shortlist.
Reinvent Technology Partners Y (RTPY)
Reinvent Technology Partners is a venture capital company that has launched three SPACs this year.
The two co-directors of RTP have been very successful entrepreneurs in their own right, having founded successful companies like LinkedIn and Zynga.
Out of the three SPACs that RTP has started, RTPY is arguably the most interesting because of its pending merger with Aurora, an autonomous vehicle startup.
There's been a tremendous amount of interest in alternative forms of transportation over the past few years, as society realizes the importance of combating climate change and making day-to-day life more efficient.
Aurora's autonomous transportation technology could be implemented in everything from long-haul delivery trucks to rideshares to public transportation. It could also be used in personal vehicles.
In July, news officially emerged about the merger between Reinvent and Aurora.
This gave Reinvent stock a slight boost after the announcement, although there's still plenty of room to grow.
Overall, Aurora is an exciting startup, and this SPAC is a way to get in on the ground floor of this new company.

NextGen Acquisition II Corp. (NASDAQ: NGCA)
Virgin Galactic was one of the first major companies to go public via SPAC.
If you missed out the first time around, buying NextGen Acquisition II could be the right move.
As of August, the company officially announced a merger with Virgin Orbit.
Virgin Orbit is part of Richard Branson's Virgin Group empire.
The company offers a launch service for small satellites — a service that has been in high demand in recent years.
Satellites are becoming much more affordable to develop and run, but launching them is still very expensive.
Virgin Orbit's launch services enable a broader range of companies to send satellites into space.
There's been a lot of hype around Virgin Group this past month, as founder Richard Branson took his first trip into space.
This signaled the beginning of enormous growth in the space industry for many investors, and satellites are part of that.
Virgin has also positioned itself perfectly as an industry leader.
This SPAC only went public in May, so it may be some time before we see a merger finalized.
The finalization of this merger could see NextGen's stock skyrise.
Also Read: Profits Unlimited Review
Zanite Acquisition Corp. (NASDAQ: ZNTE)
Zanite Acquisition Corp. has a special focus on businesses in defense, aerospace, and up-and-coming technologies.
The company is headquartered in Ohio and went public in November of 2020.
Since that time, it has generated over $230 million to use towards a merger.
Zanite has confirmed talks with Eve Urban Air Mobility for a potential target.
Eve Urban Air Mobility is an aerospace firm located in Florida that looks for ways to improve vertical take-offs among other technologies.
The mobility company looks to make an appearance on the stock market sometime towards the end of this year.
As talks for a merger escalate, this may be a very good time to get involved with Zanite Acquisition Corp.
Fusion Acquisition Corp. (NYSE: FUSE)
Fusion Acquisition Corp. is another SPAC based out of New York City.
The company is focused on the fintech space, which has seen a lot of hype from investors over the last few years.
This SPAC recently announced a merger with a mobile banking company called MoneyLion.
This merger is expected to happen in fall 2021 and is supported by some of the world's largest private investment firms.
MoneyLion offers a consumer-facing financial app to make mobile banking easier.
In addition to standard mobile banking features, it offers cash advances, automated investing, cashback rewards, and more.
Demand for reliable and innovative fintech products has gone up over the past few years, and MoneyLion is a company with a lot of potential.
FUSE stock has been trading sideways over the last few months but could go up when this merger is finalized.
Pros of SPACs
One of the most important characteristics of a Special Purpose Acquisition Company is its flexibility.
Even sponsorships shares can be adjusted from 20% to 0%.
In short, everything is negotiable.
The negotiations on shares and warrants are open, especially as the termination date approaches.
These issues are all up for grabs because there are many SPACs with different amounts of capital.
And here lies another bright spot of the SPAC, access to primary capital.
Lastly, timing is another crucial factor.
A traditional IPO or a direct listing will take an average of 6–7 months to begin trading, while a SPAC will take around 2–3 months.
Cons of SPACs
The vetting of a public company is a prolonged process to ensure the deal is a good one.
Transparent business practices are desirable, but a SPAC is not.
It is a quick-moving public offering where the paperwork process has been simplified, and transparency is low.
In short, one of the benefits of the SPAC can also be what actually makes it risky.
Moreover, no SPAC is a sure thing; a recent study by Renaissance Capital found that 89 SPACs that had gone public since 2015 posted an average loss of 18.5%.
Traditional IPOs booked an average gain of 37.2% over that time.
It's also worth noting that, in August 2021, a Securities and Exchange Commission (SEC) advisory panel released a draft proposal proposing that the regulator increase oversight of SPACs.
This may indicate that stricter disclosure requirements are on the way, which would be good for transparency.
Lastly, promoters can often get sweetheart deals when it comes to SPAC listings.
The big names in the industry can ask for a lot of stock.
Similarly, many of the investors in SPACs are just looking for quick cash, meaning they don't plan to buy the company long-term.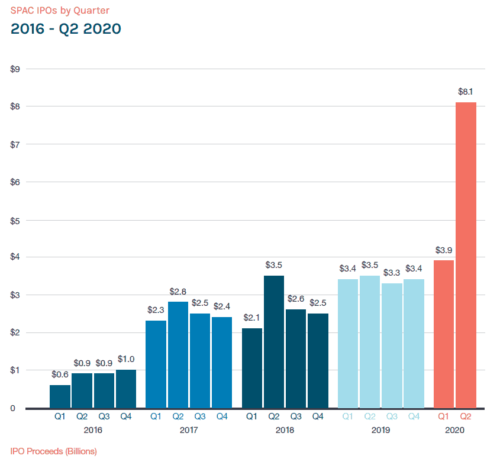 Stock Advice That Beats The Market!
Stock Advisor's recommendations
have beaten the market over the past 19 years. Tired of picking losers?
Stock Dork readers can join for only $99 a year!
Check out Stock Advisor today!
Should You Invest in a SPAC?
The short answer is it depends.
Are you willing to commit trading capital to a stock where you do not clearly know what you are buying?
For many investors, the mystery of SPACs is what makes them attractive.
Remember that you can always request your money back when a SPAC finally merges.
For this reason, SPACs offer speculative investors huge potential upside with limited downside risk.
Best SPACs To Buy: Final Thoughts
SPACs are undoubtedly the most popular "third door" on Wall Street right now, and, honestly, there are plenty of companies waiting in the wings.
CB Insights currently counts 474 unicorn companies worth over $1,535B.
Some of those names have already been on the tip of Wall Street's tongue, like JUUL, DoorDash, SpaceX, and Airbnb, to name a few.
In short, SPAC Season is just beginning.