Special Purpose Acquisition Companies or SPACs are owning 2021, so let's discuss some of the best SPACs to buy.
If you are not familiar with what they are, check out this article where we break them down in detail. In short, a SPAC is a blank check public company with the sole purpose of finding an acquisition company.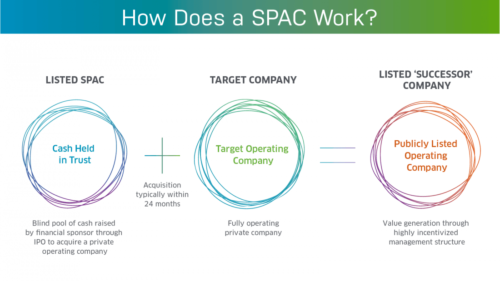 In the past, SPACs were considered risky or were viewed with some suspicion. The SPAC process — to go public through a reverse merger — presents a scenario of reduced regulator scrutiny compared to the traditional IPO. Because of this, SPACs were often considered the sneaky back door into the public markets.
However, 2020 has turned the reputation of SPACS on its head. Now, this once shady vehicle is being used by Big Tech to keep funds away from banks and hedge funds, which is in large part due to a horribly expensive IPO process.
Many large tech companies have felt like their loyal employees, some of who have been around since the garage days were robbed by the IPO process.
So, enter the SPAC. It is now good enough for Bill Ackman and Richard Branson, so it is good enough for us here at the Stock Dork. Below you can find a list of the best Special Purpose Acquisition Companies to check out that we are keeping on our watchlist.
>> Profit From This Backdoor Crypto Hack <<
List of the best SPACs To Buy
Super SPAC ALERT: Pershing Square Tontine Holdings (PSTH)
This would not be an article on SPACs if we did not mention Bill Ackman's investment vehicle. The blank check company has raised $4 billion in its search for a "mature unicorn" or as Ackman himself put it: "We're a unicorn looking to marry another unicorn." Excuse us.
Airbnb reportedly turned down a bid from Ackman and Pershing Square Tontine.
This is the second time SPAC for Pershing Square. The company also served as co-sponsor of Justice Holdings, with Nicolas Berggruen and Martin Franklin. In April of 2012, Justice Holdings purchased from 3G Capital a 29% stake in Burger King Worldwide Holdings Inc. for $1.4 billion in cash and subsequently merged with Tim Hortons, to form Restaurant Brands International.
Pershing Square is still one of the largest shareholders for the above company.
This SPAC is interesting because of its structure. It is modeled after a 17th-century investment trust (a "tontine") where if unitholders elect to redeem shares at the time of the merger, they will forgo receiving the final of their warrant distribution (2/9ths of a warrant).
These forfeited warrants will then be returned for re-distribution to the remainder of the unitholders who did not redeem.
Furthermore, Ackman did not write in a founder's fee. He is truly betting on himself here and he is doing all the media to make it happen. Do you really think he is not going to close a deal? PSTH is probably the SPAC to buy before a merger.
TWC Tech Holdings II Corp (TWTCU)
This SPAC deal still has the ink wet on the IPO. The sponsor for this company is True Wind Capital, led by Adam Clammer and Jamie Green.
According to reports, the two are targeting the technology and technology-enabled services sectors and a deal value of $1B-$10B.
True Wind's previous endeavor is why we are salivating over this one.
The sponsor's previous SPAC was Nebula Acquisition, which merged with Open Lending in January of 2018.
The stock has doubled since that combination and since July 1st of 2020, the stock is up 41%. We love this as one of our best SPACs to buy!
>> These Select Stocks Are Flying Right Alongside Bitcoin <<
GigCapital2, Inc. (GIX)
GIX has a $224 million market cap and $172 million in trust cash. The 18-month period expires on December 10th. The company was founded by Dr. Avishay S. Katz, and he is no stranger to wheeling and dealing.
Dr. Katz sold GigOptix / GigPeak. Inc. to Integrated Device Technology (IDT) in 2017 for $250 million in an all-cash transaction.
Palihapitiya has the connections in Silicon Valley to make a big splash. This is certainly one of the best SPACs to buy as there is reason to think the management team can pull a big fish into the boat.
Churchill Capital Corp. IV (CCIVU)
As most readers will understand, SPAC investing is about putting your money on the jockey and not the horse. In the world of SPAC jockeys, David Klein is a Triple Crown winner.
Apart from the analogy, Klein and Churchill Capital have a franchise of SPACs and this fourth SPAC is looking to raise $1 billion.
If anyone can do that, its this management group. Here is a rundown of the previous Churchill Capital SPACs.
Churchill Capital Corp. raised $690 million and acquired Clarivate PLC in May of last year. The latter was a successful scientifically-focused analytics company that looked to commercialize data to the scientific community. Since the reverse merger, Clarivate (CCC) has done nothing but run upward, now trading above $25.
Churchill Capital Corp II raised $600 million and it is still searching for a company to acquire.
Churchill Capital Corp. III just closed a deal to acquire MultiPlan for $11 billion, making it the largest SPAC deal ever. The target company is an analytics company in the healthcare sector.
So, now that you know a little about Klein and Churchill, here is what is planned for IV:
"The company plans to target industries with compelling long-term growth prospects, opportunities to affect valuation improvements, attractive competitive dynamics, and consolidation opportunities," Renaissance Capital reported. "It plans to target businesses with competitive advantages, significant streams of recurring revenue, opportunity for operational improvement, attractive steady-state margins, high incremental margins, and attractive free cash flow characteristics."
Klein is a seasoned dealmaker and he can tip the scales toward big deals.
We would be paying attention to his next move especially since the whole tech space is looking toward SPACs. This is definitely a top SPAC to buy if you have room in your portfolio.
Social Capital Hedosophia IV (IPOD)
IPOD is the fourth of Charmath Palihapitya's growing series of SPACs and is currently trading at a respectable $15.11 per share. It is the next in line of three recently closed deals, including IPOB which merged with Opendoor earlier this month, and IPOC which is set to merge with Clover Health in early 2021.
IPOD thus offers a good de-risked investment if its trajectory will follow the other spikes in share price that accompanies IPOB and IPOC. IPOD is expected to announce its target in early 2021, so if investors buy now then they should not have to wait very long to see what it amounts to.
For reference, IPOB's merger announcement with Opendoor saw the stock price jump from $10 a share to almost $25 a share in the span of a single day. It is likely that this momentum will be continued for IPOD once its target acquisition is announced in 2021.
Apollo Strategic Growth Capital (APSG)
Apollo Strategic Growth Capital is a very new SPAC, having just launched in November 2020. While we don't know much about this SPAC's future plans yet, we do know that they have a highly respected management team. The CEO has worked at Apollo Global Management for a decade and was a partner at Goldman Sachs prior to that. He also serves on the board of many different organizations.
Management is key when selecting SPACs to invest in, as we don't know much about their plans for the future. You'll need to be able to trust that a SPAC's management team will be able to make sound decisions about what to do with the stock moving forward.
We're excited to see what happens with this SPAC moving forward.
Best SPACs To Buy: List of SPACs That Announced A Merger
Foley Trasimene Acquisition II Corp. (BFT)
Moving forward into 2021, BFT is one of the most exciting SPACs on the market. Bill Foley founded this SPAC in October to great fanfare. Foley has a vast amount of experience in mergers and acquisitions, so his name immediately sparked interest from investors.
In December, BFT announced that they would be merging with Paysafe, a payments processing platform. Paysafe's leading investor is Blackstone, a world-renowned investment capital firm. Their connection with Blackstone alone has made them very attractive to investors.
Online payment processing platforms have become particularly important for our economy over the last few years. Many businesses have switched to taking payment exclusively online, and many consumers prefer this method as well. This means there's huge potential for Paysafe as they break into a market that's still growing.
BFT's price spiked in December 2020 after the merger was announced. Investing in this stock before the acquisition is finalized will be a smart portfolio move.
Social Capital Hedosophia V (IPOE)
This SPAC is one of many run by Social Capital Hedosophia. They are a venture capital partnership between two investment firms, and are run by respected investor Chamath Palihapitiya. At the beginning of 2021, IPOE announced they would merge with Social Finance, or SoFi.
SoFi is an online lending platform that provides loans and other financial tools to consumers. They have differentiated themselves from other lenders on the market by offering transparency, convenience, and relatively low interest rates. They've been a very exciting company to financial industry experts, who have been curious when they would go public.
It's important to note that SoFi and IPOE haven't officially merged yet. This means that now is a great time to buy this SPAC, before prices could shoot up with an eventual merger.
>> See What Stocks Are About To Pop Next <<
Skillz (SKLZ)
The most recent SPAC to be announced on this list, Flying Eagle Acquisition tools SKLZ stock public on December 16th. Skillz is a company that specializes in mobile gaming, an industry that has seen some ridiculous growth in the past 3 years.
Mobile gaming companies are a hot commodity for investors due to their unique revenue structure and extremely low operating costs compared to traditional AAA game developers. Skillz gives a marketplace for devs to showcase new games that might otherwise fly under the radar.
Skillz already has an excellent market presence with over 30 million players and $60 million in monthly prizes. In the first 3 quarters of 2020, Skillz showed an incredible 91% revenue growth and a gross margin of 95% in Q3 2020. The recent announcement on the 16th saw its share price jump from $17 to over $20, indicating that this SPAC is an excellent choice to buy and hold going into 2020.
Best SPACs To Buy: Should You Buy SPACs?
The short answer is, it depends. Are you willing to commit trading capital to a stock where you do not clearly know what you are buying? For many investors, the mystery of SPACs is what makes them interesting.
Also, it should be noted that if you get in at or near the IPO price your downside is limited since you can always request your money back when a company Despacs. For this reason SPACs offer speculative investors huge potential upside with limited downside risk.
If you are looking to buy some of the SPACs mentioned above make sure to check out Webull. Webull is an investment platform that lets you buy and sell Stocks & SPACs commission free. You also get free stocks just for joining. You can check out Webull here.
>> A Backdoor Way To Profit From Today's Crypto Bull Market <<
Best SPACs To Buy: Final Thoughts
SPACs are certainly the most popular "third door" on Wall Street right now, and, honestly, there are plenty of companies waiting in the wings. CB Insights currently counts 474 unicorn companies worth over $1,535B. Some of those names have already been on the tip of Wall Street's tongue like JUUL, Stripe, DoorDash, SpaceX, and Airbnb. just to name a few. In short, SPAC Season is just beginning.
Did we miss any SPACS that you all like? Let us know in the comments.