The Stock Dork is reader supported. We may earn a commission, at no additional cost to you if you buy products or signup for services through links on our site.
Special Purpose Acquisition Companies or SPACs are owning 2021, so let's discuss some of the best SPACs to buy.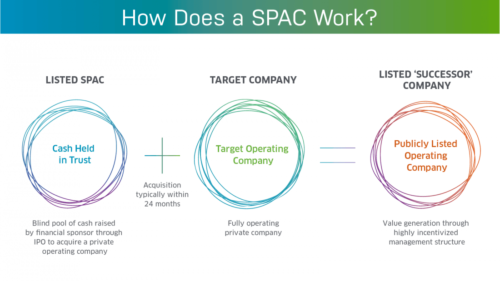 In the past, many investors avoided SPACs, thinking they were too risky.
The SPAC process — to go public through a reverse merger — presents a scenario of reduced regulator scrutiny compared to the traditional IPO.
Because of this, many people consider SPACs to be the sneaky back door into the public markets.
However, 2020 has turned the reputation of SPACS on its head.
Now, this once shady vehicle is being used by Big Tech to keep funds away from banks and hedge funds, which is in large part due to a horribly expensive IPO process.
Many large tech companies have felt like their loyal employees, some of who have been around since the garage days were robbed by the IPO process.
So, enter the SPAC. It is now good enough for Bill Ackman and Richard Branson, so it is good enough for us here at the Stock Dork.
Below you can find a list of the best Special Purpose Acquisition Companies to check out that we are keeping on our watchlist.
Wondering where to find the best SPACs to buy listed in this article? Check out WeBull! WeBull is an excellent trading app with no commission fees that offers free stocks for new users.
List Of The Best SPACs To Buy
Super SPAC ALERT: Pershing Square Tontine Holdings (PSTH)
This would not be an article on SPACs if we did not mention Bill Ackman's investment vehicle.
The blank check company raised $4 billion in its search for a "mature unicorn" or as Ackman himself put it: "We're a unicorn looking to marry another unicorn." Excuse us.
Airbnb reportedly turned down a bid from Ackman and Pershing Square Tontine.
This SPAC is interesting because of its structure.
It is modeled after a 17th-century investment trust (a "tontine") where if unitholders elect to redeem shares at the time of the merger, they will forgo receiving the final of their warrant distribution (2/9ths of a warrant).
The forfeited warrants are then returned for re-distribution to the remainder of the unitholders who did not redeem.
Furthermore, Ackman did not write in a founder's fee. He is truly betting on himself here and he is doing all the media to make it happen.
This is the second time SPAC for Pershing Square.
The company also served as co-sponsor of Justice Holdings, with Nicolas Berggruen and Martin Franklin.
In April of 2012, Justice Holdings purchased from 3G Capital a 29% stake in Burger King Worldwide Holdings Inc. for $1.4 billion in cash and subsequently merged with Tim Hortons, to form Restaurant Brands International.
Pershing Square is still one of the largest shareholders for Restaurant Brands International.
They also recently announced that they would be purchasing a 10 percent stake in Universal Music Group.
The purchase of a stake in Universal Music Group will likely serve as this SPAC's merger.
This deal is very different from most SPAC mergers, as they are essentially merging with a company that has already gone public.
Vivendi, UMG's parent company, is planning on listing UMG separately starting in the fall, and PSTH shareholders will receive this stock once the merger is complete.
PSTH shares have gone down in price over the past few months, while Vivendi stock has gone up.
This means that buying now and holding until the merger could potentially be a very lucrative option.
Many investors seem turned off by the complexity of the deal with Universal, but given the company's current value, it has the potential to generate very strong returns.
Buying now, while the stock is down from its peak, gives investors the opportunity to buy at a discount.
Social Capital Hedosophia IV (IPOD)
IPOD is the fourth of Charmath Palihapitya's growing series of SPACs and is currently trading at over $10 per share.
Given the company's current value, this is a very affordable price and makes it one of the best SPACs to buy right now.
It is the next in line of three recently closed deals.
These deals include IPOB, which merged with Opendoor last year, and IPOC, which merged with Clover Health in early 2021.
Palihapitya has an excellent reputation and a real eye for success. He rose to notoriety by taking Virgin Galactic public.
Anything Social Capital Hedosophia touches immediately generates hype among market investors.
IPOD offers a solid low-risk investment, especially if it follows the same trajectory as IPOB and IPOC.
IPOD is expected to announce its target very shortly, so investors should buy in now if they want this stock in their portfolio before it merges.
For reference, IPOB's merger announcement with Opendoor saw the stock price jump from $10 a share to almost $25 a share in the span of a single day.
Right now, IPOD stock is trading at one of its lowest points ever. For most stocks, this would be a bad thing, but for a Social Capital Hedosophia SPAC, it just presents an opportunity to buy in before an exciting target is announced.
NextGen Acquisition II Corp. (NASDAQ: NGCA)
Virgin Galactic was one of the first major companies to go public via SPAC. If you missed out the first time around, buying NextGen Acquisition II could be the right move.
News recently broke that Virgin Orbit could go public using NGCA stock later in the year. However, this deal hasn't officially been announced yet.
Virgin Orbit is part of Richard Branson's Virgin Group empire.
They offer a launch service for small satellites – a service that has been in high demand in recent years.
Satellites are becoming much more affordable to develop and run, but launching them is still very expensive.
Virgin Orbit's launch services enable a broader range of companies to send satellites into space.
While this SPAC has gone up in price slightly over the past month, it has the potential to generate huge returns if this deal goes through. This means now could be the right time to buy.
Also Read: Profits Unlimited Review
Soaring Eagle Acquisition Corp. (SRNGU)
Soaring Eagle Acquisition Corp. has been behind some of the top SPACs of the last several years.
For example, they were the company to take both DraftKings and Skillz public.
Their team is led by Harry Sloan, Jeff Sagansky, and Eli Baker.
They're looking to replicate this success with their seventh overall SPAC.
Since Soaring Eagle has had multiple successful SPACs in the past, this definitely seems like a stock worth keeping a close eye on.
This SPAC is brand new, having only gone public on February 24th, 2021.
This means they're unlikely to announce a target for several months, at least.
However, now could be a good time to get in on the ground floor of an exciting new company.
Because this SPAC is so new and we don't know much about it yet, this SPAC is best suited to those with a higher risk tolerance and the patience to wait things out.
Dune Acquisition (DUNE)
Dune is a very new SPAC. They formed in November 2020 and went public in February 2021.
Their share price dropped below $10 in March and has stayed low, making them relatively cheap for an up-and-coming SPAC.
This SPAC has stayed relatively under the weather since its launch, but it may not be that way for long.
Crypto Alert
Bigger Than Bitcoin and Better Than Gold
Even gold misses the mark.
Cryptocurrencies (like Bitcoin) are the ONLY assets that have all four of these features.
Features that can truly protect investors from today's unprecedented money printing and interference from governments.
But Bitcoin is NOT the primary cryptocurrency at the forefront of this new money revolution.
These three supercryptos are the ones taking the lead and helping investors make the most money.
Click Here For All Of The Details
We earn a commission if you click this link and make a purchase at no additional cost to you.
While they haven't announced an official target, they have indicated that they will be acquiring a software-as-a-service (SaaS) company.
The SaaS industry has been growing steadily over the past few years.
There are plenty of exciting companies in the SaaS space right now that Dune could acquire as potential targets.
This SPAC is relatively new, so it could be several months or even years before they specify a target.
This could be a great opportunity for investors to buy into an exciting new company at an affordable price.
Best SPACs To Buy: List of SPACs That

Announced

A Merger
Reinvent Technology Partners Y (RTPY)
Reinvent Technology Partners is a venture capital company that has launched three SPACs this year.
The two co-directors of RTP have been very successful entrepreneurs in their own right, having founded successful companies like LinkedIn and Zynga.
Out of the three SPACs that RTP have started, RTPY is arguably the most interesting because of their pending merger with Aurora, an autonomous vehicle startup.
There has been a huge amount of interest in alternative forms of transportation over the past few years, as society is realizing the importance of combatting climate change as well as making day-to-day life more efficient.
Aurora's autonomous transportation technology could be implemented in everything from long-haul delivery trucks to rideshares to public transportation.
It could also be used in personal vehicles.
At the beginning of June, news emerged about a potential deal between RTPY and Aurora, although it hasn't been officially announced yet.
The announcement is likely to happen later this summer.
This gave RTPY stock a slight boost, although there's still plenty of room to grow.
Overall, Aurora is an exciting startup, and this SPAC is a way to get in on the ground floor of this new company.
Virtuoso Acquisition Corp. (NASDAQ: VOSO)
Virtuoso Acquisition Corp. recently announced a merger deal with a startup called Wejo. This deal should close sometime in the next quarter.
Wejo is a vehicle data company that can access billions of key data points from cars around the world.
This technology has a huge range of potential applications in the future, especially given society's newfound interest in artificial intelligence.
Other companies could use Wejo's data to improve driver safety and efficiency.
So far, Wejo has partnered with some of the world's largest automotive companies to collect driving data in a secure and ethical manner.
They've also partnered with tech companies like Microsoft.
This startup has a lot of potential, and this SPAC provides an opportunity for investors get in on the ground level.
VG Acquisition Corp. (VGAC)
VG Acquisition Corp. is another company run by Virgin Group, Richard Branson's British conglomerate.
The group is best known for running Virgin Airways. They most recently took their spacecraft company Virgin Galactic public via a SPAC.
Because Virgin Galactic was a SPAC success story, many investors have had their eyes on VGAC to see what company they would be taking public.
Many assumed it would be within the Virgin network of companies and were surprised when VG Acquisition Corp. announced they would be taking 23andMe public instead.
This SPAC has gone down in price over the last few months as the general excitement around SPACs starts to wane.
However, 23andMe is a very successful company that has the potential to do very well on the stock market.
The company provides genetic records and testing, and they have a much larger database than any of their competitors.
This database is full of information that could be very valuable to the medical community, and therefore could be very lucrative for VG Acquisition Corp. as well. Demand for accessible genetic testing has gone up in recent years.
Many people have found that learning about their lineage can help them take better care of their health moving forward.
VGAC stock is very affordable right now. This is a great time to invest in 23andMe at a low price before the merger is finalized.
What Is A SPAC?
A special purpose acquisition company (SPAC) is essentially a shell corporation whose sole purpose is to raise money to acquire one or more businesses or assets.
Some people refer to these as SPAC stocks. Target companies are usually privately held.
This acquisition is accomplished through a reverse merger or a purchase agreement.
Often, SPACs are called "blank check companies" because they are just that: funds from investors sitting in escrow until a company is acquired.
What Is a SPAC Warrant?
A Special Purpose Acquisition Company holds investor money in escrow.
Those funds then buy the targeted company.
After the IPO, SPAC units often get split into warrants and common stock.
This gives investors extra incentive as the warrants can also be traded in the open market.
To be frank, the warrants represent the bonus for investors who have put their money into a blind pool.
For example, as stated above, units will often contain ½ warrant, a ¼ warrant, or a full warrant.
The warrant type will depend on the sponsor or the track record of who is leading/promoting the SPAC.
The SPAC warrants will be redeemable at certain trading price thresholds.
The strike price for most warrants is $11.50 per whole warrant with adjustments for splits, etc.
The warrants can be exercised only if the SPAC completes a deal before the specified date.
This date usually occurs 30 days after the De-SPAC transaction.
The Lifecycle of a Special Purpose Acquisition Company
A special purpose acquisition company will go through the normal Initial Public Offering (IPO) registration process, which includes filing an S-1, communicating with SEC regulators, negotiating underwriting agreements along with the roadshow, pricing, and, finally, closing.
The IPO places funds in a trust account while the management team seeks a suitable takeover candidate.
The terms of the SPAC will vary from deal to deal, but management has a given time to find an acquisition and complete the deal (24-months is a standard timeframe).
Often, initial investors into SPAC's will get what are called units which consist of one share, plus a fraction (usually 1/3rd to 1/9th) of a warrant.
When the units split (usually 60 days after their IPO), investors get shares and warrants.
If the time expires, the capital returns to investors.
In many cases, Special Purpose Acquisition Companies will go public with a narrow or sector-specific focus in their search for an acquisition.
Following a successful acquisition, the SPAC will call a mandatory shareholder vote or tender offer.
If the shareholders vote in the negatory, they can get their money back (SPACs are usually priced at $10 per share, but this can vary).
If the shareholders, approve the deal, the combination will commence (called a "De-SPAC transaction") and the target business will combine into the publicly traded company.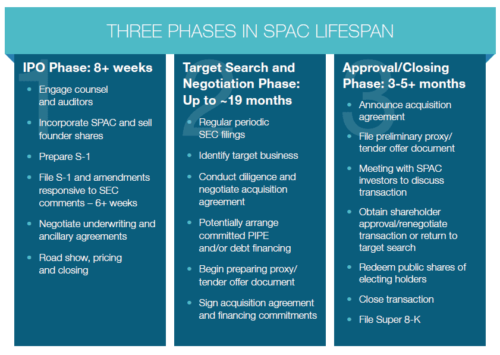 How Does a SPAC Work?
A Special Purpose Acquisition Company or SPAC is a public company created to acquire a private company.
It works like this: a group of investors or a sponsor with a set of expertise raises money to acquire a non-listed company.
In short, a Special Purpose Acquisition Company sponsor and investor might have no idea what company they will be buying at the outset.
The money raised exists in escrow for a certain period of time usually 2 years.
The money in that account is distributed to either complete the acquisition for the private company on the agreement of a merger or when that money is returned to investors after time expires.
Once approved by investors, the new company will start to trade on a public exchange.
Pros of SPACs
One of the most important characteristics of a Special Purpose Acquisition Company is its flexibility. Even sponsorships shares can be adjusted from 20% to 0%.
In short, everything is negotiable.
The negotiations on shares and warrants are open especially as the termination date approaches, and really these issues are all up for grabs because there are a lot of SPACs with different amounts of capital.
And here lies another bright spot of the SPAC, access to primary capital.
Lastly, timing is another key factor.
A traditional IPO or a direct listing will take an average of 6-7 months to begin trading, while a SPAC will take around 2-3 months.
Cons of SPACs
The vetting of a public company is slow for a reason.
Transparent business practices are desirable, but a SPAC is not.
It is a quick-moving public offering where the paperwork process has been simplified and transparency is low.
In short, one of the benefits of the SPAC can also be what actually makes it risky.
Moreover, no SPAC is a sure thing. A recent study by Renaissance Capital found that 89 SPACs that had gone public since 2015 posted an average loss of 18.5%.
Traditional IPOs booked an average gain of 37.2% over that time.
Lastly, promoters can often get sweetheart deals when it comes to SPAC listings.
The big names in the industry can ask for a lot of stock.
Similarly, many of the investors in SPACs are just looking for quick cash, meaning they don't plan to buy the company long-term.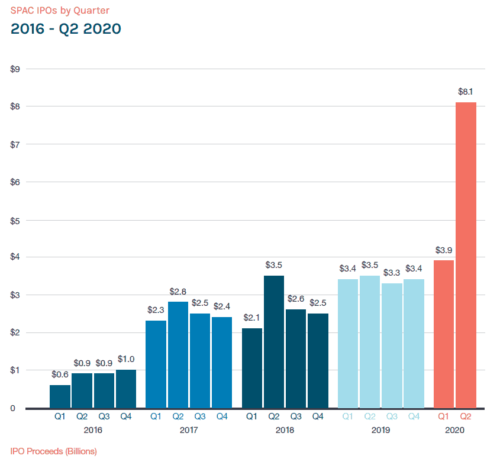 Best SPACs To Buy: Should You Buy SPACs?
The short answer is, it depends. Are you willing to commit trading capital to a stock where you do not clearly know what you are buying?
For many investors, the mystery of SPACs is what makes them interesting.
Remember that you can always request your money back when a SPAC finally merges.
For this reason, SPACs offer speculative investors huge potential upside with limited downside risk.
Best SPACs To Buy: Final Thoughts
SPACs are certainly the most popular "third door" on Wall Street right now, and, honestly, there are plenty of companies waiting in the wings.
CB Insights currently counts 474 unicorn companies worth over $1,535B. Some of those names have already been on the tip of Wall Street's tongue like JUUL, DoorDash, SpaceX, and Airbnb, just to name a few.
In short, SPAC Season is just beginning.
Did we miss any SPACS that you all like? Let us know in the comments.
Recommended Next
Millionacres is a service provided by the creators of Motley Fool which offers investors guidance and education on real estate investing.
Money Map Report is a top-tier research service from the talented team at Money Map Press. This particular publication is the brainchild of respected finance personality Shah Gilani.