Every day we wake up to new technologies challenging everything we know about the world. Some advancements seem for the worse, while others can help us out in whole new ways.
Companies like TradeSmith are using new ideas for good and aren't reserving them for the upper echelon of society. In fact, they've recently revealed an AI-driven research service and made it available to everyone.
This Predictive Alpha Prime review explains everything you need to know about the service and how it can help your wallet grow.

What Is Predictive Alpha Prime?
Predictive Alpha Prime is the latest in research service TradeSmith's portfolio of tools. It's led by none other than financial guru Keith Kaplan.
The platform was revealed as part of a recent A.I. predictive power event. We've all seen the incredible possibilities of AI through ChatGPT and other rising stars. Predictive Alpha Prime uses the newest technology to predict stock prices in ways we've never seen before.
TradeSmith seeks to use its state-of-the-art software to help all of us see opportunities in a new light. How's all this possible, you ask?
Before we go any further, let's take a closer look at the man behind the project.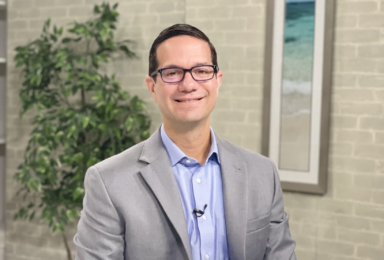 Who is Keith Kaplan?
Keith Kaplan has a long history in the tech world. He graduated from Towson University in the early 2000s with a degree in Computer Information Systems and went on to become a software architect.
His love for software is met by a passion for all things finance. After a stint at Stansberry Research, Kaplan joined the TradeSmith team as President and Chief Product Officer. He took over the CEO role in 2019.
At TradeSmith, Kaplan and his team have developed technical analysis tools that help regular folks identify the right stocks to invest in. His system would've accurately forecasted the dot-com crash of 2000 and the housing crash of 2008 and warned subscribers ahead of time about the stock market crash of early 2020. That's just the tip of the iceberg.
His focus over the last six years has been on A.I. and its incredible predictive power.
TradesSmith's latest project is a program called An-E, short for Analytical Engine. Keith claims its market predictions are like nothing he's ever seen.

What is Project An-E?
Project An-E is a next-generation investment tool designed to put traditional trading on its head. By analyzing a series of data, it can estimate a stock price for the next month or even further down the road.
In theory, investing in stocks An-E predicts are on the way up could present you with some major gains. Similarly, avoiding stocks on the way down could protect you from crushing losses.
Built over the last six years, the program is already making a name for itself. TradeSmith has enough data to feel comfortable releasing An-E to the world.
What makes it especially unique is that TradeSmith puts it in the hands of everyday folks like you and me.
Seem too good to be true? Let's investigate how the program works and how it can help you find some profit.
How Does This Predictive Power A.I. (An-E) Work?
Kaplan describes A.I. as an advanced form of pattern recognition. The predictive power of An-E just takes these patterns to an unfathomable level.
We first saw the potential of A.I. in the complex game of chess. The game is all about planning out patterns to ultimately capture your opponent's king.
AI-powered chess programs seemed completely erratic in their strategies. They were throwing away important pieces and appeared intent on losing. It was like nothing we'd ever seen before or thought to try.
However, the patterns A.I. came up with ended up crushing even grandmasters by thinking in a way we couldn't comprehend. Imagine that potential in the investment game.
For the first time ever, we're seeing A.I. crunching data and offering trade ideas the human mind might miss.
An-E's success lies in its secret sauce. It's fed billions of data points to build an algorithm from.
Most of these data points are completely meaningless to the average stock. What makes An-E truly profound is its ability to find hidden connections between seemingly random bits of information.
It's those hidden connections humans will likely never consider that give A.I. a huge advantage. What's even more mindblowing is that the program will only get smarter over time.
>> Sign up and access AI-driven predictions <<
How accurate are An-E's predictions?
Last fall, the brains at TradeSmith took An-E out for a spin. They selected several stocks and let the A.I. predict the stock price a few months into the future.
I'll let the numbers speak for themselves. It estimated a 9.4% increase for Amazon (NASDAQ: AZMN). The stock ended up climbing 14.5% along a similar pattern.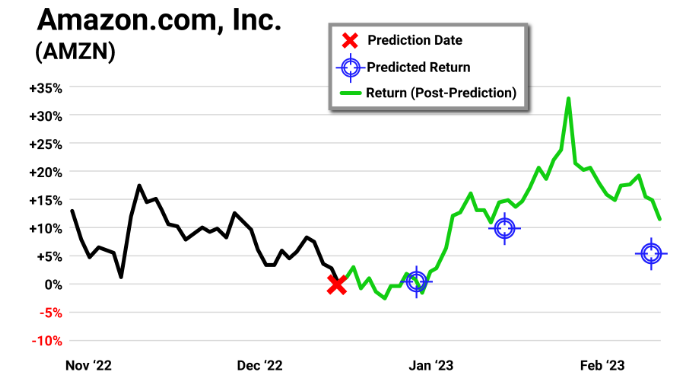 Its price prediction for SPDR Gold Trust (NYSEARCA: GLD) was almost right on the nose at the two-month mark.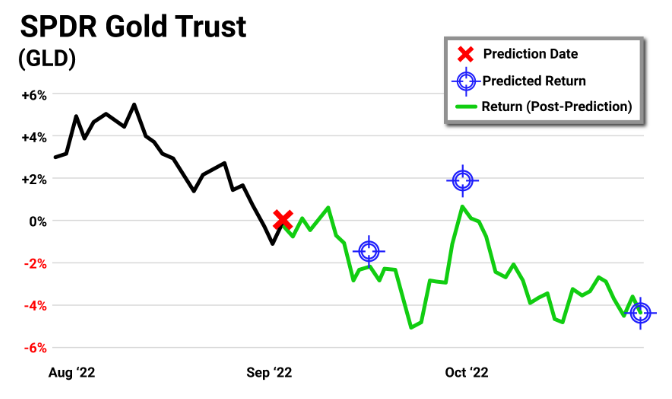 Many top investors had Johnson & Johnson (NYSE: JNJ) pegged to do well at the end of last year. An-E begged to differ and ended up being the victor. Folks using A.I. could have avoided some heartbreak here.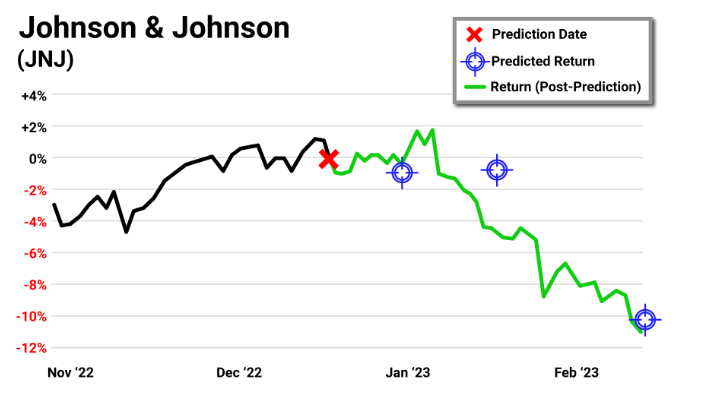 That said, An-E's programming isn't a perfect science. The closer to the present the price prediction is, the more accurate it tends to be. Assessments get a little grainy the further out you go.
TradeSmith says the sweet spot right now lands in the 30 to 60-day range after a long bout of testing. It's now finally ready for us.
What's Included with Predictive Alpha Prime?
Here's what you get when you pick up your Predictive Alpha Prime bundle: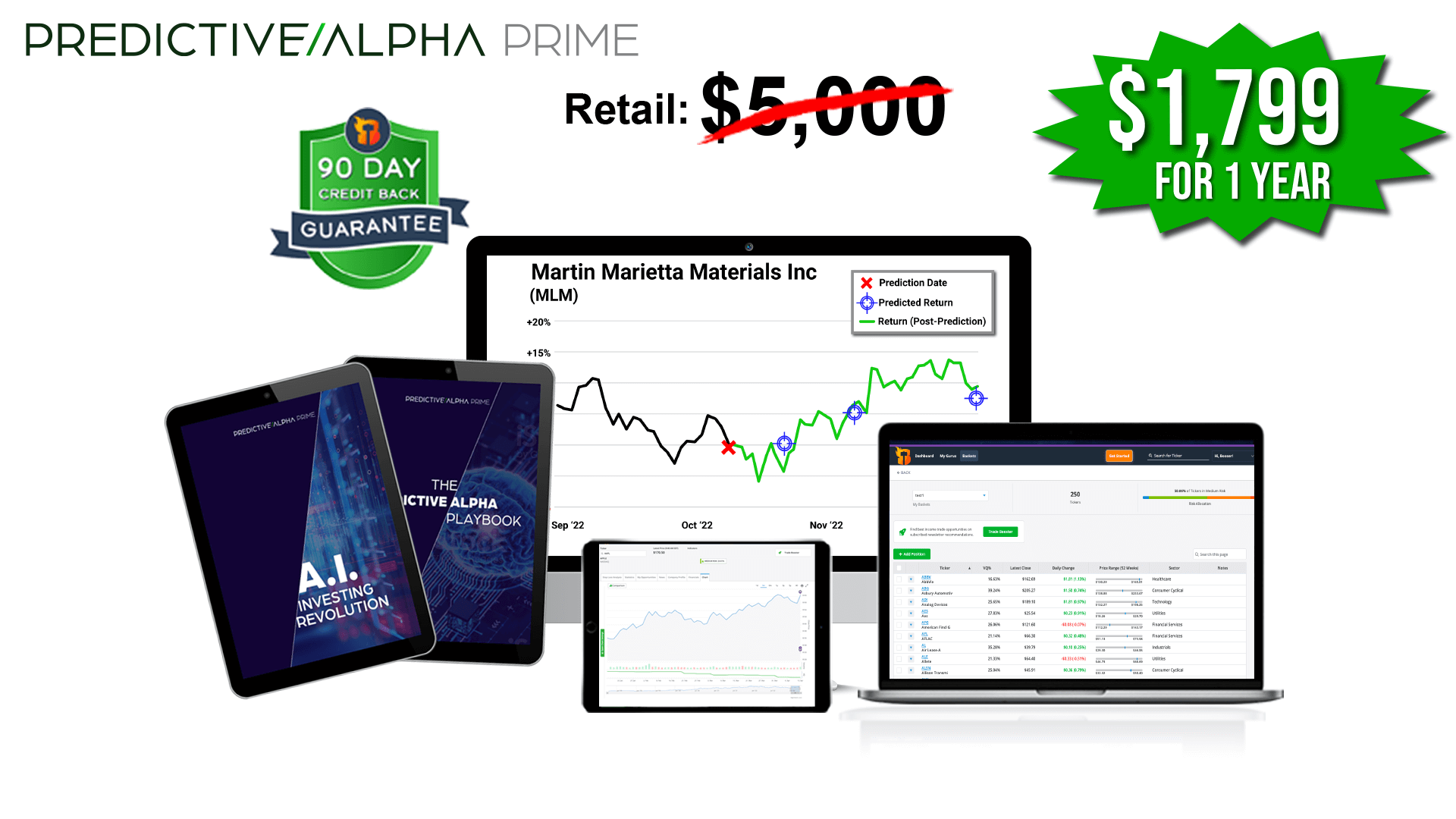 ONE FULL YEAR MEMBERSHIP to Predictive Alpha Prime (64% off the normal price)
First and foremost, you get a full year's access to the Predictive Alpha Prime research service. Its secret weapon, An-E, could very well be the only artificial intelligence program of its kind available to the masses.
You can log in any time to check the latest forecasts on nearly every stock on the S&P 500. An-E also checks out promising ETFs and funds for a more diverse portfolio. It runs daily to ensure the information's up to date.
That's already a lot of stock market coverage. Kaplan claims An-E continues to get smarter with each passing day. Before long, it should be able to tackle virtually any stock on the market.
Best of all, there won't be a price increase as more stocks get added.
The system is incredibly intuitive, too. All you have to do is type in the ticker symbol to receive a future price prediction.
No worries if you're skeptical of the predictive alpha tool. TradeSmith has a team of financial experts working full-time to vet the software. They'll pull out some of their favorites as top trade recommendations.
>> Discover the future of investing with Predictive Alpha Prime. Get 64% off! <<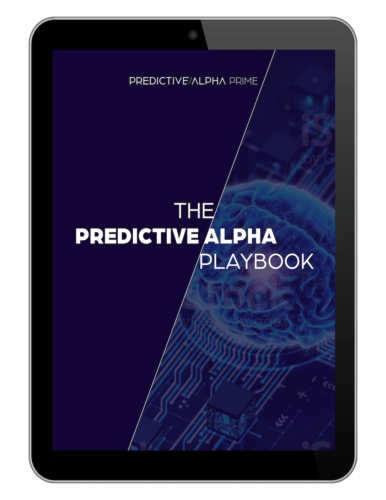 Special Report (I): The Predictive Alpha Playbook
There's a lot of science that goes into An-E's price prediction system. It's admittedly well beyond something most of us will ever understand.
The good news is that we don't have to. The TradeSmith team put together a carefully-crafted e-book containing everything you need to know about investing with A.I.
Inside The Predictive Alpha Playbook, you'll learn how An-E makes price predictions in easy-to-read plain English. The report also has tips on compounding gains and the power of probability in your investment strategy.
It doesn't matter if you're new to A.I. or new to investing in general. The e-book takes you through a step-by-step process of how to use the system and get on with trading.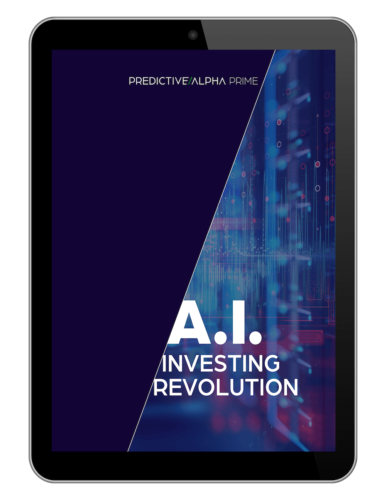 Special Report (II): A.I. Investing Revolution
The rise of A.I. is affecting way more than just stock picks. Unless you're living under a rock, you've likely heard about ChatGPT and how A.I. is taking certain industries by storm.
TradeSmith has been watching A.I. for the last six years to stay on the cusp of worldwide trends. The A.I. Investing Revolution lays bare the journey A.I. has taken and where we can expect it to go in the future.
You'll read the latest news on the topic and discover behind-the-scenes projects set to use A.I. Find out where A.I. is already making financial breakthroughs and other ways to invest in the technology.
Predictive Alpha Prime Review: Pros and Cons
Let's take a look at the pros and cons of Predictive Alpha Prime's A.I. service.
Pros
From guru Keith Kaplan and TradeSmith

One full year of Predictive Alpha Prime included

Provides 30-day price predictions for stocks

Vetted by a team of investment researchers

Will add new stocks over time

Intuitive and easy to use

Two free bonus reports

Currently discounted by 64%
Cons
No community chatroom

Does not look beyond the S&P 500 at this time
Predictive Alpha Prime Reviews by Members
An-E and Predictive Alpha Prime are new to TradeSmith's portfolio of financial tools. The investment site isn't new to offering market research and tools with its large quantity of additional services.
Kaplan calls out several folks in his presentation who say they have already won big, thanks to insights from TradeSmith. Here are a handful of folks sharing their experience with the platform:
"Disclaimer: The investment results described in these testimonials are not typical; investing in securities carries a high degree of risk; you may lose some or all of the investment."
>> Join Predictive Alpha Prime and leverage AI to grow your wallet! <<
Is the Service Right for Me?
The beautiful thing about Predictive Alpha Prime is how simple it is. Kaplan says his program is just as easy to use as Google's search bar. All you have to do is type a stock into An-E and everything you need to know appears on the screen in moments.
You don't have to be a financial expert to understand it, either.
For example, someone without a lick of trading experience can see the full details of each price prediction over the next 30 days. The program clearly spells out whether the stock should win or lose.
You won't be the only one looking at the data. TradeSmith has a team of analysts who scour An-E's findings and make recommendations. These come through email as trade alerts.
Folks with more experience will have one more source for vetting picks. As I said earlier, the program makes unexpected connections between bits of information that you probably hadn't thought of yourself.
How Much Does Predictive Alpha Prime Cost?
Predictive Alpha Prime normally costs $5,000 for a membership. If you act quickly, you can get your full year of Predictive Alpha Prime for just $1,799. That's an amazing 64% off the cover price.
That breaks down to less than $150 monthly or just $5 per day. You'd pay more for a Starbucks drink than for access to this revolutionary investment research system.
Keep in mind that the wizards at TradeSmith only expect An-E to get smarter in the future. As you use the program, more stocks will become searchable at no additional cost to you.
This price point also includes the two bonus reports mentioned earlier. Each of those retails for 99 bucks on its own.
Refund Policy
You've got 90 days to play with An-E before you have to make a firm decision. Any time during those first three months, you can contact customer support for a credit on your purchase price.
You can apply that credit to any one of TradeSmith's other services or publications. There is no option for a cash refund on this service.
Is Predictive Alpha Prime Worth It?
Five dollars a day for untold insights into the world of stocks is an incredible deal for the price.
You get full, unrestricted access to An-E and all its wisdom that our human minds simply can't come to on our own. The information could lead you to substantial financial growth while saving you from unexpected losses.
This deal includes two bonus reports on An-E and the future of A.I. You'll also get recommendations from TradeSmith elite, who regularly interpret the software's findings.
I love that Kaplan made his program so simple. It's accessible to anyone who understands how A.I. can change investing forever.
Sign up for Predictive Alpha Prime today so you can capitalize on all this A.I. platform has to offer.
>> Unlock AI-driven stock predictions with Predictive Alpha Prime. Sign up now! <<