Wall St Rank provides a daily ranking of the top-rated stocks by the best analysts on Wall Street.
But is this analysis service worth your time and money? Keep reading our Wall St Rank review to find out.
The information provided by Wall Street Rank is based on the consensus forecasts by Wall Street analysts which has multiple layers of filtering to surface only the best buy opportunities on a daily basis.
The stock list is regarded as a viable outlet for investors, as it allows users to see analyst rating scores, 1-yr projected revenue, 1-years projected earnings, and the upside potential based on price targets.
The usefulness of the platform is that you can come up with new investment ideas in a matter of minutes because the ranking adjusts to the criteria as well price movements on a daily basis.
With that said, is this stock list the real deal, and what appealing features does it offer?
Our Wall St Rank review will help you decide whether it's worth the investment.

Wall St Rank Review: Overview
Wall St Rank is based in New South Wales, Australia, and was founded in August 2020.
The company is the brainchild of Amrit Rupasinghe, a product specialist who was most recently the Head of Product at a fast-growing Ed Tech company in Sydney.
Rupasinghe has also previously been a Financial Analyst at Citi Bank, a Portfolio Manager at JB Financial, and completed level 1 of the Chartered Financial Analyst Program.
During the pandemic, Rupasinghe saw a lot of new investors in the market getting caught up in the hype and misinformation.
He wanted to create a tool that allows these inexperienced investors, especially younger Gen Z investors, the ability to validate their decisions with Wall Street's expert opinion.
The startup grew in popularity from its beta phase, with viral engagement on various key investment groups via Facebook and Discord.
Since then Wall St Rank has had over 35,000 people from over 147 countries use the site. Just 2 months ago the platform introduced a freemium model, and 5,500+ users have signed up since.
>> Already sold on Wall St Rank? Click here to sign up now! <<
How Good Is Wall St Rank?
Wall St Rank focuses on bringing hedge fund research to the masses by condensing analyst research reports into bite-sized content in a refreshingly beautiful interface.
Wall St Rank features analyst forecasts on over 5,000 stocks, condensing the key insights regarding future upside potential so it is easy, accessible, and digestible to any investors regardless of their sophistication.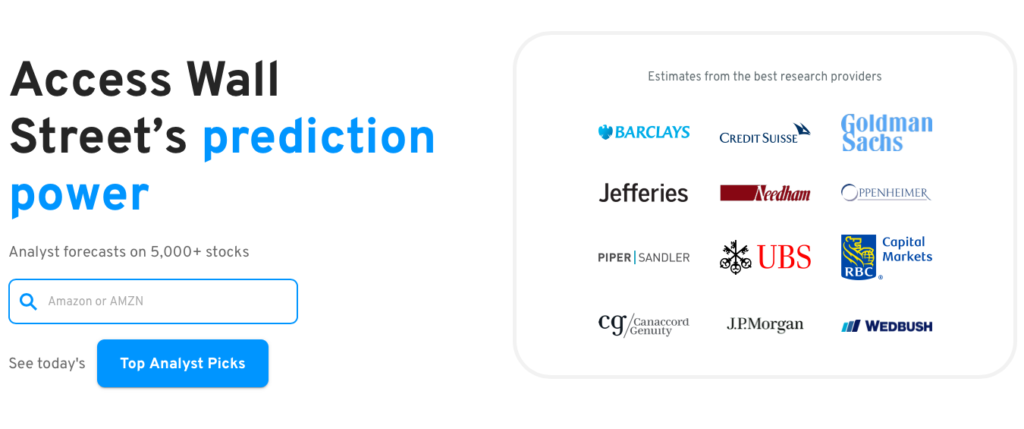 The site is transparent about the performance of its rankings. With one click, users can teleport back to forecasts made 1-yr prior and observe the performance of those rankings to date.
More on This Comprehensive Investing Tool
Each day, over 100 stocks with the highest forecasted average return are ranked for each criterion. There are four criteria.
The stocks and their average return are covered by at least five top analysts with a minimum consensus 'BUY' rating, positive 1-yr forward revenue, and positive 1-year forward earnings.
The platform's biggest focus is saving users time during their due diligence process.
This is invaluable to investors because performing due diligence on stocks is a time-consuming and tedious process.
How Wall St Rank Works to Increase an Average Return
Wall St Rank has a high bar for featuring stocks on the rankings.
The site provides tools to help users hone in on the highest conviction projections from top analysts.

Wall Street Analysts
Some of the Wall Street analysts featured on the stock list platform include Goldman Sachs, Piper Sandler, and Jeffries.
For each analyst, a success rate is given to substantiate analyst ratings.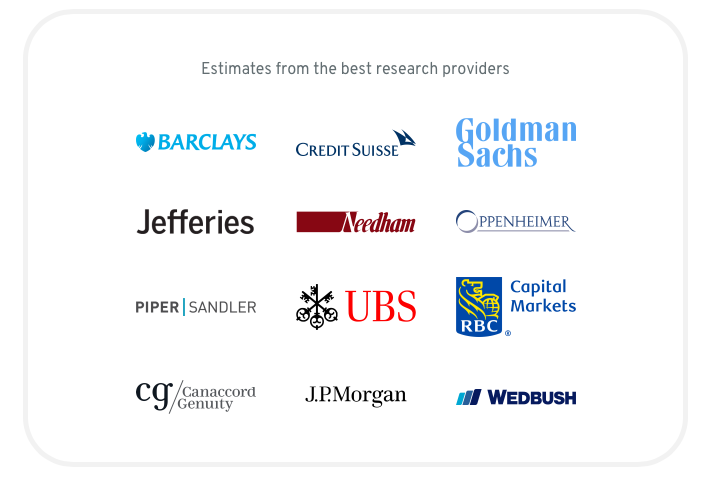 Typically, the success rate is based on 300 or 400+ successful ratings to judge the performance of Wall Street analysts.
Each analyst's respective sector is listed, whether it's the technology sector, services sector, or financial sector.
The platform successfully aggregates multiple analyst predictions, then calculates an average price target.
Analyst Predictions
Wall St Rank can eliminate bias toward any particular analyst or firm by averaging projections from all analysts covering the respective stock.
Twilio, Amazon, Activision Blizzard, Chegg are some of the high-growth companies featured on the site.
There are a range of infrastructure companies, healthcare companies, tech companies, automotive companies, etc listed on the platform.
For each stock listing, you get:
An average analyst rating

One-year price target

One-year revenue forecast

One-year earnings forecast

A rating score

Number of analysts covering the specific stock daily

Wall St Rank has been featured in mainstream media, including CBS, Business Insider, and Market Watch.
>> Like what Wall St Rank has to offer? Sign up HERE! <<
Is Wall St Rank Legit?
Though the company is barely a year old and not much is known about the platform in wider circles, Wall St Rank appears to be completely legitimate.
The company stresses that the data, content, and other information provided are for educational purposes to help users improve their decision-making process.
The Platform Offers Insight, Not Investment or Financial Advice
Wall St Rank does not offer investment advice, and the author of the website does not provide financial advice.
The platform is very transparent about what it does and what the purpose of its information is.
The service offers news and identifies the most reliable information to educate interested users who are looking to optimize their portfolio management.
Wall St Rank has a detailed privacy policy that explicitly expresses what data is collected, who it shares information with, and how the platform protects personal information so outside parties cannot access it.
What Is Included in Wall St Rank?
Wall St rank offers two plans: Free and Believer.
Keep reading to find out more about the features provided in each plan.
Wall St Rank Free Plan
The Wall St Rank free plan adds value for long-time investors who simply don't have the time to conduct due diligence.
The basic plan includes price targets and ratings as well as large-cap rankings and performance projections.
You can use the platform's search engine to find every ranking and stock you're interested in viewing.
Wall St Rank Believer Plan
The believer plan on Wall St Rank is considerably more comprehensive than the free plan.
Like the Basic plan, the believer plan includes price targets and analyst ratings.
Plus, it has performance projections.
In addition to large-cap rankings, the believer plan offers users small and mid-cap rankings, and you receive frequent estimates and adjustments for a $10 billion market cap with the large-cap.
The small-cap covers a market cap of $1–5 billion, while the mid-cap spans $5–10 billion.
Also, Believer Plan users can access the 100 Biggest Bulls cap, including a $1 billion market cap.
You can also toggle the filter to research any stock, looking at its average return and its performance on the market.
Investors can filter to find data on:
Strong buy stock

High accuracy stock

Hypergrowth stock

Profit machines (estimated to grow earnings by more than 50%)
You can find all of the 5,000+ stocks on offer using the search engine, looking at their performance, average return, and the analysts who recommend them.
>> Ready to get access to research-backed stock lists with Wall St Rank? Sign up now! <<
How Much Does Wall St Rank Cost?
Let's take a look at what each of the plans on Wall St Rank cost.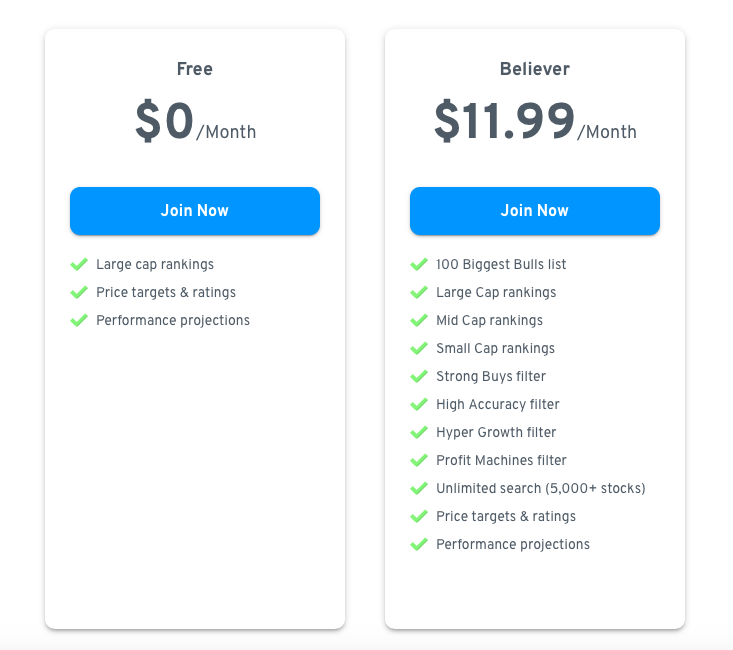 Free Plan
Both on a monthly and yearly basis, the free plan on Wall St Ranks comes without cost.
Believer Plan
Users pay $15.99 for the believer plan, allowing them to search and filter information at will while providing comprehensive tools and various rankings.
That figure drops to $11.99 monthly with a 25% discount.
If you choose to be billed yearly, you will pay a shade under $144 for the service.
Wall St Rank Cancellation Policy
Both the free and Believer plan are automatically recurring plans.
To stop payments to the service, you can cancel at any time before the next billing date so you're not charged for another cycle.
Wall St Rank Pros and Cons
While Wall St Rank offers a suite of powerful tools designed to improve the efficiency of your due diligence, there are areas where the service could improve.
Follow along to see the pros and cons of using this service.
Wall St Rank Pros
Due Diligence – The success rate, the average return per recommendation, and the rating out of five illustrate how reliable each analyst is. The service also provides valuable performance information to hold analysts accountable and showcase stock viability (and volatility)
Resources – The service provides a wide range of financial tools, filters, and more to pique the interests of investors — particularly younger, inexperienced investors who want to learn more about the stock market.
Wall St Rank Cons
Website – While the information the service provides is comprehensive, there isn't much to browse aside from the analyst picks and the performance of each stock featured.
>> Ready to start using Wall St Rank? Click here to sign up now! <<
Wall St Rank Reviews by Customers
"Wall St Rank is different from the standard market screeners that have hundreds of filters designed for the sophisticated trader. It's simple and intentionally designed for Gen Z and part-time investors. I think it's very unique. I'll be following it closely" – Manny, Contributor, Market Watch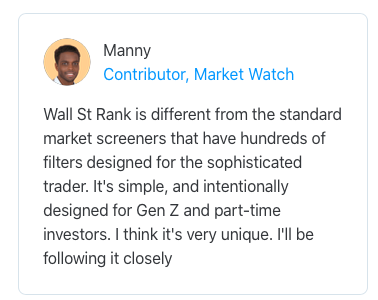 Another Wall St Rank Review reads:
"I work in management consulting, and I work long hours. By nature, I only make financial decisions after extensive research. During the pandemic I lost out on many large buying opportunities because I just couldn't dedicate the time to stock research during the pandemic I found Wall St Rank on a forum recently, and I feel like it was built for me. I have trust in the analyst research process by having gone through the training myself earlier in my career. I now invest once a month, and my shortlist is built purely off Wall St Rank. I feel like it was made for people like me." – Angela Torres, Management Consultant, AMA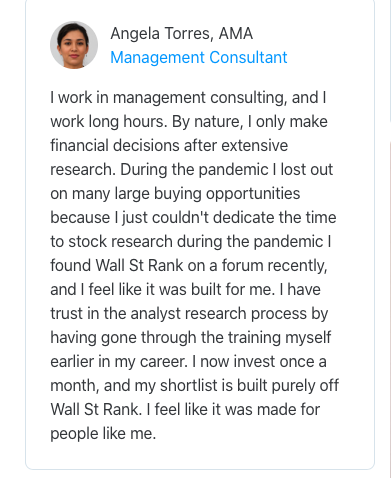 Is Wall St Rank Right for Me?
If you're a Gen Z investor or someone who doesn't have much time for due diligence, then Wall St Rank was created for you as the service was designed to save you time while surfacing the best stocks as deemed by expert analysts.
The bite-sized nature of the content allows you to understand the high-level prospects of a stock very quickly.
Wall St Rank Review: Final Thoughts
Wall St Rank is a solid investment tool if you want to save considerable time discovering stocks with solid prospects.
Unlike other stock research platforms, users have the comfort of knowing that the picks highlighted have been pre-screened by the best analysts, and have received a positive recommendation from them.
The platform is an excellent emerging resource that can ease your due diligence burden.
Though this service is relatively new, it has developed a good reputation among its users.
If you're in the market for an easy-to-use tool, that serves you the best analyst recommendations, then you definitely want to bookmark this one.
>> Think Wall St Rank is right for you? Sign up HERE and get access NOW! <<