TC2000 has powerful trading tools that are light years ahead of more popular options like Robinhood and Webull. Read our TC2000 review and find out if this advanced trading platform is a better choice for advanced traders like you.
TC2000 Review: Overview
Unlike basic trading platforms, TC2000 has capabilities that are well-suited to advanced and professional traders' needs.
Also, while TC2000's complex features can appeal to more advanced traders, there are plenty of educational and developmental tools that can be used by beginners.
To use TC2000, you need to download the mobile app or desktop program, and downloads are available for iOS, Android, Windows, and Mac.
You can also access it through a web-based platform via the TC2000 website.
More on The TC2000 Trading Platform
You can trade stocks and options directly through the TC2000 platform.
It also comes with plenty of advanced technical indicators and real-time data feeds to help you make the right moves.
On the inside, TC2000 functions like other trading platforms, though it does provide a suite of features rarely found within a single trading service.
TC2000 gives you access to:
Charting software with drawing tools and stock charts
Fundamentals stock screeners that are layered with technical screens
Brokerage services
Margins and day-trading accounts
Free live training seminars for those new 8 to trading stocks
Accessible interface with clear trading menus for trade management
Simulated trading accounts
This is just the tip of the iceberg, though, so keep reading for an in-depth analysis of everything this service has to offer.
>> Get started with TC2000 here <<
Is TC2000 Legit?
This is a legitimate brokerage platform that's overseen by the leading U.S. regulatory agencies.
TC2000 Brokerage Inc. is registered as a broker-dealer with the Securities and Exchange Commission (SEC), the leading U.S. regulator body for investment matters.
The firm is also a member of FINRA and SIPC.
These programs act similarly to the FDIC insurance programs that protect your bank account in the event the institution goes under.
The company functions as a broker-dealer.
As such, it acts as an intermediary between buyers and sellers with Interactive Brokers (IBKR) serving as its clearing firm.
TC2000 is NOT an advisor, so they can't offer investment advice to their clients.
TC2000 Review: In-Depth Feature Analysis
TC2000 is a sophisticated platform packed with many trading features that require their own deep dive.
In our TC2000 review, we'll break down each feature in-depth, so you can decide if this service can boost your trading strategy.
Here are TC2000's core features:
Stock and options charting with drawing tools
Live trading with advanced order functions
Unlimited paper trades
Create custom watch lists and portfolios
Built-in trading journal
Easy-to-use preset options strategies
Live quotes and options trees
High-speed trade execution
Custom alerts and notifications
Keep reading to learn more about each feature.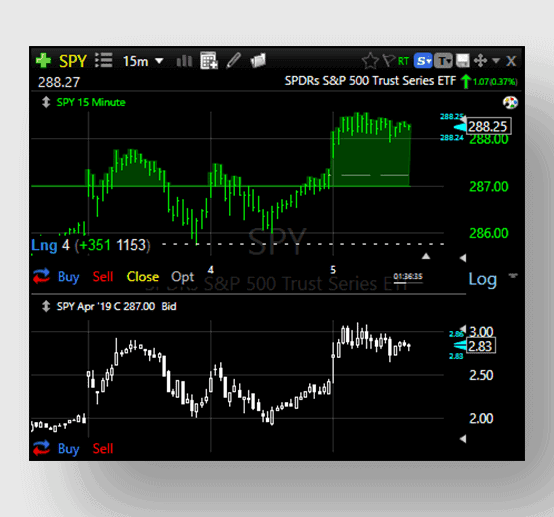 Stock and Options Charting Tools
You can't conduct proper technical analysis without fully functional charting software.
Fortunately, the TC2000 software equips you with everything you need for success.
You can pull up charts for every stock on the market, plus options, mutual funds, and more.
The chart interface also includes a full set of basic drawing tools so you can overlay trend lines, resistance and support levels, and more.
The TC2000 software also allows you to place limit orders through the charting interface, and you'll see a visual representation of each order on your chats.
Long, short, and options positions also show up when you look at the underlying stock's chart.
You can also overlay a wide array of fundamental indicators, trend lines, and more.
>> Explore TC2000's charting tools for free <<
Advanced Order Options
Unlike most discount brokers, TC2000 gives you a wide array of order options when you trade stocks.
You can choose from standard options like market buys and sells, limit orders, stop-losses, etc.
However, TC2000 takes it even further with advanced orders and exit strategies.
Multiple Exit Orders
TC2000 supports multiple exit orders for each of your positions.
That way, you can set up all of your potential exits in advance without being forced to choose one.
You can place as many exit orders as you like, and the feature is also accessible through paper trading so you can practice and refine your exit strategies.
You can place as many exit orders as you like, and the feature is also accessible through paper trading so you can practice and refine your exit strategies.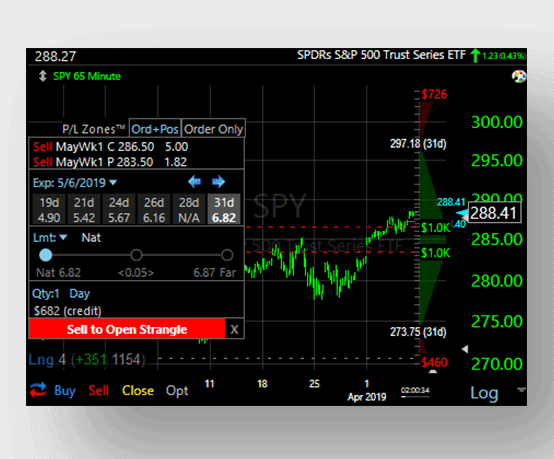 Multi-Leg Trading Strategies
This patent-pending trading tool overlays a visual representation depicting potential options trading strategies for the selected security.
On the right side, you can see the profit-loss zones for the stock at the expiration of the selected option.
The TC2000 software automatically updates this overlay to reflect the selected strike price, and it updates dynamically so you can see how your changes affect the potential profit zones in real-time.
>> Access this powerful, proprietary trading tool here <<
Additional Order Options
TC2000 also provides more advanced order options like bracket orders, profit targets, OCA's, multi-leg orders, and more.
Adding these additional orders to the mix is a big plus.
You can access them all directly through the trade management windows.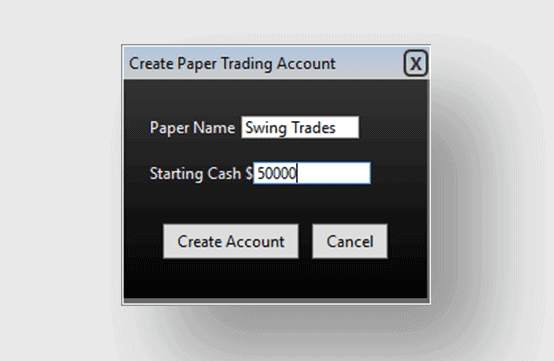 Unlimited Paper Trades
The trading simulator functions just like the real-money trading platform, except you're playing with pretend money.
You can also test your strategies with paper trading to gauge their success rate and adjust your approach if necessary.
Simulated Training is a Great Way to Learn How to Trade Stocks
TC2000's integrated paper trading account makes it much more affordable to improve your trading skills, and it's built right into the platform for an intuitive and simple trading experience.
You can create as many simulated trading accounts as you'd like, and the platform lets you select your starting "cash" balance too.
Create Custom Watch Lists and Portfolios
The TC2000 software also allows you to create custom watch lists and portfolios through your account.
You can organize picks into as many watchlists as you want and customize their order to your liking.
>> Build your custom portfolio on TC2000 <<
Built-In Trading Journal
Trading is an endless grind, as there are thousands of different types of securities on the market.
TC2000 includes a trading journal so you can track your day-to-day thoughts with personal notes and manage your research more effectively.
Stay Organized When Trading Stocks
The journal allows you to keep general notes about your trades, and you can also insert ticker symbols and organize your notes stock by stock.
When you make notes on a particular ticker, TC2000 will automatically attach an image of the chart for easy reference down the road.
Easy-to-Use Preset Options Strategies
Options might have the steepest learning curve of any type of trading.
There are so many variables that it can be very intimidating for beginners.
To help newbies overcome their options anxiety, TC2000 offers a unique set of built-in options strategies that come complete with an image-based representation of each selection.
Here's a screenshot: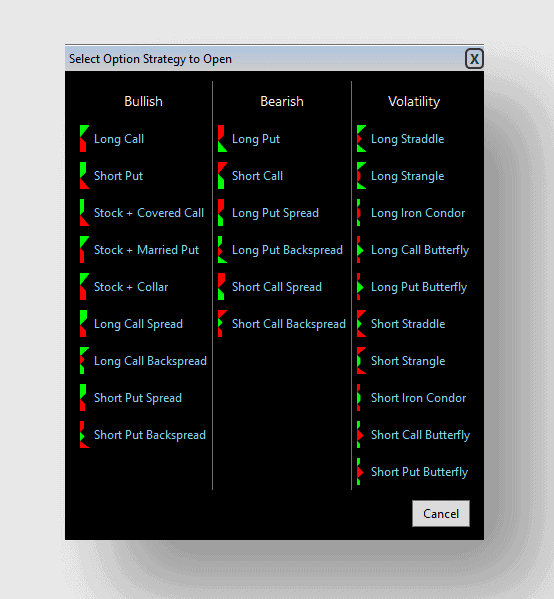 This tool works with TC2000's proprietary multi-leg options trading feature we talked about before.
Selecting a strategy will overlay it onto the selected chart so you can see whether it's an effective strategy based on where you think the stock is headed.
Improve Your Technical and Fundamental Analysis
It's a lot easier to understand options fundamentals when you can see them visually.
You can start trading options effectively a lot quicker with these intuitive features.
Live Quotes and Options Trees
Fast-paced day trading and on-the-fly technical analysis require timely and relevant data.
Although TC2000 is technically "live", it uses delayed quotes unless you update to real-time data feeds.
These live quotes should be good enough if you're just a casual trader.
However, day traders and other short-term traders might want to consider upgrading to live data feeds.
>> Show me real-time trading insights now <<
Custom Alerts and Notifications
TC2000 gives you up to 100 custom alerts and notifications with a paid plan.
When used alongside sound technical analysis, this feature can greatly improve your trade execution.
You can set alerts based on a wide selection of metrics.
You can also set an alert to notify you when a stock reaches "oversold" status on the RSI indicator, for example.
Most basic services only offer price-based alerts, but TC2000's indicator-based alerts add another interesting wrinkle to the service.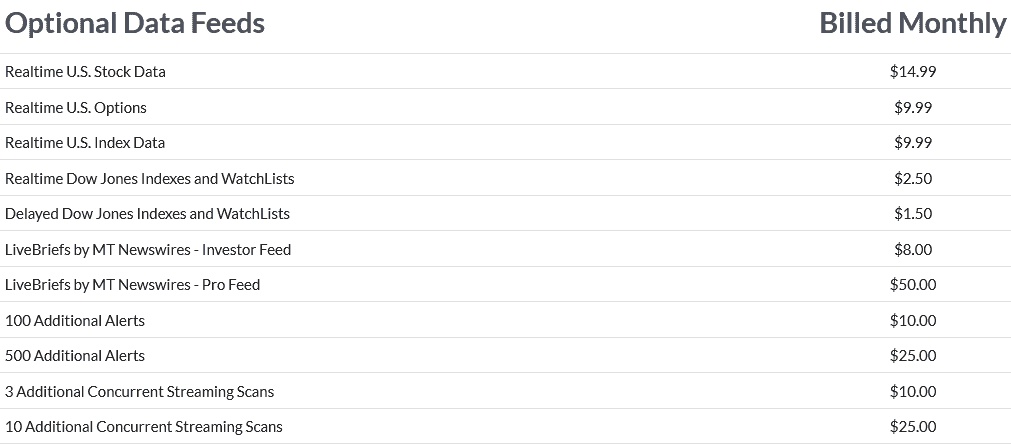 TC2000 Premium Features Review
The TC2000 trading platform also offers more advanced features for serious traders.
They come with additional fees and considerations, but they offer some pretty compelling benefits in return.
Leveraged Trades and Short Selling
Traders can make leveraged trades and short stocks if they sign up for a TC2000 margin account.
You have to pay interest on your margin loans, but that's the standard procedure across the industry.
TC2000 allows margin accounts to borrow at a 4-to-1 ratio for intraday trades.
If you want to keep your position open for multiple sessions, the margin ratio decreases to 2-to-1.
Margin rates vary according to federally-set interest rate benchmarks.
Right now, they're running between 2.55% and 1.75% depending on the size of the margin loan.
Interest accrues on a daily basis and posts on the third day of each month.
It takes about 1–3 days for TC2000 to approve new individual margin accounts.
That means you can start trading fast.
Plus, the 4-to-1 intraday margin ratio significantly expands your day trading buying power.
It's one of TC2000's most compelling selling points for serious traders.
>> Apply for 4-to-1 margin trading with TC2000 today <<
Add-Ons
TC2000 has a wide array of add-ons that you can attach to your subscription for additional functionality, including many live feeds and other supplemental options.
The live data feed selection includes Realtime U.S. Stock Data, U.S. Index Data, and more.
You can also upgrade other TC2000 components.
You can increase your alert limit with additional packages of 100 or 500 alerts for a small fee.
Here's a complete menu of TC2000's add-on options:
TC2000 Customer Service Review
TC2000 has a full selection of customer service and support options.
You can contact their team via call, email, or live chat on the TC2000 website.
That's a big improvement over many discount brokers, even the larger ones.
Given the accessibility of customer support options, we give TC2000's customer service high marks.
TC2000 Reviews by Users
Here are some of the snippets from TC2000 reviews we found across the internet.
"Simple and easy: Very good software, easy to use, easy to grasp, and very user-friendly. Nice drawing and charting tools with a bunch of indicators and chart types, intraday as well as EOD." – Trader975, Investimonials
Another TC2000 review reads:
"Can't Trade Without it: This is my have feature. You can chart, do scans, and make lists all in one platform. They have telechart and tc2000. Its the same thing. I use tc2000 and for the price you get a lot of features." – Tencea, Investimonials

TC2000 Pricing Review
As a premium platform, TC2000 charges fees to access the service.
There are also additional fees for advanced services and add-ons.
Once you have access to the platform, you can start trading stocks, options, and mutual funds!
Here is TC2000's per-month pricing:
Silver Package: $9.99/mo
Gold Package: $29.99/mo
Platinum Package: $89.98/mo
Fee structures depending on the type of trade, but we'll get into the specifics later in the review.
If you're interested, you can download the software here.
You can also access the basic web-based version for free, but you can't access most of the features unless you upgrade.
>> Sign up for TC2000 for as low as $9.99/month <<
TC2000 Trade Commissions
If you open a live trading account with TC2000, you also have to pony up for trade commissions.
Basic trades of stocks and exchange-traded funds (ETFs) cost $4.95 for each transaction.
Options trades cost $2.95 apiece, plus 65 cents for each options contract.
You can also trade mutual funds on TC2000, but you'll have to pay a hefty $14.95 commission on every transaction.
In a day where many discount brokers have tossed out commission entirely, you might be raising your eyebrows at these numbers.
However, remember that this software is lightyears beyond what you're getting with a commission-free brokerage.
As is the case with most things in life, you get what you pay for with a broker, and TC2000's superior trading tools and professional-grade trade execution can definitely justify the added cost.
TC2000 Review: Pros and Cons
Here's the rundown of where the service shines and where it can be improved on.
Pros
Professional-grade trading and research tools and amazing technical analysis tools
Very competitive pricing starting at $9.99 per month
Highly customizable alerts and notifications, with a more powerful alerts engine than most platforms
Intuitive charting system and drawing tools with stock chart indicators
Available via mobile, web, or desktop platform
Day trading accounts are available
Stock market crash detector and other unique indicators, with the ability to create your own indicators
Powerful, fully customizable stock screeners with personal criteria formulas
Proprietary multi-leg option strategies tool with easy-to-use visual options strategies, including combinations of underlying stock
Trade, scan, research, and conduct technical analysis from one place with optimized market data speed
Clears orders through Interactive Brokers SmartRouting; excellent price execution
Hot-keys and other fast-paced day trading tools
Easy access to customer support
Competitive margin rates and borrowing ratios
Unlimited paper trades and practice accounts
Set multiple exit triggers for more automated trading
Cons
Trade commissions on stocks, ETFs, options, and mutual fund orders.
Added costs for live data feeds
>> Access these benefits and more with TC2000 today <<
Is TC2000 Right for Me?
TC2000 has a lot to offer, but it might be too much for some traders.
These types of people will likely get a lot out of the service:
Self-Directed Investors
If you manage your own finances, you need professional-grade tools to level the playing field between you and traders on The Street.
TC2000 levels the playing field with a sophisticated scanner and access to pro-grade add-ons like live data streams, advanced options strategies, and more.
Day Traders
Day traders will appreciate TC2000's lightning-fast trade execution, courtesy of Interactive Brokers.
Plus, TC2000 offers legit day trading accounts to traders who can satisfy FDA requirements.
Hotkeys, alerts, and multiple exit triggers also make it easier to manage your trades.
Busy Investors
Most everyday investors are way too busy with their jobs and personal lives to spend much time on their portfolios.
TC2000's multiple exit orders allow you to set and forget your exit trades, and you can utilize countless strategies with the platform's arsenal of advanced order options.
Advanced Traders
Tc2000 offers an excellent 4-to-1 margin ratio on intraday trades.
That's great for day traders.
The 2-to-1 overnight rate isn't as impressive, but margin interest rates are relatively low.
Margin capabilities make this service well-suited to take on even the most sophisticated trading strategies.
Options Traders
Options traders will love TC2000's proprietary multi-leg options strategies (patent-pending).
The stock scanner can scan both stocks and options, so you can find new trades quickly.
You can also view combined stock-option charts with just a few clicks.
Is TC2000 Worth It?
Tc2000 has a ton of advanced capabilities.
The platform can easily satisfy the needs of serious traders, but it might be a little overkill for beginners.
With monthly membership fees, trading commissions, and add-on charges, Tc2000 costs more to run on a month-to-month basis.
It's not enough to break the bank, but you should have an idea of how you're going to use the service if you're a beginner planning to sign up.
However, beginners can get a lot out of the platform's simulated trading features, so it might be worth getting just for research and practice trading.
For more advanced traders, this service has a ton to offer.
Yes, TC2000 is worth the cost of admission.
However, we recommend beginners start slow and make sure they can get the most out of the product before they jump into a long commitment.
TC2000 Review: Final Verdict
We were really impressed with TC2000's arsenal of advanced trading tools.
While many services together can match up to TC2000 when combined, this may be simply the best implementation of a range of trading tools in one place.
It's an excellent, all-in-one trading platform that sophisticated traders can get a ton of value out of.
Our TC2000 review also appreciated the platform's scalable subscription options.
If you're hesitant about the costs, you can start slow and upgrade later, or cancel at any time if you're not loving it.
The advanced ordering options, multiple exit triggers, multi-leg options strategies, and simulated trade options also stood out as high-value features.
Overall, our TC2000 review found this platform to be a solid option for anyone who wants to get serious about trading.
If that sounds like you, we recommend you give it a try.
That's it for our TC2000 review. Click here to claim a coupon for $25-off TC2000 services!