Stock market traders want to add Arby's stock to their investment portfolio.
After all, successful stock trading usually involves investing in popular brands.
And what's more popular than fast food?
Many experts agree that fast food is one industry in the US that just can't seem to fail.
In fact, close to 85 million adults eat fast food every day.
But what if you want something different from a greasy hamburger or taco?
Well, you'd likely look to Arby's.
Arby's has made its mark on the fast-food industry offering sandwiches and curly fries.
But can you buy Arby's stock?
Keep reading for everything you need to know!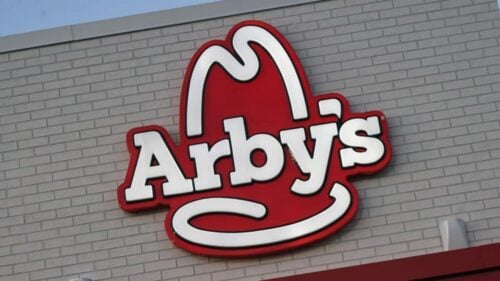 What Is Arby's?
Arby's is a fast-food restaurant chain famous for non-hamburger food options such as its classic roast beef sandwiches.
Brothers Forrest and Leroy Raffel had had enough of fast-food hamburgers in the 1960s — so much so that they'd decided to open up a new fast-food restaurant of their own.
In 1964, they opened the first Arby's restaurant in Boardman, Ohio.
Initially, the two brothers owned a restaurant equipment business but saw the opportunity to serve something other than burgers to hungry customers.
Thus, the first Arby's was born.
The restaurant opened, only selling roast beef sandwiches, potato chips, and soft drinks.
The company was named as a play on the initials RB, for Raffel Brothers.
The first location looked to serve more upscale clientele, so the dining room was more exquisitely adorned than the standard fast-food stand.
The company saw great success in the 1970s and 1980s and began opening 50 stores per year on average.
The menu grew and changed well into the 1990s, and several staples became established.
Arby's eventually introduced its signature sauce, alongside the popular Horsey Sauce, curly fries, Beef n Cheddar sandwiches, and Jamocha shakes.
These offerings remained popular for years to come.
Who Owns Arby's?
Arby's is currently owned by the company Inspire Brands.
But it has a long history of changing hands and names.
Inspire Brands has owned Arby's since 2017, when the company was created by the Arby's Restaurant Group, Inc.
The Roark Capital Group owns a stake in Arby's, as well.
Unfortunately, keeping track of all of the owners that have been involved with Arby's is no easy task.
While the company was founded and owned by the Raffel brothers, it did not remain in their control for long.
In 1970, the company made an attempt to go public, but the initial public offering (IPO) never made it through.
Following the failed attempt, the stock market plummeted.
In 1976, the Raffel brothers sold Arby's to the Royal Crown Cola Company for $18 million.
However, Leroy Raffel remained CEO for another three years before retiring.
In 1984, the company underwent a hostile takeover led by Victor Posner using his DWG Corporation.
The DWG Corporation obtained Arby's from its parent, the Royal Crown Cola Company.
In 1993, the DWG Corporation changed Arby's name to Triarc Companies, Inc. and looked to a former PepsiCo executive for resurrection.
The resurrection didn't go well, and all Arby's stores were sold to an already existing Arby's franchise, the RTM Restaurant Group, Inc.
By the late 1990s, RTM had grown to be the largest Arby's Restaurant franchise.
As such, Arby's itself had created a plan to purchase all of the locations that they could to prevent RTM from growing too large.
The company was successful and by 2005, Arby's had purchased RTM in its entirety.
In 2008, Triarc (who still owned Arby's) purchased Wendy's as well.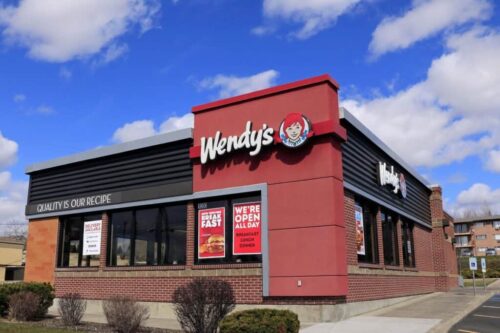 The company renamed itself the Wendy's/Arby's Group, Inc.
By 2011, the new Wendy's/Arby's Group, Inc. had announced that it would be splitting the company and focusing on Wendy's entirely.
Arby's was officially up for sale once again.
In 2011, the Wendy's/Arby's Group, Inc. announced that they'd be selling the company to Roark Capital Group, but it would maintain an 18.5% stake.
The company then became known as the Arby's Group, Inc., officially splitting from Wendy's.
Despite all of the years of changing hands and sales roadblocks, the resold and renamed Arby's Restaurant Group, Inc. had become successful yet again.
Arby's success allowed it to branch out and purchase new companies.
In 2017, Arby's would go on to purchase the restaurant chain Buffalo Wild Wings for a stellar $2.5 billion.
As they purchased Buffalo Wild Wings, they changed the name of the company one more time.
The new name was Inspire Brands.
In 2019, the company saw an impressively high revenue of $3.9 billion.
How Much is Arby's Worth?
Arby's parent company, Inspire Brands, is estimated to be worth $27 billion.
It is currently the second-largest fast-food sandwich brand in the world.
What Is Arby's Revenue?
With that popularity comes extensive revenue.
Arby's reportedly has sales across its entire system of over $4 billion a year.
Why Is Arby's Successful?
Arby's is successful due to the nature of its business.
Arby's offers a different option in an industry almost completely drowned in hamburger chains.
It has been called America's second-largest sandwich chain by Food & Wine, second only to Subway.
Because it offers something different than the usual, people go there for their fast-food needs.
Additionally, Arby's has undergone several resurrection campaigns.
It has a dedication to changing its menu and business model when needed.
An example of this is the lite menu introduced in 1991.
It was the first of its kind, and it offered customers low-calorie, low-fat food choices.
No other fast-food chain had done that until then.
Can You Buy Arby's Stock?
As of December‌ 2023, Arby's stock is not available for purchase.
The company attempted to go public in the 1970s, but because of the fall of the stock market, it was unable to do so.
The company remained private because of the market and has remained as such ever since.
Arby's stock will be unavailable until another initial public offering is scheduled.
What Is Arby's IPO Date?
Arby's planned an Initial Public Offering (IPO) date in the 1970s, but that attempt failed.
There are no known plans to schedule another IPO date this year.
What is Arby's Stock Symbol?
Since Arby's is not a publicly-traded company, it does not have a stock symbol.
A great symbol for stock market trading would, of course, be ARBY, but we'll have to wait for the IPO to know what the company decides.
What is Arby's Stock Price?
Because Arby's is privately owned, a stock price is also unavailable for the company.
Should the company undergo an IPO, then a price and a ticker will be assigned.
However, there's no news suggesting that this will happen anytime in the near future.
Arby's Competitors to Buy
While you cannot invest in the company, there are plenty of competitors with a high volume of stocks available on the market.
Keep reading to find the best alternative stocks for your portfolio.
McDonald's Corp (NYSE: MCD)
McDonald's is an excellent investment opportunity for anyone looking to spend their money on fast-food shares.
The company is iconic and has only seen growth since it was founded in 1940.
McDonald's started out selling primarily hamburger-based products, but its menu has grown over the years.
In addition to its number-one seller, the Big Mac, the company markets healthier options well, which is a fast-growing market opportunity in the industry.
It also has the ever-popular Happy Meals for children, which include a trendy toy with each meal.
Due to its highly successful advertising campaigns and partnerships, McDonald's has seen its stock grow immensely in recent years.
The value of McDonald's shares has nearly doubled since going public.
Last year, the company saw over $21 billion in revenue, and its current market cap is $176.43 Billion.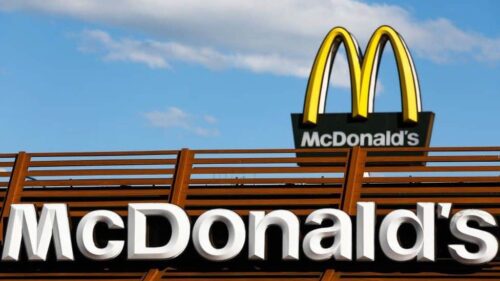 Restaurant Brands International Inc (NYSE: QSR)
If you want a stock that's made up of diverse restaurants, look no further than Restaurant Brands International, Inc.
The company is the parent of several popular fast-food chains, including Burger King, Tim Hortons, and Popeye's.
Restaurant Brands International's stock has remained fairly stable over the last five years or so, growing about 40% in total.
Last year, the company saw nearly $5 billion in revenue.

Yum! Brands Inc (NYSE: YUM)
Another conglomerate, Yum! Brands, Inc. is a fantastic choice if you want to invest in a fast-food giant.
The company currently operates brands like KFC, Pizza Hut, and Taco Bell.
All three of these operate like Arby's — they're an alternative to the burger chains that dominate the fast-food market.
The stock has seen steady growth over the last five years, increasing by about 110%.
Yum Brands, Inc. saw $5.6 billion in revenue last year.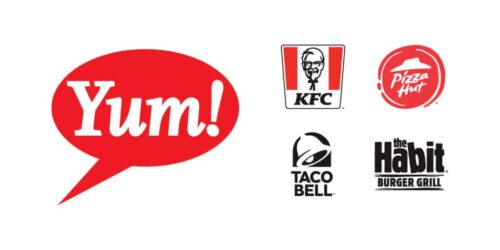 Should You Wait for an Arby's Stock IPO?
Since Arby's has a long history of changing hands and names, it seems anything could change.
Whether the next change will bring about an IPO for this popular restaurant chain remains to be seen.
There's nothing wrong with waiting to invest in Arby's stock but you can add other potential investments to your portfolio in the meantime.
Because an IPO may never happen.
Arby's Stock: Final Thoughts
Arby's is a company that's gone through dozens of changes throughout its life cycle.
The brand has changed hands several times over, with at least one of those times being due to a hostile takeover.
They've shown that they have what it takes to bounce back from adversity and have remained successful regardless.
Unfortunately, Arby's is not currently a publicly traded company, which means that their stock cannot be purchased.
To date, several enticing competitors can be invested in, so there is a silver lining to be found.
Until Arby's schedules an IPO, look to their competitors for investment opportunities.
As always, study your stocks, follow the data, and make the best trade for your portfolio.
Arby's Stock FAQs
If you're here for information about investing in Arby's stock, keep reading.
These are the questions we get asked the most, and brief answers for busy investors.
What is Arby's Stock Symbol?
Arby's does not have a stock symbol because it is not publicly traded.
This popular restaurant chain is owned by Inspire Brands.
Is Arby's a Publicly-Traded Company?
Arby's is not publicly traded on the stock market.
Inspire Brands currently owns the popular roast beef franchise.
What stock owns Arby's?
There is no stock that owns Arby's.
Arby's is owned by a company called Inspire Brands, which also owns Buffalo Wild Wings and SONIC Drive-in.