Asana is a Software-as-a-Service (SaaS) application that helps businesses manage their team. But what other companies stack up against this service? Read this Asana Competitors analysis to find out!
The company began in 2008 and was developed by Facebook (Meta) co-founder Dustin Moskovitz and engineer Justin Rosenstein. The pair were employed at Facebook to improve the productivity of staff at the company.
They decided to leave Facebook to launch Asana which came out of beta testing in 2011. By 2012 the software was commercially available.
Asana raised $1.2 million in angel funding in 2011 from investors like Sean Parker and Peter Thiel.
The company went public in September 2020 with a direct public offering on the New York Stock Exchange. It reported total revenue of $142.2 million in 2019.
Around 900 people work for Asana and the product is available in many markets worldwide. It currently has 1.3 million paid users for its project management tools.

Asana's Advantage and SWOT Analysis
Asana has a good reputation for being easy to use and increasing productivity among its teams. The software allows teams to create projects, specify deadlines, communicate within the app, assign work, attach files, and calendars.
It has a complete suite of resource management tools that can help businesses with their project management solutions.
One thing Asana does well decreases the need for emails. Since its software houses all relevant information, tasks can be easily tracked.
This reduces the need to send emails and wait for replies which can increase productivity throughout the business.
Strengths
Asana is an excellent project management software solution for teamwork projects. It allows users and administrators to track project progress from a simple project dashboard with an attractive user interface.
Asana allows users to manage multiple projects from one location. It also features a robust task management system that can be viewed in several ways.
The company offers a free version for businesses that are just getting started.
Users can customize the layout, colors, and other design aspects to suit their particular work style and preferences.
The software can be integrated with a variety of files and apps which makes it really collaborative. These collaborations include Microsoft Teams, Slack, Google Drive, and Dropbox.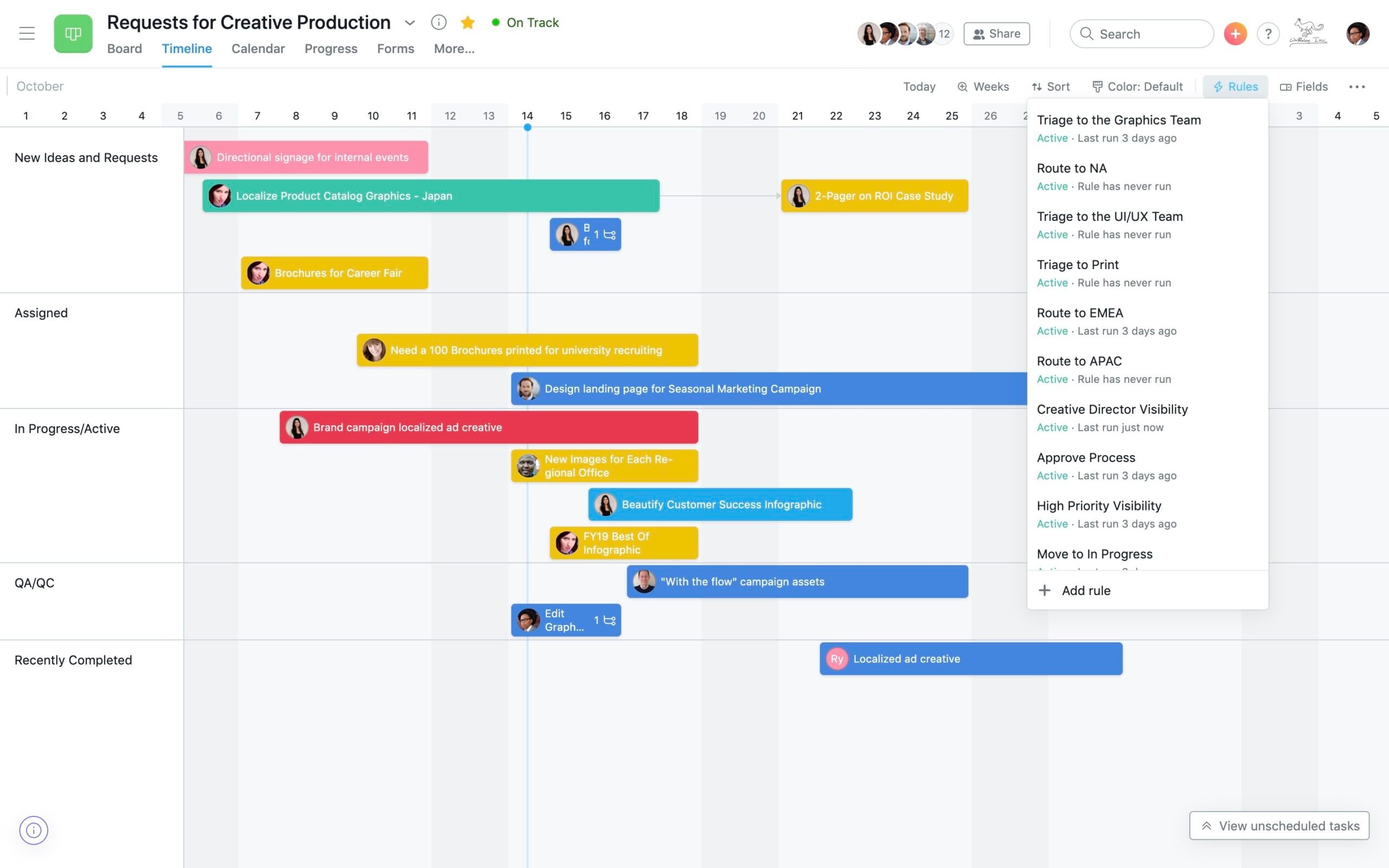 Weaknesses
Asana does not have time-tracking features, making it difficult to track project costs and returns. Tools that are made for teamwork usually include ways to track return on assets and ensure that everything stays within the allotted budget.
Only one person can be assigned to a task at once. This can create confusion about the current status of a task or create bottlenecks in the workflow.
Having lots of features is useful but not always required. Asana tends to overwhelm some users with the number of options available for simple task management.
Opportunities
Asana can appeal to new users by creating an intuitive interface that is simplified for people new to project management software.
The company can appeal to more experienced remote teams by offering advanced project management features for business operations, such as project cost tracking and resource scheduling.
Adding the ability to assign more than one person to tasks will help team communication channels and track project progress.
Threats
The company's biggest threats are competition. Top Asana alternatives compete fiercely for market share with small teams and those who need complex project management.
The SaaS business model may not appeal to enterprise-level project teams. This limits the company's growth potential in the B2B market space.
Asana Biggest Competitors and Alternatives
Asana has been translated into various languages including French, Spanish, Portuguese, and German.
Now here is a look at some of Asana's competitors and alternatives:
Proofhub- Web-based software management for communication amongst team members and clients.

Trello – A Kanban-style list software useful for project management.

Monday.com – A comprehensive project management tool for tasks and projects

ClickUp – A project management tool designed to replace task apps.
ProofHub
ProofHub is a top choice amongst companies looking for project management software that provides teams with a central location for communication and project collaboration.
Additionally, the platform offers helpful tools that help track progress and accountability for better productivity.
ProofHub was founded in 2011 by Sandeep Kashyap and is based in Walnut, California.
The company has a mid-sized team of employees yet still offers superior software performance and diligent support to users.
ProofHub offers an "Essential" tier and an "Ultimate Control" tier for $45/mo and $89/mo respectively when billed annually.
Trello
Trello began as a simple list-making application created in 2011 by Fog Creek Software. The company was then spun off into a separate entity known as Trello in 2014.
Trello is headquartered in New York City. In 2017 the company was acquired by Atlassian which owns a suite of software for developers and project managers including Confluence and Jira.
Trello uses the Kanban board style which helps individuals and teams to visualize what stage of the process each task is at.
Atlassian is based in Sydney, Australia, and is listed on Nasdaq under the ticker symbol TEAM. The company reported total revenues of $1.61 billion in 2020.
Trello offers a free tier that is suitable for most individuals and small businesses.
There is a business class tier available with some additional features for $10 per month. Alternatively, you can contact them for a bespoke package for your enterprise.

monday.com
monday.com is the flagship product from monday.com Labs ltd. It is a project management tool that helps companies with tasks, teamwork, and projects.
The company started as part of Wix.com but was eventually spun out to form its own company in 2012.
Roy Mann was named CEO after a stint at Wix.com. The company is based in Tel Aviv, Israel, and over 600 people are working for Monday.com.
monday.com had its initial public offering (IPO) in June 2021, obtaining a market capitalization of over $7.5 billion. It is listed on the Nasdaq with the stock market ticker MNDY.
The company has released 2 versions of its API to help developers build on top of the monday.com platform to meet their needs.

ClickUp
ClickUp is one of the newer challengers to Asana that was initially founded in 2017.
The company exited its beta testing phase in September 2017 and had its first paying customer by November. It is headquartered in San Diego, California.
In 2020 the company had its series A and series B funding rounds.
ClickUp has positioned itself as an alternative to Asana and boasts more productivity tools and better team collaboration.
The company offers its feature-rich software on a free forever basis, including 24-hour access to its support.
ClickUp can be integrated with a variety of different software including Outlook, Evernote, and Salesforce.
To access more features, you can become a ClickUp member for $5 per month. Businesses can join from $9 per month and enterprises can contact for pricing information.

Asana Competitors and Alternatives: Final Thoughts
Asana operates in a growing industry as more businesses look to steer away from hardware to cloud-based applications.
Through its Software-as-a-Service model, Asana can draw in recurring revenue from its clients.
The company faces tough competition from Atlassian, monday.com, and ClickUp. It will need to keep innovating and offering superior service to stay relevant.
ClickUp does most of what Asana can do for a fraction of the price or, in many instances, for free.
Asana has a strong reputation and brand identity that will keep it in the lead at the moment. However, its position is tenuous as new products are introduced to the market.