DocuSign is an electronic document management tool businesses or individuals use to manage and generate electronic legal agreements.
It is a cloud-based program that provides an electronic signature service that can be used on any device and any operating system, including mobile devices.
Although the electronic feature is the most popular, some of the other features provided include; contract lifestyle management, document generation, negotiation, and contract analytics features.

All signatures made in DocuSign are compliant with the US ESIGN Act, and the European Union's eIDAS regulation, including EU Advanced and EU Qualified Signature.
Therefore, all electronic signatures are legally binding.
Although DocuSign is one of the leading electronic management services, there are many other tools that exist from different companies that provide the same service.
This article reviews some of the DocuSign competitors and the alternatives that exist in the electronic document management industry.
DocuSign Biggest Competitors
There are many DocuSign competitors and alternatives. Some of these alternatives include Adobe Sign, HelloSign, and airSlate, these companies offer near-identical or completely identical services to DocuSign.
The mentioned companies will be discussed below.
Adobe Sign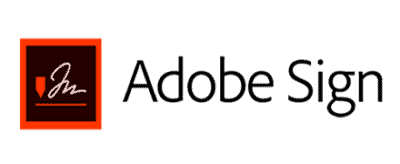 Adobe Sign is a part of the Adobe Document Cloud services and is one of the Adobe apps. Adobe Sign uses a cloud-based system for signatures and document management.
This system allows users to scan, sign, and send documents from any device, including mobile devices.
This tool is helpful for businesses and large enterprises and is integrated into the Microsoft and Salesforce systems.
Similarly to DocuSign, the electronic signatures made in this program are legally binding.
Adobe Sign offers users three plans.
These plans include the Acrobat PDF Pack with e-sign which costs US$9.99 per month, the Acrobat Pro DC with e-sign pack costs $14.99 per month, and the Acrobat Pro DC with an advanced e-sign pack costs US$19.99 per month.
Adobe's revenue has continued to grow from 2006 to 2021.
Its annual revenue for 2020 was $12.868 billion. In 2019 was $11.171 billion, and in 2018 it was $9.03 billion.
HelloSign
HelloSign is a cloud-based platform that offers e-signature, mobile forms, and electronic fax services for large and small businesses.
The platform allows users to sign, fill out, send, retrieve, and save documents electronically.
It can be used in various sectors, including the insurance and real estate sectors.
HelloSign offers different plans for their four products. Its products include the Legally Binding eSignature, HelloSign API, HelloWorks, and HelloFax.
There are different payment plans for each of these products.
The electronic signature product has three payment plans; the Essentials plan which costs US$15 per month and the Standard plan which costs US$25 per month.
Finally, there is the Free plan, which is completely free and has no time limit.
HelloSign has integrated its product into Dropbox's service and is now accessible by a large number of users.
Additionally, the company has been making revenue of about $23.2 million per year.
airSlate

airSlate combines e-signing, contract negotiation, web forms, and document generation services into one platform and comprises more than one cloud service.
Along with digital signing, airSlate also offers document analytics.
There are two paid plans available, the Basic plan and the Business Cloud.
The Basic plan costs US$30 per month, and the Business Cloud costsUS$50 per month.
There is also a 30-day free trial for their service as they do not have a free plan.
The company's estimated annual revenue is $65.4 million per year.
What Is DocuSign's Advantage?
DocuSign has several competitors, and they need to maintain a competitive edge to be successful and be the number one choice for users.
The company has been able to differentiate itself from its competitors by providing a beneficial service and has made the service readily accessible for all users.
One of the benefits of DocuSign is its affordable plans for all of its products.
DocuSign offers three plans; the personal plan for US$10 per month, the Standard plan which is $US25 per month and the Business Pro for US$40 per month.
There is also a free option for users. The DocuSign Free Edition is catered for individuals who only need to sign documents.
Furthermore, there is no limit to the number of documents that can be signed in the free version.
This free plan lifts DocuSign above its competitors because it offers a free service without any time restrictions or a limit on the number of times the user can use the product.
It is beneficial for users and is a valued option.
Additionally, DocuSign has integrated with Google Drive, one of the most common and popular application suites, making the service easy to use and easy to access.
Because of its accessibility and the Google Drive integration, DocuSign is not only useful for businesses of any size but also for individuals.
Another advantage is its easy to use user interface.
Along with its accessibility, DocuSign also ensures that anyone can use the product and navigate the space.
Individuals do not need extensive skills to use the program efficiently, and businesses do not need to pay for employee training.
DocuSign Biggest Competitors: Final Thoughts
Adobe Sign, HelloSign, and airSlate all offer features that expedite document workflow and allows for electronic signing and electronic document management.
Besides providing a similar service, these products also have similar costs.
However, unlike its competitors, DocuSign is suitable for small businesses and individuals.
Its competitors have complicated user interfaces that take time to learn.
On the other hand, DocuSign is easy to use and does not need any advanced training to use.
Additionally, DocuSign is very user-friendly and is accessible with Microsoft, Google Drive, and Dropbox.
DocuSign can therefore be used on several devices and most DocuSign competitors lack the platform's accessibility and availability.