Salesforce is a popular Customer Relationship Management (CRM) software company.
It was founded in 1999 by Parker Harris, Frank Dominguez, Marc Benioff, and Dave Moellenhoff.
The company is located in San Francisco, California.
Salesforce offers a range of enterprise applications that help businesses with customer service, analytics, automation, and application development.

The company has a good reputation and was ranked number 6 on the annual Fortune Magazine '100 best companies to work for list in 2020.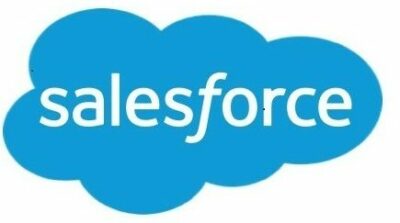 Total revenue for Salesforce was reported to be $21.25 billion in 2021 and they had an operating income of $297 million.
The company employs over 49,000 people worldwide.
Salesforce has a software-as-a-service business model, and its range of applications are accessed via the cloud.
They have developed a strong reputation over the years and are among the most popular CRM software companies.
The company is listed on the New York Stock Exchange under the ticker symbol CRM, named after the type of software it offers.
Salesforce Biggest Competitors

Salesforce offers many products including cloud computing technology and enterprise management.
Its enterprise software is also known as Salesforce and is an all-in-one platform.
Through Salesforce businesses can automate essential events and manage tasks and cases.
The enterprise software also comes with analytics that can help companies scale their business.
Alongside its main Salesforce product, the company offers a range of other applications that can be integrated with Salesforce.
These include their sales cloud, community cloud, service cloud, marketing cloud, and commerce cloud. 
Through their Lightning Platform known as Force.com, developers can create new applications designed to integrate with Salesforce.
Salesforce boasts 150,000 customers worldwide and is the industry leader for Customer Relationship Management software. 
Now, here are some Salesforce competitors and alternatives:
Oracle – An American company dealing in cloud computing, enterprise software, and hardware.

Microsoft – One of the most successful tech companies in the world.

Amazon Web Services – The cloud computing division of Amazon.
Salesforce Competitors: Oracle

Oracle is an enterprise software and cloud computing company that also sells computer hardware and is a Salesforce competitor.
The company was founded by Larry Ellison, Safra Catz, and Jeff Henley in 1977.
Its most popular product is the Enterprise Resource Planning Cloud that provides businesses with a suite of enterprise tools.
This includes tools designed to be used by a wide range of business divisions such as project management, performance, risk management, and finance.
After the acquisition of Sun Microsystems that occurred in 2010, Oracle has been able to offer computer hardware as well.
Total revenue for the company was reported to be $39.07 billion in 2020. Operating income for the same period was reported as $13.89 billion.
There are roughly 135,000 employees working for Oracle around the world.
The company is listed on the New York Stock Exchange under the ticker symbol ORCL.
It is a popular choice among digital businesses for its cloud computing solutions, known as Oracle Cloud.
Companies like Oracle Cloud because of its quick onboarding, cheap cost, and no upfront commitment.
Salesforce Competitors: Microsoft
Microsoft is one of the most successful tech companies in the world.
Known primarily for its operating system, a suite of office tools, and email management.
The company began in 1975 and was founded by Bill Gates, one of the world's richest people.
Microsoft offers cloud computing and enterprise solutions through its product Microsoft Azure.
Thanks to its stellar reputation and the integration Azure has with Microsoft's other apps, the company has seen good success in the cloud computing industry.
The company is traded publicly on the Nasdaq under the ticker symbol MSFT.
In 2020 the company reported an operating income of $53 billion and total revenue of $143 billion.
Microsoft heavily invests in its research and development division which has helped it to stand out against the strong competition.
Microsoft Azure is quickly becoming one of the most significant revenue drivers for the company.
Salesforce Competitors: Amazon Web Services

Amazon Web Services (AWS) is a subsidiary of Amazon that was founded in 2006 by Andy Jassy.
AWS is one of the most popular cloud computing services in the world.
The company offers a mix of products and services to help businesses with their enterprise solutions and scaling.
Among the things that the company offers are application services, analytics, database management, developer tools, computing, storage, and networking.
Its flagship product is the Relational Database Services (RDS).
AWS is directly responsible for $46 billion of Amazon's total revenue which is $386 billion.
The operating income for AWS is $13.5 billion. There are around 25,000 employees working on Amazon Web Services.
The products are offered on a pay-as-you-go business model.
AWS is used by companies of all sizes, educational institutions, and governments.
The company has a 33% market share in the cloud computing industry.
Salesforce's Biggest Advantage
Salesforce has a good reputation and is highly rated by its users.
The company is constantly introducing new tools that help businesses to succeed.
Salesforce's competitive advantage is that its interface is simple to use.
The products on offer make it easy for analysts and finance departments to predict growth and future revenue. 
Strong branding is another of Salesforces biggest advantages.
As their main product is the namesake of the company, they stand out among other CRM companies.
Salesforce is easy to use, has everything customers need for their enterprise, and is known for its innovation.
Forbes listed the company as the third most innovative company in the world in 2019.
Salesforce Competitors and Alternatives: Final Thoughts
The future is very bright for Salesforce as new businesses start online all the time.
Traditional businesses are also looking to digitize, and software like Salesforce is key to their success.
Despite fierce competition from some of the world's most successful companies, Salesforce stands out among the crowd.
Its CRM software is highly rated and trusted by over 150,000 customers around the globe.
Salesforce has a great portfolio of software with prices starting from as little as $25 a month.
Businesses will benefit from the insights and management that Salesforce provides.