Netflix is a streaming company that began in 1997 as a rental by mail delivery company.
Presently, Netflix has 195 million users and produces its own original programming.
The company also licenses existing shows from terrestrial TV stations. Netflix has over 8,600 employees and is available in 190 countries.
The company is considered to be the single largest buyer of video content.
With the company's continued expansion and spend on tens of billions of dollars on original programming, how does Netflix make money?
How Does Netflix Make Money?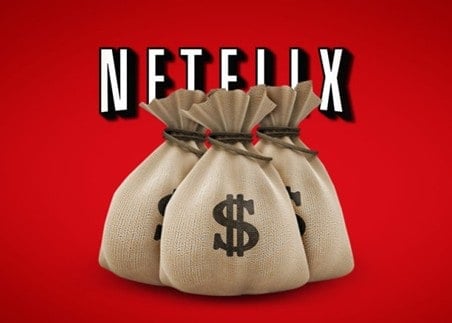 Netflix has a large user base that all pay a monthly subscription service to the platform.
The website is available in 190 countries, and the subscription fee varies.
Unlike its competitors, Netflix doesn't show any ads before or during its programming.
This is something that audiences love about the company.
The company is extremely popular, and it's thought that 54% of U.S/ households now have a Netflix account.
The subscription is available at different prices and is aimed at households rather than individuals.
The standard subscription costs $12.99 per month and allows for two users.
A premium account is available for $17.99 which increases this to 4 users.
Netflix also has a basic account at a reduced cost of $8.99.
The basic account only allows for one user and can only stream SD content.
The intention is for accounts to only be shared for one household.
However, Netflix doesn't take action against those who share their details across multiple homes.
Subscriptions are Netflix's main source of income, but they do receive other revenue streams.
Product placement occurs in their self-produced shows.
By featuring brands in its shows, the company can make additional income from other businesses.
The company still runs a DVD-by-mail service in the U.S., but this is incidental and does not contribute much to the company's profit.
This part of the company was responsible for $174 million in 2019.
How Much Money Does Netflix Make?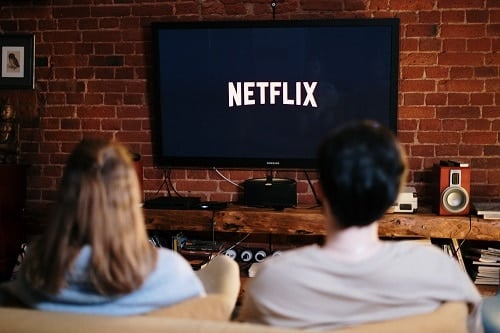 Through its subscription fees, the company can raise serious profit levels around the world.
In 2019, Netflix's revenue was $20.156 billion with a net income of $1.866 billion.
The company usually runs its operation at a loss, as it invests heavily in programming and customer acquisition.
By 2017, the company had raised $21.9 billion in debt due to its attempts to produce new content and gain licensing rights.
In 2020, the company was cash positive for the first time.
This was due to a sharp increase in users joining the platform and a forced cut back on content production.
History of Netflix
Marc Randolph and Reed Hastings founded the company in 1997 in California after working together at Pure Software.
The launch of the website in 1998 had 925 titles available to rent for 50 cents per rental + postage and late fees.
The next year Netflix began to raise venture capital funding and secured $30 million.
Later in 1999, the company launched a subscription model and would then try to sell itself to its competitor Blockbuster.
Netflix had its initial public offering with 5.5 million shares at a price of $15 in 2002.
By 2003, the company surpassed 1 million subscribers as Blockbuster tried to launch its own online service.
In 2007, Netflix launched its online streaming service.
In 2010, Netflix started to expand internationally and launched in Canada, followed by a launch in South America the next year.
The company first started producing original content in 2013 with the successful debut of House of Cards.
By 2020, competitor streaming services have appeared to rival Netflix.
These include Disney+, Apple TV+, Peacock from NBC, and HBO Max.
While Netflix still dominates the competition, its position is more tenuous than ever.
Who Owns Netflix?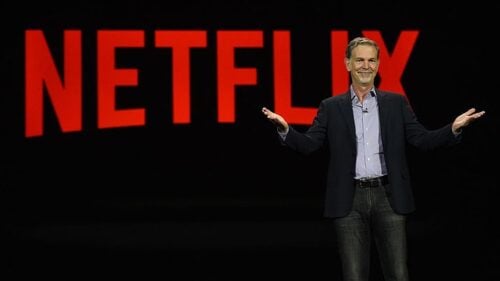 Netflix is owned by its shareholders and has been listed on the stock market since 2002.
The top individual shareholders at the company include former Chief Marketing Officer Leslie J. Kilgore with 35,196 shares in Netflix.
David Hyman, who serves as the company's General Counsel and Secretary, owns 31,610 shares. These represent 0.02% and 0.01% respectively.
However, the majority of Netflix shares are owned by institutional investors, covering 83% of the total shares.
Capital Research Global Investors own the most shares at 37.9 million, as reported in 2020.
The mutual and ETF management company Vanguard Group, Inc. owns 34.1 million shares of Netflix.
Interested in buying Netflix stock? You can use Webull, a commission free investment platform!
What Is Netflix Worth?
Netflix is still a growing company with 195 million users across 190 countries.
Additionally, the company produces original programming in an increasing number of languages, which drives more users to its platform.
Its total revenue for 2019 was $20.156 billion with an operating income of $2.604 billion.
The net income is $1.866 billion and Netflix has a valuation of $221.28 billion.
How Can Netflix Make Money In The Future?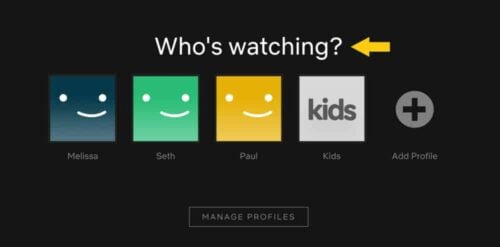 Netflix's focus will continue to be on acquiring new subscribers.
As it staves off competition from new streaming platforms, the company will continue to invest in its own programming.
Netflix has partnered with Univision to broadcast its original programming on TV to drive more people to its streaming service.
In the long run, the company may decide to crack down on account sharing which could lead to more users paying for their own account.
Currently, this is not something that bothers the company too much but is a potential market for them.
How Does Netflix Make Money?: Final Thoughts
Without a doubt, Netflix produces great content that keeps people hooked to their platform.
As the pioneers of binge-watching, Netflix will continue to entertain millions around the world.
The company is beloved for its ability to revive cult shows such as Arrested Development and Gilmore Girls.
Netflix will keep producing new original programming and films and has partnerships with brilliant creators like Charlie Booker, the creator of Black Mirror, as well as David Benioff and D. B. Weiss, the minds beyond Game of Thrones.
In the end, Netflix will continue to make money through many of its previous profit streams and more.