Jeff Brown is a world-leading tech investor and a Silicon Valley angel investor with several research services under his belt. Today, we'll take a closer look at Jeff Brown, investor and chief financial analyst for Brownstone Research in this in-depth dive into the tech industry veteran. First and foremost, who is Jeff Brown?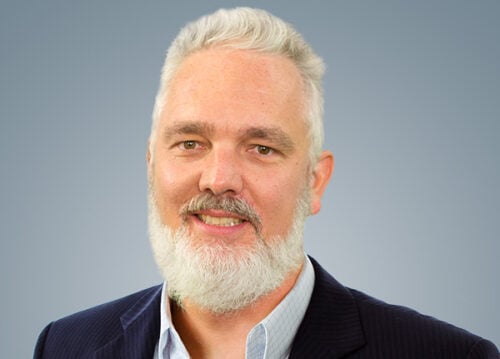 Who Is Jeff Brown?
Jeff Brown is an American investment guru with extensive stock market expertise. Brown is especially knowledgeable about spotting the next big tech trends, thanks to a long career working closely with Silicon Valley.
His experience as a high technology executive has helped him understand the nuances of the technology sector.
After a long career investing in early-stage technology companies, Brown began focusing his efforts on helping everyday folks take advantage of the stock market's amazing wealth-building potential.
Brown later founded Brownstone Research, a research firm where he currently serves as the chief investment analyst for several investment advisory services, including Near Future Report and Exponential Tech Investor.
Over the past few years, Brown's insights have helped readers capitalize on countless investment opportunities they may have missed otherwise.
Jeff Brown has all the attributes you'd like to see in a reliable technology investor, including an impressive investing resume, hands-on tech industry experience, and a track record for forecasting big tech trends.
As you can see, Brown has an excellent reputation, but does he live up to the hype? Let's look closely at his investing background to find out the truth.
Jeff Brown Tech Investor Background
Jeff Brown had a long career working in Silicon Valley as an executive at several prominent tech companies, including stints at Qualcomm, NXP Semiconductors, and Juniper Networks.
Over the course of his career, Brown has amassed a deep pool of tech sector experience. He's worked with semiconductors, broadcasting and video tech, IT networking, cybersecurity, and more.
As an executive, Brown turned early-stage technology companies into multimillion-dollar revenue behemoths. His boots-on-the-ground experience in the technology sector gives him unmatched insights.
Brown's long career as a technology investor gives him unique insights into big tech trends, and his knowledge has given him a tremendous edge as an active angel investor and stock market guru.
In addition to his work with Brownstone Research, Jeff Brown is still an active board member and key adviser to several major tech firms and remains an active angel investor.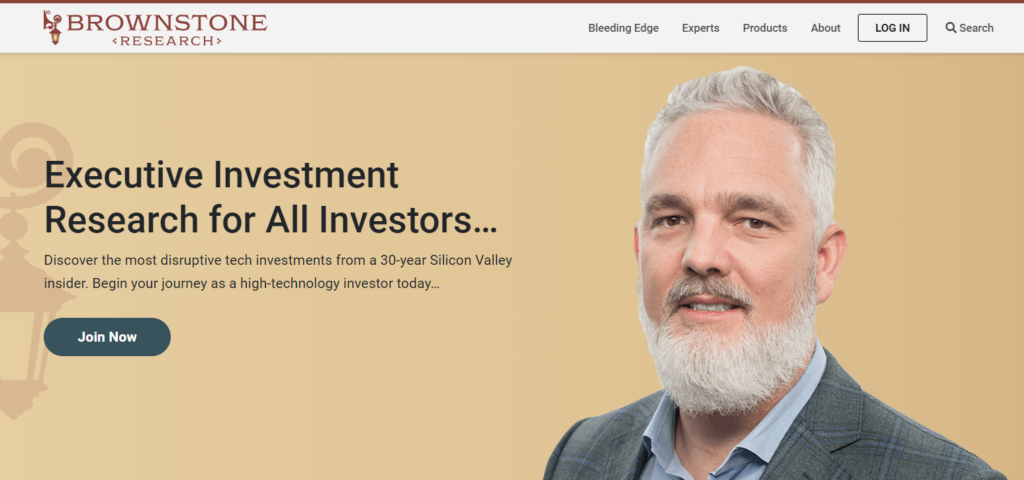 Jeff Brown Professional Experience
Here is a brief rundown of Jeff Brown's tech industry experience:
Juniper Networks:

President and Director, 2012-2014

NXP Semiconductors:

Vice President, 2008-2012

Trident Microsystems Japan,

President, 2010-2011

Qualcomm:

Head of Global Strategy & Development, 2005-2008
These are only a few of Jeff Brown's career credentials, but the list includes several prominent names, as you can see.
Academic Credentials
Jeff Brown has an impressive education and holds a multitude of degrees. Here's a list of his academic accomplishments:
Undergraduate degree in aeronautical and astronautical engineering from Purdue University

Master's degree in management from the London Business School

Alumni of Yale University School of Management

Studied international markets abroad for two decades, particularly in Tokyo, Japan

Professional certificates from MIT, Stanford, UC Berkeley's School of Law, and the National University of Singapore
From the London Business School to aeronautical and astronautical engineering, Jeff Brown has received an extensive education in various disciplines.
It's no wonder tech companies like Juniper Networks were eager to get Brown on their team.
Brown's well-rounded education equipped him with the skills he needed to become the legendary executive and tech stock guru that he is today.
Track Record and Performance
Jeff Brown has identified numerous investment opportunities for his readers, and his investment strategy has proven to be very sound in the past.
Brown doesn't always make his tech stock picks public, so reporting on his overall investing track record is difficult.
However, some estimates report Brown has invested in over 130 startups as an active angel investor, and his efforts have produced a whopping 93% success rate
As a tech investor, Jeff Brown has established himself as a leading mind. He's been a tech industry mainstay for decades, and his work with Brownstone Research has only improved his already stellar reputation.
Brown has made and recommended plenty of successful tech investments over the years, but we don't have an exact roster. You can find more information about Brown's track record by looking into his research services.
Jeff Brown Net Worth
We don't have any concrete, verifiable information on Jeff Brown's net worth, but safe to assume that he's not hard up after a long career in America's most vibrant industry.
So, how much is Jeff Brown worth? Some unconfirmed sources online list Jeffrey Johnathan Brown with an estimated net worth of approximately $27.5 million.
We wouldn't bank on those numbers, but it's the closest thing we have to a ballpark figure on his net worth.
What Is Brownstone Research?
Jeff Brown founded Brownstone Research in 2006, and he serves as the firm's chief investment analyst to this day.
Brownstone Research is also the company behind Brown's investment advisory service publications, and it serves as the main outlet for his latest research into the tech sector.
On the 'about' page on its website, Brownstone Research says its mission is to make institutional-grade proprietary investment research available to "any investor looking to gain an edge in the market."
Brownstone publishes a number of prominent investment advisory services, including The Bleeding Edge, which is one of the most widely read technology e-letters in the world, according to Brownstone's website.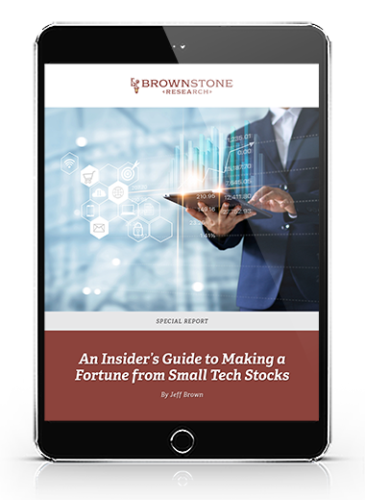 The company's complete list of publications includes:
The Bleeding Edge

The Near Future Report

Exponential Tech Investor

Early-Stage Trader

Blank-Check Speculator

Unchained Profits

Day One Investor

Outlier Investor

Brownstone Alliance

Brownstone Unlimited
Each Brownstone Research service has different strategies and goals, but the goal is always to lead readers to high-quality investment opportunities.
Brownstone Research offers a diverse collection of focused research services to suit a wide variety of interests and objectives, so readers are sure to find something that suits their needs.
These are all the ones available on Brownstone Research's site — there is no Jeff Brown Investor website.
Let's take a closer look at some of Brownstone's most popular research services.
Jeff Brown's Research Services
Some of Jeff Brown's research services have become extremely popular over the last few years. Here's more information on his highest-rated research services:
Near Future Report
Near Future Report is Brownstone's flagship research service for large-cap tech stocks with high-octane growth prospects.
The service comes complete with a model portfolio that's loaded to the gills with promising new tech companies and up-and-coming growth stocks.
According to its 'about' page on the Brownstone Research website, Near Future Report's model investment portfolio regularly outperforms the stock market.
Near Future Report is a solid service for anyone looking for leads on the hottest up-and-coming tech stocks, and you can get an excellent deal on a Near Future Report membership with Brown's Tech Shock deal.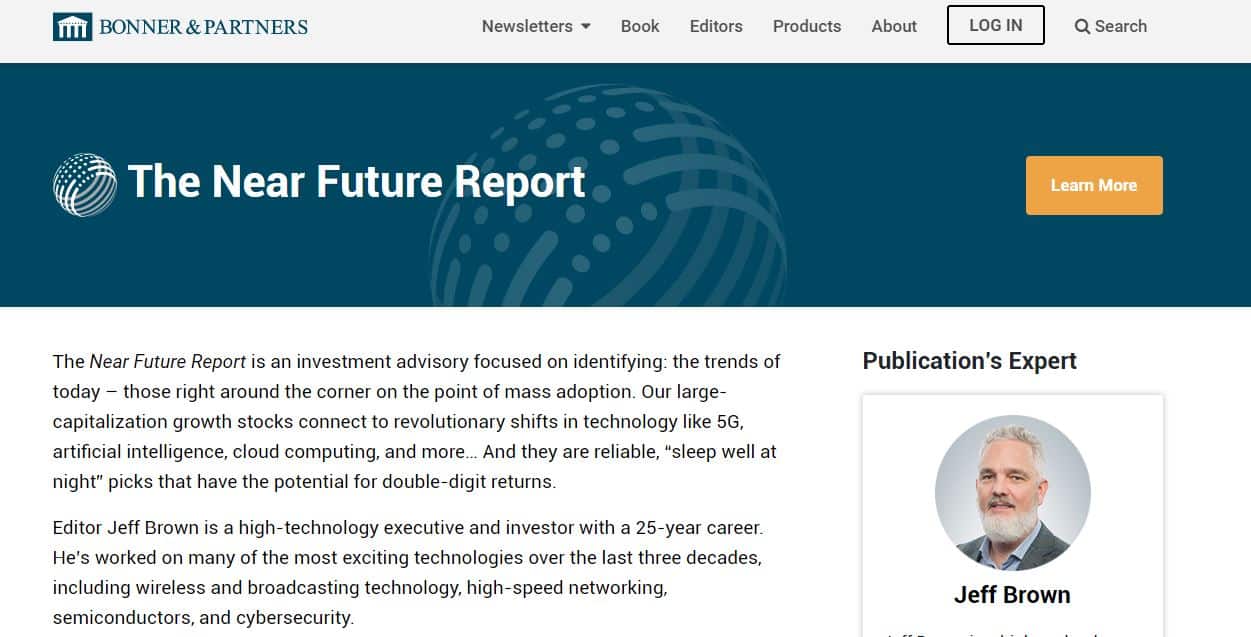 We've put together an extensive Near Future Report review that will tell you everything you need to know about this popular tech stock research service.
Click here to read our Near Future Report review and get the details on The Tech Shock. Even better, find out how Stock Dork readers can get a steep discount on a membership.
>> Join Near Future Report today <<
Exponential Tech Investor
Brown's Exponential Tech Investor investment advisory service brings members some of the most promising speculative investment opportunities on the stock market.
These tech stocks could be huge, but they're not quite as established as those featured in The Near Future Report. As a result, Exponential Tech Investor is best suited for those with higher risk tolerances.
Exponential Tech Investor's model investment portfolio primarily focuses on small and micro-cap tech companies with extreme growth potential.
This service is an excellent choice for anyone that's not afraid to take on some risk in exchange for a chance at high-octane growth.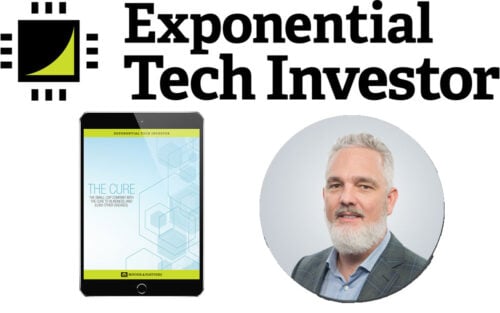 Early-Stage Trader
Early-Stage Trader is one of Jeff Brown's most specialized research services. It targets early-stage, pre-revenue biotech stocks developing new ways to treat and cure human diseases.
It's not unusual for breakout biotech stocks to notch massive gains when they get big headlines, so the sector can be extremely lucrative for speculative trading.
Expert investment advice is a must for anyone dabbling in the biotech sector. The industry has many nuances, and the subject matter can be extremely complicated for anyone without an MD after their name.
Fortunately, Jeff Brown's Early-Stage Trader can make a world of difference and help you navigate the market like a true pro.
Jeff Brown's Picks for 2023
Jeff Brown is working hard to keep his subscribers supplied with high-quality tech stock picks. However, most of Jeff's recommendations are only available to paid members.
You can't blame Jeff Brown for playing his cards close to the chest. After all, most people won't pay for what they can get for free, so handing out premium stock picks to the public isn't a great business model for a research firm.
However, we can provide some details on some of Jeff's top stocks for 2022. Here's what we managed to dig up.
>> Get instant access to Jeff Brown's latest picks with the Near Future Report <<
What Is Jeff Brown's Second Wave Prediction?
Jeff Brown's latest presentation for Near Future Report features a dire warning: the global chip shortage will wreak havoc on the global economy.
From automobiles to artificial intelligence, the chip shortage could touch every corner of the US economy and disrupt supply chains from coast to coast.
But, the chip shortage could also be a major opportunity for some companies, and Jeff Brown he's identified several that could be in the best position to capitalize.
He's assembled all of his top picks into a special resource only available to Near Future Report members, The Tech Shock Portfolio.
Brown doesn't reveal these names publicly, nor does he specify how many stocks the portfolio contains. However, these stocks could have tremendous potential if the shortage shakes out as he expects it will.
Jeff Brown's 5 Toxic Tech Stocks special report also offers predictions for five "tech darlings" that he believes you might want to cut from your portfolio.
To learn more about The Tech Shock Portfolio, check out our in-depth Near Future Report review.
What Is Jeff Brown's #1 Tech Stock?
Jeff Brown's number one tech stock (AKA his secret stock) can be found in the research services he provides.
This information is for members only, so it's not publicly available.
Like most research services, the public typically finds out about these stocks after they have made their run.
Also, while Brown might be bullish on a particular stock, he offers a portfolio of picks that he feels could lead to huge gains.
Click here to access the Tech Shock review now
Can Jeff Brown Help My Portfolio?
Jeff Brown's experience as an angel investor and tech sector executive has proven to be a valuable asset for his readers.
His insights have helped his members reap massive returns on several occasions, and, while there are never any guarantees in the stock market, his guidance could help you get a lot more out of the market.
Investing isn't easy. Even the best in the world struggle to pick stocks with a success rate exceeding 60%, and the average person retail investing probably scores much lower.
Stock market guidance from an experienced tech investor like Jeff Brown could make a world of difference for the average person.
Better yet, his research services are extremely affordable in comparison to a financial advisor. They can be an excellent option for anyone looking for a leg up in the stock market.
There's no substitute for personalized investment guidance from a certified professional — it can help you get more out of the market without breaking the bank.
Although there are no guarantees when it comes to investing, odds are you'll be better off with Jeff Brown in your corner than you would be going it alone. He's an experienced tech veteran who can help you make better decisions and gain a deeper understanding of the market.
Is Jeff Brown Legit?
Jeff Brown seems to be a legit tech investor and industry veteran. His work with Brownstone Research has been consistently high-quality, and he's produced excellent results for his members.
Many of Jeff Brown's research services include money-back guarantees for at least 30 days, so you typically don't have to worry about buyer's remorse.
If you're unsatisfied for any reason, you could qualify for a 100% money-back refund with many Brownstone Research services.
The guarantee is incontestable evidence that Jeff Brown stands by his work, and his tech industry background is further proof that he is the real deal.
Jeff Brown is legit, and so is his firm, Brownstone Research. You can sign on with any of his services confidently.