Many states and countries have legalized marijuana over the past decade, with more following suit.
The marijuana industry has boomed as it has become socially acceptable for both relaxation and medical treatment.
The best marijuana stocks are innovating and finding new ways to reach the consumers that need it most.
A huge number of exciting cannabis companies have hit the market in the last several years, making it difficult to determine which ones are best to invest in.
We've narrowed down some of the best cannabis stocks on the market to bolster your investment portfolio.
Why Invest In Marijuana Stocks?
The marijuana industry has gone up and down over the past several years.
Governments around the world are legalizing marijuana products, and demand is huge.
However, companies have also had to adjust to rapidly shifting regulations.
This has created some challenges as marijuana companies work to develop a sustainable business model.
The United States alone is now up to 18 states that have legalized its use.
With these new legal gains will likely come growth in the industry as a whole.
Global markets are growing as well – Canada legalized the substance last year.
Many countries in South America, Europe, and other places around the globe are also taking steps to legalize it.
This presents a huge opportunity for companies involved in all aspects of the marijuana industry.
Since marijuana will only become more socially acceptable in the coming years, there's huge potential for long-term growth.
Revenue for many companies in the industry has gone up year over year with no signs of slowing down.
Demand Is At an All-Time High
Many people struggled both emotionally and physically as a result of the Covid pandemic, and many continue to do so.
As a result, many people turned to marijuana as a way to cope.
Marijuana helps treat a number of serious conditions, like cancer, epilepsy, multiple sclerosis, Alzheimer's disease, and Crohn's disease, just to name a few.
With so much room to grow, the marijuana market could be hugely lucrative for investors.
Marijuana stock prices are affordable right now but have the potential for significant gains in the long term.
Best Marijuana Stocks – Producers and Retailers
Canopy Growth (NASDAQ: CGC)
Canopy Growth is a leading Canadian cannabis company that was founded in 2013 as Tweed Marijuana and relaunched as Canopy Growth in 2015.
They are currently one of the largest cannabis companies in the world.
Canopy Growth produces a range of marijuana products and brands for medical and recreational use.
Some of their brands include Tweed, Houseplant, Doja, Spectrum Therapeutics, and even the Martha Stewart CBD brand.
Beyond selling products, Canopy is also involved in cannabis research and development.
They are involved in several different projects that aim to find medical marijuana solutions for the chronically ill.
They have a large global influence and are involved with marijuana producers and research companies around the world.
A move to NASDAQ in November of 2020 did not slow the company's stock growth which has stayed steady over the last 12 months.
Profits are on the rise, which is a good indicator for growth.
Things are looking favorable as stores look to resume normal operations in Canada in the near future.
Trulieve Cannabis (OTC: TCNNF)
Trulieve Cannabis is an American marijuana producer based in Florida with over two million feet of facilities. They also have a presence in four other U.S. states.
They are currently active in both the medical and recreational markets with a goal of expanding into more and more US states as they legalize and expand cannabis use.
Trulieve has an excellent range of consumer cannabis products, like vape oils, edibles, and topical products in addition to many types of flowers.
They have seen consistent profit over the last three years, moving up another 15% in Q1 of 2021.
In 2021, the company acquired a large multi-state operator out of Arizona with plans to expand its business. Trulieve has also seen its first full quarter of operations in Pennsylvania.
If Trulieve can replicate its Florida success in other states, it would mean incredible growth for this stock.
Its financial success so far indicates a strong business model.
GrowGeneration Corp. (NASDAQ: GRWG)
GrowGeneration Corp. represents a chain of over 55 hydroponic and organic gardening stores across the United States.
The company is making growth strides with three purchases in 2021 alone. These acquisitions have allowed GrowGeneration to enter the California market with more expansion plans on the horizon.
GrowGeneration has its eyes set on movement into other states where cannabis is legal for medical and recreational use.
Their goal for 2021 is to have a total of 60 stores with a presence in 15 states.
Their stock has been on a steady increase for the past year, seeing over 380% growth during that time.
All of this is encouraging news for a company that only went public in 2016.
Curaleaf Holdings (OTC: CURLF)
Curaleaf Holdings is a cannabis producer and retailer based in Massachusetts.
They currently have a large network of over 100 dispensaries throughout 23 different states and also run growth and processing sites nationwide.
Since Curaleaf is a US-based company, they are benefitting from relaxed marijuana laws in states around the country.
Curaleaf reports a first-quarter 2021 revenue increase of over 170% from last year at this time.
The company further hopes to increase its footprint by doubling in size by the end of 2021. With hopes of more states relaxing their laws, Cureleaf is optimistic they'll be able to continue expanding through 2022 and beyond.
When combined with a generally positive outlook for the marijuana market in the US, this makes Curaleaf one of the top marijuana companies to watch.

Cresco Labs (OTC: CRLBF)
Cresco Labs is a Chicago-based company that produces and sells cannabis in both medical and recreational marijuana products.
They currently have operations in ten US states but hoping to continue expanding in the near future.
Cresco Labs is another company that is significantly benefitting from the expanded legalization of marijuana in the US.
They state that their mission is to 'normalize, professionalize, and revolutionize cannabis.', and their sophisticated marketing reflects this.
They offer several different strains of flower, but this company also offers a range of other cannabis products including pre-rolls, edibles, vapes, and oils.
They're committed to consumer education to help new users feel comfortable smoking pot.
For 2021, Cresco has reported a 168% increase in revenue from last year. Continue to see growth in key US markets.
As Cresco expands its footprint throughout the US, this is one of the top marijuana stocks to keep your eye on.
Other Top Marijuana Stocks
Scotts Miracle-Gro (NYSE: SMG)
You likely already know of Scotts Miracle-Gro as a manufacturer and retailer of garden products. What you may not have realized is that their products are incredibly important for the production of marijuana products.
Scotts Miracle-Gro purchased General Hydroponics and Vermicrop Organics in 2015 and began running this subsidiary as Hawthorne Gardening Company.
This company produces hydroponic products that are essential to the successful growth of cannabis plants.
Although this is only one part of the company's revenue, the sale of these hydroponic products is likely to grow in the future.
They are currently benefitting from the growth seen by other companies in the cannabis sector and is definitely the company's main focus.
Since Scotts Miracle-Gro has a range of other products outside of the cannabis industry, its business model is diverse.
This means that it could be a good option for investors who want to dip their toe into the cannabis market without going all in.
Tilray, Inc. (NASDAQ: TLRY)
Tilray, Inc. is a pharmaceutical company based out of both the United States and Canada.
Even so, the company is a major player in the cannabis space.
Many of their medications, drugs, and drops are sourced from the plant.
Tilray has been able to expand into over 20 different countries through North America and Europe with over 20 different products on the market.
The company's stocks have seen nearly 100% growth over the last six months alone.
In just May of this year, Tilray merged with Aphira pharmaceuticals, further growing their brand and their presence around the world.
The two companies working together with similar views of development and culture should propel them into significant growth in the near future.
Green Thumb Industries (OTC: GTBIF)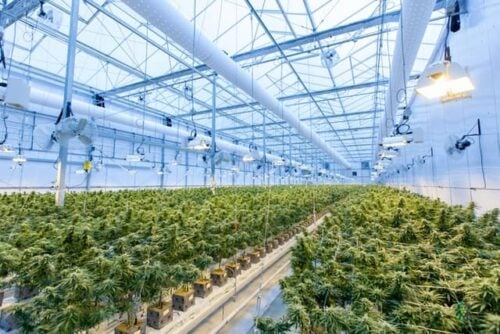 Green Thumb Industries has headquarters in both Chicago and Vancouver.
The company controls 13 manufacturing facilities with a store presence in 12 states in the U.S. alone.
They have already acquired the licenses to add some 40 new stores to their list in the near future.
Their plan is to introduce some of these stores into new states where a lot of growth is happening of late.
Furthermore, Green Thumb has seen a nearly 100% increase in revenue from last year.
Their stock price has seen a steady climb as a result of this revenue, and their expansion plans are very encouraging for continuing to make a mark on the market.
Marijuana Stocks: Final Thoughts
The cannabis industry is quickly evolving around the world.
As states and countries continue to legalize the substance for recreational use, there's huge potential for profit.
Innovation throughout the industry has resulted in some exciting new products that make marijuana more accessible for first time users or medical users.
Many marijuana stocks are still relatively new to the market.
This means they could fluctuate somewhat as the industry experiences growing pains.
However, as each marijuana company stabilizes its operations, its stocks will likely stabilize as well.
Overall, marijuana stocks are a worthwhile investment for forward-thinking investors.