The Stock Dork is reader supported. We may earn a commission, at no additional cost to you if you buy products or signup for services through links on our site.
Many states and countries have legalized marijuana over the past decade.
The marijuana industry has boomed as it has become socially acceptable for both relaxation and medical treatment.
The best marijuana stocks are innovating and finding new ways to reach the consumers that need it most.
A huge number of exciting cannabis companies have hit the market in the last several years.
This can make it difficult to determine which ones are best to invest in.
We've narrowed down some of the best cannabis stocks on the market to bolster your investment portfolio.
Why Invest In Marijuana Stocks?
The marijuana industry has gone up and down over the past several years.
Governments around the world are legalizing marijuana products, and demand is huge.
However, companies have also had to adjust to rapidly shifting regulations.
This has created some challenges as marijuana companies work to develop a sustainable business model.
Recently, several more US states voted to legalize marijuana.
Arizona, South Dakota, and New Jersey have all legalized the substance as part of their 2020 election.
They join 13 other states that have already legalized recreational marijuana.
Many other states have legalized medical marijuana or decriminalized the substance.
With these new legal gains will likely come growth in the industry as a whole.
Global markets are growing as well – Canada legalized the substance last year.
Many countries in South America, Europe, and other places around the globe are also taking steps to legalize it.
This presents a huge opportunity for companies involved in all aspects of the marijuana industry.
Since pot is only going to become more socially acceptable in the coming years, there's huge potential for long term growth.
Revenue for many companies in the industry has gone up year over year, with no signs of slowing down.
Demand for cannabis is also at an all time high.
Demand for cannabis was on an upward trajectory before 2020. However, the COVID-19 pandemic has made marijuana even more desirable for many people.
Many people use cannabis as a way to relax during stressful times.
This year has brought about a huge amount of stress for many people, which has made marijuana products seem more essential.
Marijuana has also helped people cope with physical injuries and illnesses during this time.
Marijuana helps treat a number of serious conditions, like cancer, epilepsy, multiple sclerosis, Alzheimer's disease, and Crohn's disease, just to name a few.
With so much room to grow, the marijuana market could be hugely lucrative for investors.
Marijuana stock prices are affordable right now, but have potential for significant gains in the long term.
Best Marijuana Stocks – Producers and Retailers
Canopy Growth (NYSE:CGC)
Canopy Growth is a leading Canadian cannabis company.
They were founded in 2013 as Tweed Marijuana and were launched as Canopy Growth in 2015.
They are currently one of the largest cannabis companies in the world.
Canopy Growth produces a range of marijuana products and brands for medical and recreational use.
Some of their brands include Tweed, Houseplant, Doja, Spectrum Therapeutics, and even the new Martha Stewart CBD brand.
Canopy is also involved in cannabis research and development.
They are involved in several different projects that aim to find medical marijuana solutions for the chronically ill.
They have a large global influence and are involved with marijuana producers and research companies around the world.
Although Canopy currently trades on the New York Stock Exchange, they will be moving to NASDAQ in mid-November 2020.
Canopy Growth's stock has stayed steady over the last 12 months, although it dropped from a peak in 2019.
This drop happened when Canopy chose to invest in global growth and lost profits as a result.
Canopy still has a way to go to recoup these losses.
However, things are looking up. Canopy has seen a jump in their stock as a result of legalization in the US during the election.
It's also likely that Canopy's sales will improve when coronavirus restrictions eventually life, and consumers can visit their popular Canadian retail stores.
Trulieve Cannabis (OTC:TCNNF)
Trulieve Cannabis is an American marijuana producer based in Florida.
They are currently active in both the medical and recreational markets.
Their reach is expanding as more and more US states as they legalize and expand cannabis use.
Right now, Trulieve has dispensaries in Florida, Connecticut, Massachusetts, and California.
They have an excellent range of consumer cannabis products, like vape oils, edibles, and topical products in addition to many types of flower.
Trulieve has been incredibly successful in Florida, where they are one of the largest suppliers of cannabis products.
They have seen consistent profit over the last three years.
They have grown very quickly in the last 12 months and will likely continue that growth.
Crypto Alert
Bigger Than Bitcoin and Better Than Gold
Even gold misses the mark.
Cryptocurrencies (like Bitcoin) are the ONLY assets that have all four of these features.
Features that can truly protect investors from today's unprecedented money printing and interference from governments.
But Bitcoin is NOT the primary cryptocurrency at the forefront of this new money revolution.
These three supercryptos are the ones taking the lead and helping investors make the most money.
Click Here For All Of The Details
We earn a commission if you click this link and make a purchase at no additional cost to you.
In terms of stock value, Trulieve has had some of the best performance of any marijuana stocks currently on the market.
After a slight dip in March, they had a huge spike in August.
If Trulieve can replicate their Florida success in other states, it would mean incredible growth for this stock.
Its financial success so far indicates a strong business model.
Cronos Group (NASDAQ:CRON)
Cronos Group is a Canadian marijuana company that runs several different marijuana brands around the world.
These include Spinach, Cove, Peace Naturals, Happy Dance, and Lord Jones.
Their products are available globally in countries like Canada, the US, Australia, and Germany.
Their portfolio includes both THC and CBD products. CBD-only products are legal in many places where THC products are not.
This gives Cronos Group an opportunity to expand into a larger global market in the future.
Unlike many other marijuana companies, Cronos Group has not focused on acquisitions.
Instead, they focus on managing a mid-sized portfolio of weed brands.
This has enabled them to keep their finances stable over the last 12 months, even as the COVID-19 pandemic hit.
Cronos Group stock is still very affordable, which means it can be more vulnerable to the volatilities of the market.
However, their stock jumped up significantly at the beginning of November 2020 when they released their third quarter earnings.
Their excellent financial performance this year bodes well for continued growth.
Cronos Group has a diversified portfolio of brands as well as stable finances thus far.
This makes it one of the best and most exciting marijuana stocks to watch right now.
Curaleaf Holdings (OTC:CURLF)
Curaleaf Holdings is a cannabis producer and retailer based in Massachusetts.
They currently have a large network of dispensaries throughout the United States.
They also run growth and processing sites nationwide.
Since Curaleaf is a US-based company, they will likely benefit from recently relaxed marijuana laws in states like Arizona, New Jersey, and South Dakota.
Curaleaf has consistently improved their revenue each quarter over the past few years.
Curaleaf has made multiple acquisitions in the past year to grow their reach in states across the country.
Their purchases have included small dispensaries as well as larger marijuana brands and operations.
This company is expected to post strong earnings for the third quarter, which could bump their value up even further.
When combined with a generally positive outlook for the marijuana market in the US, this makes Curaleaf one of the top marijuana companies to watch.

Cresco Labs (OTC:CRLBF)
Cresco Labs is a Chicago-based company that produces and sells cannabis.
They offer both medical and recreational marijuana products.
They currently have operations in nine US states, but are likely to expand in the near future.
Cresco Labs is another company that can significantly benefit from the expanded legalization of marijuana in the US.
They state that their mission is to 'normalize, professionalize, and revolutionize cannabis.'
Their sophisticated marketing reflects this.
They offer several different strains of flower, but this company also offers a range of other cannabis products.
These include pre-rolls, edibles, vapes, and oils.
They're committed to consumer education to help new users feel comfortable smoking pot.
Despite the challenges of COVID-19 this year, Cresco Labs has done very well, posting strong revenue numbers.
They've managed to profit in key US markets.
As Cresco expands their footprint throughout the US, this is one of the top marijuana stocks to keep your eye on.
Other Top Marijuana Stocks
Scotts Miracle-Gro (NYSE:SMG)
You have likely already know of Scotts Miracle-Gro as manufacturer and retailer of garden products.
What you may not have realized is that their products are incredibly important for the production of marijuana products.
Scotts Miracle-Gro purchased General Hydroponics and Vermicrop Organics in 2015, and began running this subsidiary as Hawthorne Gardening Company.
This company produces hydroponic products that are essential to the successful growth of cannabis plants.
Although this is only one part of the company's revenue, the sale of these hydroponic products is likely to grow in the future.
Since Scotts Miracle-Gro has a range of other products outside of the cannabis industry, their business model is diverse.
This means that it could be a good option for investors who want to dip their toe into the cannabis market without going all in.
Scotts Miracle-Gro has also done very well throughout the COVID-19 pandemic across all of their brands.
This is because consumers have been spending more time at home and may have taken up gardening as a hobby.
Alternative Harvest ETF (MJ)
The Alternative Harvest ETF is not a traditional stock.
Instead, it is an ETF, or exchange-traded fund. This means that its performance is tied to a larger group of stocks.
In this case, the Alternative Harvest ETF is tied to stocks in the biotech, pharmaceutical, and life sciences industries. This includes marijuana stocks.
If you're interested in investing in the marijuana market, but are worried about volatility, this ETF could be a good option for you.
Since it is not solely tied to the performance of marijuana stocks, it is not subject to their volatility as much.
The Alternative Harvest ETF struggled somewhat last year, when marijuana stocks took a dip.
However, the cannabis industry has rebounded this year and seems poised for continual growth.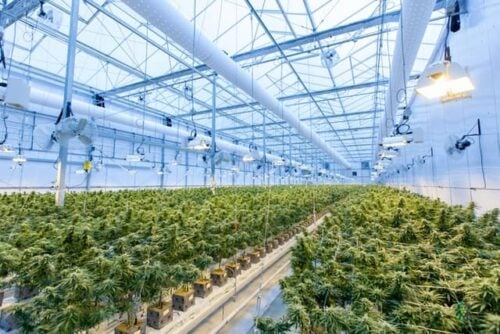 GW Pharmaceuticals (NASDAQ:GWPH)
GW Pharmaceuticals is a British company that developed a drug called Epidiolex using the cannabis plant.
This drug is the first of its kind to be approved by the USFDA.
It is treats certain types of epilepsy as well as tuberous sclerosis complex.
In the UK market, GW Pharmaceuticals developed another cannabis-based drug to treat multiple sclerosis.
This drug could potentially be sold in other countries around the world at some point.
Sales of Epidiolex have been very strong since its initial release, and have produced excellent revenue numbers for GW Pharmaceuticals.
The use of cannabis as a medical treatment is becoming more accepted around the world, which means there's plenty of potential for future growth.
In the third quarter of 2020, GW beat expectations with their earnings report.
Their stock jumped up significantly, but is still very well valued and has potential for future growth.
Marijuana Stocks: Final Thoughts
The cannabis industry is quickly evolving around the world.
As states and countries legalize the substance for recreational use, there's huge potential for profit.
Innovation throughout the industry has resulted in some exciting new products that make marijuana more accessible for first time users or medical users.
Many marijuana stocks are still relatively new to the market.
This means they could fluctuate somewhat as the industry experiences growing pains.
However, as each marijuana company stabilizes their operations, their stocks will likely stabilize as well.
Overall, marijuana stocks are a worthwhile investment for forward-thinking investors.