Near field communication (NFC) is a technology that enables two electronic devices to communicate with each other when they are within close proximity.
A great example of near field communication is contactless payment solutions like Apple Pay or Google Pay.
We've rounded up the best near field communication stocks to add to your portfolio.
As our economy becomes increasingly digital, we can expect to see NFC technology become even more common.
For example, we could use our smart devices for identification instead of having physical identification cards.
NFC also has plenty of applications in the world of gaming and esports.
Wondering where to buy the NFC stocks listed in this article? Check out Webull! Webull is an exciting trading app that's great for both beginners and experienced investors. Webull does not charge commission fees, and they'll give you a free stock just for signing up!
What is Near Field Communication?
Near field communication is defined specifically as communication between two electronic devices that are within 4 centimeters of each other.
It is different from WiFi or Bluetooth connectivity in that it is much more limited in physical scope.
It is also designed to transmit small files instead of large ongoing transmissions.
NFC technology stems from radio frequency identification technology.
Best Near Field Communication Stocks

NXP Semiconductors (NASDAQ: NXPI)
If you want to invest in near field communication, this stock is one of the best places to start.
They were one of the original inventors of NFC technology and are a leading supplier for electronics companies around the world.
NXP Semiconductors makes components for several different electronic devices.
This includes a variety of NFC components, including tags and readers.
They also make NFC sensors for IOT devices, as well as wireless charging components.
The company is based in the Netherlands with operations in more than 35 countries.
They supply some of the world's largest smartphone and electronics manufacturers.
This stock has had an excellent year, with share prices consistently improving.
They saw over 121 percent growth year over year, and hit a five-year high point in the beginning of April.
NXP Semiconductors also pays a 1.13 percent dividend yield.
This means it could be a good choice for income investors, in addition to providing consistently strong returns.
In addition to their NFC products, NXP is also one of the world's largest semiconductor chip providers.
Global demand for semiconductors has spiked over the past year and doesn't seem to be slowing down anytime soon.
This means that NXP stock could be a strong long-term buy for our increasingly digital future.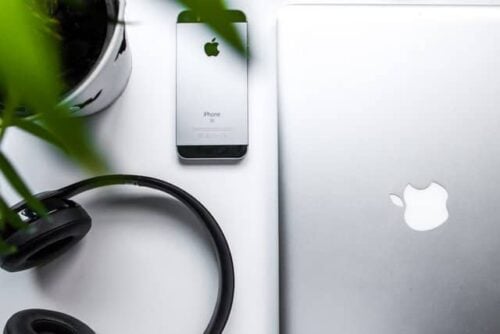 Apple Inc. (NASDAQ: AAPL)
When it comes to taking NFC technology and actually implementing it in smartphones, Apple is a company that has led the way.
They were one of the first to develop a contactless payment system, and have continued to innovate since then.
Apple smartphones contain NFC scanners, which mean they can scan nearby tags to connect with other objects and systems.
Developers can add in-application tag reading to their programs, but the phones also have the ability to scan these tags without opening an application.
Because Apple smartphones already have these scanners built in, developers can implement near field communication features in their apps.
This means there's potential for Apple apps to implement new NFC strategies in the future.
Apple is one of the world's top tech stocks and is part of the S&P 500.
The company continuously produces many of the world's top selling smartphones.
Their latest mobile device, the iPhone 12, uses state-of-the-art 5G technology.
This company's stock price has remained steady over the past few months, without many peaks or valleys.
They are planning a new product launch in the near future, and should be announcing their next earnings report towards the end of March.
Potential investors will want to keep an eye on these important events.
A strong earnings report combined with the release of exciting new mobile devices could push this stock higher.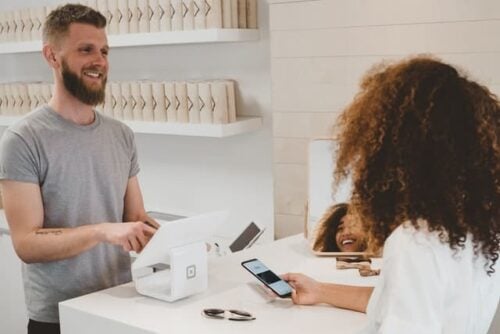 Square Inc. (NYSE: SQ)
Square is a financial technology company that makes point of sale and payment processing systems for small businesses.
They've also recently expanded to offer payroll and other financial services for small businesses.
Many of their point of sale systems use NFC technology for contactless mobile payments.
Their products can transform a smartphone or iPad into a payment processing system.
Their newest readers are equipped with both Apple Pay and Google Pay processing.
Because of the challenges of the pandemic, many consumers have expected contactless payment options while shopping or eating out.
Square's technology helps small business offer these contactless payment solutions.
They also own the Cash App, which is a peer-to-peer payment app.
The Cash App has recently started offering Bitcoin payment options.
Cryptocurrencies like Bitcoin are becoming increasingly mainstream, so this is an exciting step forward for Square.
Square is a very important player in the NFC space.
Their stock price has improved by more than 400 percent since last April, delivering massive yearly returns.
They are a very exciting play in the NFC and fintech space moving forward.
Top Near Field Communication Stocks To Buy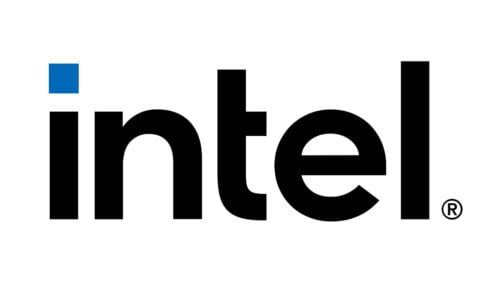 Intel Corporation (NASDAQ: INTC)
Intel Corporation is another one of the leaders in the near field communication sector.
In 2011, they started working with Inside Secure, one of the original developers of NFC technology.
They eventually acquired Inside Secure in 2014.
Intel is based in Santa Clara, California and is a leading global technology company.
Among other things, they make microprocessors, semiconductor chips, graphics cards, and other key technology components.
Given Intel's existing slate of technology components, it made sense for them to start providing NFC parts for their clients.
Intel is currently a supplier for some of the world's largest computer and mobile device manufacturers.
Intel stock has been performing very well over the past few months.
Their share price has improved by over 10 percent since the beginning of 2021.
Right now, they currently have a relatively low price-to-earnings ratio of 13.17, as well as a solid dividend yield of 2.14 percent.
Semiconductor stocks as a whole have been booming due to a recent increase in demand.
However, Intel hasn't quite seen the same level of extreme growth.
While many investors seem to be focused purely on Intel's semiconductor prospects, they shouldn't count out their other operations.
Not only are they a leading NFC supplier, but demand for their computer processors has been steady.
Intel appears to be a solid investment not just in the NFC space, but in the tech industry as a whole.
Now could be a good time to buy, before their share price catches up to their overall valuation.
Read Also: Motley Fool Rule Breakers Review
Broadcom Corporation (NASDAQ: AVGO)
Broadcom Corporation is a technology company that is known for making semiconductors and software products.
They are based in San Jose and supply clients in a variety of different industries.
This company has been making NFC technology solutions for nearly a decade.
In 2012, they launched a piece of wireless technology that combined near field communication with Bluetooth, Wi-Fi, and FM radio.
Implementing this technology would give a device full connectivity with the electronics and networks around it.
Broadcom makes some of the most essential technology components on the market today.
In addition to NFC tags and scanners, they also make semiconductors, 5G network components, and cloud software products.
In a world that's consistently becoming more digital, Broadcom will likely see a steady stream of demand for their products.
This stock has had a stellar year. Their share price has increased by over 80 percent since April of 2020.
They also are an excellent dividend stock and currently have a yield of 3 percent.
In addition to delivering strong returns this year, they've also been an excellent income stock.
Near Field Communication Technology Stocks
Infineon Technologies (OTC: IFNNY)
Infineon Technologies is a semiconductor manufacturer based in Germany.
While they are known for their semiconductors, they also supply NFC tags to companies around the world.
Infineon released the world's first Type 4B NFC tag in 2019.
The company has suggested a number of different use cases for this technology.
In addition to using NFC devices to make contactless payments, they have also suggested using them to quickly share URLs or digital files.
Additionally, they could be used to unlock public scooters and electric bikes.
These are just a few of the many potential applications for these innovative chips.
By offering both NFC technology and semiconductors, Infineon caters to the world's biggest mobile phone developers through a few different lines of business.
Despite all of the volatility on the market over the last year, Infineon's share price has been steadily going up.
Some analysts do think that this stock is overvalued right now given their recent financial data.
Because of this, you may want to wait for a dip before adding this key NFC company to your portfolio.
Near Field Communication Penny Stocks
Quad/Graphics Inc. (NYSE: QUAD)
Quad/Graphics is a unique print marketing company based in Wisconsin.
They specialize in print marketing, and are known for printing respected magazines like Time, Sports Illustrated, and People.
This company got involved in the near field communication space by creating an NFC-enabled print advertisement in Wired in 2012.
Each of the magazines featured a small NFC chip that could launch a mobile website on the reader's smartphone.
While there haven't been many NFC ads since then, this innovative ad showed the exciting potential for this technology in marketing.
If this company were to use NFC in future ad campaigns, it could bode well for their stock.
Right now, Quad shares are worth less than $5 each.
With penny stocks like this, it's important for investors to watch out for high levels of volatility.
However, this stock does have a very high dividend yield, which means it can serve as a good income investing stock.
Should You Buy NFC Stocks?
The near field communication industry is still in its infancy.
We've only scratched the surface of what we can do with near field communication technologies like radio frequency identification.
Investing in stocks related to near field communication now could come with big rewards later as this technology becomes more widespread.
Right now, the two most common uses for NFC technology are mobile payments and ticketing systems.
Mobile ticketing has been particularly popular for high-volume events like concerts as well as flights and train rides.
Both Apple and Android smartphones now offer their own digital wallets, which allow consumers to make contactless transactions.
These digital wallets have become popular among consumers for a number of reasons.
First, they allow consumers to manage multiple credit cards all in one place.
Second, they provide a no-touch way to make point of sale transactions, which has been particularly important during the COVID-19 pandemic.
We can expect to see demand for contactless technologies go up in the near future, even as we start to put the pandemic behind us.
The prevalence of the Internet of Things, or IoT technology, has meant that many of the devices we use every day now can connect to the internet.
By implementing near field communication technology in these devices, they'll be able to communicate with each other when they're in close proximity.
Since near field communication has so much potential to continue growing, now is a good time to invest in the companies that are already developing it.
Looking for even more exciting investment opportunities? Check out Trade Ideas! Trade Ideas is an innovative AI-based platform that can help you find stocks to buy before they go up.
Near Field Communication Stocks: Final Thoughts
Near field communication technology may be new, but it has already changed the way we make payments and attend events.
Now is the time to invest in near field communication companies as the technology continues to grow.