During the COVID-19 pandemic, some businesses have been successful while others have struggled.
Little did investors know that plastic companies would play such an integral role in protecting us from the spread of the virus.
Many public-facing businesses have implemented plexiglass shields to protect their staff and adhere to social distancing requirements.
Governments around the world have started distributing the COVID-19 vaccine. However, the pandemic is far from over.
It will likely take more than a year to distribute the vaccines to everyone in the United States alone.
Even those that have received the vaccine will need to wear facemasks and continue to practice social distancing, using tools like plexiglass shields.
Although people who have been vaccinated aren't likely to get sick, they can still carry the virus.
Plastic companies will still need to produce plexiglass shields for the foreseeable future.
This means that investing in plastic companies could produce huge returns.
Here's a list of the top plexiglass stocks to buy for your portfolio today.
Do plexiglass stocks pique your interest? Check out Trade Ideas to find plenty of great investment ideas. Trade Ideas uses AI-based software for hassle-free trading. This a great platform to get a jump start on your portfolio today!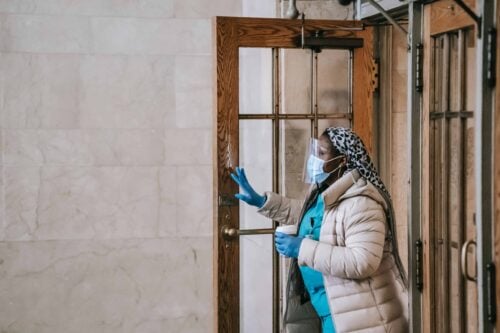 Best Plexiglass Stocks To Buy
Exxon Mobil Corporation (NYSE:XOM)
Exxon Mobile is an American multinational gas and oil corporation.
The company was formed in 1999 through the merger of Exxon and Mobile.
Exxon Mobil is also one of the world's largest 'big oil' companies.
With 37 refineries across 21 countries, they are the 7th largest refiner in the world.
The company uses its oil to produce a wide range of plastic products, including plexiglass.
Exxon Mobil has struggled quite a bit to return to its pre-COVID market performance.
This investment could be a great choice for investors with the patience to wait out the downturn.
This stock currently trades for nearly $46 per share.
Since our economy still depends on oil, Exxon Mobil will continue to perform well, at least for a few more decades.
They also have a massive market cap of $195.39 billion, and they also haved great dividend yields for income seekers at 7.53%!
LyondellBasell Industries N.V. (NYSE:LYB)
LyondellBasell is a Dutch multinational chemical company with roots in both the UK and US.
The company is also the largest licensor of polyethylene and polypropylene, which are used in the production of products like plexiglass.
LyondellBasell has another large market cap at $29.04 billion.
In 2016, LyondellBasell was the 3rd largest chemical manufacturer in the US.
Unlike Exxon Mobile, their performance is less dependant on the performance of oil markets.
The oil market had a difficult year in 2020 as people were not traveling as often due to COVID-19.
LyondellBasell has seen a complete rebound from its market downturn in March.
LyondellBasell trades for roughly $88 per share right now.
Their services will be critical in providing safety infrastructure for the world as we battle new COVID-19 variants and deal with social distancing challenges.
Dow Inc. (NYSE:DOW)
Dow is an American commodity chemical company.
The company's main subsidiary is the Dow Chemical Company, which is one of the largest in the chemical industry.
Dow makes acrylic sheets and resins, both of which are used in the production of plexiglass for face shields, health security, and more.
The company provides value-add individualized services to their products, ensuring the needs of each individual customer are met.
Dow's shares have recovered from the stock market crash and are now trading for around $56 per share.
This industry leader has a very low price point given their potential for future growth.
This stock could be a good long-term investment.
This company had their IPO in 2019 and have performed well ever since.
They currently have a market cap of 41.65 billion and pay reliable dividend yields of nearly 5 percent.
Berry Global Group Inc (NYSE:BERY)
Berry Global Group is a Fortune 500 company that makes plastic packaging products.
Their product markets include health, hygiene, consumer packaging, and engineered materials.
Since the COVID-19 pandemic hit, they have focused their production on plastic materials that can help with social distancing.
This includes a huge supply of face shields.
The company has made a full recovery from its downturn in March and continues to float near record-breaking prices.
They're currently traded for $50.77 per share.
Since they support a wide variety of industries, Berry will likely continue to perform well.
Analysts think their share price is likely to continue going up for the next 12 months, so now is a good time to purchase and hold this stock.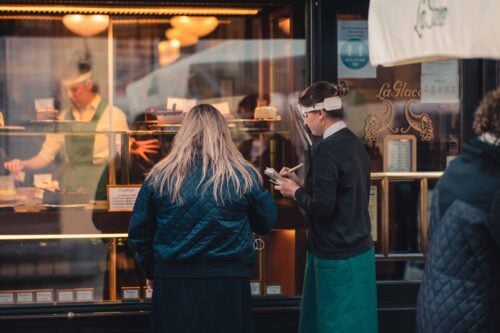 Plexiglass Penny Stocks
Hexpol AB (OTCMKTS: HXPLF)
Hexpol manufactures compound polymers that are used in plexiglass and other plastic products.
Their product offerings also span a variety of solutions such as rubber compounding, TPE compounding, thermoplastic compounding, and more.
Their products extend a wide variety of industries from consumer & healthcare, to industrial, transportation, and more.
Hexpol trades at just over $10 per share.
While this may be a little more expensive than the typical "penny stock," this is one of the cheaper investments in the plexiglass or plastic manufacturing space.
Since Hexpol is involved in a wide variety of industries, their stock is a great way to diversify your portfolio.

Should You Buy Plexiglass Stocks?
Plexiglass stocks will likely continue to perform well for at least a year.
This is because we will continue to need plexiglass as part of social distancing requirements.
That said, all of the companies on our list make a wide variety of products and are involved in multiple industries.
Even if demand for plexiglass goes down, there's still plenty of earning potential for these companies.
Wich of the plexiglass stocks on our list caught your interest? Check out these stocks and more on WeBull. When you download WeBull, you'll get a few free stocks just for signing up.
Plexiglass Stocks: Final Thoughts
There are many COVID-19 pure plays. The plastics industry is just one.
However, don't be worried that these companies will perform poorly after the pandemic has passed.
Plastic is an essential part of our society.
While there are environmental considerations, these companies will need to continue to develop technologies like bioplastics to stay relevant, both economically and ethically.