The energy market has changed dramatically over the past decade.
A push toward sustainable energy has caused oil and gas stock prices to underperform the market.
Lower crude oil prices have also affected oil stock performance, making it difficult to choose the best oil stocks.
Oil stocks can be incredibly volatile. However, this doesn't mean you should avoid investing in them.
Some oil stocks are good additions to your portfolio.
By analyzing how an oil company works, you can determine if they are stable enough to withstand the ups and downs of the oil market.
We've narrowed down some of the best oil and gas stocks to buy for 2020.
These companies have robust operations that may help them weather the current storm in the energy market.
Why Buy Oil Stocks?
You may wonder why oil stocks would be a good buy right now.
Oil prices could continue fluctuating as the energy market evolves.
This means that investors should be very discerning as they choose where to put their money.
However, oil stocks can still be some of the best energy stocks to buy.
This is because oil is an essential part of the global economy.
Without oil, the transportation and energy industries would be crippled.
Although oil stocks had a rough spring, some energy in the market has resulted in more stability.
Global demand for oil and gas is increasing.
Many oil stocks are also much lower than normal, but the market could continue to fluctuate.
How to Choose The Best Oil Stocks
You should not purchase any energy stocks without conducting in-depth research ahead of time.
Any oil or gas stock that you purchase should be robust enough to handle changes in the market.
First, you'll want to consider the type of oil operations the company is involved in.
Are they involved in exploration and production (E&P), processing, transportation, distribution, or something else?
An oil company with diverse operations is most likely to be stable.
For example, many companies are active in multiple countries.
This means that their operations are less susceptible to the fluctuations of one country's economy.
Look at which oil reserves each company has access to.
Ideally, your oil investments should have ample reserves that are both developed and producing oil.
Many companies will advertise reserves that they own, but that are not yet producing oil.
While this can indicate potential, it's hard to know exactly when these reserves will become a financial boon to the company.
It's also very important to invest in oil and gas companies that are strong financially.
This means their debt needs to be manageable, and they also need a strong bond rating.
You should also consider their cash flow and credit access.
One of the biggest challenges for oil companies is keeping operating costs low.
When looking at oil stocks, you should make sure that their operating costs are steady.
For example, they shouldn't require high crude oil prices to sustain.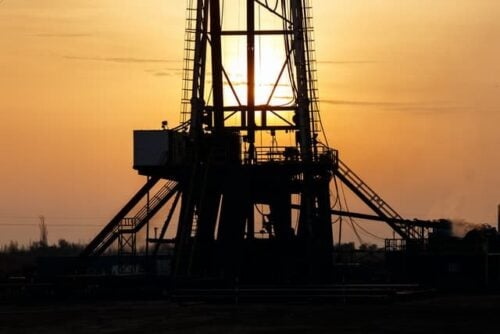 Best Exploration & Production Oil Stocks
ConocoPhillips (NYSE: COP)
Of the large E&P oil companies, ConocoPhillips may be investors' best bet right now.
Their operations are very diverse, unlike other major oil companies.
ConocoPhillips currently uses a broad range of strategies to source gasoline and other crude oil products.
They use hydraulic fracturing, oil sands mining, deepwater drilling, horizontal drilling, and more.
They currently have operations on four different continents.
Their unconventional methods have made them a standout among oil companies.
Their oil sand mining in Canada has been particularly promising. However, they still have relatively low supply costs and stable cash flow.
ConocoPhillips has the financial stability to weather the storm that oil companies are experiencing right now.
They have an excellent credit rating and plenty of cash on hand.
This makes them one of the best stocks to buy in the oil and gas field right now.
Chevron (NYSE: CVX)
Chevron faced a rough second quarter of 2020, but that doesn't mean you should write them off just yet.
The company has maintained its generous dividend, with a yield of 6.1 percent.
Additionally, the oil behemoth acquired Noble Energy, another oil company.
While Chevron's oil production has fallen overall, they've expanded their output in the Permian Basin.
The Permian Basin is located in western Texas. It is one of the largest oil basins in the US
Chevron lost a significant amount of revenue in the first half of 2020.
The low price of crude oil in the spring resulted in a loss of 3 billion on revenue.
The company also lost stake in its Venezuela operations.
Although Chevron's stock price dropped in March and April, it has rebounded to a stable level.
However, it has not returned to pre-pandemic levels, which leaves room for growth.
Talos Energy (NYSE: TALO)
Talos Energy is a growing exploration and production company with offshore operations in the Gulf of Mexico.
This stock is currently very affordable. A low price to earnings ratio also means this stock provides good value.
In September 2020, President Trump signed a moratorium on U. S. oil and gas exploration in the eastern Gulf of Mexico.
However, Talos Energy is not affected by the is moratorium.
They have large operations in the Green Canyon and Mississippi Canyon, as well as elsewhere in the Gulf.
Talos produced 52.4 thousand barrels of oil per day in the second quarter of 2020.
This small company has plenty of potential for growth, making it a strong energy stock to add to your portfolio right now.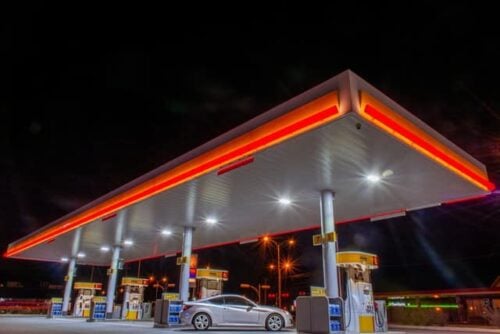 Exxon Mobil (NYSE: XOM)
Exxon Mobil Corp (XOM) is the largest oil company in the U. S.
Although they took a hit in early 2020 like most oil and gas stocks, they are still producing huge dividends.
Their current dividend yield is 8.3 percent.
An excess of oil supply has forced Exxon Mobile to cut their capital expenditures.
While this is concerning, Exxon's sheer volume and influence on the global economy means it's not worth giving up on them yet.
Crude oil prices have returned to something resembling what they were in 2015 and 2016.
Exxon Mobile's stock price is closely linked to the price of crude oil.
In today's volatile market, this makes it a risky proposition for investors.
Exxon Mobile was also recently removed from the Dow Jones Industrial Average due to its struggles this year.
It's likely to be a long time before Exxon Mobile returns to its former glory.
However, investors with a high risk tolerance could potentially see future gains with this stock.
Best Downstream Oil Stocks
Phillips 66 (NYSE: PSX)
Phillips 66 has a diverse range of oil operations. They mainly operate as a downstream oil company.
This means that they refine oil in the US and Europe. They also market and distribute refined oil products.
Phillips 66 also invests in midstream oil operations.
They have two master limited partnerships as well as a chemicals partnership with Chevron Corp (ticker: CVX).
This company has been able to keep its operating costs very low.
They are very financially stable, with strong investments and plenty of cash on hand.
Liquidity means there's potential for a generous dividend yield.
They are well-positioned to expand their operations in the future.
TORM PLC (NASDAQ: TRMD)
Torm is a Danish shipping company based in Copenhagen.
They operate tankers that transport gasoline, diesel, and other refined oil products.
They have been one of the fastest growing energy stocks in 2020.
In addition to their headquarters in Copenhagen, Torm maintains operations around the world.
They currently have offices in London, Singapore, Manila, Houston, Mumbai, New Delhi, and Cebu.
Torm currently has over 70 vessels on the water, with two more in construction.
Their stock price went up dramatically in April of 2020, before dropping when oil stocks took a beating as a whole.
In the first half of 2020, Torm reported a profit before tax of $128 million.
Their profits aren't directly tied to crude oil prices, which has insulated them somewhat.
Although their stock price now is relatively low, this profit indicates potential for growth.
They've demonstrated a commitment to environmentally friendly practices as well.
This is more important than ever for oil and gas companies.
They've been able to improve their fuel efficiency by 9.3 percent since 2015.
Best Midstream Oil Stocks
Kinder Morgan (NYSE: KMI)
Kinder Morgan is a midstream pipeline operator.
They are based in Houston and have the largest natural gas pipeline in North America.
They also transport refined petroleum and oil products, as well as carbon dioxide.
Carbon dioxide has increased yields in older oil fields. This is because it helps to move the oil out of the ground.
Despite losses in the second quarter, Kinder Morgan has a strong financial profile.
They are currently paying dividends of 7.4 percent.
Their strong balance sheet also allows them to continue making investments.
The majority of their income comes from fee-based contracts, so they're less exposed to the volatility of crude oil prices.
A large portion of their contracts come with no volume risk.
This means that customers pay the full contract, regardless of whether or not they use the oil.
Although Kinder Morgan has had to scale back their growth, their resilience means they're still one of the best energy stocks to buy for 2020.
Magellan Midstream Partners (NYSE: MMP)
While energy stocks as a group have dropped, some companies are better set up to weather the storm than others.
Magellan Midstream Partners (MMP) is a great example of a company that's somewhat insulated from the damage.
Magellan is based in Tulsa, Oklahoma and runs both ammonia and petroleum pipelines in the southern United States.
Their pipelines make up an essential part of the energy infrastructure in North America.
In fact, they have the longest American petroleum pipeline, measuring over 9,700 miles.
MMP has a stable business model that runs mainly on fee-based contracts.
This stabilizes their cash flow. They also have plenty of potential for expansion in the future.
When it comes to debt, Magellan is also more stable than many of its competitors.
All of these factors make Magellan a good investment pick.
Enterprise Products Partners (NYSE: EPD)
Enterprise Products Partners is another midstream oil company that should be on your radar.
They are based in Houston, Texas and run oil and natural gas pipelines throughout North America.
Despite the challenges of last quarter, EPD has managed to stay financially stable.
Even with a drop in revenue, they were still able to post a $1 billion profit.
Enterprise is highly diverse. They have a range of contracts, including pipelines as well as other storage and transportation assets.
The company has also managed to keep their debt ratio low.
They have consistently increased their dividend payments every year.
Their strong management makes this one of the energy stocks to keep an eye on.
Enbridge (NYSE: ENB)
Enbridge is another strong stock pick in the midstream market. They are based in Calgary and run pipelines throughout North America.
This company has managed to outperform many of their competitors this year.
They have a very strong balance sheet and have actually exceeded expectations in terms of free cash flow.
They continue to pay attractive dividends of 7.6 percent to their investors.
The value of their stock has dropped slightly this year, making this a good time to buy.
Since Enbridge is so financially stable, they are looking to expand.
They have billions of dollars in projects in development currently.
This could potentially increase their profile and value in the future.
Enbridge has a solid business model that is built to withstand the volatility of the market.
That makes it one of our top energy stocks to add to your portfolio.
Best Oil Stocks – Final Thoughts
The COVID-19 pandemic has dramatically affected the oil market.
It's likely that we'll see the market continue to fluctuate for a while before stabilizing.
The oil and energy markets are changing. Consumers are reassessing the way they use nonrenewable energy sources.
However, oil is still an essential for now.
Oil stocks who have managed to maintain a strong balance sheet and a diverse portfolio can succeed in the long run.
It's these companies that you'll want to consider for a long-term investment strategy.