If you're in the market for a service that can help sharpen your trading skills, you've probably found some gurus making some pretty extraordinary claims. Profitly is a platform that makes gurus verify their trades in real-time, so you know if the insights you're getting hold up. Our profit.ly review will tell you whether this new take on trading education is the real deal.
How can you verify a guru's claims, and how can you be sure they're really making the trades they say they are?
That's where Profitly comes in.
This trading platform allows trading gurus to host trading communities and make actual trades through the platform.
Profitly is supposed to foster a more transparent relationship between students and trading gurus, but is this service legit?
Keep reading our Profitly review to get the facts on this trading platform.
Profitly Review: Overview
The Profitly website was founded by Timothy Sykes, a well-known penny stock trader and investing guru, and co-founder Michael Mosseri, who helped build the Profitly platform.
A few years ago, Forbes interviewed Tim Sykes about Profitly and had this to say:
"Profit.ly is focused on showing all trades, something that has never been done before. "This serves two purposes: creating public track records for gurus, newsletter writers, and students and allowing everyone to learn from both the wins and losses of other traders to benefit the entire industry."

–Tim Sykes, Forbes, "Profit.ly Mines The Masses For Stock-Trading Gold"
What Is Profitly?
Profitly serves a unique corner of the trader services market.
This service helps traders network with each other and investing gurus on a platform that can verify trades and overall trading performance.
The service almost acts like a social media platform for trading gurus.
Profitly independently verifies trades to ensure everyone on the platform is telling the truth about their trading performance.
This is one of the most impressive features we found during our profit.ly review, as most services expect users to trust that the gurus' insights are valuable without proving their performance first.
Profitly Gurus Profile: Trading Styles
Profitly hosts trading gurus with a variety of styles and strategies.
However, the common through-line here is that most gurus focus on small-cap, penny stocks, and swing trading.
This makes sense given that the founder of Profitly is known for swing trading penny stocks.
While there may be a distinct focus on the platform, there are a variety of trading styles on display, and trading chat rooms are another wealth of knowledge you can tap into.
Subscribing to Trading Gurus on Profit.ly
Each guru typically has paid-subscription services or chat rooms.
If you're interested in signing up with a guru, you can see their entire trading track record and decide for yourself if they're the real deal or all talk.
You can also network with other traders in trading rooms and showcase your own trading skills.
Profitly even has a leaderboard that tracks the top traders on its platform.
What Is Profitly?
Profitly serves a unique corner of the trader services market. This service helps traders network with each other and investing gurus on a platform that can verify trades and overall trading performance.
The service almost acts like a social media platform for trading gurus. Profitly independently verifies trades to ensure everyone on the platform is telling the truth about their trading performance.
Each guru typically has paid-subscription services or chat rooms. If you're interested in signing up with a guru, you can see their entire trading track record and decide for yourself if they're the real deal.
You can also network with other traders and showcase your own trading skills.
The leaderboard feature tracks the top traders on its platform.
>> Start learning from the pros with Profit.ly now <<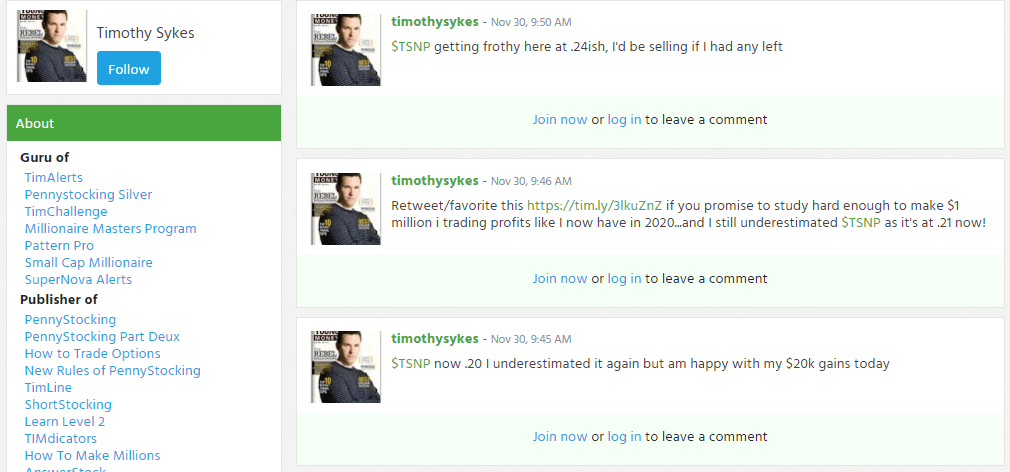 How Does Profitly Work?
Profitly is a subscription-based service, so you have to pay a monthly fee to sign up.
Once you join, you can create a profile, connect your brokerage accounts, and start shooting your way to the top of the leaderboard.
You can also use the platform to shop for a trading guru and be confident of their expertise as they must verify trades.
With Profitly's verified trades, you can evaluate each guru with confidence knowing their claims are legit.
This is especially important if you want to learn to trade penny stocks, as some online spaces are filled with "gurus" looking to increase interest in a stock to prime it for a pump and dump.
If you're uncomfortable linking your online brokerage accounts to Profitly, you can also post unverified trades or verify trades through screenshots.
The site also has a lot of useful features for the member community aside from its trading gurus, which includes some excellent trading courses.
Posting trades and interacting with other traders is simple and straightforward.
You'll also find lots of useful statistics in each trader's private profile on this online trading service.
You should have a good overview of the platform by now, so let's dive into the specifics.
But first, who is Tim Sykes, and what is he about?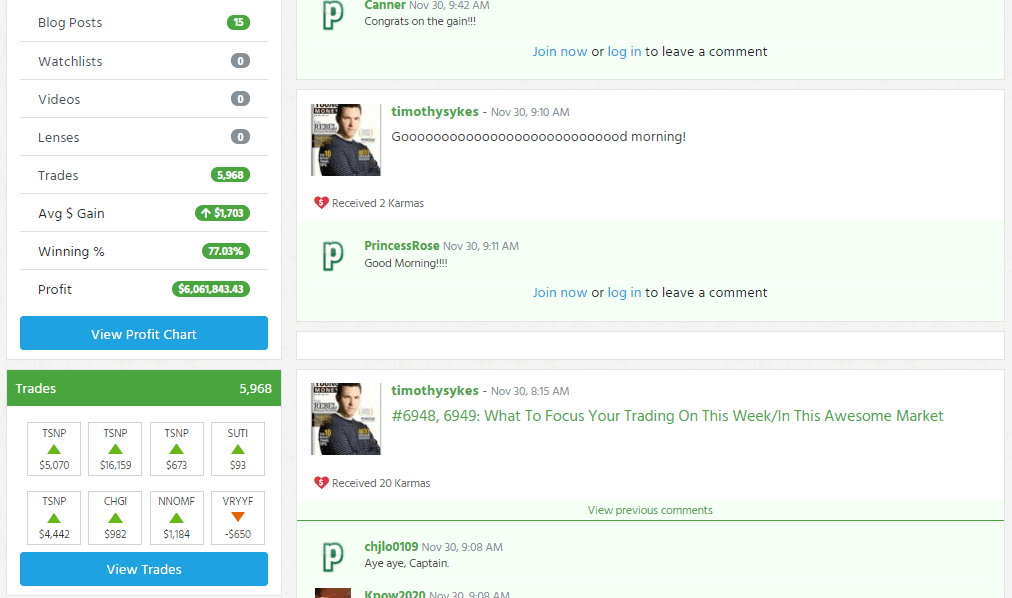 >> Access detailed trading reports on your favorite gurus now <<
Profitly Review: Who Is Tim Sykes?
Tim Sykes is a well-known day trading personality with a penchant for penny stocks.
According to his Profitly profile, Sykes started trading while in high school and has made more than $6 million in profits throughout his trading career.
This is what sets him apart from most people who trade penny stocks — he makes consistent gains in a very volatile market.
You can find Tim Sykes products all over the trading universe.
He is an industrious guy, and he's known for putting out a lot of helpful content.
More on the Penny Stock Pro's Trading Career
He's been around for a few years now, and he's earned a reputation for transparency and honesty.
Interestingly enough, Timothy Sykes is the first one to admit he's not that great of a trader, but he's managed to hold onto his top-10 spot on Profitly for years, so maybe he's just a little modest.
Anyone looking into day trading penny stocks could learn by following his guidance on the platform.
Sykes founded Profitly on a mission to bring transparency to the trading space, and he continues to push for that principle today.

Who Is the Best Profitly Guru?
Profitly has many talented gurus, but two of them are particularly notable.
First, there's Tim Sykes, who offers multiple trader education programs and trading courses.
And the next is Paul Scolardi, AKA Superman.
>> Access these gurus top trades now <<
Tim Alerts
Founder Tim Sykes's basic service is centered on day trading penny stocks.
He primarily focuses on fundamental stock catalysts and uses them to predict stock moves and make trades.
Some of Tim's favorite techniques include targeting timing pump and dump promos, trading headline catalysts, under and over-valued plays, and more.
Tim's basic stock trading service, Tim Alerts, goes for $74.95 per month.
Tim's Pennystocking Silver Plan
The penny stock trading service includes all the same features as Tim Alerts, plus a whole lot more.
For $149.95 per month, you will get all the Tim Alerts services, including swing trading alerts, plus access to an educational library with more than 4,400 videos and weekly trading lessons.
So if you're into trading penny stocks, this is the package for you.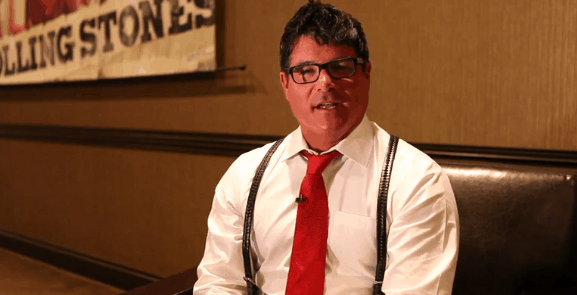 Superman Alerts
"Superman" Paul Scolardi is right behind Sykes with $5.4 million in all-time trading profits.
He's an established swing trading guru with a sharp eye for small-cap momentum stocks.
Superman has an uncanny ability to forecast large stock movements with spectacular accuracy.
For $147 per month, you can follow Superman's trades through his subscription service, Superman Alerts.
This entry-level package includes live chat room access, watchlist, email alerts, and SMS trade signals.
Plus, you can access the service through the Profitly app on iOS and Android.
Superman Pro
For a little extra scratch, traders can opt for Scolardi's premium service, Superman Pro.
In addition to the basic services, you'll get weekly video lessons from Scolari, access to Superman's trader education library, premium research reports, IPO alerts, and earnings tracker access.
The Pro package costs $247 per month, about $100 more than the basic package.
>> Join Superman and Tim Sykes on Profitly right now <<
Profitly Review: How Much Does Profitly Cost?
To join Profitly and participate in the online trading community and trading chat rooms, you have to pull out your wallet and join.
Profitly has three membership tiers.
Let's break them down in detail:
Novice: $29.95 per month
Trader: $49.95 per month
Pro: $74.95 per month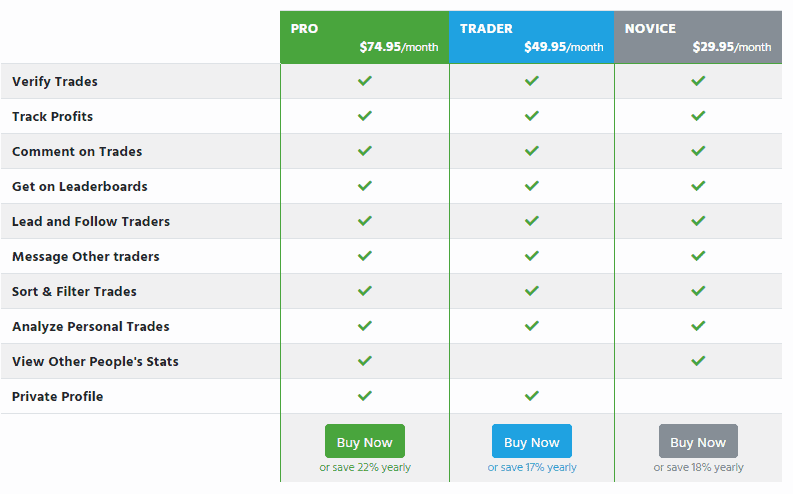 What's Included in a Profitly Membership?
Let's break it down by subscription tier.
Profit.ly Novice
This subscription tier allows traders to participate in the Profitly online community in a limited capacity.
When you sign up for a novice membership, you can access a surprisingly robust selection of features.
Novice members can view other users' stats, verify their trades, track profits, comment on the boards, and more.
You can also qualify for leaderboards and analyze detailed trading performance data based on your uploaded trades.
However, you can't have a private profile, so everything you do is publicly available.
If that's a problem for you, you will want to consider a higher subscription tier.
The novice package goes for $29.95 per month, and you can save 18% if you sign up for an annual membership.
Profit.ly Trader
The Trader package is very similar to the novice tier, with a few key exceptions.
When you sign up for Trader, you can access all of the novice benefits with the somewhat odd exception of the ability to view other traders' stats.
You can't see other traders' stats, but Trader subscriptions allow you to create a private profile.
If you work in finance or you're a high-level executive worried about regulatory guidelines, this feature could be important.
It's also good for beginner traders who want to hide how bad they are.
This subscription will cost you $49.95 to upgrade to Trader, so you'll pay $20 more than Novice.
If you sign up annually, you'll get a 17% discount.
Profit.ly Pro
The pro package has it all.
You'll get full access to the platform, including access to trading rooms, plus all the Trader and Novice benefits combined.
You get a private profile, access to stats from other traders, and full platform privileges in one convenient subscription.
The Pro package goes for $74.95 per month, and there's a 22% discount for annual sign-ups.
All and all, it adds up to $25 more than Trader.
>> Sign up for Profitly now for instant access to these benefits <<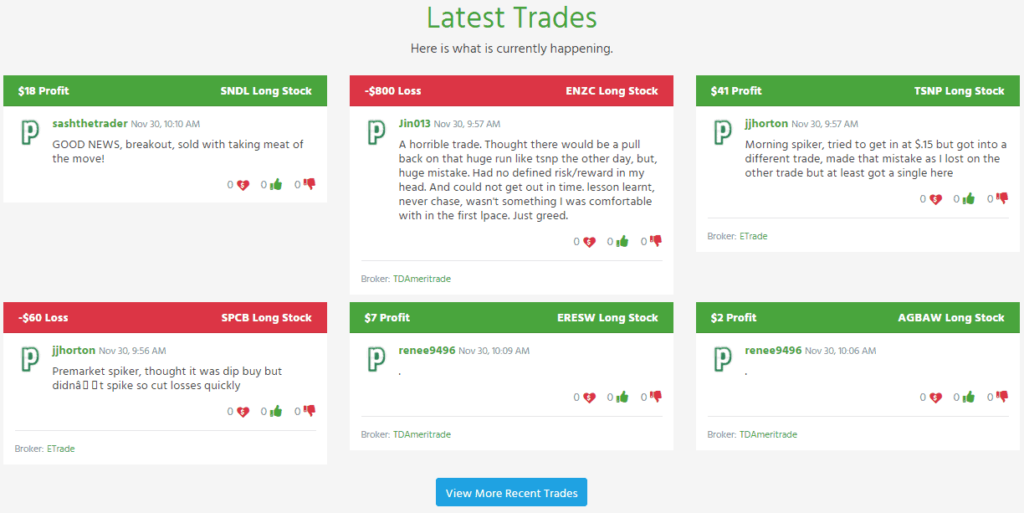 Profitly Review: Is Profitly Worth It?
Profitly offers a lot, but it's catered to a somewhat of a niche audience.
If you're not trying to climb your way to the top of the trading world or don't want to share your insights on penny stocks, the verified trading system isn't exactly a game-changing benefit.
However, the ability to verify traders is a substantial benefit if you're in the market for a premium trading program.
If signing up for a month helps you track down a guru that makes you thousands, then it's definitely worth it.
If those bells and whistles don't get your juices flowing, here's one thing that should: the data.
Data-Rich Insights
You can garner some very high-level actionable insights from reviewing Profitly trading data.
It's not just analyzing data from other traders either; analyzing your own trades can help you identify your trading strengths and weaknesses.
Profitly's unique trade tracking system meticulously tracks each of your trades with painstaking detail.
After you've built up a bit of a trading track record on Profitly, you'll quickly notice patterns beginning to emerge.
Analyzing your trading track record can give you important insights into your trading strategy.
With a little work, you can identify your most successful trading techniques and build on those principles.
This data can also help you spot and correct mistakes.
In that regard, Profitly is definitely worth the price of admission, even if you're not particularly excited about the trade verification.
Profitly Cost and Value
Outside of the verified trading and guru leaderboards, you can get a lot of value out of the social component of Profitly that may not be immediately obvious.
You can learn a lot by watching other traders' mistakes and picking the brains of the winners.
Profitly allows you to learn by example, and you can even open yourself up to critique from traders in the community if your skin is thick enough.
At just $30 per month for the entry-level package, Profitly is much more affordable than typical trading services, and traders can get a lot of value from the platform — particularly if they're into day-trading or trading penny stocks.
>> Join Profitly now and upgrade your trading game <<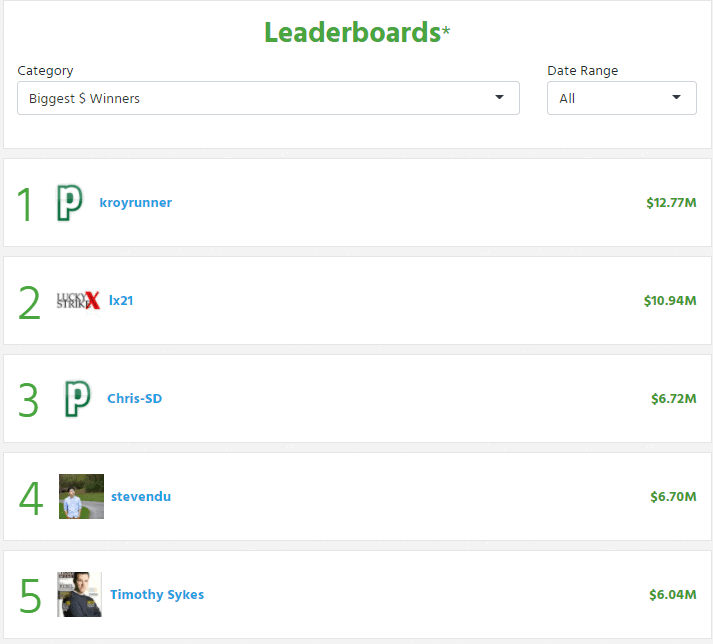 Profitly Review: Is Profitly Legit?
Profitly is as legit as it gets in the online trading service industry.
The platform is literally built around the idea of transparency, which is how it developed such a solid community of experienced traders.
Whenever you look up traders on Profitly, you know their stats are legit.
This might seem trivial for social purposes, but it's important if you're considering following a so-called guru.
We've all seen plenty of examples of shameless stock shillers on social media.
Profitly's verification process filters out these snake oil salesmen and penny stocks pump and dumpers, so the platform is populated by traders who ACTUALLY trade stocks.
In review, we can say confidently that there's no reason to suspect anything is illegitimate about Profitly.
The company's founder has been around for a long time, and the Profitly team holds credibility and honesty as its core values.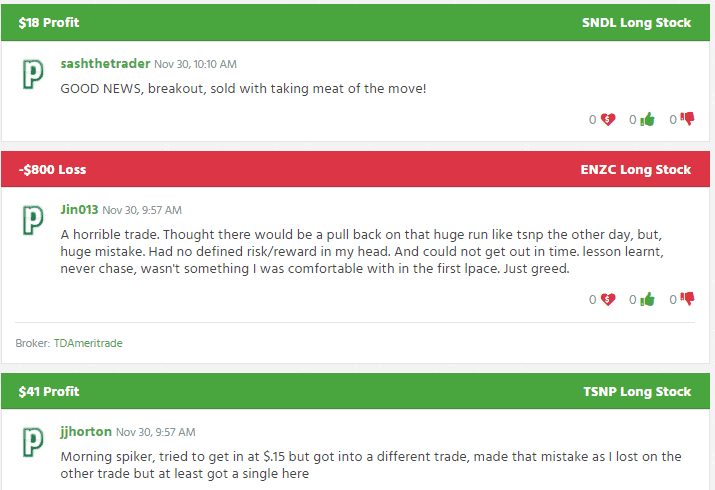 Profitly Review: Pros and Cons
Nobody's perfect, and Profitly isn't all sunshine and roses either.
Let's take a look at the platform's most notable ups and downs.
Profitly Pros
Advanced analytics help you draw actionable insights from your trades and the community
Solid resource to learn the ins and outs of day trading and penny stocks trading
Relatively affordable in comparison to other products for traders
Allows traders to vet gurus based on their verified trade performance record
Offers a full-featured platform for traders to connect, network, and compare trades
Traders can build their investing credibility by posting verified trades and working their way up the leaderboard
Users have the option to post unverified trades or verify their trades with screenshots if they're not comfortable integrating their brokerage accounts
Stay on top of emerging trends and top trades by following expert gurus.
Profitly Cons
Traders have the option of whether or not to post a trade, so some dishonest gurus might cherry-pick the best trades and leave out the losers to inflate their rating; could be a problem for penny stocks
No refund policy
According to the Profitly FAQ page, users get immediate value from accessing the platform, so a refund policy isn't feasible
>> Start sharpening your trading skills with Profitly today <<
What Type of Trader Is Profitly Best For?
The Profitly platform has something for everyone.
The premium trading service allows unlimited access to anyone willing to pay for a subscription.
New traders can get on board with a guru of their choice and learn trading tips and strategies.
These insights can help build a strong portfolio that can lead to market success.
Penny stock, small-cap, and day traders will have all the information they need to make smart trade decisions.
Active investors will be able to make as many trades as they need each month, and expert traders can use Profitly to build a name for themselves and show off their skills.
Their knowledge can be the catalyst a new trader needs to start raking in profits.
Profitly Review: The Final Verdict
We've written lots of reviews over the years, but we've never run into something like Profitly.
The platform has a remarkably unique value proposition; and although it's somewhat niche, there is a definite need for this type of service on the market.
Reviews from other traders prove that this platform really lives up to the hype.
Profit.ly has an excellent rating on Investimonials, and most people speak highly of it on investment forums.
With thousands of services promoting sensational get-rich-quick trading strategies, Profitly isn't exactly the most exciting investing product out there, but it serves its purpose tremendously well.
Profitly provides a thriving community where traders of all skill levels can come together to share their knowledge and learn from each other's experiences.
Plus, Profitly's advanced stat-tracking features can provide actionable insights that can really help you sharpen your skills.
Even if you're not in the market for a guru, Profitly offers substantial value through its knowledgeable trading community and analytics.
Traders of all skill levels could get a lot out of this platform.
>>That's it for our Profitly review. Click here to join now and take your trades to the next level. <<