You may not realize it, but shipping services keep our entire global economy running.
Not only do shipping companies transport the products that we use every day, but they also transport raw resources that we rely on, such as oil and grains.
We've rounded up the best shipping stocks to help you invest in this essential industry.
Best Shipping Stocks To Buy
Eagle Bulk Shipping (NASDAQ: EGLE)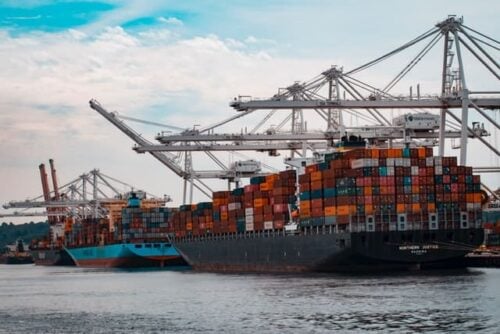 Eagle Bulk Shipping is a dry bulk shipping company based in Stamford, Connecticut, with offices in Copenhagen and Singapore.
This means that they ship dry bulk materials like grains, metals, or cement with an extensive fleet of midsize cargo ships.
This shipping company saw a decline through the bulk of 2020 but has rebounded well to see a 136% share price increase since last year.
One of the things that make this company appealing is its international presence.
They also work with a diverse range of dry goods, including iron ore, grains, coal, fertilizer, and more.
This means they aren't relying on just one market or material for their income.
Eagle Bulk Shipping is definitely one of the top shipping stocks to watch due to their global presence.
Danaos Corporation (NYSE: DAC)
Danaos is a Greek shipping company that has offices in both Athens and Cyprus.
They specialize in container shipping, which is used to transport finished cargo products.
Danaos is different from many other companies in the shipping industry because they charter their vessels.
This means that instead of running defined routes, they rent their boats out to companies needing them.
This can be for a specific period of time or a specific point-to-point journey.
Because of this unique business model, Danaos is one of the shipping stocks that has seen some real growth over the last year.
Their earnings estimates have gone up over the past few months, which has driven a steady upward price trajectory since October 2020 – and is still climbing as of August 2021.
Although Danaos is currently trading at a year-long high, there are many analysts that believe it has the momentum to go even higher.
Because of this, it's one of the most exciting shipping stocks to buy right now.
ZIM Integrated Shipping Services Ltd. (NYSE: ZIM)
ZIM Integrated Shipping specializes in logistics services and seaborne transportation.
The company is headquartered in Israel, right on the Mediterranean Sea.
They have a fleet of ships that offer handling and transportation of cargo along with tariff management.
In April of this year, the company partnered with another Israeli company to create its own technology company.
This tech company will develop more accurate and efficient scanning solutions for their supply chain and logistics.
These improvements have shown a steady climb in stock price over the last year, with more improvements on the way.
Dry Bulk Shipping Stocks
Star Bulk Carriers (NASDAQ: SBLK)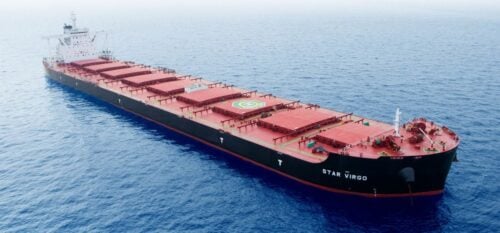 Star Bulk Carriers is a Greek dry bulk shipping company.
They currently have a fleet consisting of 128 vessels, and they pride themselves on having a diverse fleet with the capacity to carry many different types of dry goods.
They are currently incorporated in the Marshall Islands. However, they maintain their main offices in Greece and Cyprus.
They also have a subsidiary that is based in Singapore, which expands their international reach into Asia.
Star Bulk entered into a deal to acquire three new vessels at the beginning of the year.
This will expand Star Bulk's shipping capacity around the world.
Star Bulk also opted to equip all of their ships with scrubbers in 2018. This has helped to keep fuel costs down.
The company has seen steady growth through the first two quarters of 2021, thanks to the standard price for dry goods increasing.
Investors hope this trend continues into the back half of 2021, but only time will tell.
As with other dry bulk shipping stocks, they will likely be dependent on the movement of the market as a whole.
Genco Shipping and Trading (NYSE: GNK)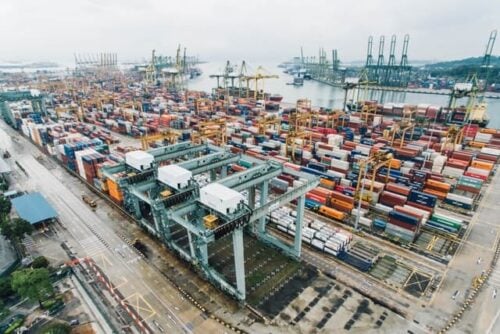 Genco is another American dry bulk shipping company founded in 2004 and based in New York City.
Using the United States as a hub, they run shipping routes all over the world.
Their fleet currently includes 47 ships of varying sizes.
Some of the products they focus on include iron ore, grain, coal, and steel.
Genco is currently focused on both modernizing their fleet and reducing their carbon footprint.
At the end of last year, they entered into a deal to trade six of their existing vessels for three new ones that are more modern and fuel-efficient.
In this difficult economy, it's vital that shipping stocks take steps to streamline their expenses.
While in penny stock range for most of 2020, Genco has seen massive gains from the first quarter of 2021 that have pushed the company to all-time highs this summer.
Shipping Container Stocks
Matson, Inc. (NYSE: MATX)
Matson Inc. is based out of Hawaii in the United States with over 130 years of shipping experience.
The company's reach extends from Alaska to Hawaii and further out into the Pacific as far as Guam.
They specialize in freight transportation in a variety of products, including food, clothing, vehicles, and building materials.
Like most freight companies, Matson was hit hard at the beginning of 2020's pandemic.
Fortunately, they were able to quickly recover and reach new heights a year later.
Current stock prices are up 80% from last year at this time.
This is especially impressive considering there was significant supply chain congestion throughout the first half of 2021.
This success has allowed the company to pay out $0.30 per share in dividends for the third quarter of this year.
Costamare (NYSE: CMRE)
Costamare is a shipping container company that is incorporated in the Marshall Islands and operates in Greece.
The company owns over 80 container ships with a capacity of over 550,000 twenty-foot units.
After experiencing a steep drop at the beginning of 2020, Costamare – and container shipping in general – is seeing an uptick.
Standard rates for container shipping went up towards the end of 2020 and have remained at a high.
This has been reflected in the stock price of many container shipping stocks, and Costamare is no exception.
They have been on a steady upswing all the way since the beginning of March 2020.
Expert analysts are still setting higher earnings estimates for Costamare in the coming months.
Time will tell if the company continues to improve its stock share.
If they do meet their market consensus, it's likely that shares could continue to go up even further.
Shipping Penny Stocks
DHT Holdings, Inc. (NYSE: DHT)
Based out of Bermuda, DHT Holdings is a crude oil tanker company with a presence in several parts of the world.
Their current businesses have them primarily in Norway, Monaco, and Singapore.
The company was founded in 2006 and currently has 27 carriers for transporting oil.
Given their focus on crude oil, DHT Holdings is somewhat susceptible to oil prices and the effect it has on demand.
Furthermore, DHT constantly works to improve their fleet by purchasing new vessels and selling older ones.
Although not a high amount at present, DHT is paying out a dividend of $0.02 per share.
Nordic American Tankers (NYSE: NAT)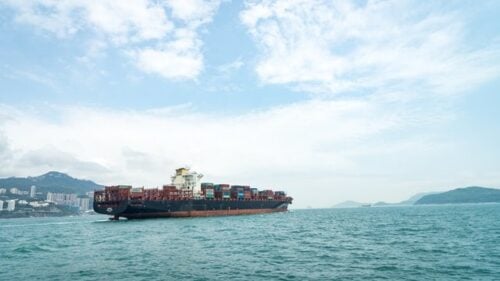 Nordic American Tankers is an oil shipping stock headquartered in Bermuda with shipping operations around the world.
They currently have a fleet of 25 ships.
NAT stock has struggled this year, fluctuating as a result of decreased demand for oil.
Share prices have been on a slow downward trajectory.
However, a peak in April showed that this stock has the potential to grow in the future as long as the oil industry stabilizes.
As with any penny stock, you'll need to be wary of volatility when investing.
However, this company has a very long history of paying dividends, which means they could be an attractive option for long-term income.
They currently pay a dividend of $0.02 per share.
Castor Maritime Inc. (NASDAQ: CTRM)
Castor Maritime Inc. transports products all over the world, with Cyprus as their base of operations.
The company is known for shipping a wide range of commodities.
This allows Castor Maritime to weather the highs and lows of one particular commodity.
Although the transport business saw losses in 2020, first and second quarter earnings from 2021 show income in the positive.
In February of this year, a share price spike took Castor Maritime to an all-time high, but values have since come back down.
With Castor Maritime reporting positive income, one can expect this to have a positive impact on other areas of the company as well.
Should You Buy Shipping Stocks?
Since shipping is such an essential part of our economy, it makes an excellent investment.
Without shipping, we wouldn't be able to send goods internationally or even domestically.
Therefore, shipping is an essential industry that investors can rely on.
However, shipping companies can be volatile when it comes to their stock price.
They tend to be reflective of world events – for example, the price of oil can directly affect the share prices of shipping companies.
When the COVID-19 pandemic hit, it caused shipping stocks to drop pretty dramatically.
Most of these stock prices have rebounded well since the beginning of 2021.
Understanding the cyclical nature of shipping stocks makes it easier to make smart investing decisions.
Typically when people talk about the shipping industry, they are referring to marine shipping companies.
However, goods also move by air, rail, and truck.
When assessing shipping stocks to invest in, you'll want to consider factors like their contract backlog as well as how much of their fleet is currently in use.
You'll also want to consider what type of shipping they are involved in and how that marker is currently doing.
For example, container shipping stocks are currently performing much better than shipping companies focused on dry goods or crude oil.
Shipping Stocks: Final Thoughts
Shipping stocks are such an important part of our broader economy.
As these companies recover from the pandemic, they look to see favorable growth in the coming months.
Now is a good time for investors to get in on shipping stocks while prices are on the low end.