The Stock Dork is reader supported. We may earn a commission, at no additional cost to you if you buy products or signup for services through links on our site.
You may not realize it, but shipping services keep our entire global economy running.
Not only do shipping companies transport the products that we use every day, but they also transport raw resources that we rely on, such as oil and grains.
We've rounded up the best shipping stocks to help you invest in this essential industry.
Wondering how to invest in the shipping stocks featured in this article? Check out WeBull! WeBull is a commission-free investment platform that's great for both beginners and experienced investors. Not only will you find all the stocks listed in this article on WeBull, but they will also give you a free stock just for signing up.
Best Shipping Stocks To Buy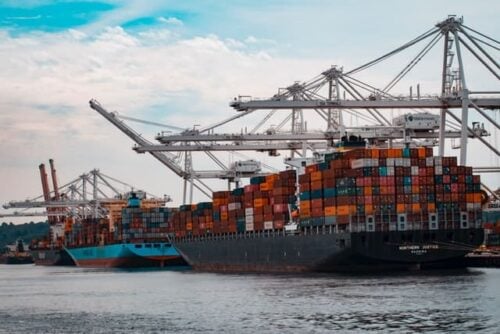 Eagle Bulk Shipping (NASDAQ: EGLE)
Eagle Bulk Shipping is a dry bulk shipping company based in Stamford, Connecticut with offices in Copenhagen and Singapore.
This means that they ship dry bulk materials like grains, metals, or cement.
They have a very large fleet of midsize cargo ships.
This shipping company has kept their share prices relatively steady over the past year.
While the global COVID-19 pandemic inhibited growth, they were able to keep their head above water financially.
While they did report losses in the third quarter of 2020, their revenue was able to beat estimates.
One of the things that makes this company appealing is their international presence.
They also work with a diverse range of dry goods, including iron ore, grains, coal, fertilizer, and more.
This means that they aren't relying on just one market or one material for their income.
As of January 2021, this stock is on a slight upward trajectory.
Eagle Bulk Shipping is definitely one of the top shipping stocks to watch due to their global presence.
Frontline (NYSE: FRO)
Frontline is a shipping company based in Bermuda with operations around the world.
They ship both crude oil and refined petroleum products. Their fleet of oil tankers is one of the largest in the world.
This stock has struggled somewhat as a result of the COVID-19 pandemic.
The price of oil fluctuated dramatically last year, taking Frontline's stock price along with it.
This company has also continually carried quite a bit of debt throughout the year, which may also be concerning for investors.
However, there are some positive data points that investors may be excited by.
In the third quarter of 2020, Frontline's revenue dramatically exceeded expectations.
When compared with their overall earnings, their stock price may be undervalued.
Frontline's current affordable stock price means that now might be the right time to invest in this oil transportation company.
Dry Bulk Shipping Stocks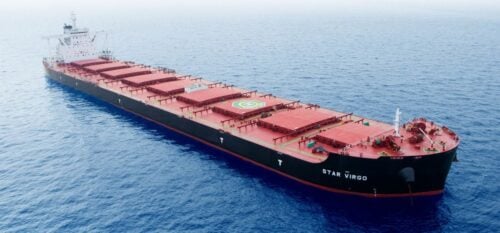 Star Bulk Carriers (NASDAQ: SBLK)
Star Bulk Carriers is a Greek dry bulk shipping company.
They currently have a fleet consisting of 116 vessels, and they pride themselves on having a diverse fleet with the capacity to carry many different types of dry goods.
They are currently incorporated in the Marshall Islands. However, they maintain their main offices in Greece and Cyprus.
They also have a subsidiary that is based in Singapore, which expands their international reach into Asia.
Star Bulk recently entered into a deal to acquire three new vessels.
This will expand Star Bulk's shipping capacity around the world.
Star Bulk also opted to equip all of their ships with scrubbers in 2018. This has helped to keep fuel costs down.
Dry bulk carriers are very vulnerable to overall market conditions, and Star Bulk is no exception.
However, they have seen more share growth in the past few months than many of their competitors.
They are still priced below the peak they hit in late 2019, implying that there may be potential for bigger returns in the future.
In the third quarter of 2020, Star Bulk reported strong profits but a loss of revenue, managing to stay afloat.
However, the standard price for dry goods went up at the end of last year, which is what started an upward growth trend for this company.
This growth is a positive change for Star Bulk, but we'll need to wait and see what happens with this stock in the long run.
As with other dry bulk shipping stocks, they will likely be dependent on the movement of the market as a whole.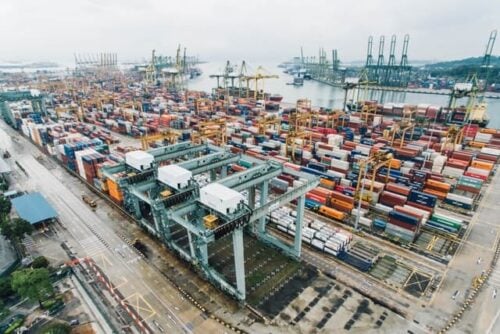 Genco Shipping and Trading (NYSE: GNK)
Genco is another American dry bulk shipping company with operations around the world.
They are based in New York City, but currently run shipping routes all over the world.
Some of the products they focus on include iron ore, grain, coal, and steel.
Their fleet currently includes 47 ships of varying sizes.
Genco is currently focused on both modernizing their fleet and reducing their carbon footprint.
At the end of last year, they entered into a deal to trade six of their existing vessels for three new ones that are more modern and fuel efficient.
This is a very positive step for Genco. In this difficult economy, it's important that shipping stocks take steps to streamline their expenses.
As a result, Genco's stock has slowly rebounded from the low point it experienced last month.
Crypto Alert
Bigger Than Bitcoin and Better Than Gold
Even gold misses the mark.
Cryptocurrencies (like Bitcoin) are the ONLY assets that have all four of these features.
Features that can truly protect investors from today's unprecedented money printing and interference from governments.
But Bitcoin is NOT the primary cryptocurrency at the forefront of this new money revolution.
These three supercryptos are the ones taking the lead and helping investors make the most money.
Click Here For All Of The Details
We earn a commission if you click this link and make a purchase at no additional cost to you.
While it will still take time for things to recover, investors are starting to see the light at the end of the tunnel.
Shipping Container Stocks
Costamare (NYSE: CMRE)
Costamare is a shipping container company that is incorporated in the Marshall Islands and operates in Greece.
While other types of shipping companies have struggled this year, container shipping is seeing an uptick.
Standard rates for container shipping went up towards the end of 2020.
This has been reflected in the stock price of many container shipping stocks, and Costamare is no exception.
They have been on a steady upswing since the beginning of November.
As a result, expert analysts set higher earnings estimates for Costamare in the coming months.
Whether they can meet these estimates has yet to be seen.
However, if they do meet their market consensus, it's likely that shares could continue to go up even further.
Danaos Corporation (NYSE: DAC)
Danaos is a Greek shipping company that has offices in both Athens and Cyprus.
They specialize in container shipping, which is used to transport finished cargo products.
Danaos is different from many other companies in the shipping industry because they charter their vessels.
This means that instead of running defined routes, they essentially rent their boats out to companies that need them.
This can be for a specific period of time or a specific point to point journey.
Because of this unique business model, Danaos is one of the shipping stocks that has managed to see some real growth over the last year.
Their earnings estimates have gone up over the past few months, which has driven a steady upward price trajectory since October 2020.
Although Danaos is currently trading at a year long high, there are many analysts that believe it has the momentum to go even higher.
Because of this, it's one of the most exciting shipping stocks to buy right now.
Shipping Penny Stocks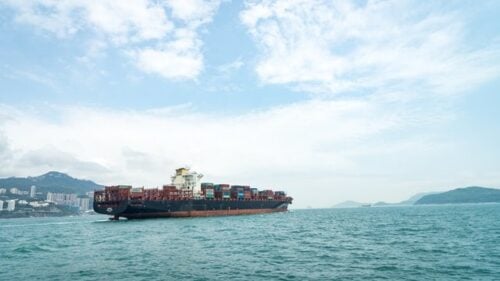 Nordic American Tankers (NYSE: NAT)
Nordic American Tankers is an oil shipping stock headquartered in Bermuda with shipping operations around the world.
They currently have a fleet of 17 ships.
NAT stock has struggled this year, fluctuating as a result of decreased demand for oil.
Share prices have been on a slow downward trajectory.
However, a peak in April showed that this stock has the potential to grow in the future as long as the oil industry stabilizes.
As with any penny stock, you'll need to be wary of volatility when investing.
However, this company has a very long history of paying dividends, which means they could be an attractive option for long-term income.
They currently pay a dividend of $0.14 per share.
Globus Maritime (NASDAQ: GLBS)
Globus Maritime is a Greek dry bulk shipping company.
They are incorporated in the Marshall Islands and have operations all over the world.
They currently have a fleet of six carriers, and have stated their plans to expand in the future.
This company launched a DPO at the end of 2020 as a way of raising necessary additional funds.
Shares have been at a steady low point since this happened.
However, Globus Maritime recently announced a new charter project, which will secure a significant portion of the revenue they need for the next year.
As with other penny stocks, investors should be careful with their investment.
These stocks are very affordable and there's potential for growth, but volatility can also make it tricky to get long term returns.
Performance Shipping (NASDAQ: PSHG)
Performance Shipping is a company that owns and operates a fleet of oil tankers to carry petroleum products around the world.
Performance Shipping has a charter mode, so they contract their vessels with oil companies and other companies in the energy industry.
They are currently based in Greece and have five oil tankers that can operate globally.
They provide complete management and logistics services for their tankers.
Performance Shipping stocks remained under $10 per share for the entirety of 2020.
However, there have been some fluctuations throughout the year. Right now, this stock appears to be in a slight dip.
This means that right now could be a good time to purchase for returns when share prices rebound.
Top Ships (NASDAQ: TOPS)
Top Ships is a company that runs oil tankers to deliver petroleum products around the world.
In addition to both refined and crude oil, their tankers also transport other chemical products.
This company's entire fleet consists of eco-friendly tankers that are designed to use fuel efficiently.
They currently have a total of 12 vessels, most of which are just a few years old.
Because their fleet is so new, they don't have to spend as much money on ship repairs or replacements.
Top Ship's stock price is currently just over a dollar, and it hasn't moved much over the past six months.
As with any penny shipping stocks, investors should always assess the most current market data before investing.
This company's low price point means that investors on a budget can get involved in the shipping industry without breaking the bank.
Top Ships has a strong global presence, so there's hope that their stock value could rise when the economy recovers.
Should You Buy Shipping Stocks?
Since shipping is such an important part of our economy, it makes a great investment.
Without shipping, we wouldn't be able to send goods internationally or even domestically.
Therefore, shipping is an essential industry that investors can rely on.
However, shipping companies can be volatile when it comes to their stock price.
They tend to be reflective of world events – for example, the price of oil can directly affect the share prices of shipping companies.
When the COVID-19 pandemic hit, it caused shipping stocks to drop fairly dramatically.
When the global economy improves, shipping stocks tend to see growth as well.
Understanding the cyclical nature of shipping stocks makes it easier to make smart investing decisions.
Typically when people talk about the shipping industry, they are referring to marine shipping companies.
However, goods also move by air, rail, and truck.
When assessing shipping stocks to invest in, you'll want to consider factors like their contract backlog as well as how much of their fleet is currently in use.
You'll also want to consider what type of shipping they are involved in and how that marker is currently doing.
For example, container shipping stocks are currently performing much better than shipping companies focused on dry goods or crude oil.
However, that could change as the economy improves.
Looking for even more great stocks to invest in? Check out Trade Ideas. This innovative software program uses AI technology to help you find new investment ideas with minimal effort.
Shipping Stocks: Final Thoughts
Shipping stocks are such an important part of our broader economy.
While many shipping companies have struggled in 2020, it's likely that they will eventually recover when the world starts moving back to normal operation.
Now is a good time for investors to get in on shipping stocks while prices are on the low end.