Modern technology has made it easier than ever to work from home, and companies that provide remote work services are doing incredibly well right now.
The COVID-19 pandemic forced many people who would normally work in an office to switch to working from home, and it's unlikely that offices will ever fully be the same.
This article will discuss the best work-from-home stocks to buy in a rapidly changing economy.
Even before the pandemic, many people were switching to working from home.
Video conferencing and other digital communication tools ensure that employees don't have to be in the same room to work together anymore.
Many people love the freedom and work-life balance that come with working at home or on the go.
As we move away from a traditional office model, there will likely be a huge demand for products catered to the remote worker.
This year is a great time to invest in these remote work stocks and eventually see incredible returns.
Wondering where to invest in these great stocks? Check out Webull! Webull is an intuitive trading platform great for beginners and experienced investors. Not only will you find all the stocks listed here, but they will also give you a free stock just for signing up.
Best Work From Home Stocks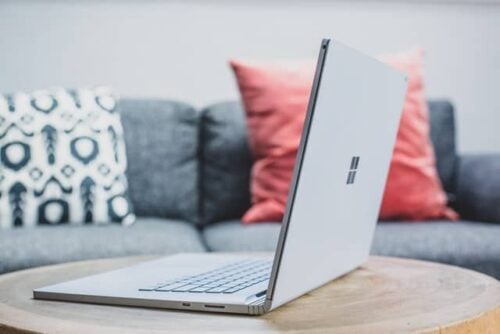 Microsoft (NASDAQ: MSFT)
This technology giant offers a huge range of services that employees rely on to work remotely.
Bill Gates and Paul Allen originally founded the company to build personal computers.
Today, they develop and sell many different electronics and software products.
Microsoft Office 365 is a key product for so many remote employees.
This productivity suite includes Word, Excel, PowerPoint, and OneNote.
Not only do these programs make it easy for users to create key documents, but they also allow you to collaborate with team members by editing at the same time.
Additionally, Microsoft owns two video conferencing apps.
Microsoft Teams is designed for business use and can support large group video calls as well as text chat conversations.
They also own Skype, which is designed for both work and personal calls and is great for international communications.
Finally, they run Azure cloud services.
By providing cloud based data storage, it's much easier for companies to work remotely.
Microsoft has a long history as a successful stock, but they've been performing particularly well this year.
They've been on a sharp growth trajectory as revenues have soared during the pandemic.
Their third and fourth-quarter earnings in 2020 were very strong, and many analysts recommend them as a long term buy for your portfolio.
RingCentral (NYSE: RNG)
RingCentral is a tech company that provides cloud communication services.
They also provide collaboration tools that allow employees to connect with each other remotely.
RingCentral offers a wide variety of services that include call forwarding, video conferencing, screen sharing, faxing, and more.
These services have been particularly helpful during the pandemic, as so many people have been forced to work from home.
This stock hit a peak in February 2021, but has dropped since then.
This is somewhat surprising, as the company had a very strong earnings report around this time.
They beat consensus estimates for both revenue and earnings per share.
Many other tech stocks have been faltering lately, as investors are expecting the pandemic to end and workers to return to the office.
However, that doesn't mean you should ignore this stock – it could actually be a great time to buy the dip.
RingCentral is planning to expand their services with new features and availability in more countries around the world.
Remote work isn't likely to go away anytime soon, it will just evolve, and companies will need services like the ones that RingCentral provides.
DropBox (NASDAQ: DBX)
When employees are working from home, they need an easy and secure way to share documents with one another.
DropBox is a software platform that offers this, using cloud technology to provide its customers with huge amounts of storage.
One of the best things about DropBox as a stock is that it has huge growth potential.
It would be very easy for this company to expand into video and text chat services.
This would enable them to offer a more complete suite of business tools, and it would also give them a more diverse business model.
While this stock struggled throughout much of 2020, they have rebounded so far in 2021.
Despite a recent increase in their share price, this stock appears to be very affordable.
DropBox is also financially stable and has a lot of free cash flow. This can help them stay afloat even in tough economic times.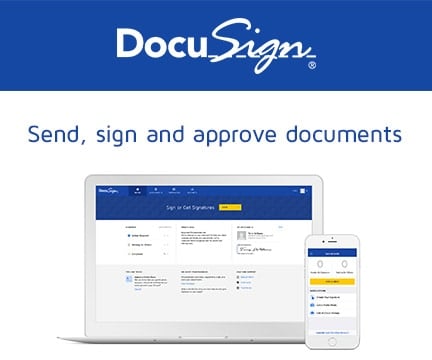 Docusign (NASDAQ: DOCU)
Docusign is a stock that has done incredibly well this year, despite all of the challenges facing the broader market.
One of the biggest challenges that many people face while working from home is having to sign documents without a printer or a scanner.
Docusign's electronic signature technology allows you to do this safely online.
One of the things that makes Docusign such a great stock pick is that their platform is very accessible to everyone – it works just as well for independent contractors as it does for huge corporations.
While the pandemic definitely drove some of this stock's growth, it seems like their business model may work in any market.
During their earnings report, Docusign indicated that they had not only picked up new customers, but that existing customers had increased their spending.
They've also seen steady revenue growth for several years now, and analysts estimate indicate they could draw in over $1.3 billion in 2021.
Since Docusign's stock price shot up this year, it is relatively expensive. However, it doesn't show many signs of slowing down.
Investors may want to wait for a slight price dip in order to get the best deal.
However, you won't want to wait too long.
If you do, you could miss an opportunity to get in on a great company before its share prices blow up.
Amazon (NASDAQ: AMZN)
We all know Amazon as one of the most expensive stocks on the market, and their shares seem to just keep going up in value.
Amazon provides a wide range of services, and virtually all of them have done well during the pandemic.
Of course, Amazon is known for its massive delivery service.
With more people spending time at home, there's much more demand for online shopping.
Amazon Prime Video services have also helped people stay entertained during the COVID-19 shutdowns.
Amazon is also a leading cloud provider through their Amazon Web Services (AWS) platform.
These cloud services have been key for helping people work online during this challenging year.
Since Amazon is such an expensive buy, it's not going to be right for all investors.
However, if you have the funds to add Amazon to your portfolio, it could have a huge payoff in the long run.
Try waiting for a slight dip in their stock price before you invest.
>> These 5 Stocks Could Be Poised For Major Growth In 2021 <<
Direxion Work From Home ETF (WFH)
If you'd prefer to invest your money in a diversified bundle of stocks rather than a single option, you may want to consider an exchange traded fund, or ETF.
The Direxion Work From Home ETF is a bundle of 40 different stocks that support work from home operations.
These include internet providers, project management programs, cybersecurity tools, communication software, and more.
Although they only launched in June of 2020, this ETF has already seen plenty of growth.
As an index, it's been performing much better than the overall market itself.
Work From Home Stocks: Communication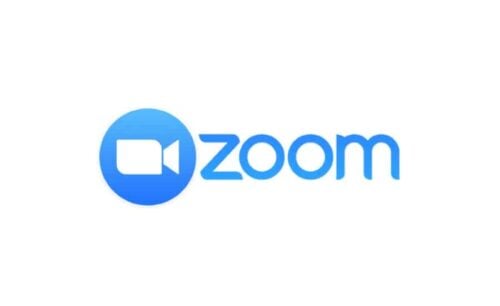 Zoom Video Communications (NASDAQ: ZM)
If you've been spending a lot of time in quarantine this year, you're likely already familiar with Zoom Video.
Zoom has become one of the easiest ways to communicate with coworkers throughout the day.
For many people, it's also become a temporary substitute for in-person interaction.
While Zoom was already in a great place financially in 2019, their sales and their number of daily users shot up in 2020.
While they have plenty of competition from other video chat companies, they stand out because of their advanced technology.
Zoom also has a strong business model that combines both free and paid services.
They offer free video conferencing with a time limit.
Larger companies can take advantage of their paid model for longer meetings and advanced features.
All of this has been reflected in Zoom's earnings this year.
They are in a very strong place financially, with a cash flow of over $1.9 billion.
Zoom stock peaked in October and has been struggling since then.
It seems that investors are feeling bearish about video communications as the world is starting to open back up.
However, you might want to consider buying Zoom stock during this dip.
It's unlikely that video conferencing is going to completely go away, even when employees are fully vaccinated.
Many companies have realized the efficiency of a hybrid work model.
Zoom meetings can also help companies cut back on expensive business travel and have meetings remotely instead.
SalesForce (NYSE: CRM)
SalesForce runs a number of software programs that are essential for online collaboration and marketing.
They've been leading the way in the customer management software realm with flexible cloud technology that works in many different industries.
SalesForce acquired Slack this year – another great work from home stock to keep your eye on.
This acquisition was very exciting for investors and sent both companies' stocks skyrocketing.
Slack is a popular collaboration tool for many workplaces, and is most well-known for their web chat channels.
Because SalesForce has a huge market share, it will likely take a long time for their competitors to catch up.
Demand for their products is high, and many analysts have determined that their current valuation is not too expensive.
Best Connectivity Work From Home Stocks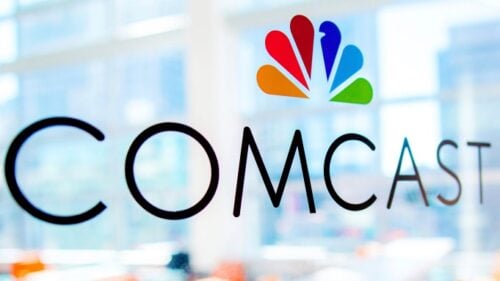 Comcast (NASDAQ: CMCSA)
It's virtually impossible to work from home without internet.
Comcast is one of the largest internet providers in the US, and their shares have performed very well this year as a result.
While they suffered a dip in March, they recovered quickly and are now trading at an all time high.
Comcast has shown their ability to pivot in a tough market as well.
While they used to have a large focus on cable TV, they've shifted their efforts this year to make up for losses in the entertainment industry.
Not only has Comcast shifted towards promoting their high-speed internet, but they've also launched their streaming service Peacock in partnership with NBC.
Since it's unlikely that internet service is going anywhere, Comcast makes for a very solid investment moving forward.
Best Work From Home Stocks: Freelance
Upwork (NASDAQ: UPWK)
The ability to work online has prompted many full-time employees to switch to the freelance business.
Upwork is the largest online platform for freelance jobs around the world.
Not only does Upwork help freelancers in many different industries find jobs, but it also helps companies find the talent they need for their projects.
The platform makes it easy to create contracts and has an escrow system to help freelancers get paid safely.
Upwork's stock value has gone up dramatically over the last year.
Their third-quarter earnings reflected this, with revenue up 23 percent from last year.
Their fourth-quarter results were strong as well, with 24 percent revenue growth for the entire year.
Wix.com (NASDAQ: WIX)
During the pandemic, many people left or were let go from their jobs.
As a result, many people decided to start their own businesses or take their side hustles full-time.
Wix is a company that provides website templates and tools.
They make it easy for the average person to create their own website.
This includes a suite of helpful e-commerce tools.
Wix saw a steady increase in demand right after the pandemic hit, and this was reflected in their stock price.
Shares more than doubled between May and July 2020, and have been trading sideways since then.
However, there's still more room for this stock to grow.
They have a strong business model that generates revenue from subscription fees as well as from e-commerce tools.
The need for new websites is likely to continue, and will provide plenty of new opportunities for Wix.
Should You Buy Work From Home Stocks?
Work from home stocks are a great buy right now.
As many industries move to remote work, there's huge demand for the companies that can support them.
If you're looking for even more great stocks, check out Trade Ideas. This innovative AI-based program helps you find new investments with minimal effort.
Work From Home Stocks: Final Thoughts
This is only the beginning of working from home.
Many companies have indicated that even after a COVID-19 vaccine is widely available, they will still have their teams working remotely at least part time.
Additionally, many of these remote work stocks have great business models that can withstand changes to the economy.