The Stock Dork is reader supported. We may earn a commission, at no additional cost to you if you buy products or signup for services through links on our site.
For many, casinos provide a form of escapism that's synonymous with a luxury vacation.
When managed properly, they can also be very lucrative, making them a great investment.
Here we'll discuss the best casino stocks to add to your portfolio.
The casino industry has struggled this year as a result of the coronavirus pandemic.
Many casino companies were forced to shut down their resort properties to comply with local restrictions.
However, casinos managed to adapt to this new normal fairly quickly.
In many parts of the world, casinos are now open, albeit with strict social distancing requirements.
While revenue hasn't fully returned to normal, casinos are starting to see the light at the end of the tunnel.
Here are the best casino stocks to add to your portfolio today.
Wondering where to invest in these great stocks? Check out WeBull! This amazing investment platform is commission free and easy to use. Not only will you find all of the stocks listed here, but you'll also receive a free stock just for signing up.
Best Casino Stocks To Buy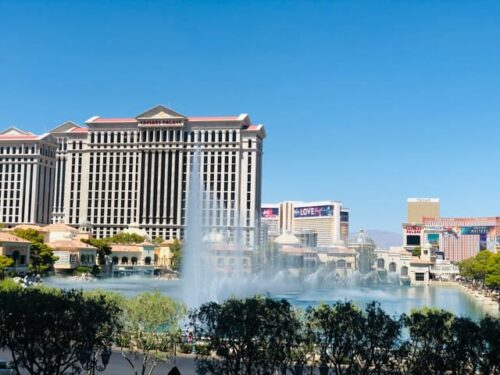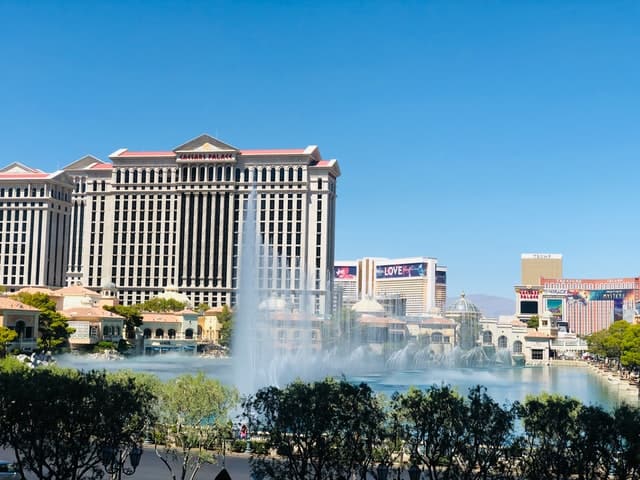 Caesar's Entertainment (NASDAQ: CZR)
Caesar's Entertainment is the largest casino company in the United States.
In July 2020, the original Caesar's Entertainment merged with Eldorado Resorts.
This created a massive gaming empire that runs five nationally recognized gaming brands.
They have properties in 16 states, including eight on the Las Vegas strip.
If you're looking purely at market share in the US, Caesar's Entertainment has plenty going for it.
Since their properties aren't concentrated in one geographical market, it minimizes their financial risk.
COVID-19 restrictions are different in each state, so if one property needs to close completely, they can focus on others to compensate.
Caesar's Entertainment has also recently acquired William Hill, a digital sports betting company.
Sports betting is very trendy right now, and since it can be done online, there's huge revenue potential regardless of current coronavirus restrictions.
Caesar's stock bounced back from the stock market crash swimmingly.
The stock hit an all-time high in December 2020 and has continued to perform well since.
However, analysts are predicting that prices could go even higher.
Now is a great time to buy for strong returns later in 2021 and beyond.
Largest Casino Stocks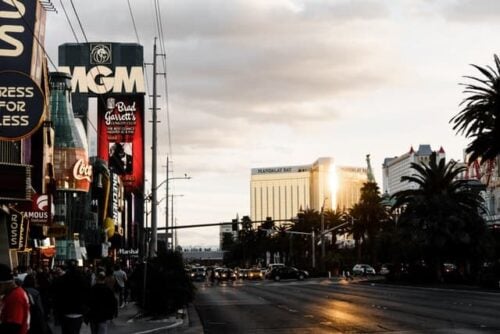 MGM Resorts International (NYSE: MGM)
The MGM Resorts name is synonymous with Las Vegas glitz and glamor.
Their lavish resorts contain casinos as well as luxury hotels, dining, shopping, and other forms of entertainment.
In addition to their properties in Las Vegas, MGM also runs casinos in seven other US states and in China.
MGM Resorts stock is slowly recovering from the initial stock market crash of the pandemic.
They've been hit hard by the closure of their hotels and dining, even as some of their casinos have been able to stay open.
However, they've taken steps to adapt to the new challenges of the pandemic.
One of the ways that MGM Resorts has adjusted is by focusing on their sports betting subsidiary, BetMGM.
This allows them to generate revenue digitally regardless of current coronavirus restrictions.
In December 2020, BetMGM announced that they would be partnering with the Pittsburgh Steelers.
They are also launching their first online casino in Pennsylvania.
Both of those announcements bolstered the stock's growth.
MGM Resorts also has a very diverse portfolio, with properties in a wide range of markets.
This means they haven't been hit as hard by restrictions in a specific market, like Macau or Las Vegas.
Overall, MGM Resorts is a great portfolio pick.
Their current earnings per share data indicates they are fairly valued.
Since their stock may increase significantly as COVID restrictions ease, now could be a good time for investors to pick up shares of this casino gaming powerhouse.
Casino Stocks To Buy Now
Monarch Casino & Resort (NASDAQ: MCRI)
Monarch Casino & Resort is a gaming and hospitality company based in Reno, Nevada.
They currently operate two properties – the Atlantis Casino Resort & Spa in Reno, and the Monarch Casino Black Hawk in Colorado.
Monarch's recent earnings reports have been exciting for investors.
They've seen consistent earnings per share growth and have managed to beat consensus estimates despite the challenges of the pandemic.
With this positive performance, Monarch stock has seen steady growth over the past several months.
Their positive financial performance has shown that they know how to stay afloat, even in tough times.
Monarch Casino & Resort may be a stock worth adding to your portfolio as casinos start to open up again.
Penn National Gaming (NASDAQ: PENN)
Penn National Gaming has a full portfolio of casinos and gaming facilities throughout the United States.
Crypto Alert
Bigger Than Bitcoin and Better Than Gold
Even gold misses the mark.
Cryptocurrencies (like Bitcoin) are the ONLY assets that have all four of these features.
Features that can truly protect investors from today's unprecedented money printing and interference from governments.
But Bitcoin is NOT the primary cryptocurrency at the forefront of this new money revolution.
These three supercryptos are the ones taking the lead and helping investors make the most money.
Click Here For All Of The Details
We earn a commission if you click this link and make a purchase at no additional cost to you.
While they have ownership stakes in a few of their properties, many are leased and managed.
Many of their casinos are part of either the Hollywood Casino or Ameristar brands.
One of the things that makes Penn National Gaming attractive is that their casinos aren't concentrated in one geographical market.
This means that if they encounter strict coronavirus gambling restrictions at one casino, they will likely be able to balance out those losses with another property in a different state.
To offset the challenges of the coronavirus pandemic, Penn has focused more on online gambling and sports betting this year.
Many states loosened their gambling restrictions this election cycle as well.
This will allow Penn to continue to diversify their operations and draw in money regardless of the current economic climate.
Penn's stock hit an all-time high in March and has slowed down slightly since then.
However, they aren't showing any signs of slowing down.
They recently purchased a new Hollywood Casino property, and they now have a partial stake in Barstool Sports, a popular online betting platform.
Las Vegas Casino Stocks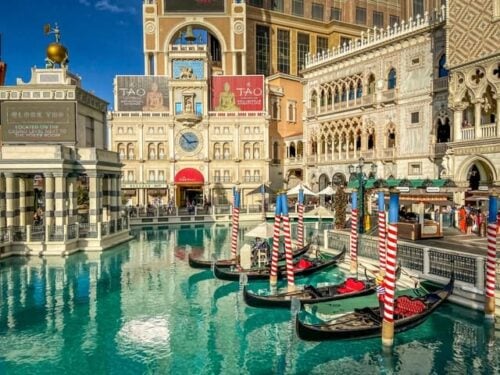 Las Vegas Sands (NYSE: LVS)
As the name implies, Las Vegas Sands is a casino company with properties in Las Vegas as well as in Asia.
Their Asian properties are in Macau and Singapore.
While Las Vegas Sands stock dropped as a result of the coronavirus pandemic, they are slowly on their way back up right now.
They are a very well-established company that had been steadily increasing their revenue and paying dividends up until the pandemic hit.
They own some of the world's most iconic luxury casinos, including The Venetian.
Las Vegas Sands has a strong presence in the Macau market, which has huge potential for the future.
Although this Asian market has stagnated in the later months of 2020, they stand to come back strong as coronavirus restrictions ease up in China.
It's likely that Las Vegas Sands stock will rebound to its former glory when travel picks up around the world.
The stock had a breakthrough moment in early February, although it has fluctuated since then.
They are also a very strong dividend stock right now, with a yield of 5.05%.
Red Rock Resorts Inc. (NASDAQ: RRR)
Red Rock Resorts is a casino company based in Las Vegas.
Right now, they have some of the strongest momentum of any casino stock on the market.
The company currently owns seven properties in the Las Vegas area.
What makes these properties unique is that they aren't on the Strip, but are instead spread throughout the greater Las Vegas area.
This means they could appeal to a different type of customer that wants a more relaxed vacation experience.
For example, the Red Rock Resort and Casino is located in Summerlin, an area known for golf courses as well as proximity to the mountains.
Red Rock Resorts stock has steadily been moving upwards for the last year.
Their earnings per share growth has been some of the best in the entire sector.
Because Red Rock Resorts' properties rely more on regional traffic as opposed to international tourism, they have been able to bounce back fairly quickly.
Although there are still COVID-19 restrictions in place, they have been able to open their properties at a lower capacity and start generating revenue again.
Best Online Casino Stocks
DraftKings (NASDAQ: DKNG)
Digital sports betting has exploded this year, and DraftKings is a company that's leading the charge.
As coronavirus restrictions limited in-person gambling, many people started looking online for similar entertainment options.
This year, DraftKings has signed notable business deals that will likely increase their visibility and bring in more revenue.
They've become exclusive partners of many major league sports teams, and they've even signed a deal with ESPN.
Many US states are lifting their restrictions on digital gambling, which bodes very well for DraftKings moving forward.
Digital sports betting has huge potential, as it could make gaming more accessible to those who don't have a casino accessible nearby.
DraftKings' earnings improved in the third quarter of this year as major league sports returned.
Their unique business model makes them an exciting stock pick for those interested in online gambling.
Macau Casino Stocks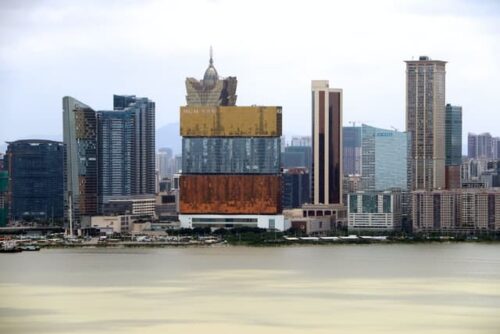 Melco Resorts (NASDAQ: MLCO)
Macau is a city in China that is often referred to as the Las Vegas of Asia.
Melco is a successful casino company based in Hong Kong.
They have a huge presence in Macau and are also expanding into Manila and Cyprus.
The Macau market has grown rapidly over the past decade, although the coronavirus pandemic stalled operations.
The casino industry has been slowly shifting towards this Asian metropolis, and when the economy recovers, there's plenty of potential for market growth.
Melco's earnings have struggled in the short term as many of their properties have had to close or alter their operations.
However, this could be a great long-term investment for the future.
Shares right now are affordable, giving investors potential for income when China opens back up.
This stock is also a good choice for income investors, as it has a dividend yield of 3.17 percent at the moment.
Galaxy Entertainment Group (OTC: GXYEF)
Galaxy Entertainment Group is an Asian hospitality group that runs hotels and casinos.
Their headquarters are in Hong Kong, but all of their properties are located in Macau.
They have also expressed interest in expanding to Japan at some point.
Right now, the company has four properties in Macau.
Their properties include casinos as well as five star hotels, restaurants, live entertainment, and more.
This stock's price has steadily gone up over the last few months as Macau is slowly starting to reopen.
While most foreign visitors are still prohibited, visitors from mainland China, Hong Kong, and Taiwan are all allowed right now.
China has developed several COVID-19 vaccines and is working on getting their population vaccinated, albeit at a relatively slow pace when compared to the United States.
As more citizens get the vaccine, Galaxy's properties will likely be able to increase their capacity.
The stock is a good option for investors that want a Macau casino pure play.
As with many other casino stocks, Galaxy Entertainment Group stock has the potential to go up in price even more as the world returns to normal.
Should I Buy Casino Stocks?
Now is a great time to buy casino stocks.
Many popular casino companies, like MGM and Wynn, have seen their share prices drop this year.
However, these drops are due to COVID-19 restrictions, not a poor business model.
As a result, casino stocks are relatively affordable right now.
Investing in these companies now while shares are cheap could result in huge returns over the next few years as business returns to normal.
Casinos and the resorts associated with them are an integral part of the travel and entertainment industry and won't be going anywhere anytime soon.
However, the top casinos aren't resting on their laurels – they're taking steps into online gaming to ensure they're still bringing in revenue.
When choosing casino stocks, look at their most recent earnings reports, as well as their earnings before the pandemic.
This will give you an indication of how financially stable they are. You should also look at their property portfolio to ensure that they are involved in diverse markets.
Casino Stocks: Final Thoughts
The casino industry may have struggled this year, but you shouldn't write it off.
In fact, now just might be the right time to invest.
If you're looking for even more great casino and gaming stocks to invest in, check out Trade Ideas Software! This innovative new program uses AI technology to help you find top stocks for your investing goals.