The Stock Dork is reader supported. We may earn a commission, at no additional cost to you if you buy products or signup for services through links on our site.
Silver has a long history of being a great investment.
This precious metal is used as an electric conductor in many key industries in addition to jewelry, coins, and much more.
In this article, we'll talk about the best silver stocks to add to your portfolio.
Many investors turn to precious metals like silver and gold during difficult economic times.
This is because precious metals have inherent physical value.
They can't completely lose value the way that a digital asset could.
Investors turned to gold, silver, and other metals during COVID-19 to offset economic risks.
Silver is particularly hot right now because of its use in modern technologies like rechargeable batteries and solar energy panels, just to name a few.
The raw silver price has jumped up dramatically due to demand, and many analysts think they could go even higher in the future.
In this article, we'll discuss the top silver stocks to add to your portfolio today.
These stocks can help you benefit financially from the success and stability of the silver market.
Are you looking for even more great stocks to add to your portfolio? Check out Trade Ideas. This innovative AI-based platform makes it easier than ever to find great stock picks.
Best Silver Stocks To Buy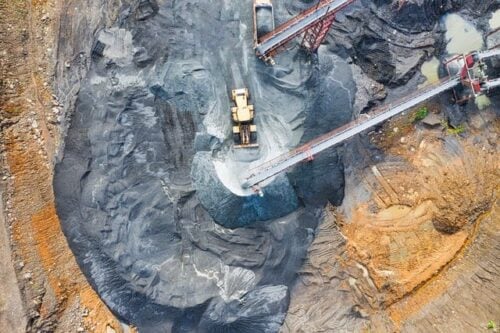 One of the best stocks to buy in the silver sector isn't actually a stock – it's an ETF, or exchange traded fund.
ETFs are essentially bundles of stocks in a particular industry.
They minimize risk by investing your money in a diverse range of companies instead of just one.
The iShares Silver Trust is the leading ETF for the silver market.
Right now, this ETF is at its highest point ever, due to the skyrocketing price per ounce for raw silver.
However, the price point for this ETF is still relatively affordable, hovering between $20 and $25 per share for the last few months of 2020.
This ETF's main investment is a large batch of silver from JPMorgan Chase.
Because of this, it's great for investors who may have wanted to purchase silver bullions, but don't have the adequate resources to do so.
It also means that this ETF is tied very heavily to the price of silver per ounce.
Wheaton Precious Metals (NYSE: WPM)
Wheaton Precious Metals is a streaming company that works with silver mines to buy and distribute their silver output.
They are based in Vancouver, Canada and work with mines all over the world.
They currently have partnerships with multiple mines in Mexico as well as mines in Peru, Sweden, the US, and many other countries.
While this company does deal in gold, cobalt, and palladium, the majority of their operations are in the silver market.
This makes it a great choice for anyone who's feeling bullish on silver investing.
Since Wheaton Precious Metals is so heavily invested in silver, their price per share has gone up dramatically this year as raw silver prices rose.
They also pay a quarterly dividend of $0.12 per share.
Because they are a streaming company and not a mining company, they are able to keep their cash flow up.
They don't have the same production expenses as a mining company.
They also won't suffer as much financially if mines aren't able to meet production requirements.
Overall, Wheaton Precious Metals is one of the best silver stocks to add to your portfolio.
Their strong business model and diverse range of deals will likely set them up for financial success.
MAG Silver Corp. (NYSE American: MAG)
MAG Silver Corp. is a growing company that focuses on exploration and development of silver mines.
They are based in Canada but conduct their operations primarily in Mexico.
While this company focuses primarily on silver, they also mine for zinc and lead.
MAG's largest exploration project is in the Mexican Fresnillo Silver Trend.
This is one of the largest silver mines in the world.
They hope to eventually produce 4,000 tons of silver per day to meet industrial demand.
According to data from the most recent quarter, MAG has some of the best momentum of any silver producer on the market.
They have excellent year over year returns, and their share price hit an all time high level in the beginning of November.
MAG Silver Corp is a mining company that's seen strong growth over this past year, but still has great market potential for the future.
Best Silver Mining Stocks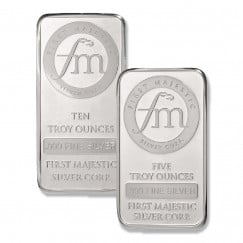 First Majestic Silver (NYSE: AG)
First Majestic Silver is a silver mining company based in Canada with mines in Mexico.
While many other mining companies spread their operations among different types of precious metals, First Majestic focuses mainly on silver.
In fact, silver production accounts for nearly two-thirds of their operations.
This company has a very large operation in Mexico, with seven producing silver mines.
While silver production can be costly, First Majestic has been able to generate huge output to offset these extra costs. In 2019, they put out roughly 19.3 million ounces of silver.
With the price of silver up so high this year, silver mines like First Majestic's look like a great bet.
Crypto Alert
Bigger Than Bitcoin and Better Than Gold
Even gold misses the mark.
Cryptocurrencies (like Bitcoin) are the ONLY assets that have all four of these features.
Features that can truly protect investors from today's unprecedented money printing and interference from governments.
But Bitcoin is NOT the primary cryptocurrency at the forefront of this new money revolution.
These three supercryptos are the ones taking the lead and helping investors make the most money.
Click Here For All Of The Details
We earn a commission if you click this link and make a purchase at no additional cost to you.
However, First Majestic does have some gold and other metals in their portfolio, which should cushion them if silver prices were to crash completely.
Their stock is still very affordable as well, so it won't break the bank. This is definitely one of the top silver mining stocks to watch.
Fortuna Silver Mines (NYSE: FSM)
Like many of the other companies on this list, Fortuna Silver Mines is a Canadian company that operates mines in Peru and Mexico.
They are also building a mine in Argentina to focus on gold, which began production in October of 2020.
Fortuna's silver output numbers for this year were excellent.
In the third quarter, they put out 2.13 million ounces of silver.
While silver mining is their main focus, they do have a diversified portfolio of other metals.
This company's share performance has gone up to match the current silver price.
However, their shares are still very affordable and offer great potential for growth.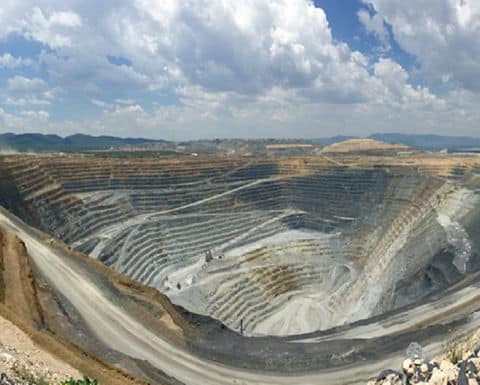 Fresnillo PLC (OTC: FNLPF)
This Mexican company runs one of the largest precious metal mining operations in the world.
They are currently one of the world's largest producers of both silver and gold.
While their namesake mine is the largest, Fresnillo also has mines in the Mexican states of Cienega and Sonora.
They have a number of other exploration projects throughout Mexico as well.
They have stated their intention to eventually expand into Chile and Peru.
Fresnillo's status as one of the top silver producers in the world should be very comforting to investors.
Higher output numbers make it easier for the company to pull in revenue and get through any financial ups and downs they may experience.
Recent events put this to the test when Mexico shut down non-essential mining.
Fresnillo's leadership stated that they have they finances to close for up to three months.
Fresnillo's share performance this year has also been very strong.
This reflects higher silver prices as well as increased industrial demand for this precious metal.
Best Silver Penny Stocks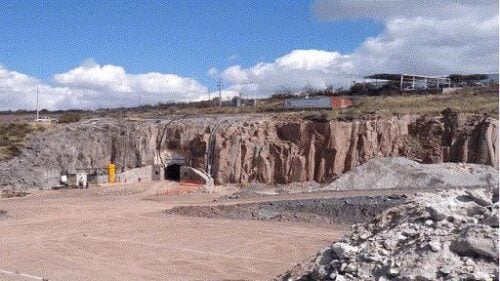 Endeavour Silver Corp. (NYSE: EXK)
You definitely don't have to break the bank to invest in silver, and Endeavour Silver Corp.
is a great example of that. Endeavour Silver is a mining company that's currently trading just under $5 per share.
While they are based in Canada, Endeavour Silver currently runs three mines in Mexico.
While Endeavour has long been a penny stock, their shares are up dramatically this year as the price for silver has gone up too.
One thing to consider when investing in this or any penny stock is that they don't see high trading volumes.
This means that Endeavour could be subject to increased volatility.
Since it seems like silver demand won't be going down anytime soon, now is a great time to invest in this silver miner.
Their affordable share price makes them very difficult to pass up.
Great Panther Mining Ltd. (NYSE American: GPL)
Currently trading at less than $1, Great Panther Mining is a true penny stock.
Like many other mining companies, they are based in Vancouver but operate in Latin America.
They currently mine in Mexico and Brazil.
While they focus primarily on silver, this company also has exploration operations for gold, lead, copper, and zinc.
Data from their third quarter earnings report indicated that revenue was up year over year, despite the challenges of COVID-19.
Data from this report also indicated that silver production was on track to meet yearly demand.
This was despite the fact that they had to slow their operations due to COVID cases at their silver mines.
Their results this year show that their leadership has the capacity to handle challenging situations.
Since Great Panther's stock price is so low, investors will want to be wary of volatility.
However, their current share price makes this a good choice for those investing on a budget.
Best Silver Dividend Stocks

Pan American Silver Corp. (NASDAQ: PAAS)
Many people prefer investing in stocks that pay regular dividends in addition to generating great returns.
Pan American Silver Corp. is one silver stock that you can count on for a regular dividend.
Their currently pay an annual dividend of $0.28 per share.
However, there's more to this stock than just dividends.
In December 2020, Pan American Silver stock price jumped nearly 14 percent in one week.
They are currently trading at a five year high.
While they have seen some financial troubles this year as a result of the pandemic, they have managed to beat estimates in the third quarter of 20202.
This silver producer is based in Canada but has mines throughout Latin America.
They currently have industrial operations in Mexico, Bolivia, Argentina, and Peru.
While silver is their main product, they also mine for gold, copper, zinc, and lead.
Like many other precious metal companies, Pan American Silver saw a surge as a result of increased silver prices.
Since the economy is likely to keep fluctuating for the next year or so until the pandemic is under control, it wouldn't be surprising if investors keep putting their money towards safe metals like silver.
Southern Copper Corp. (NYSE: SCCO)
Southern Copper Corp. may focus on copper, but they also produce silver and many other metals.
If you're interested in a dividend, this is a great investment to keep your eye on.
They have a massive dividend yield of 3.5 percent.
Since this company focuses mainly on copper, you won't benefit quite as much from the rising prices of silver.
However, you will benefit from their diverse portfolio, which insulates them somewhat from financial risk.
From March 2020 until now, Southern Copper Corp has been on a very steady upward trajectory.
Although they have been successful, this company isn't resting on their laurels – instead, they are looking to continue increasing their production and output for the future.
They even have exploration projects set to open over the next few years.
This would increase their production capacity and likely drive up their stock price as well.
Should I Invest In Silver Stocks?
Silver stocks are a great addition to any portfolio.
Demand for silver is high right now and shows no signs of slowing down.
Also, silver has historically proven itself to be a great investment.
During the COVID-19 pandemic, investors flocked to silver and other metals as a way of protecting their investments.
While so many other commodities were dropping, the value of silver was actually going up.
This illustrates just how viable silver can be as a long term investment.
Wondering where to invest in these top silver stocks? Check out WeBull! WeBull is an easy-to-use investment platform that's great for beginners and experienced investors alike. Not only do they have every stock listed in this article, but they also will give you a free stock just for signing up!
Best Silver Stocks: Final Thoughts
There's a reason why so many investors turn to precious metals during tough times.
Because of its skyrocking price per ounce as well as its industrial applications, silver feels like a particularly great bet right now.
Silver stocks make a great addition to any investment portfolio.