The space exploration industry is changing quickly, which makes now an exciting time to invest in the industry. Space tourism has long been considered a thing of the future, but with technology changing quickly, can this soon be a striving business? The best space stocks are ready to take off.
Best Space Stocks To Buy
Maxar Technologies (NYSE: MAXR)
Maxar is based in Colorado, dealing with satellite communications, radar technology, and more. Maxar was created by merging four different companies just a few years ago. Although relatively new in the industry, it has already proven quite successful.
In 2021, it acquired Vricon, a company involved in 3D satellite data. Today, the company manufactures satellites and provides access to satellite imagery and data for its clients. It also provides analytics services that can help clients in a wide range of industries.
These services apply to both public and private companies and can be applied to exploration projects as well as defense and intelligence services. Maxar's stock price has been very volatile over the past several months, even with recent successes.
This is likely because Maxar hasn't launched its WorldView Legion satellites yet, and investors may be getting impatient. Launches are currently scheduled for spring of this year.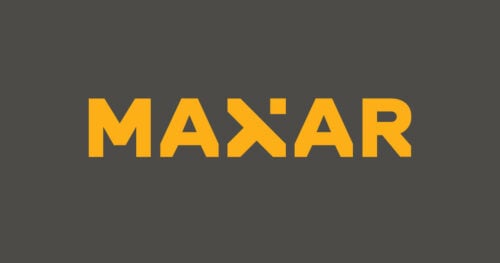 Although this stock may be volatile in the short term, this company appears to have a lot of long-term potential. With continuing partnership from the government and other private companies, including a million-dollar agreement with the DOD.
The business received a position on a basic ordering agreement for the Joint Artificial Intelligence Center with a ceiling value of $241 million over five years.
Maxar will aid the United States as part of this grant. Data science, engineering, analysis, standards, and architectural services are provided by the Department of Defense through the JAIC's Data Readiness for Artificial Intelligence Development initiative.
Trimble (NASDAQ: TRMB)
Trimble works in industrial technology, discovering ways to make things run better. The company does so by using its knowledge of hardware and software to bridge gaps and create connections.
Over its 45 years since incepting, Trimble has developed over 2,000 unique patents for its technological advancements. With so much experience, Trimble now does business in over 150 countries worldwide.
Finding success on Earth, Trimble now looks to the stars for inspiration. It already has relationships with both SpaceX and NASA and only anticipates these deepening. Shares have been somewhat stagnant this last year, currently 4% lower than last year.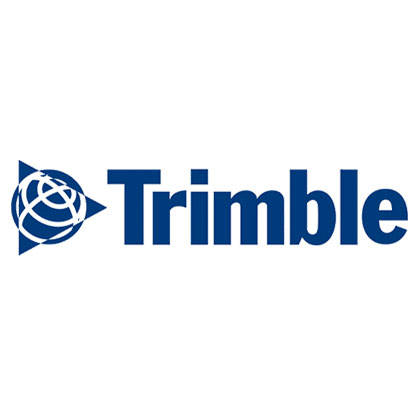 Revenue streams look promising, as Trimble surpassed expectations in the last quarter. The company released Q1 financial results in early May. The amount of revenue was $993.7 million, up 12% year over year.
The adjusted EPS increased from 66 cents to 73 cents. The amount of cash and equivalents was $357.2 million. Also, the business just released SketchUp for Apple's iPad, a design application for professionals in the fields of interior design, engineering, architecture, and construction.
Drawings generated with the Apple Pencil are converted into 3D models by the app using machine learning. It also provides a range of tools for editing, annotating, and working together on models.
Trimble is a sizable holding of the ARK Autonomous Technology and Robotics ETF and the ARK Space Exploration & Innovation ETF, much like our other stocks on this list. As its quest to impact the space industry takes off, Trimble sets itself up for even more success.
Lockheed Martin (NYSE: LMT)
Lockheed Martin has several interests covering security, technology, defense, and aerospace. The company started out much closer to the ground but has recently branched out into the space market.
Its products include spacecraft and satellites for both commercial and government use. Lockheed Martin currently holds several defense contracts with the U.S. government alone.
Space is still a small part of Lockheed's business, but its other industries provide diversity and stability. Last quarter, Lockheed Martin reported substantial profits from its space program.
Lockheed has been given the go-ahead to manufacture and test Orion spacecraft that are part of the initiative to put humans back on the Moon. This speaks volumes for the company's space program moving forward and paints it in a very positive light.

Also, on reports that the corporation is close to signing a $30 billion contract with the Pentagon, Lockheed Martin shares recently increased.
After the defense industry major lowered its projection and released second-quarter earnings that fell short of analyst expectations, LMT shares ended the day flat on Tuesday.
The U.S. and Lockheed Martin 375 F-35 fighter planes will be delivered over the course of three years in a "handshake" agreement between the Department of Defense and LMT, according to sources from Reuters.
Some investors' fear will be allayed by the accord. Lockheed stated in its Q2 report that losing a contract may have a significant effect on its financial situation. But it continues to be bullish, as defense stocks rallied due to the turmoil going on in Ukraine.
L3Harris Technologies Inc. (NYSE: LHX)
L3Harris Technologies is the result of a merger between Harris and L3 Technologies back in 2019. Together, these companies have a firm foothold in air, land, sea, cyber, and space. With 130 years of history, Harris has been a large part of aviation and space since the very beginning.
Today, L3Harris is plugged into solutions like missile warning and defense in an attempt to keep the United States' superiority in space. The company is also working on technology to explore the universe while innovating for what's to come.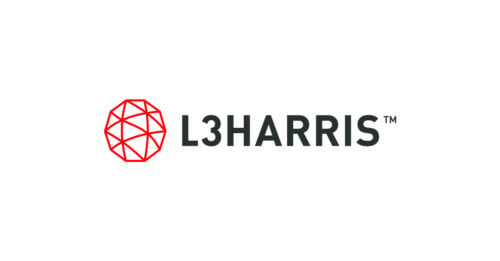 Share prices saw a steady rise through 2021 until October, fading slightly until the end of the year. L3Harris stock saw a huge boost in January before dropping again. The stock price is not quite back to its all-time high but looks to be re-approaching that line at a rapid rate.
With LHX bagging a $380 million contract from the U.S. Navy for the production, repair, and sustainment of its CEC system only shows its active initiative to increase its cash flow.
BlackSky Technology (NYSE: BKSY)
BlackSky Technology specializes in satellite imagery to provide awareness about the world around us. The company is building a vast network of satellites to give rapid surveillance.
Each satellite is able to send information out in under 90 minutes, helping expedite data between the Earth and space. These tools are built around AI and cloud computing to help companies make decisions faster than ever.
Still in the penny stock range, BlackSky is finding itself in the space sector. It has brought in consistent revenue from the last few quarters and has the resources in place to continue doing so.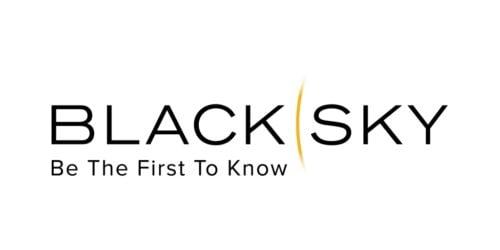 This includes the geospatial intelligence company's announcement that it had won a contract with the National Reconnaissance Office, a U.S. intelligence agency.
According to a filing with the Securities and Exchange Commission, BlackSky will offer imaging services under the contract, which has a beginning value of $85.5 million and a five-year base subscription.
BKSY added that the overall contract including options, which spans the five-year base period and has an option for five additional one-year service periods, has a value of up to $1.021 billion.
Best Space Travel Stocks
Rocket Lab USA Inc (NASDAQ: RKLB)
Rocket Lab's mission is to improve life on Earth by opening access to space. The company has launched 107 satellites to date using the Electron rocket, the second most frequently launched in the United States each year.
It is known for providing the means for other companies to reach orbit and provides custom missions to do so. Missions can take place anywhere from low Earth orbit into the far reaches of the Solar System.
Rocket Lab also manufactures satellite components and subsystems that give their partners the tools to succeed. In October, Rocket Lab was selected to launch NASA's Advanced Composite Solar Sail System.
In fact, on July 4, the business's Photon deployable space vehicle separated from Electron's final launch stage to place CAPSTONE's CubeSat, beginning the last phase of its mission.

The tool should provide incredibly helpful information regarding lunar orbits in advance of NASA's Project Artemis building of a lunar outpost.
With its extensive toolbox and track record of accomplishments, Rocket Lab is a great candidate to take the lead in satellite deployment in the future.
With shares currently trading at low levels, there is an opportunity to invest in this delivery firm before it sets itself for the metaphorical takeoff.
Rocket Lab USA provides a diverse collection of abilities and resources to the table and is constantly adding to its stock of resources.
Rocket Lab appears to be in a solid position to take the lead in the upcoming era of space travel as launches pick up speed and the business works to create better, newer technology.
Rocket Lab stock appears to be a rather cheap investment that might pay off if shares go in the direction that CAPSTONE is now aiming for, which is to the moon or at least its general orbit, as shares are currently trading near record lows.
Northrop Grumman Corporation (NYSE: NOC)
Northrop Grumman is one of the top space companies in the world, with several government contracts to develop space and defense technology. The enterprise has increased its involvement in the space industry over the last few years.
From 2018 to 2020, they developed the OmegA space launch, although this ultimately wasn't selected for a government contract. Currently, the company is part of the U.S.'s National Team to develop a lunar lander.
It has a contract to develop the Transfer Element for the Artemis program, which essentially allows the spacecraft to dock once it reaches the Moon. Northrop will also develop HALO, a module built to orbit the Moon that will serve as a stop for astronauts before they land.

Additionally, it provides support to NASA for several key telescopes. Its team has also developed the Cygnus, a spacecraft that carries cargo to the International Space Station.
In addition to its involvement in the space industry, Northrop is involved in some of the U.S. government's most significant defense contracts. Northrop recently landed a contract to develop new missile systems, which has been financially lucrative.
Defense contracts like this give Northrop Grumman a financial buffer as they expand their space operations. The space sector is very competitive right now and can be a bit more volatile than the defense industry.
Northrop Grumman stock is once again seeing an increase after plateauing for the summer. The stock also has a solid dividend yield of 1.48%, making it even more exciting for long-term investors.
Given everything said above, it's understandable that Northrop boosted its forecast for sales of future space systems last quarter.
With an enhanced profit margin of 10% or more, Northrop currently predicts that the space business will be its greatest revenue source this year ($11 billion or more) (up from 9.1% in Q1).
According to those figures, space may potentially account for up to one-third of the $3.6 billion in operating profit that Northrop expects to generate this year. Investors should be pleased with this.
Strange as it may sound, it appears that Northrop will need to outsource a lot of the heavy lifting since the Pentagon's defense budget hasn't increased all that much despite several European nations saying they plan to increase defense spending in the near future.
Space will likely play a major role in whether Northrop Grumman exceeds analyst predictions for only 5 to 6% sales growth this year. More than ever, Northrop Grumman is becoming a legitimate space stock today, which is wonderful news for investors.
Boeing (NYSE: BA)
You may know Boeing as an aircraft manufacturer, but its space-related projects are also noteworthy. It is one-half of the United Launch Alliance and is working on exciting projects like the Vulcan Rocket.
Boeing is a very established company, founded back in 1916. It has had a consistent presence in the air and space sector ever since. Boeing's aerospace operations are run out of their defense, space, and security division.
The company provides a number of different spacecraft, including launch systems, space planes, satellites, probes, and more. It works with NASA and other agencies on their space projects.

The company recently launched a test flight of its Starliner spacecraft, which could eventually ferry astronauts to and from the International Space Station. Boeing stock struggled throughout 2020, although not because of its space projects.
Being one of the world's largest manufacturers of airplanes, it was heavily affected by COVID-19-related shutdowns.
There were also several high-profile clashes with the company's 737 MAX aircraft, which led to its grounding by the FAA and other government agencies around the world. Boeing has been on a decline since last year but now surging.
The past several years have been difficult for Boeing and its stockholders. The 737 MAX's 18-month suspension for safety reasons was the beginning of the company's problems, which persisted through the pandemic as airlines swiftly abandoned earlier expansion strategies.
However, Boeing's stock recently increased in value as a result of a significant new order from Delta and upcoming transactions this month, including a partnership with Virgin Galactic. The Boeing comeback has started, and investors should be happy about this.
Virgin Galactic (NYSE: SPCE)
Virgin Galactic is an exciting company that is developing commercial space technology. It is part of Richard Branson's Virgin Group and is based in New Mexico.
As part of the commercial space race, Virgin Galactic is developing spacecraft for space tourists as well as scientific purposes. Virgin Galactic stock has been at the center of a lot of hype recently after Richard Branson's flight to space.
It was the first company to complete a mission of this kind. Branson flew on the VSS Unity, a suborbital spaceplane that can travel at supersonic speeds. After this successful mission, the company is poised to start using this plane for paid passenger flights this year.
Virgin Galactic went public via a SPAC in 2019, which started a SPAC trend on the stock market. Although its stock price has been volatile over the past few months, the company has plenty of room for long-term growth.

Recent flight test delays have caused stocks to fall, but it's very likely its share price will increase in the future. It is at the forefront of the space tourism industry—an industry that could double in value over the next decade.
In fact, one of its "spaceplanes" is already essentially complete, and Virgin Galactic aims to build more of them as well as mother ships to transport them.
And because of this, Virgin Galactic signed a contract this week with a Boeing subsidiary called Aurora Flight Sciences to have not one, but two whole new motherships built for it to launch its upcoming fleet of spacecraft.
According to the corporation, each of the new motherships will be capable of at least 200 flights annually, meeting Virgin Galactic's demands for a 400-flight-per-year cadence once they are finished.
Investors in Virgin Galactic have increased their bids for the shares by about 8% after the company made its announcement regarding the relationship with Boeing.
Since there will be a limited number of space flights available, Virgin Galactic will probably charge a significant amount for each ticket. This could send their earnings skyrocketing in the future.
Does NASA Have Stock?
When you think of space, you probably think of NASA. This U.S. agency runs high-profile rocket launches, operates space telescopes, and is currently working to send humans to Mars and beyond.
Because NASA is a government agency, they are not listed on the stock market. However, there are still ways to invest in NASA projects. Investors can look for companies like Boeing that contract with NASA.
Landing a NASA contract can be very lucrative for any company. Space stocks that have contracted with NASA often saw a bump in their stock price.
Should You Buy Space Stocks?
There's a lot of opportunity for growth in the space sector with all that's going on. As we struggle with climate change here on Earth, many tech companies are looking to space for new solutions.
While space tourism is a buzzy topic right now, it could be many years before it becomes a reality for the average consumer. Fortunately, many other areas of aerospace are already blasting off. Cargo operations and deep space exploration can balance out space tourism.
Satellite launch services are another potentially lucrative stream of revenue for space companies. Successful government contracts may be a good indication of success for a space company. Investors recognize this trend and are buying up space stocks as a result.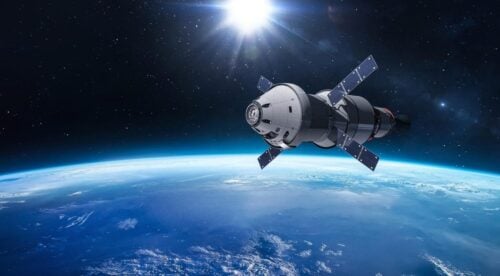 Where to Buy Space Stocks
You won't need to look any further than the major exchanges to find the best space stocks. Many of these companies have been around for years and have the equity and assets to get listed there.
Platforms such as Robinhood and Webull cut through the clutter of more volatile markets by only searching exchanges like the NYSE and NASDAQ. Robinhood is geared towards newer traders with a digestible user interface. It also provides tools for fast searches and quick results.
Webull offers the complexity that experienced traders can use to locate hard-to-find opportunities.
Best Space Stocks: Final Thoughts
The aerospace industry is fascinating right now. New innovations make it easier for companies to send cargo and even humans to space. Once considered a thing of the future, commercial space tourism is now becoming more realistic.
Investing in space stocks is the easiest way for investors to capitalize on this innovation. These companies are likely to continue their growth in the future and present an exciting financial opportunity.
Space Stocks FAQ
Check out answers to some of the most common questions surrounding space stocks.
Can you Invest in SpaceX?
SpaceX is still a privately owned company and cannot be invested in at this time. However, this may change in the future if they decide to go public. A good way to stay up-to-date on SpaceX is to follow it on social media or sign up for its newsletter.
Is Space a Good Investment?
We as human beings are only beginning to scratch the surface of what we can do in space. The potential for this industry is limitless and could achieve unimaginable highs over the next 20 years, making space a very good investment if you are willing to take the risk.
Who Owns NASA?
NASA is a United States government organization and is not a public or private company. It was created by the National Aeronautics and Space Act on July 29, 1958, and has been responsible for American space exploration and aeronautics research since that time.
Is the Space Industry Profitable?
There's an ever-increasing profit to be had in the space industry. Companies are developing equipment to send humans to the Moon and beyond, and satellites are used for almost everything.
Even billionaires are capitalizing on space and the potential for tourism.
Who Owns SpaceX?
Billionaire Elon Musk founded SpaceX in 2002 and is still the owner. Interestingly, Musk has teased the potential for an IPO at some point in the near future, and it would be one of the most anticipated public offerings in recent memory.