Sub penny stocks trade for under $0.01 per share, making them ideal for investors on a budget. But don't let their low prices fool you – these companies are all up-and-coming stars with the potential to deliver big returns. Check out our picks on the seven best sub penny stocks today!
A sub-penny stock is publicly-traded security that is priced below one cent per share.
These stocks are generally considered to be very risky investments and are therefore not recommended for most investors.
Despite the risks, some people still find value in investing in sub-penny stocks.
For example, a sub-penny stock may be appealing if the company is in the early stages of development and has a lot of potential for growth.
Alternatively, some investors may purchase sub-penny stocks as a way to get exposure to certain sectors or industries that they would not otherwise be able to access.
We've crafted a helpful guide to help you chart a path toward the best penny and sub-penny stocks on the market.
Sub Penny Stocks To Watch
Metrospaces, Inc. (OTCMKTS: MSPC)
Metrospaces, Inc. (OTC: MSPC) is a company that focuses on the development and management of real estate properties.
The company has a market cap of just over $1 million and it trades for less than a penny per share.
Metrospaces owns a few different properties, but its primary focus is a mixed-use development project in the heart of Miami.
The company has been recently active within the blockchain industry, developing a couple of real estate platforms via tokenization.
Metrocrowd, one of its platforms, is currently in beta-testing that started this year.
According to MSPC, this ground-breaking resource will not only benefit third-party real estate owners and developers but will also enable the corporation to tokenize its own assets.
Lastly, this penny stock has seen its growth for the past couple of months after releasing its earnings, a result that showed a massive increase in its assets.
We are talking about jumping from $213 thousand last year, to $4.8 million this year.
It's apparent that the company is in its early stages, however, MSPC is showing a lot of potential growth in the future.
Priority Aviation (OTCMKTS: PJET)
Priority Aviation provides services such as on-demand charters, membership cards for jet charters, and even aircraft sales.
It's a publicly-traded corporation based in New York that was founded on March 25, 1999.
Also, Priority Aviation offers charter flights for transporting heavy and outsize cargo, construction equipment and machine parts, highly valued commodities, and high-margin commodities, support for peacekeeping missions as well as hazardous materials.
The company is now developing a physical component of its company to test and validate criteria for its technological solutions.
The company has agreed to fund and construct a student housing residential complex in Texas to support a small private institution with a student population of about 1200.
This will kick start its soon-to-be-launched app where local communities and students worldwide can post and rent available rooms, houses, and apartments using the Student Housing By Owner (SHBO) app.
This has been the company's main highlight of its recent strategic overview presentation.
Targeting 500 million students around the world.
So, if you want to invest in sub penny stocks that have a wide portfolio, you should check out Priority Aviation.

Social Life Network, Inc. (OTCMKTS: WDLF)
Social Life Network, Inc. is a social media SaaS company that operates a platform for the residential real estate industry and various sports verticals.
The company is a cloud-based provider of social media software that enables users to connect, communicate, and collaborate.
It operates a platform for the residential real estate industry that includes a public forum, private groups, and classifieds.
The company became public in 2016, in it was just last year when it made its highest quarter in sales.
The company reported increased revenue and decreased net loss compared to the same three-month and nine-month periods in 2021 while lowering operational expenditures by 62% YoY for the same nine-month period in 2020.
This company shows huge potential given what it offers to the market.

Healthier Choices Management Corp. (OTCMKTS: HCMC)
Healthier Choices Management Corp. (HCMC) is one of the OTC stocks that have seen their share of the market in recent months.
The company engages in the distribution of vaporizers and e-liquid.
Ada's Natural Market, a natural and organic food shop, is also owned by the company.
For the three months ending September, gross profit from operations grew to $1.38 million, compared to $1.36 million for the same time the previous year.
Gross profit increased as well, from $4.33 million to $4.44 million.
Although these numbers do not look so enticing, what made this company an exciting long play investment is its small but consistent growth.

Majic Wheels Corp. (OTCMKTS: MJWL)
Majic Wheels Corp. intends to position itself as a player in the disruptive industries of Fintech and software development by means of an acquisition and merger.
Majic Wheels Corp (OTCMKTS: MJWL) is a micro-cap company with a market cap of just $23.92 million and an average daily trading volume of only over $6,000.
The company reported a revenue of $6.28 million and $173 million in assets last quarter.
MJWL has significant upside potential if it can execute its business plan.
MJWL is in the process of acquiring a software development company that will help it to develop and deploy financial technology.
The company recently announced its LOI to acquire Bamboo, a wellness holdings company this month.
It is expected to acquire at least 26% of Bamboo, which currently has a $126 million total valuation.
If you are looking for OTC stocks with upside potential, MJWL is one of them.
Ready to build your portfolio? With Public.com you can follow other investors, discover companies that are inline with your beliefs, and invest into stocks and crypto with very little money! What are you waiting for? Check out Public Now!
Sub Penny Stock That Soared
NovaVax (NASDAQ: NVAX)
During the heat of the COVID-19 pandemic, talks about the race for a vaccine had been the buzz in both medicine and also in the world of stocks.
Traders were on the lookout for hot penny stocks that they thought would have increased price per share when a vaccine eventually was developed.
Investors bought these hot penny shares, and once news broke out that NVAX's COVID-19 vaccine NVX-CoV2373 had reached Phase 3 of its clinical trials, the price of its shares rose in the market.
This year, the company just recently filed a request for approval to the U.S. FDA following several months of production delays and buildup as well as a flurry of similar filings and authorizations in other countries.
While there is no specified timeline for the evaluation, this was great news to the investors.
This once sub-penny stock, now a NASDAQ-listed company, can grow a lot bigger once this filing has been approved.

Microvision Inc. (NASDAQ: MVIS)
Since December 2020, MVIS has grown by 260% as of August 2021.
Its sudden growth is commonly attributed to LiDAR sensors, microchips, and several other computer-related products.
These levels of returns are impressive — even by penny stock standards.
Right now, although it has already retreated from its high; the company is still considered a bubble that can potentially burst.
This is because of its ongoing battle for dominance in the "lidar technology" industry, that technology that makes our cars smarter.
The company promises an advantage to its competitor, its golden child "Luminar" – the company's lidar tech that is valued at $5.8 billion.
As mentioned earlier, this company is on its 52-week low.
However, given the change in management, new product line, and several partnerships, this stock can still be profitable in the future.

MiMedx Group (OTCMKTS: MDXG)
From July 2020 to June 2021, MDXG had a gain of 114%.
The growth of the shares for MiMedx Group is mostly attributed to its increased sales from 2020 to 2021.
It also has been a defining year for the company, as it advanced its primary product (mdHACM) as a "potential blockbuster biologic"
The company and many investors believed that it has the potential to reduce pain and increase function in mild-to-moderate knee osteoarthritis.
With its expanding portfolio and ongoing FDA filings, MIMEDX believes that 2022 will be a watershed year for the firm, and its thriving commercial business puts it well for double-digit growth in a variety of underserved areas.
Can You Trade Penny Stocks on Robinhood?
Robinhood supports penny stocks, as long as the stocks are listed on NASDAQ or NYSE.
However, users cannot trade OTC penny stocks, or sub penny stocks, via Robinhood.
The reason for this is that once a stock goes below $1 for a certain period of time, the chances of it getting delisted from the two mentioned exchanges are very high.
Since it will become a sub penny stock and can only be sold OTC, users cannot trade with it via major exchanges like Robinhood, as the platform does not allow users to deal with OTC sub penny stocks.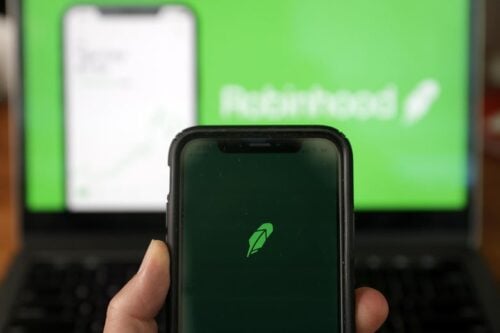 Should You Buy Sub Penny Stocks?
Sub penny stocks do come with some rewards as well as disadvantages for a retail investor.
First, although penny stocks are relatively cheap investments, investors rarely make a substantial profit unless they trade in high volumes.
Second, finding the right penny stock for investment isn't as easy as it sounds, which can be very discouraging.
By the time you find out about a hot penny stock, it's already too late.
When you invest in a sub-penny stock, you are taking on a great deal of risk, thus it's important that you do your due diligence before buying.
The Dreaded Pump and Dump
Although you have the chance to make big money if you purchase a penny stock that soars in price on the market, this type of stock trading is very prone to a scheme in trading stock called "pump and dump."
There are instances where someone would buy hot penny stock in high volume, thereby creating a false sense of demand for the stock and increasing its value artificially.
This is the "pump".
After the stocks have increased in price and more investors trade them, the scheme would come into play: the people behind it would sell their holdings, making a huge volume of profit while doing it.
This is the "dump".
Meanwhile, other investors drawn to the scheme will lose money as the stock instantaneously drops in its value per share.
However, there are a few effective techniques for profiting from pump and dumps.
If you're interested, you might want to take a look at Tim Sykes, the master of making money off of pump and dumps.
Sub Penny Stocks: Final Thoughts
If you want to trade penny stocks, you need to fully understand not only the rewards but also the risks that come with them.
Sub penny stocks have the potential for massive gains if they skyrocket, making them a good potential long-term asset to hold — especially if you own a huge volume of them.
On the other hand, the potential for loss is huge as well.
Trading these securities mentioned above isn't for everyone because of their volatility and the high risk that accompanies them.
However, as long as you do your due diligence, financial research, and learn to search for patterns, there's no reason for you not to trade sub penny stocks.
Though, it's important to understand that even if you are a sub penny stock pro, the risks will never fall to zero.
If you choose not to trade sub penny stocks, penny stocks are always an option to consider.
Sub Penny Stocks FAQs
What are sub penny stocks?
Sub penny stocks are stocks that trade for less than a penny per share. Most of these stocks are listed on the over-the-counter (OTC) markets, which are unregulated exchanges that aren't as heavily regulated as the major stock exchanges. However, there are some that are listed in NASDAQ and NYSE.
Why would anyone invest in sub penny stocks?
There are a few reasons why people might invest in sub penny stocks. The first reason is that they're hoping to catch a big break and make a lot of money if the stock price skyrockets. The second reason is that they believe that the company has potential and is undervalued, so they're hoping that the stock price will go up over time.
Are there any risks associated with investing in sub penny stocks?
Yes, there are a few risks associated with investing in sub penny stocks. The first risk is that the stock might not be worth anything at all and you could lose all of your money. The second risk is that the company might go bankrupt and you could lose all of your money. The third risk is that the stock might not be listed on a regulated exchange, which means that you might not be able to sell it or trade it if you need to.
How can I research sub penny stocks?
There are a few ways that you can research sub-penny stocks. The first way is to look at the company's financials to see if the company is profitable and has a good track record. The second way is to look at the stock's chart to see if the stock has been going up or down over time. The third way is to read the company's news releases to see if there are any positive or negative developments happening with the company.
What is the best sub penny stock to invest in this year?
Majic Wheels Corp. is an acquisition and holding company that focuses on disruptive fintech and software development. The company reported a revenue of $6.28 million and $173 million in assets last quarter. And recently purchased Bamboo, a wellness holdings company.